Mooney VR46 Racing Reveal 2022 Machine
Ahead of their first season in MotoGP, VR46 Racing have unveiled both their Moto2 and MotoGP machines.
After retiring from his legendary 21-year long career, Valentino Rossi's VR46 Racing team have unveiled their brand new MotoGP and Moto2 machines at an event in Italy.
After seven season's in Moto3, the team moved up to Moto2 in 2017. Since then, they have enjoyed numerous podiums and wins with the likes of Francesco Bagnaia, Luca Marini, Marco Bezzecchi and Celestino Vietti at the helm.
Now, in 2022, the team are stepping up again and expanding to race in both MotoGP and Moto2. The top-flight Ducati satellite machine will be ridden by Italian pairing, Marini and Bezzecchi. In Moto2, Vietti and Niccolo Antonelli will be racing for VR46 Racing.
The unveiling comes shortly after the final MotoGP pre-season test came to an end. During this test, Marini was sitting third with Bezzecchi taking the honour of top rookie.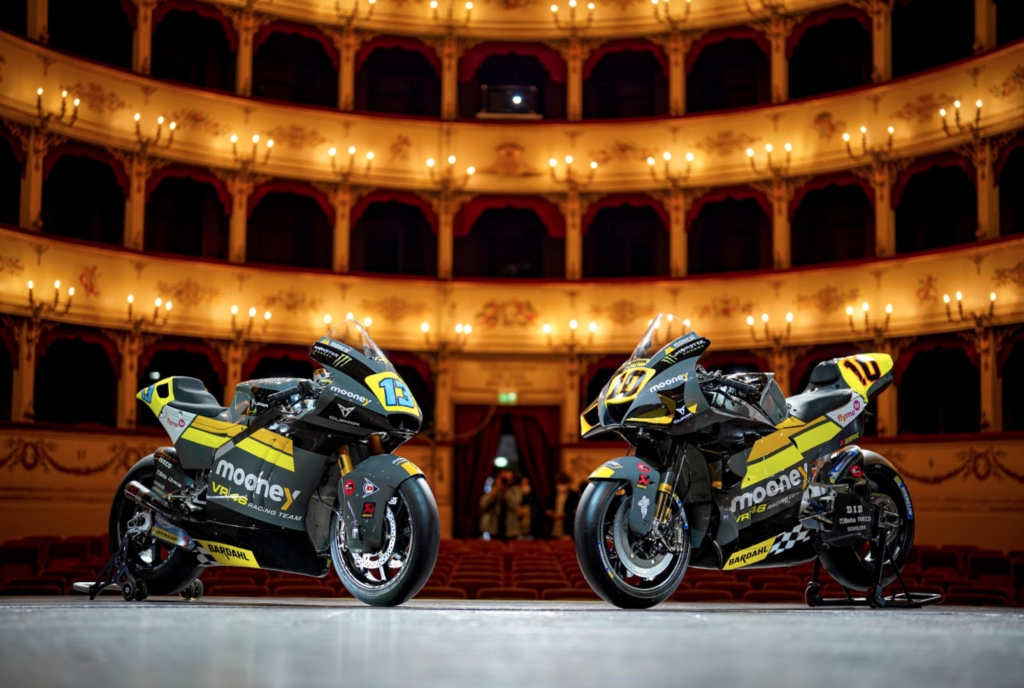 Team Owner, Rossi, stated "It has been a long way since Moto3, but now we are ready to make our debut in MotoGP. It is the closing of a circle for me and also for all the people who have worked with so much passion on this project over the years. At the same time, it is a great debut and the beginning of a new chapter of this beautiful story in MotoGP."
Team Director, Alessio Salucci added "[This is] a natural evolution to be able to follow the best talents of the VR46 Riders Academy even more closely. We saw Luca and Marco grow up. An important commitment in MotoGP, but which does not obscure Moto2 where we will continue to work because we believe it is preparatory for our riders. It was the right time to take up this challenge, a new chapter of this book always under the sign of the Italian spirit and the DNA of VR46 and Valentino who is 100% involved."
Feature Image Credit: MotoGP