The last round of the 2020 MotoGP Championship took place on the 21-22 November at Portimao.
In the last race of the season, saw  the 7th new polesitter of the year as Miguel Oliveira (Red Bull KTM Tech3) beating Franco Morbidelli (Petronas Yamaha SRT) by 0.044 seconds with Jack Miller (Pramac Racing) completing the line up for the front row. World Champion, Joan Mir (Team Suzuki Ecstar), had a disastrous qualifying and starts from 20th position. Will we see a 10th new winner of the season? Let's find out.
The starting grid for the race looked like this:
Row 1 : Oliveira : Morbidelli : Miller Row 2 : Crutchlow : Quartararo : Bradl
Row 3 : Zarco : Vinales : P.Espargaro Row 4 : Rins : Nakagami : Dovisiozo
Row 5 : Binder : A.Espargaro Bagnaia Row 6 : A.Marquez : Rossi : Petrucci
Row 7 : Savadori : Mir : Rabat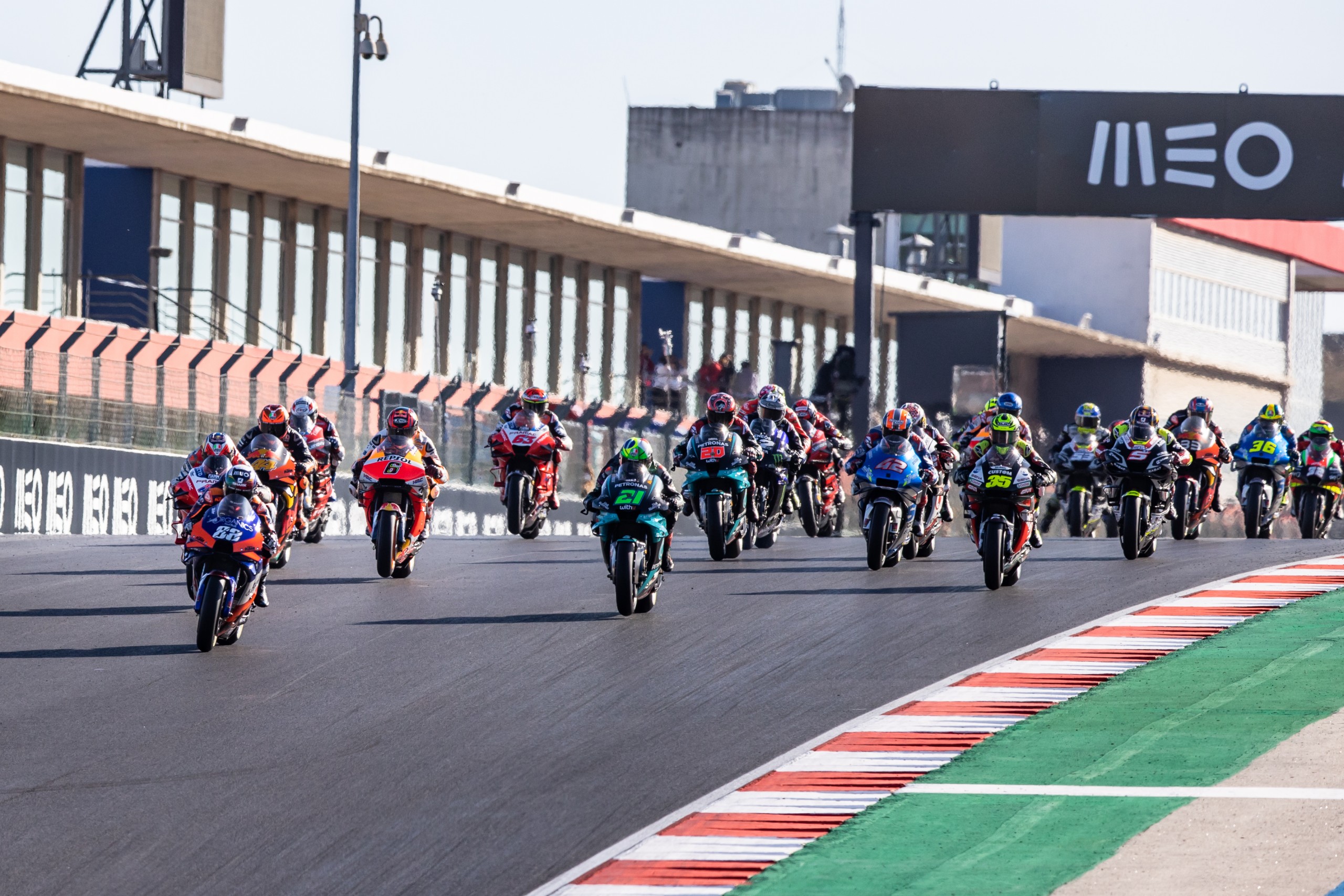 With 25 laps of racing, the last race of the season gets under way with Oliveira getting off to a great start and going first into Turn 1 followed by Morbidelli, Miller, Crutchlow, P.Espargaro and Rins. Miller takes Morbidelli into 2nd but two turns later Morbidelli takes the place back. Mir has an incident with Bagnaia where there seemed to be touching of the wheels on lap 2 and loses a lot of time and drops right back.
By lap 3 Oliveira has pulled out a 1.3 second lead and Binder crashes at Turn 1 putting a very early end to his race. The battle for 7th place is with Zarco, Quartararo and Vinales and all three riders are on it. Nakagami takes Rins and moves up to 10th place.
Lap 5 and Oliveira has now a 2.4 second lead, Miller is staying hot on the heels of Morbidelli biding his time for his opportunity to get past. By the following lap the World Champion has moved up to 16th place with Rossi in 15th, A.Espargaro in 14th, Vinales in 13th and A.Marquez in 12th.
P.Espargaro takes Crutchlow into 4th place on lap 7 but Crutchlow, Bradl and Zarco all have eyes on that 4th place and they are all on it with good clean racing taking place. On lap 9 Crutchlow takes 4th but a few turns later loses it again to P.Espargaro.
Nakagami takes Quartararo into 9th place on lap 10, Quartararo fights back and gets the place back but then Nakagami goes underneath and past, this time he manages to keep the place.
Lap 11 and Oliveira has a comfortable 3.7 lead over Morbidelli and Miller. Dovizioso takes A.Marquez and Quartararo and goes into 9th place and the following lap A.Marquez passes Quartararo pushing him down to 12th. P.Espargaro has a huge moment allowing Crutchlow to slide past but two turns later he gains the place back.
By Lap 14 Mir is still in 16th place and is a second a lap off the pace of the front runners. Nakagami takes Rins on the following lap and the battle for 13th place between Quartararo, Vinales and Rossi is hotting up with all three riders absolutely on it.
With a 4 second lead, can Oliveira keep up this pace for the remaining 10 laps of the race? Mir slows on the track and heads into the pits and retires from the race with what looks like mechanical issues. Zarco passes Crutchlow into 5th place.
On the start/finish straight on lap 19 Vinales gets a wobble on the bike but he manages to hold it and his 12th place.
Lap 21 sees Crutchlow run really wide allowing Dovizioso, Nakagami, Zarco and Bradl to pass and he is now down in 9th. Miller is hunting down Morbidelli, can he catch him and make a pass in the remaining 4 laps?
A.Espargaro passes Crutchlow into 9th on lap 22 and the following lap Nakagami passes Dovizioso up into 5th place. Turn 4 Savadori crashes out of the race.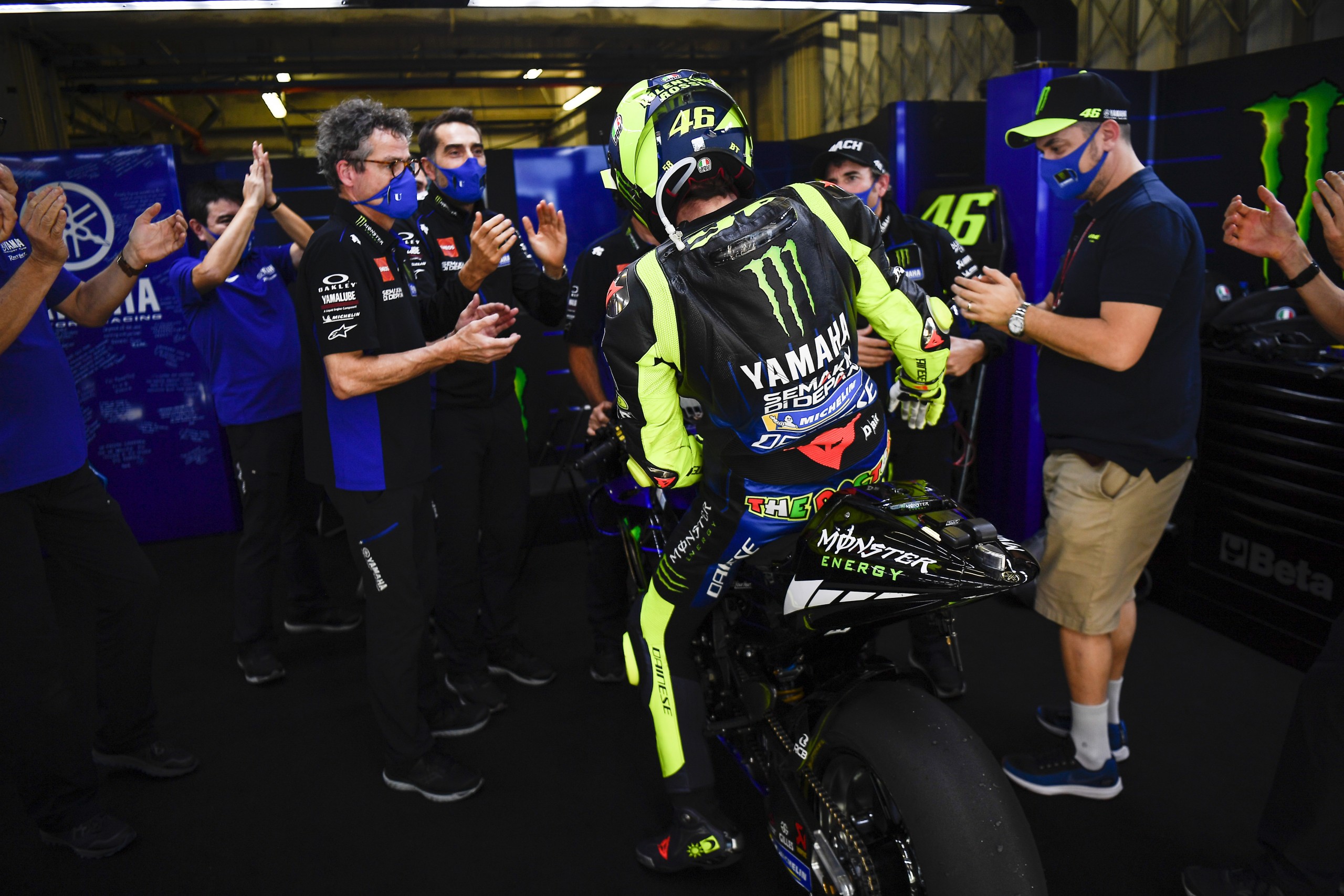 On the start/finish straight going into the final lap, A.Marquez and Zarco are battling for 9th and are side by side, A.Marquez just manages to out brake Zarco and grab the place. Miller is still trying to get past Morbidelli and on Turn 13 he goes underneath and past into 2nd place but Morbidelli comes straight back and snatches the place back but Miller pulls back past and starts to ease away.
Oliveira takes the chequered flag with a comfortable win and his second of the season with Miller taking 2nd and just behind is Morbidelli in 3rd.
An absolutely nail biting last race of the season with some incredible racing taking place. Huge congratulations to KTM and Oliveira on a brilliant win and to Ducati for taking the Manufacturers Championship.
Karen Bristow
Featured image courtesy of Polarity Photo/KTM