Round 13 of the 2020 MotoGP Championship took place on the 14-15 November at the Ricardo Circuit, Spain.
This race could see a new World Champion – Joan Mir (Team Suzuki Ecstar) has a 45 point lead in the Championship ahead of joint second place riders Franco Morbidelli (Petronas Yamaha SRT) and Andrea Dovizioso (Ducati Team).
Qualifying was action packed including a huge highside by A.Marquez but thankfully he was able to walk away. Franco Morbidelli (Petronas Yamaha SRT) was fastest once again and took pole position followed by Jack Miller (Pramac Racing) and Takaaki Nakagami (LCR Honda Idemitsu) making up the front row.
The starting grid for the race looked like this:
Row 1 : Morbidelli : Miller : Nakagami Row 2 : Zarco : P.Espargaro : Vinales
Row 3 : A.Espargaro: Bagnaia : Binder Row 4 : Oliveria : Quartararo : Mir
Row 5 : Crutchlow : Rins : Petrucci Row 6 : Rossi : Dovisiozo : Bradl
Row 7 : Rabat : A.Marquez : Rabat
With 27 laps of racing ahead, the penultimate race of the season got under way with Miller off to a great start and is first into Turn 1 but then runs wide allowing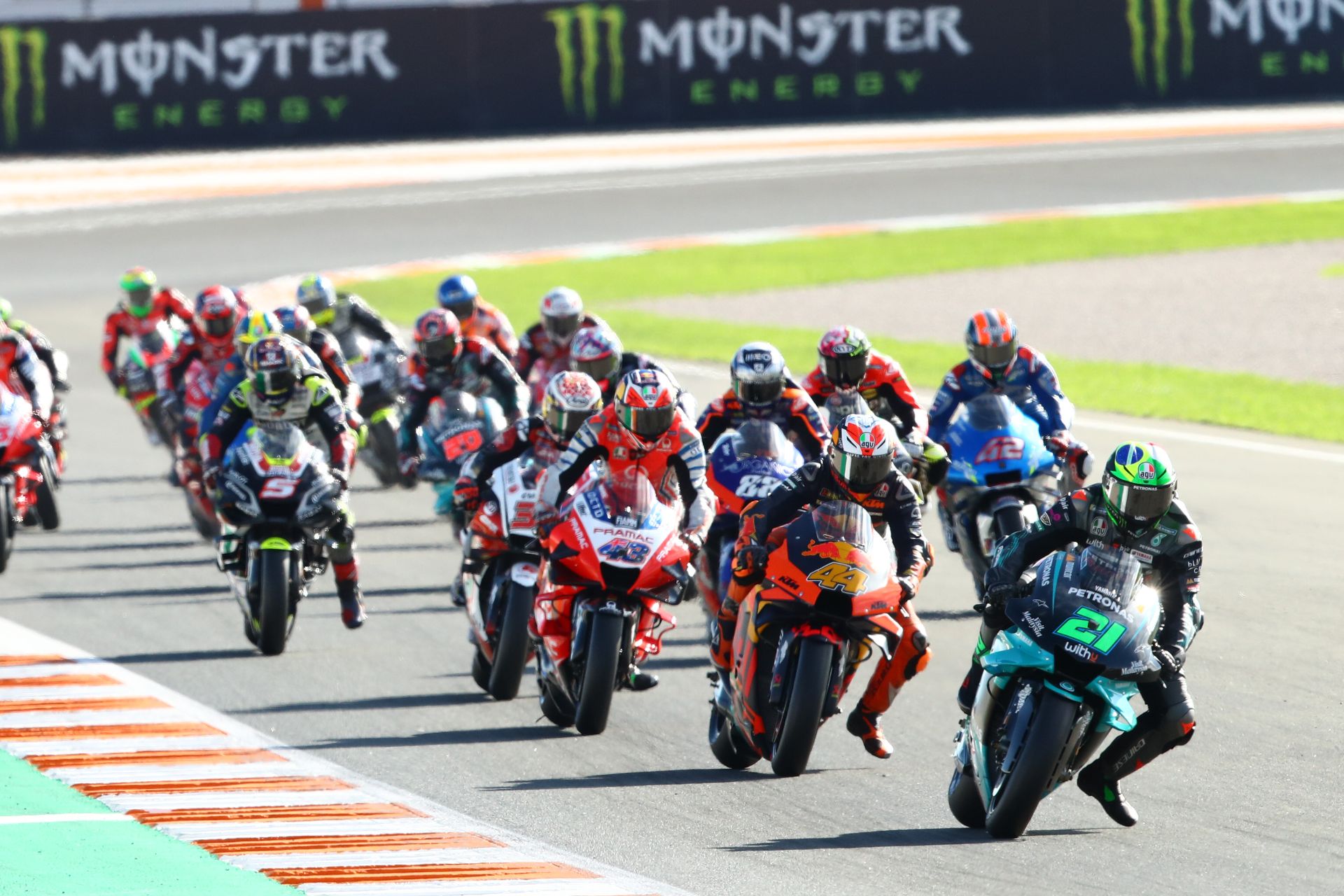 and P.Espargaro to sweep past knocking him back to 3rd position. Turn 2 sees Quartararo nearly coming together with Vinales causing Quartararo to run really wide off the track and he re joins at the back of the grid. The Championship leader, Mir, has made up two places and is in 10th position and Miller has passed P.Espargaro into 2nd place.
Going into lap 2 the top six are Morbidelli; Miller; P.Espargaro; Nakagami; Oliveria and Zarco. By lap 3 Quartararo has made up five places and is now in 17th.
Oliveria passes Nakagami on lap 5 and moves up to 4th place with Zarco now hot on the heels of Nakagami looking for an opportunity to get past which he finds on Turn 1 on the following lap and he goes on the inside to take the place but then goes down and slides into the gravel having been narrowly missed by Nakagami on his slide!
By lap 7 Morbidelli has a 0.7 second lead over Miller and lap 9 Nakagami receives a track limits warning for going onto the green on the track too often! Quartararo goes down at Turn 6 into the gravel along with his Championship hopes.
Nakagami took his place back from Oliveria on the last turn coming into lap 11 quickly followed by Rins pushing Oliveria down to 6th. On the last turn coming into lap 12 Mir passes A.Espargaro and moves up to 8th. Morbidelli has a 1 second lead over Miller but Nakagami puts in the fastest lap and is chasing in on P.Espargaro.
It looks like Miller has found some extra race pace on lap 17 and closes the gap on Morbidelli by 0.3 seconds. Into Lap 19, Nakagami has also closed the gap on P.Espargaro and goes for the inside coming into Turn 14 but he has a wobble, loses it, goes down and slides into the gravel and out of the race with P.Espargaro narrowly missing him.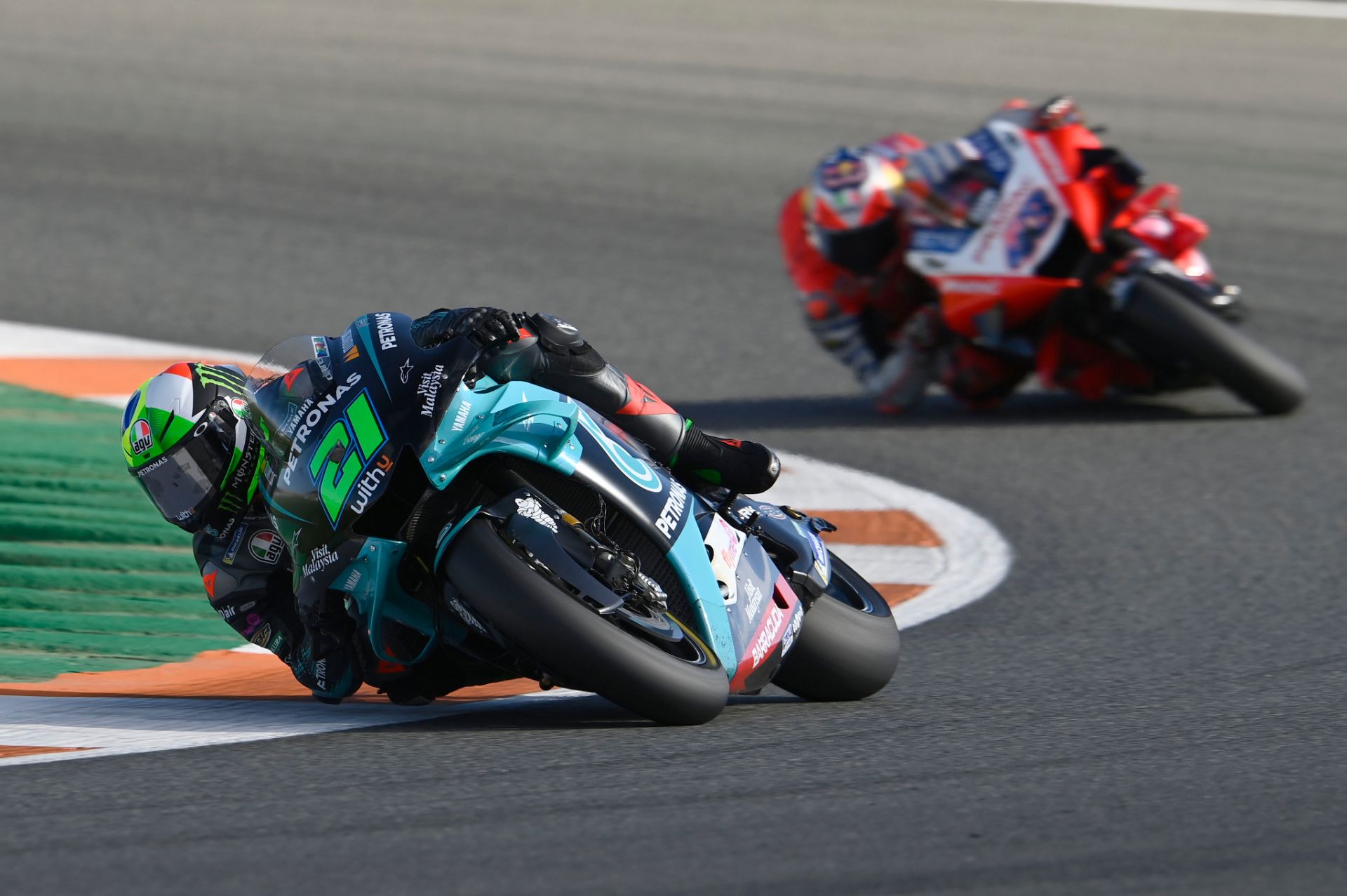 By lap 22 Miller has reduced the gap on Morbidelli to just 0.4 seconds, Miller is on it, but can he get past the leader in the next 5 laps?
The Championship leader, Mir, is keeping it steady down in 7th place and just has to keep doing what he's doing to win the title.
By the penultimate lap the gap between Miller and Morbidelli is just 0.2 seconds – can Morbidelli hold the lead for the next two laps??
On the last lap at Turn 1 Miller takes the lead, by Turn 2 Morbidelli has taken it back, Turn 3 Miller goes back past but by the next turn he's back in second. The two riders are absolutely on it, at every opportunity Miller is looking to get past and coming out of the last turn down to the start finish line it is a horsepower race to the chequered flag. Morbidelli just manages to hold off Miller and take the win. P.Espargaro, Rins, Binder and Oliveria complete the top six.
Absolutely fantastic racing, nail biting to the very end.
Mir passes the chequered flag in 7th place and seals the 2020 MotoGP Championship. Absolutely fantastic result for both Joan Mir and Suzuki (Team Suzuki Ecstar) – the first time in 20 years Suzuki has taken the driver's Championship, the last winner being Kenny Roberts Jnr.
The last race of the season takes place next weekend, 21-22 November, in Portimao – don't forget to set your alarms – it's going to be a great weekend of racing.
Karen Bristow
Featured Image courtesy of Suzuki Racin