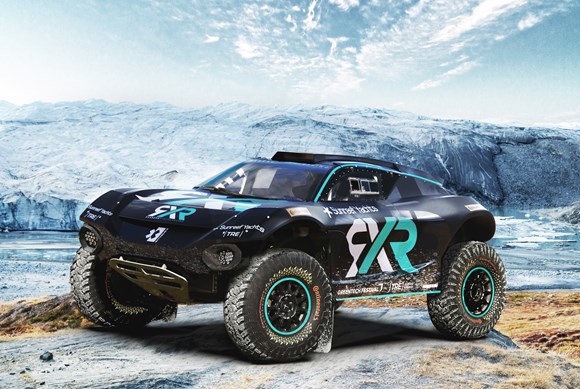 image courtesy of Extreme E
The 2016 Formula One World Championship winner, Nico Rosberg, has announced that he will enter a team into the new electric rally series, Extreme E. Rosberg Xtreme Racing will make its debut in January 2021 when the all new Extreme E racing series begins on the beaches of Lac Rose in Senegal.
Speaking about the announcement, Nico Rosberg has said "We are thrilled to unveil Rosberg Xtreme Racing as the latest edition to Extreme E. The series represents an amazing opportunity to not only drive awareness, but also inspire action against climate change…. Since retiring from F1 I have dedicated my career to sustainable technologies…. to combine these endeavours with my passion for racing is incredibly fulfilling."
Indeed, since his shock retirement from F1 in 2016, Rosberg has invested in several successful sustainability initiatives, and in 2019, he founded the GREENTECH FESTIVAL, a place to show off what the latest advancements in sustainable technology can do.
Season 1 of Extreme E is now set to field nine teams with the likes of german racing team ABT, american outfit Chip Ganassi Racing, and 6 time F1 world champion Lewis Hamilton's team, X44, all in line to race across different, climate-struck locations around the globe. With Rosberg's team joining the fray, fans are preparing to witness the revival of the Rosberg-Hamilton rivalry that fascinated audiences the world over from 2013-2016.
Many saw Lewis Hamilton's move to Mercedes in 2013 as a big gamble; even a mistake, but when the team nailed the new regulations in 2014, Mercedes were well clear of the pack. Thus ensued a three season long battle between the brit and the german, with Nico Rosberg finally getting the better of his teammate in 2016, clinching the driver's title in a tense Abu Dhabi finale. Nico promptly announced his retirement from the sport and replacement Valtteri Bottas has struggled to match Hamilton to the extent of his predecessor. As a result, many fans have come to the realisation that the Lewis-Nico rivalry was something to be savoured. Now it returns in Extreme E, the excitement can start up again.
Extreme E has already announced a star-studded team entry list and a race calendar that has never been seen before. It is tipped to be an incredible series that you won't want to miss when it begins on 23 and 24th January 2021.