Round 4 of the WorldSBK Superpole and Race 1 took place at MotorLand Aragon with the reigning Champion, Jonathan Rea (Kawasaki Racing Team WorldSBK) taking his 25th pole position of his WorldSBK career and smashing the lap record in doing so. Loris Baz (Ten Kate Racing Yamaha) will start second on the grid followed by Scott Redding on the (ARUBA.IT Racing – Ducati)
The starting grid for Race 1 looked like this:
Row 1 : Rea : Baz : Redding Row 2: Lowes : Rinaldi : Haslam
Row 3 : Bautista : van der Mark : Davies Row 4 : Scheib : Razgatlioglu : Gerloff
Row 5 : Fores : Sykes : Mercado Row 6 : Caricasulo : Ponsson : Laverty
Row 7 : Melandri : Barrier : Ramos Row 8 : Takahashi : Gabellini
With 18 laps of racing, Race 1 gets underway with Rea not getting off to a great start as Baz is in the lead by the first corner followed by Rea, Lowes and Redding but by the end of the first lap, Baz is down into fourth having had Rea, Lowes and Redding all pass him.
Bautista, who started off in 7th has not had a good start to the race and went backwards to 12th with Razgatlioglu and Haslam swapping places.
Rea sets the fastest lap on Lap 3 but Lowes is hot on his heels closely followed by Redding who is piling on the pressure. Redding passes on the inside of Lowes, Lowes tries to duck back past but doesn't manage to get past and now Redding has his sights on Rea.
Exiting out of Turn 3 on Lap 4, Lowes' bike highsides throwing him off into the middle of the track but luckily he quickly gets to his feet and off the track having thankfully been missed by the other riders behind him. An unfortunate end to his race.
Davies has passed van der Mark up into 3rd which means that at the moment both Ducati's are in for a podium position. Rea and Redding are starting to pull out a lead but meanwhile Laverty, who is in 15th place, has received a ride through penalty as his mechanics were working on his bike on the grid before the start of the race and he has now dropped to 18th place.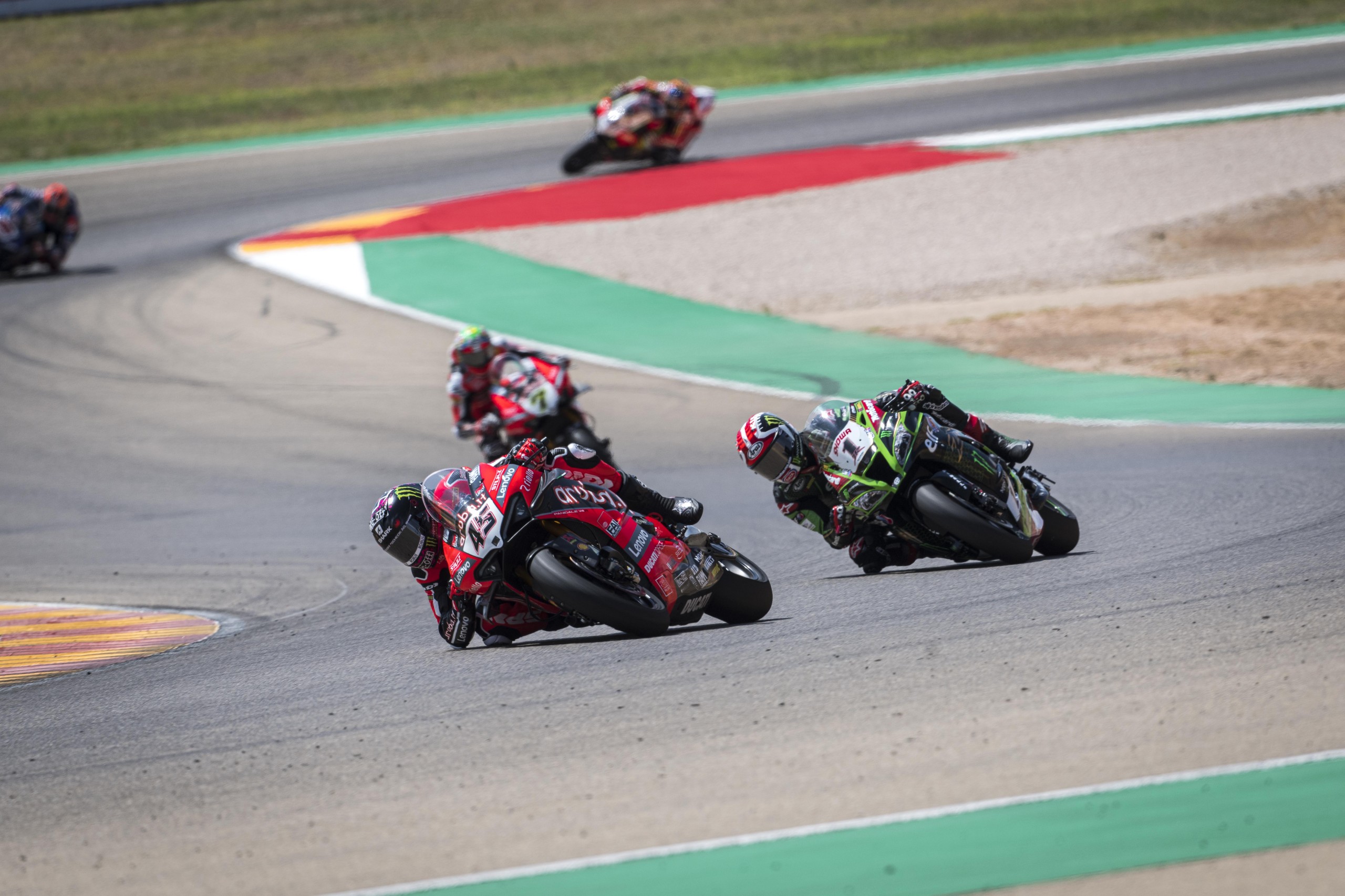 Gerloff hits trouble on Lap 7 and is now running in last place whilst Redding is putting pressure on Rea and on the start/finish line going into lap 8, Redding neatly pulls past Rea, Rea is looking to get straight back past but can't match the power of the Ducati on the straights. Razgatlioglu passes Bautista up into 6th place with Baz, who started 3rd on the grid, now down in 8th place.
By Lap 11, Davies, who is still in 3rd place has pulled out a gap between 4th place and has his sights set on Rea. Rea doesn't seem to have an answer to the speed of the Ducati on the straights but is up with Redding on the corners.
Lap 13 we see Scheib rejoin the track down in 18th place, Bautista crashes out at Turn 5 ending his race and Rinaldi is up into 5th place. The following lap Rea, so very nearly gets past Redding on a left hander but he then runs wide meaning the gap between him and Davies just got a lot shorter.
Davies passes Rea on lap 16 up into 2nd place with Rea doing all he can to get the place back but to no avail, Davies makes the overtake stick and is now catching up with his teammate and is pushing to close the gap.
The last lap sees Davies reeling Redding in but he doesn't have enough time left to catch him, Davies must be desperately hoping Redding will make a mistake but Redding keeps his cool and passes the chequered flag first closely followed by Davies and Rea in 3rd place.
A fantastic top two finish for Ducati and Redding is now at the top of the Championship leaderboard.
What will Race 2 on sunday, bring us? I can't wait to find out.
BK
Featured Image courtesy of Ducati