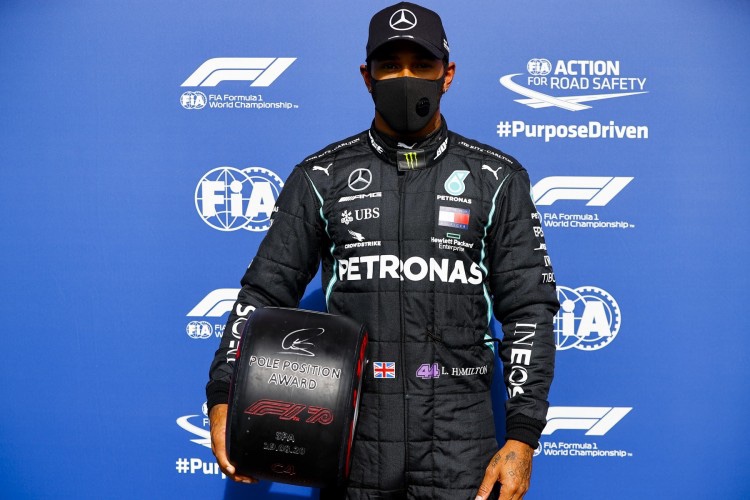 image courtesy of Pirelli Motorsports
Lewis Hamilton took pole position on Saturday afternoon after beating his teammate Valtteri Bottas by nearly half a second. The six time world champion put in one of the best laps of his career, just like he has been doing for all this season so far. The Englishman dedicated the pole position to actor Chadwick Boseman who passed away earlier today following a battle with cancer. Bottas will be looking to make up for a sub-par Saturday outing tomorrow by trying to get an early jump on his teammate on a track that very much is set up for it.
Max Verstappen missed out on the front row by one tenth of a second despite putting in a stellar lap in the second run of Q3. The Dutch driver looked to have been running with extra downforce given the chance of rain for the race tomorrow. Daniel Ricciardo is the surprise entrant in the second row after the Aussie driver put in a great lap during the first runs of Q3. His teammate Ocon managed a lap that put him at 6th place for tomorrow's race alongside Alex Albon who would presumably be happy with a 5th place on the grid following his effort in Q3.
McLaren had a change of fortunes for Spa following the below average qualifying result in Catalunya last time around. The British team lines up with Carlos Sainz at 7th and Lando Norris in 10th and will be hoping for a strong double points finish tomorrow. Racing Point will be looking to go back to the drawing board after lining up with Perez at 8th and Stroll at 9th. They will certainly be wanting a better race tomorrow given the strong car they have had with them all season long.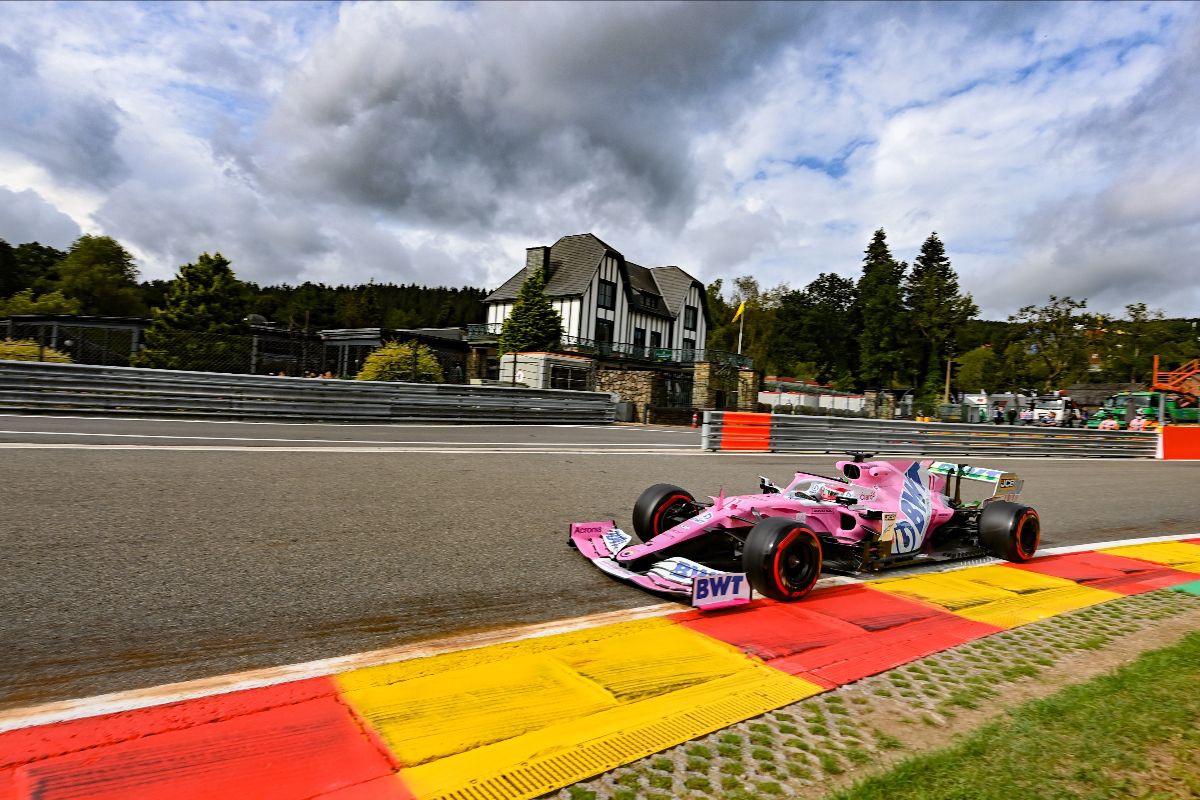 Image courtesy of Racing Point
Ferrari's woes worsened following today's qualifying after both the drivers barely scraping out of Q1 and ended up with Leclerc at 13th and Vettel at 14th on the grid. It will be yet another long day of thinking back at Mugello wondering what they can do to salvage the season and also what can be done to put on a better show in the coming few races in Italy.
Alpha Tauri are set to line up 11th and 12th with Danil Kvyat finally out-qualifying his teammate Pierre Gasly this season. With the tyre choice set to be in their favour, the team can hope to put up a challenge for a good points finish tomorrow. George Russell of Williams is slowly but surely establishing himself as a regular in Q2 after putting in yet another good lap in Q1 and maintaining his perfect record against his teammate which will see him start 15th tomorrow. His teammate Latifi is all set to line up at 19th on the last row of the grid.
The bad weekend for the Ferrari powered cars continued after Kimi Raikkonen and Giovinazzi failed to make it out of Q1 and will line up 16th and 18th on the grid. Both the Haas cars are set to line up with Grosjean at 17th and Magnussen at 20th after Magnussen's error at the end of Q1 that put him on the gravel and dead last on the grid.
With the possibility of rain at 60% for tomorrow's race, it could be a lot to play for in the midfield which could even mean Ferrari scoring points or Renault challenging for an unlikely podium. Mercedes will be wary of an ever present Verstappen threat from the 2nd row which could become much bigger given the rain forecast as Spa promises to be a cracker like it always is.