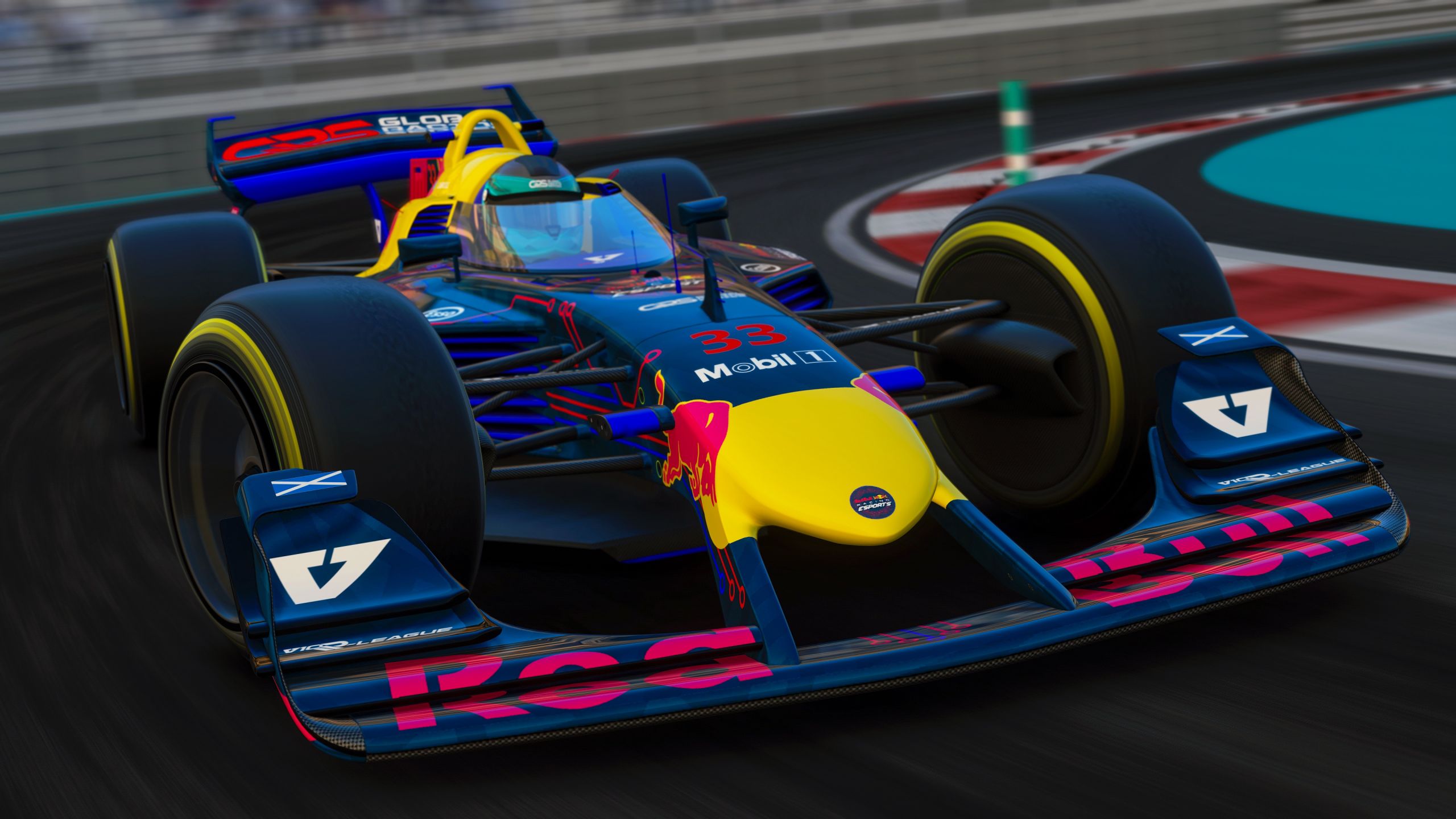 image courtesy of Red Bull Racing.
We all very much enjoyed the variety of Esports action in the beginning portion of this year whilst real world racing was on hold. We had so much virtual racing to enjoy – ranging from officially sanctioned events by major motorsport championships such as F1, IndyCar, NASCAR, Aussie Supers, MotoGP and Formula E – to originals like the All-Star Series by The Race and the VCO Cup of Nations.
Then you have championships that existed long before the sim racing boom, such as Formula Sim Racing, the Grand Prix Virtual World Championship, and prominent league racing series such as Apex Online Racing and Online Racing League. Well now, a new championship is coming onto the scene with an interesting format and has attracted some of the biggest teams in the world of both real and virtual racing.
The Global Racing Series V10 R-League is a sim racing championship that takes place on Assetto Corsa with a very intriguing format. You have eight teams and three drivers each, one team takes on another in a series of races, the first of which is a head-to-head. In this event, teams match up their drivers in three short one-on-one races with the first team to win two races getting the first point.
What follows is a relay race where each driver heads out on track one at a time, swapping in the pits with a team mate, the fastest team across all three drivers scores the next point. Finally you have a sprint race, all six drivers take to the track with team scores for the round based on positions, the highest score gets the point.
I believe it may be a case of it being like a tournament format, starting off with eight teams in the first round, four in the second and then two for the final. I may be wrong.
Who are the teams? Well the V10 R-League, with its prize pool of £100,000 to be distributed across the eight teams depending on the result at the end of it, has attracted some very big names. They are as follows.
Teams from F1 such as Red Bull, Racing Point and Williams are competing as are the sim racing divisions of BMW, Ford and even Suzuki in collaboration with Jean Alesi's Esports Academy. Then the other two are Team RedLine in partnership with Porsche and a new Esports team from the UAE, Yas Heat which is working with Veloce Esports.
Some well known drivers are taking part too. Red Bull have the likes of Graham Carroll and Joni Törmälä who both raced for Red Bull in the 2018 F1 Esports Pro Series. BMW has former Toro Rosso F1 Esports driver Cem Bölükbaşı, as well as Formula E Race At Home Challenge sim drivers grid winner Kevin Siggy and Gran Turismo World Tour regular Coque López.
Racing Point are running their current F1 Esports drivers Lucas Blakeley, Daniele Haddad and their Pro Draft pick Shanaka Clay. They also have former British Touring Car driver Mike Epps, who during the sim racing boom quickly established himself as one of the best professional racing drivers in the Esports sphere as he starred in many big sim racing events.
Williams have a selection of Nikodem Wisniewski and Kuba Brzezinski, the two Polish drivers who were part of the overall winning entry in the Le Mans 24 Virtual. They have also acquired the services of Michael Romanidis, who competed in the Pro Exhibition races for Williams, and former Haas F1 Esports driver Martin Štefanko.
Another Czech former Haas F1 Esports driver Michal Šmidl will race for Porsche24 RedLine as will Atze Kerkhof, sparring partner of Max Verstappen and was teammates with Max and Lando Norris in the Le Mans 24 Virtual. Then we have Jaroslav Honzik with Yas Heat, you may know him better as the sim racing content creator and streamer Jardier.
Now onto the part you lot may have been wondering once you saw the name of the series, V10 R-League. Yes, V10, the cars that will be raced in this will be powered by a V10 so you can hear it bellow in all its glory like it's 2005 all over again. The cars utilise a 3.0-litre 900 horsepower V10 that will rev to 19,000rpm. And because they only weigh 700 kilograms, they'll go like stink! The predicted top speed for these cars is 220mph, and when it all goes wrong, there's no traction control or anti-lock brakes to save the drivers.
These cars will race at top line racing tracks from around the world. These include Vallelunga, Brands Hatch, Spa-Francorchamps, Laguna Seca, Monza, Nürburgring (and that's including the 13-mile Nordschliefe) and Yas Marina. I have no doubt that these cars with their striking look will make for some great racing on these tracks, even Yas Marina!
So if this sounds like it's right up your street, look for V10 R-League on social media which will lead you to their website and you can find out when and where to watch this happen. Watch team vs team, head-to-head, wheel-to-wheel, let's bring the noise!