This weekend's MotoGP action came to us from the Red Bull Ring in Spielberg, Austria.
The track temperature were set to be HOT and indeed they were which resulted in an absolute cracker of a race. Ever since Marc Marquez suffered an injury and is currently recuperating, anyone can win this.
The riders have lined up on the grid ready to go and Jack Miller (Pramac Racing) had a good start leading at the first corner.
Maverick Vinales (Monster Energy Yamaha MotoGP) is going back down the field on the first lap and Alex Rins (Team Suzuki Ecstar) is moving up the field.
Cal Crutchlow (LCR Honda Castrol) has lost 5 places on the first lap and Jack Miller (Pramac Racing) has gone down to 3rd place. Andrea Dovizioso (Ducati Team) had a cracking start to the race .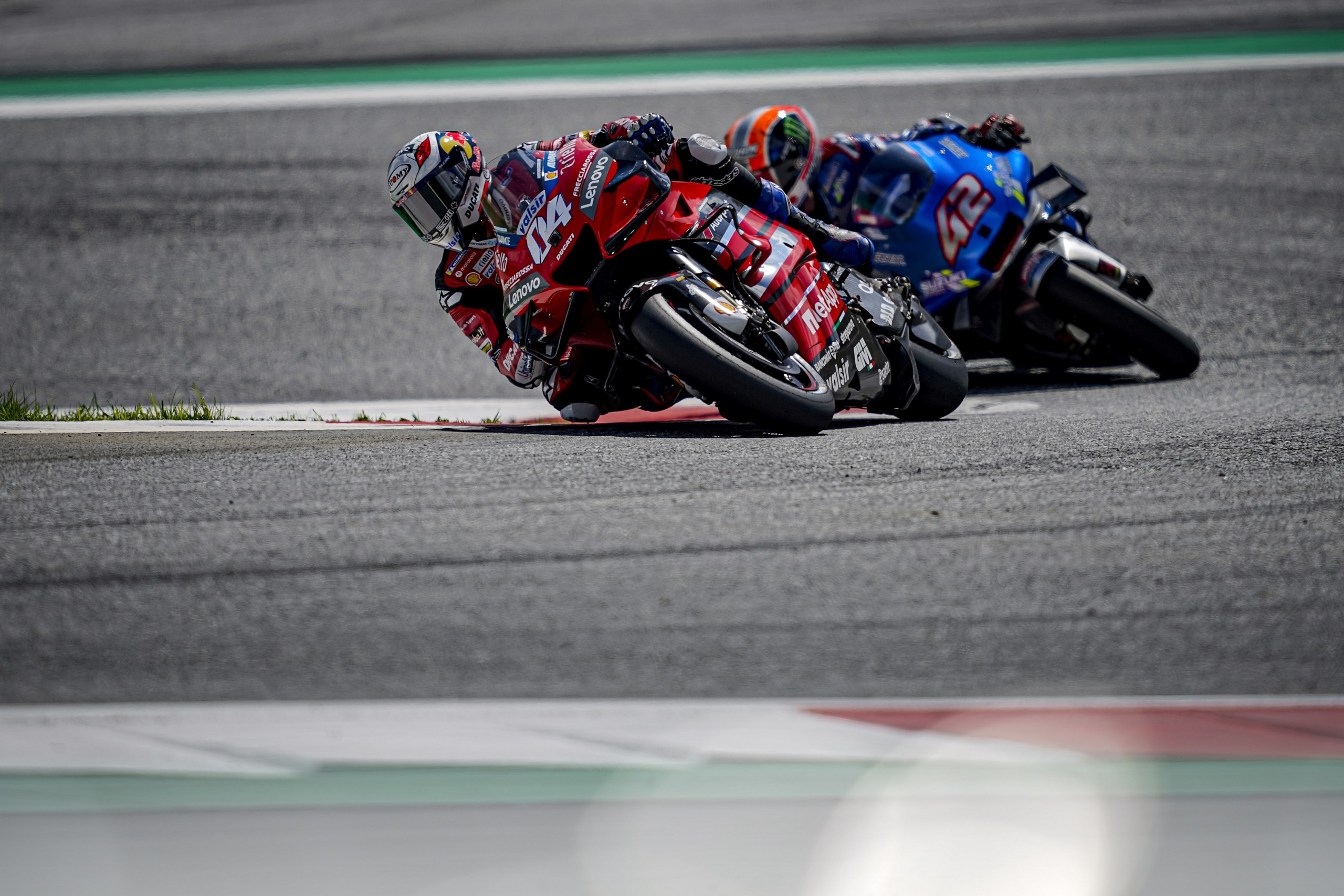 Valentino Rossi (Monster Energy Yamaha MotoGP) has been racing well in the first couple of laps and staying up there with everyone.
This circuit has 7 right and 3 left hand corners and although it is a shorter track than most circuits, by the end of the race they will have covered 75 miles.
You can see that the Ducati's are finding the windy part of the track hard to keep the bikes under control.
Rins is in 12th place now and it is like the Suzuki on rails going around this track , it is an absolute pleasure to watch.
Rossi's front end went down then but he managed to keep it upright, the Championship leader is dead last right now after making a mistake on Turn 4 so it's going to be a slow race for him now.
A chaos strewn incident causes a Red Flag
Franco Morbidelli (Petronas Yamaha SRT) and Johann Zarco (Esponsorama Racing) were side by on the straight coming down into Turn 3 and as they braked they made contact with each other and both bikes and riders went down.
In what can only be described as an absolutely terrifying few moments, both bikes hurtled towards Turn 4 at a tremendous rate of knots, both hitting the air-fence which slowed them down but then headed straight into the path of Vinales and Rossi with Morbidelli's bike going through the gap between Vinales and Rossi and Zarco's bike narrowly missing Vinales.
Thankfully Morbidelli and Zarco both got to their feet and after going to the medical centre for a check-up, both were declared fit.
This is the second red flagged race of the day, the first being in the Moto2 race.
The riders have been in the pits after the red flag whilst the marshals did a great job clearing up the debris and fixing the air-fence. After looking at a replay you can see Rossi's bike was clipped in the incident.
Jack Miller (Pramac Racing) is getting instructions in the pit and Zarco is now out the race.
Rossi still looks in shock, we thought Rossi had seen everything except a bike coming though the air inches from his face. Now he has to get back on the bike and ride (there's a song there somewhere).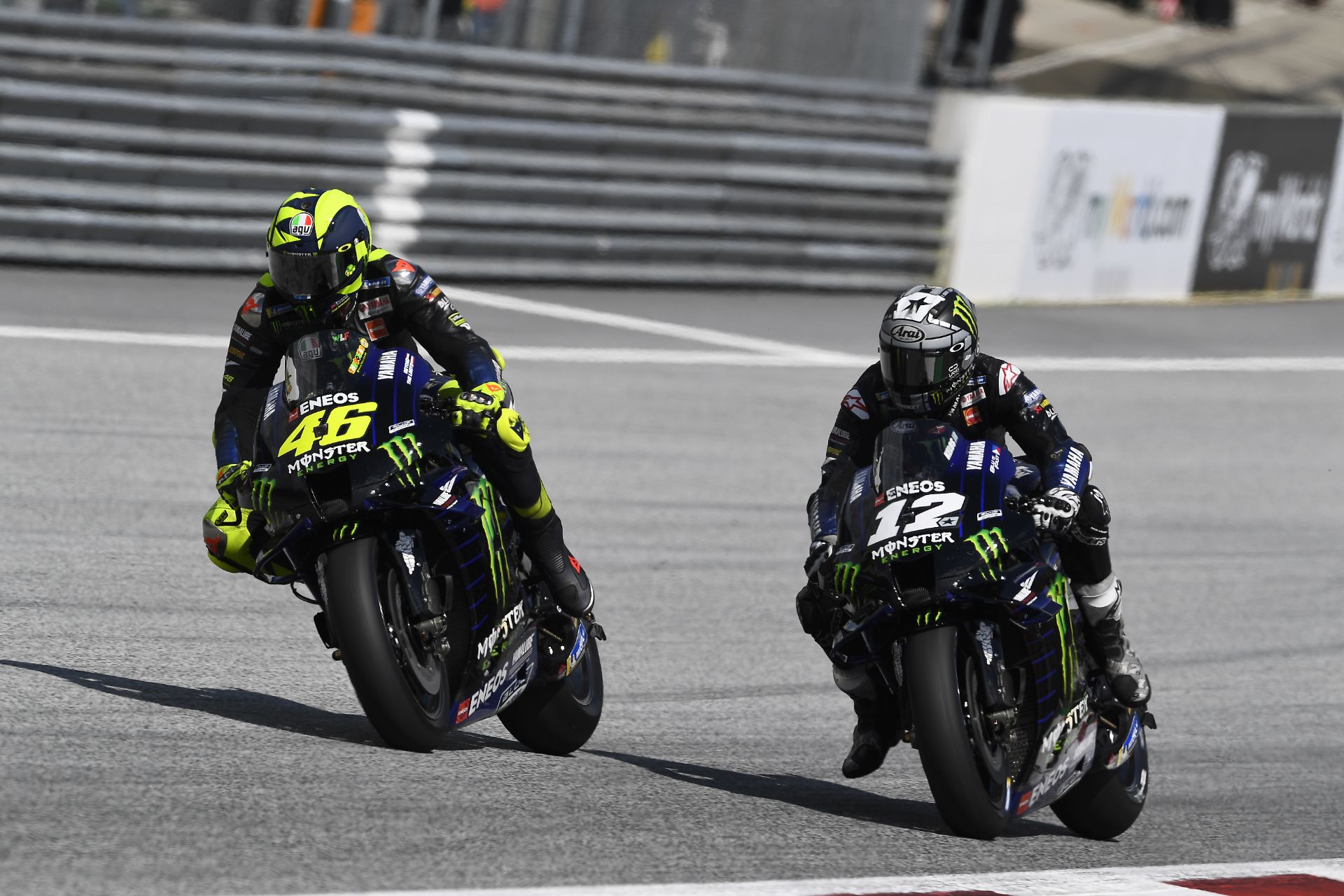 All bikes that are in race condition are back out on track ready for a restart. The starting grid was decided on countback to the previous completed lap which meant that Pol Espargaro (Red Bull KTM Factory Racing) was on pole.
The Race Restart
Crutchlow starts near the back and it's been a steady restart, Miller has a good start although he does go wide on the second corner but managed to keep the lead.
Rossi does not look on it right now since the red flag incident but Miller is pulling out a good lead of a second and everyone is behind him picking up the laps.
Dovizioso and Mir are closing in on Miller then Dovizioso carved past Miller into Turn 1 and at Turn 9 later in the lap, Rins followed Dovizioso through. Rins really was on a charge but then his race prematurely ended at Turn 6 when he went down and out. Barring a mistake on the part of Dovizioso, the win was his now.
The top three at at the chequered flag were as follows:
1st Andrea Dovizioso (Ducati Team)
2nd Joan Mir (Team Suzuki Ecstar)
3rd Jack Miller (Pramac Racing)
Great race today, and luckily we don't have to wait long until the next race which is on the 21st to 24th of August,  back at the Red Bull Ring.
Featured Image courtesy of Ducati