Valterri Bottas set the quickest time during FP1 of the Barcelona Grand Prix. His teammate Lewis Hamilton was second, only 0.039 seconds behind. Those times were set on a qualifying run in the latter half of the session on the soft tyres.
Mercedes will be looking to bounce back after a disappointing result at the 70th Anniversary Grand Prix. Barcelona has been a good track for the German team in the past,  but there will be concerns that the temperature over the weekend will potentially harm their tyre wear, similar to what happened at Silverstone.
However, they can breathe a sigh of relief that they can mitigate that risk by being almost a second clear of the rest of the competition again.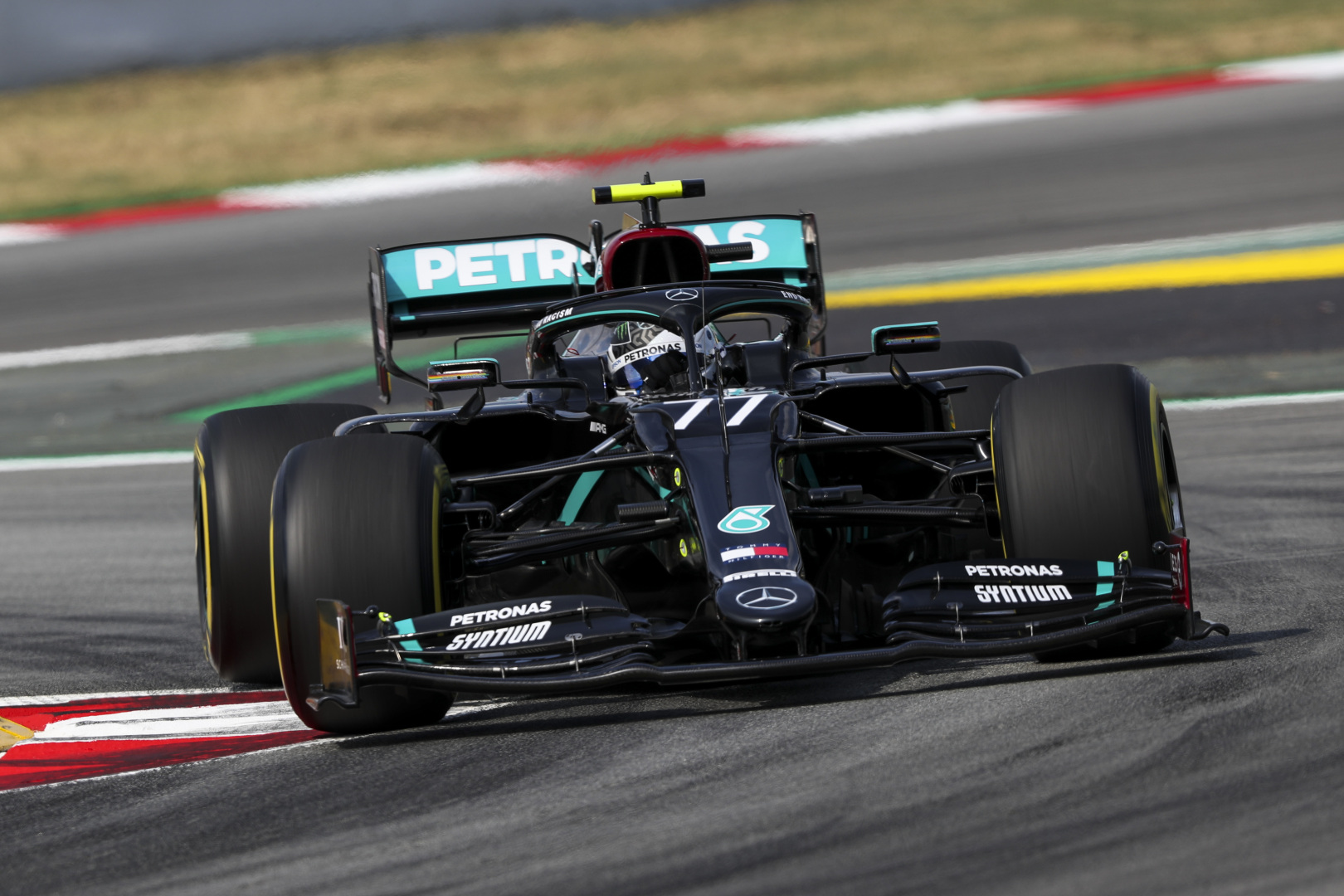 Max Verstappen set the third fastest time +0.939 seconds behind the Mercedes drivers. Following a race win last weekend the Dutchman will be hoping for another positive drive at a circuit where he achieved his first race win.
Alexander Albon finished  lower in P8  (+1.821). The Thai driver has been facing criticism recently after a string of results where he has failed to perform at a level close to his teammate. The Red Bull car seems to be a handful which was communicated to the team early on in the session, Albon complaining of a 'sharp' car.  This simply means that the car is too reactive. When a driver turns the steering wheel, if the car reacts too sharply it will inevitably give you a nervous feeling. Even before you reach a corner you are already worried about your input. Max is naturally faster in a sharper car while Albon is having to adapt his driving style.
Luckily, later in the session Albon mentioned that he was happier with the balance of the car, despite losing time on the straights.
Ferrari will be happy that Sebastian Vettel was closer to his teammate. While Charles Leclerc has had an impressive run of races where he has finished on the podium twice, a new chassis was brought to this race in an attempt to solve the difficulties Vettel has been having. Charles Leclerc finished P4 +1.185 off the pace while Vettel finished in P5, one hundredth of a second behind.
The Scuderia were surprisingly good on managing the Pirelli tyres at Silverstone. If both drivers can capitalise on a good qualifying position, things may be looking up for the team to score good points this weekend.
Haas will be pleased with their efforts as Romain Grosjean finished in P6 +1.506 off the pace while Kevin Magnussen was P9 +1.835 off.
They will be hoping to score points for the first time since Budapest after a disappointing run of form.
Sergio Perez was back in action after the fiasco following a positive coronavirus test. His time only good enough for P7 (+1.689) however was set on the medium compound tyres. Likewise, Lance Stroll set his fastest time on the medium compound tyres good enough for P10 (+1.858), nearly two seconds off the pace.
Racing Point certainly have more pace than that and may have been running high fuel, long race runs. Time will tell what their true pace will be on soft tyre and low fuel.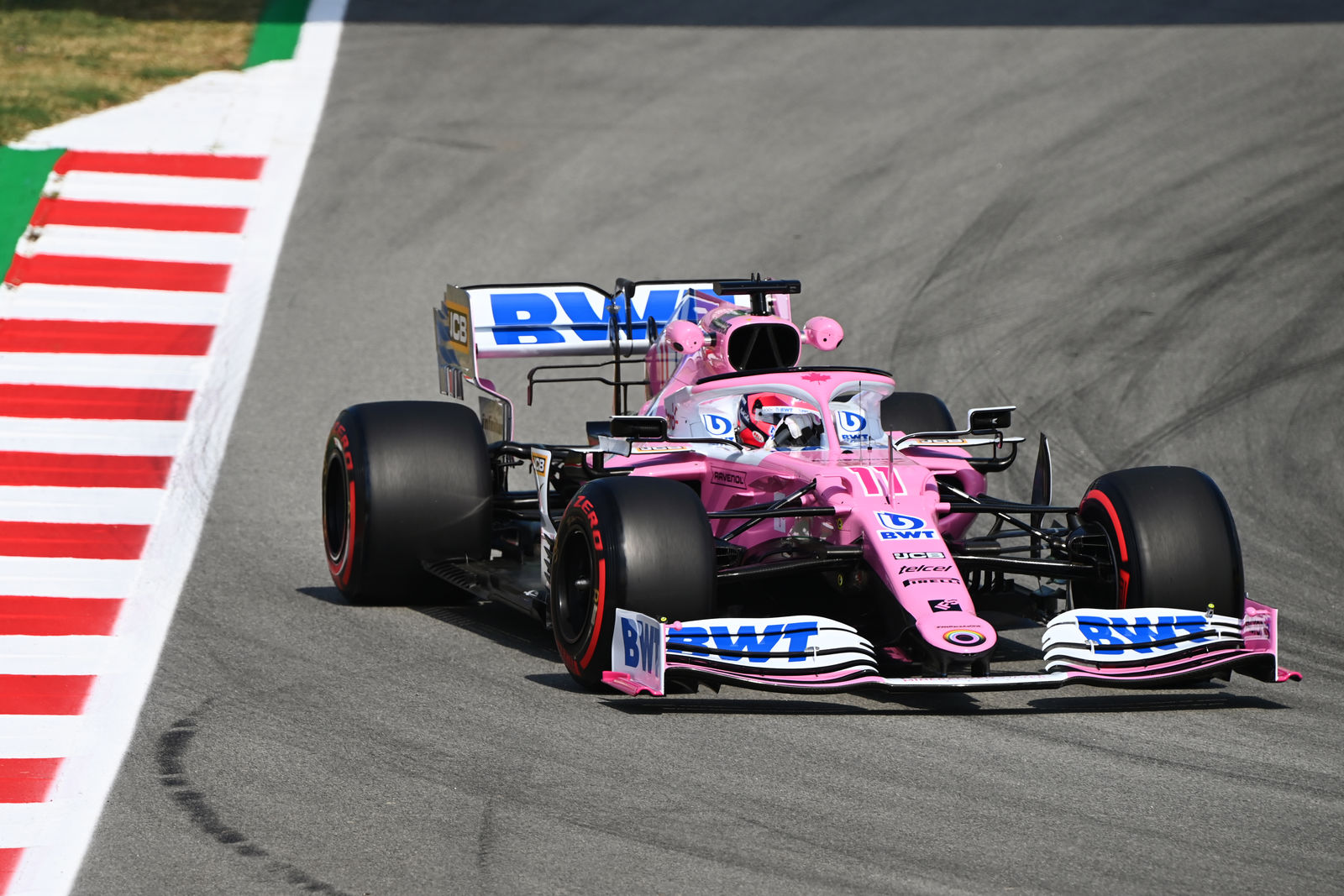 Renault had a productive day once again running a combination of long and short stints throughout the session. Esteban Ocon was P12 +1.951 adrift while his teammate Daniel Ricciardo was P18 +2.445 off.
While Renault's season has been a mixture of positives and negatives, they will hope to replicate their impressive form at Silverstone here. The Enstone team have been playing around with a fundamental front suspension change and have been trying to find the optimum balance between front aerodynamics and front suspension for many weekends. It seems the second race at Silverstone gave them to opportunity to find the right setup for the demands of the circuit.
As Barcelona mimics Silverstone with many flowing high speed corners. Renault may be able to dial that car in and give there drivers something stable and quick to race with.
McLaren were running a specific programme in order to figure out the cooling issues they experienced with Carlos Sainz at Silverstone. Carlos Sainz finished P11 +1.948 off while Lando Norris was P13 (+1.959).
Sainz will be hoping for a positive result after a string of reliability issues and horrendous pit stops have cost the Spaniard over 25 points at least since Styria. At Styria, Budapest and the 70th Anniversary McLaren have not delivered a sub five second pit stop for Carlos, putting him into traffic after he was running best of the rest each time. All of these, on top of the tyre failure at the first Silverstone race while in P4 shows he has had his fair share of bad luck this season. Andreas Seidl iterated this point after practice to Sky F1 saying that: "On Carlos's side, we clearly have to admit we have let him down as a team several times this year".
Alpha Tauri was P14 with Pierre Gasly (+2.103) while Danil Kvyat was P17 (+2.360). The Russian a good potion of the session in the garage, when he was finally able to get a run out he was complaining about the headrest in his cockpit.
Pierre Gasly has been in magnificent form and will be hoping to extend his unbeaten qualifying record against his teammate this season.
Antonio Giovinazzi finished P15 (+2.132) while Kimi Raikonnen was alongside him in P16 (+2.196). Another uneventful session for the Italian team, who have looked like the slowest car on the grid at times.
Williams gave test driver Roy Nissany a run out this session. He finished P20 just under three tenths slower than Nicholas Latifi in P19. However, the Israeli set his time on the mediums and for most the session was very close to the Canadian. It was a relatively uneventful session for the British team apart from a spin caused by Roy Nissany going into sector three.
As the weekend progresses the temperatures are expected to rise. It will be interesting to see the effect this has on teams who have struggled in the heat such as Mercedes and McLaren.