Under the scorching hot Barcelona weather, it was Lewis Hamilton who topped the time sheets with a 1:16:883. His teammate Valtteri Bottas finished in P2 (+0.287) behind. It seems like normal service is resumed for the Mercedes team after locking out the top two earlier in the day.
The temperature at the Circuit de Catalunya increased by three degrees celsius by the time FP2 came around which made tyre degradation key to every teams' running plans. The track temperature was so high that running through sector three would put a much more significant level of load through the rear tyres and push the soft compounds out of their optimum operating window. It was likely we would see slower times than earlier in the day.
Thus, teams took this time to work out the delta between the medium and hard compounds. The question on everybody's lips will be whether the top teams will risk running the hard compound tyres in Q2. This session was critical to figuring these questions out.
Red Bull had a bitter-sweet session in which Max Verstappen finished P3 (+0.821) ahead of both Mercedes drivers. However, Alexander Albon continued to struggle, only good enough for P13. Verstappen was able to reduce the deficit to Mercedes by a tenth however it seems a little farfetched to think that the Red Bull will be able to challenge the Mercedes going into Saturday.
Daniel Ricciardo finished another impressive P4 as the Australian continues to impress in that ever-improving Renault. If they can make it through to Q3 on the harder compound tyres, do not count out the Honey Badger to make a massive impression in this race. Esteban Ocon finished in P9 (+1.420) but given the young Frenchman's ability to make the one stop work at Silverstone, expect him to be a factor in a race that is expecting high temperatures and high degradation.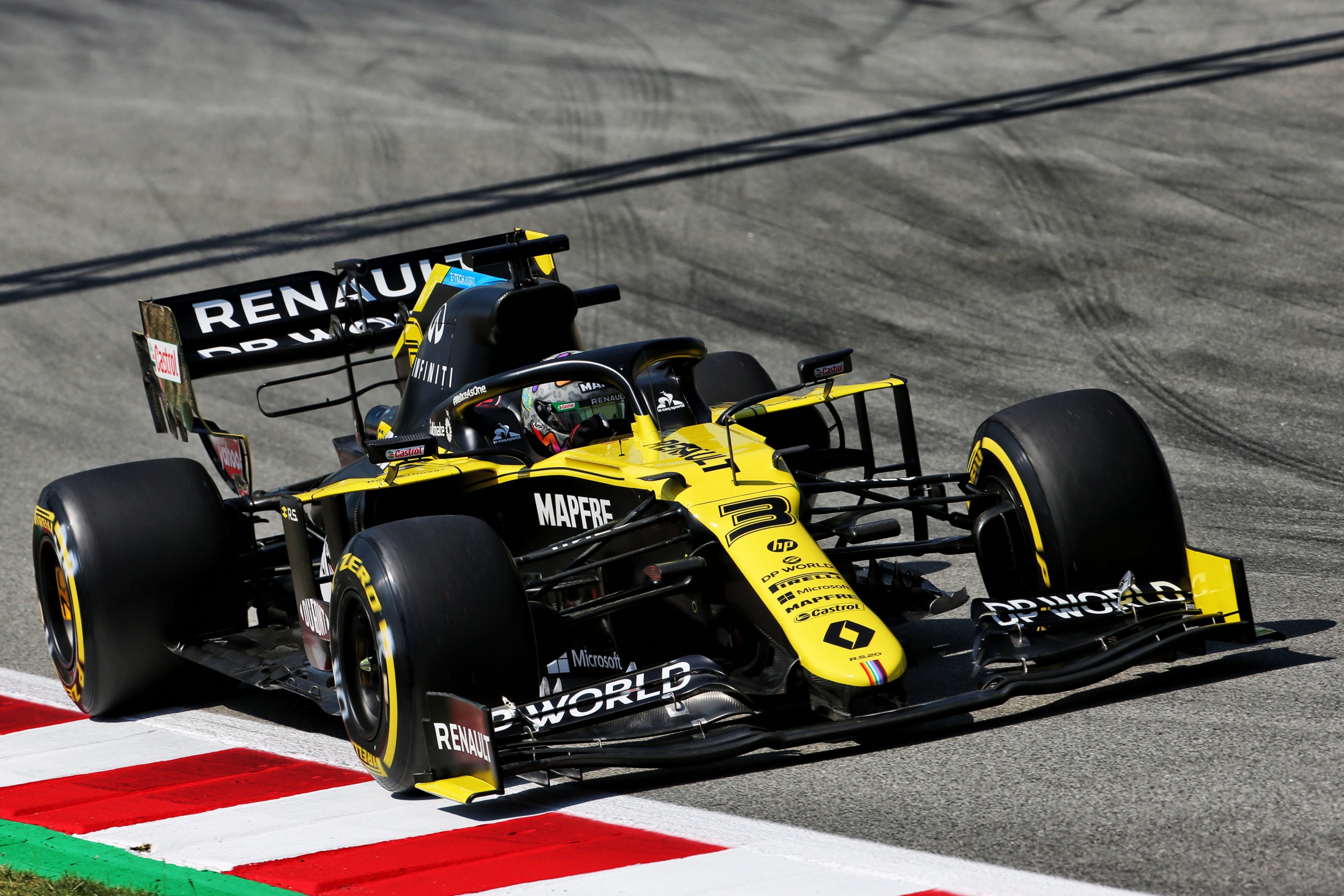 Haas will be extremely pleased with their performance this weekend with a surprising time set by Romain Grosjean in P5 (+ 1.250). We saw earlier in FP1, the Frenchman setting a similar time good enough for P6. His session ended ten minutes before the end with a mechanical issue. Whether P5 is representative of their true pace or a sign of their nearest rivals sandbagging before qualifying, it remains to be seen. But it will be a positive sign for the American team who have regularly missed out on Q2 this season. Kevin Magnussen struggled down in P16 (+1.878) but will be eager to replicate his teammates impressive pace.
McLaren began the session testing some parts on the bargeboard of Lando Norris's car. However, they will be worried about the sudden drop in pace over the past few races. Perhaps the new bargeboard will help in the high-speed corners later in the weekend but a P7 (+1.331) for Sainz and a P14 (+1.623) for Norris leaves a lot of room for improvement.
Likewise, Racing Point had a difficult day with Sergio Perez in P8 (+1.410) while Lance Stroll was down in P11 (+1.474). However, Perez will be happy to outperform his teammate in both sessions the weekend he returns after suffering mild symptoms of COVID-19. As the controversy of the Racing Point break-ducts consume the discourse off-track they may be pleased that it will distract from their on-track plateau in performance. However, I expect Racing Point to be up there with Renault vying for a Q3 slot.
Alpha Tauri had a decent day in which Pierre Gasly finished P10 (+1.429) ahead of Danil Kvyat in P15 (+1.759). The Russian once again struggled to find pace in the car and had further frustrations when the Williams of Nicholas Latifi blocked him going into turn 2. The team have shown signs of improvement in the races and so may choose to run the harder compound in Q2 to start on an alternate strategy.
Alfa Romeo finished with Raikkonen in P17 (+2.017) and Giovinazzi in P18 (+2.081). Though they were a few tenths faster than their nearest rivals Williams.
Rounding out the final two places were the Williams drivers, Nicholas Latifi in P19 (+2.272) and George Russell P20 (+2.508). The Canadian will be happy to outperform his highly rated teammate going into Saturday. However, it seems to be the young British driver's tendency to deliver a lap time out of nowhere when it comes to qualifying and so will be ready to achieve his fifth Q2 appearance in a row.
While the Mercedes lock out the top two positions the fight for best of the rest will be captivating to watch. Ricciardo and Grosjean are showing glimpses of brilliance. Leclerc is still outperforming that Ferrari and Carlos Sainz will be eager to put on a good performance at his home race in order to reverse his run of bad luck.