What a great restart to to the WorldSBK championship at Jerez this weekend (31 Jul-02 Aug) for Round 2 in Spain at the Circuito de Jerez – Angel Nieto, Andalusia after a five month break.
Superpole took place earlier in the day with the Championship leader Lowes crashing at Turn 13 in the first phase of the session and was unable to set a lap time but was able to get back on the track with 15 minutes left of the session and will start the race down in 14th place.
Leandro 'Tati' Mercado took a tumble at Turn 4. He will start the race in 20th place.
After a tense session rookie Scott Redding took pole position by just 0.034s over Rea closely followed by Sykes.
The starting grid looked like this:
Row 1 : Redding : Rea : Sykes
Row 2: van der Mark : Razgatlioglu : Baz
Row 3 : Davies : Bautista : Haslam
Row 4 : Rinaldi : Laverty : Cortese
Row 5 : Caricasulo : Lowes : Gerloff
Row 6 : Fores : Scheib : Ponsson
Row 7 : Melandri : Mercado : Barrier
Row 8 : Gabellini : Takahashi
Before the start of Race 1, a minute's silence was held in memory of those who lost their lives to the Covid-19 Pandemic.
With 20 laps of racing and the air temperature at 36 degrees, Race 1 gets underway but Redding does not have a good start at all but manages to cling onto 3rd place by the first corner, Rea goes up into first place whilst Razgatlioglu makes an incredible start and is up into 2nd place from starting 5th.
On Lap 3 Caricasulo crashes at Turn 4 and although he manages to get the bike going again, unfortunately this is only to the pits.
Lap 4 sees firth place man Tom Sykes slowing down and pulling over to the side of the track as he approached Turn 1. It looked like some kind of technical issue as he does manage to get the bike going again and back to the pits. He was able to rejoin the race on Lap 12.
By Lap 5 Rea is pulling out a lead and Razgatlioglu and Redding are squabbling for 3rd place with Razgatlioglu managing to hold off the rookie for now.
Lap 8, a very unhappy van der Mark, suffers engine problems with lots of smoke coming from his bike. He manages to pull over and park the bike before getting a lift back to the pits on the back of a marshal's scooter.
By Lap 9 although Rea is still holding the lead, the gap between Rea and Razgatlioglu is getting smaller and Lap 10 sees Redding having a look to get past Razgatlioglu whilst Davies, who is in fourth place is lapping half a second quicker than race leader Rea.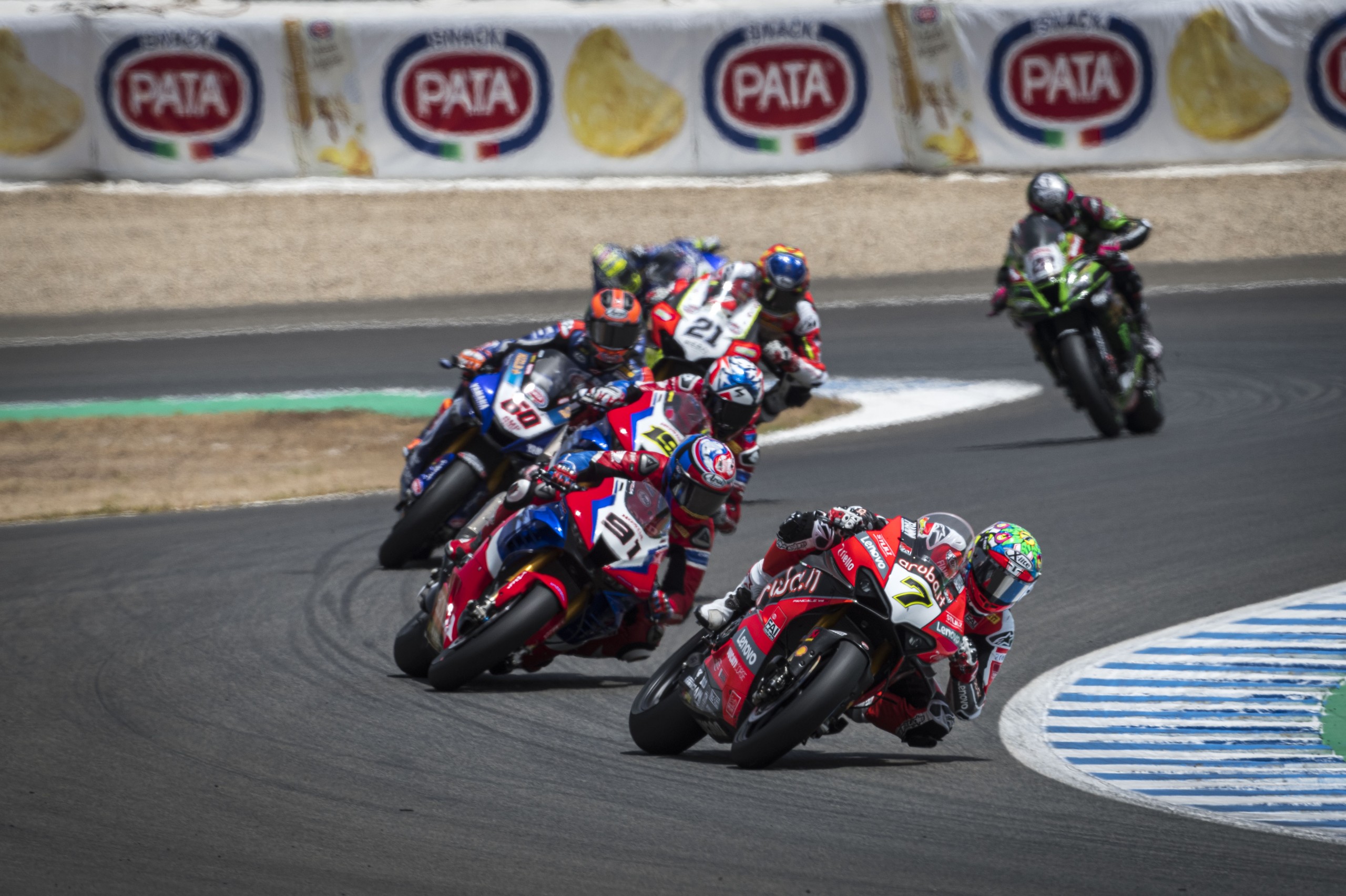 On Lap 11  Redding passes Razgatlioglu in a very smooth overtake as he now sets his sights on the leader, Rea.
Mercado suffered a crash at Turn 6 on Lap 12 ending his race. Lap 14 sees Redding going down into Turn 6 getting alongside Rea before forcing him wide to claim the lead and although Rea nearly gets back past Redding on Lap 15, it wasn't to be and Redding starts to pull out a lead.
Rinaldi puts in a fastest lap on Lap 16 and Davies is now up to 5th place but he soon passes Baz on Lap 17 into 4th place and has his sights set on Razgatlioglu. A few times on the last two laps Davies nearly gets past Razgatlioglu but then on the last lap he runs wide effectively ending his hunt for third place.
Redding crosses the finish line 1st followed by Rea in 2nd and Razgatlioglu in 3rd.
A fantastic Race 1 and restart to the season. Looking forward to Race 2 tomorrow.
BK
Featured Image courtesy of Ducati