If MotoGP was weird enough having no racing for over 8 months – nearly 9 months, then Moto2 and Moto3's predicament was just frustrating especially for the riders, a four mouth wait between Qatar and the second round at Jerez.
Moto3
Saturday saw Fenati, Antonelli, Arbolino and Ogura all progress into Q2, the four were only separated by 0.393s. Q2 was just as busy with Q1. Fenati was the top Q1 runner in Q2 with Tatsuki Suzuki. The championship leader and winner of round one taking pole. Andrea, Migno and John McPhee taking the remaining front row. Sunday saw the sun shine with blue skies at Jerez. First up was Moto3, waiting to blast down the first turn with the track at 36c and air temps 27c. Everything seemed perfect except of course there were no fans.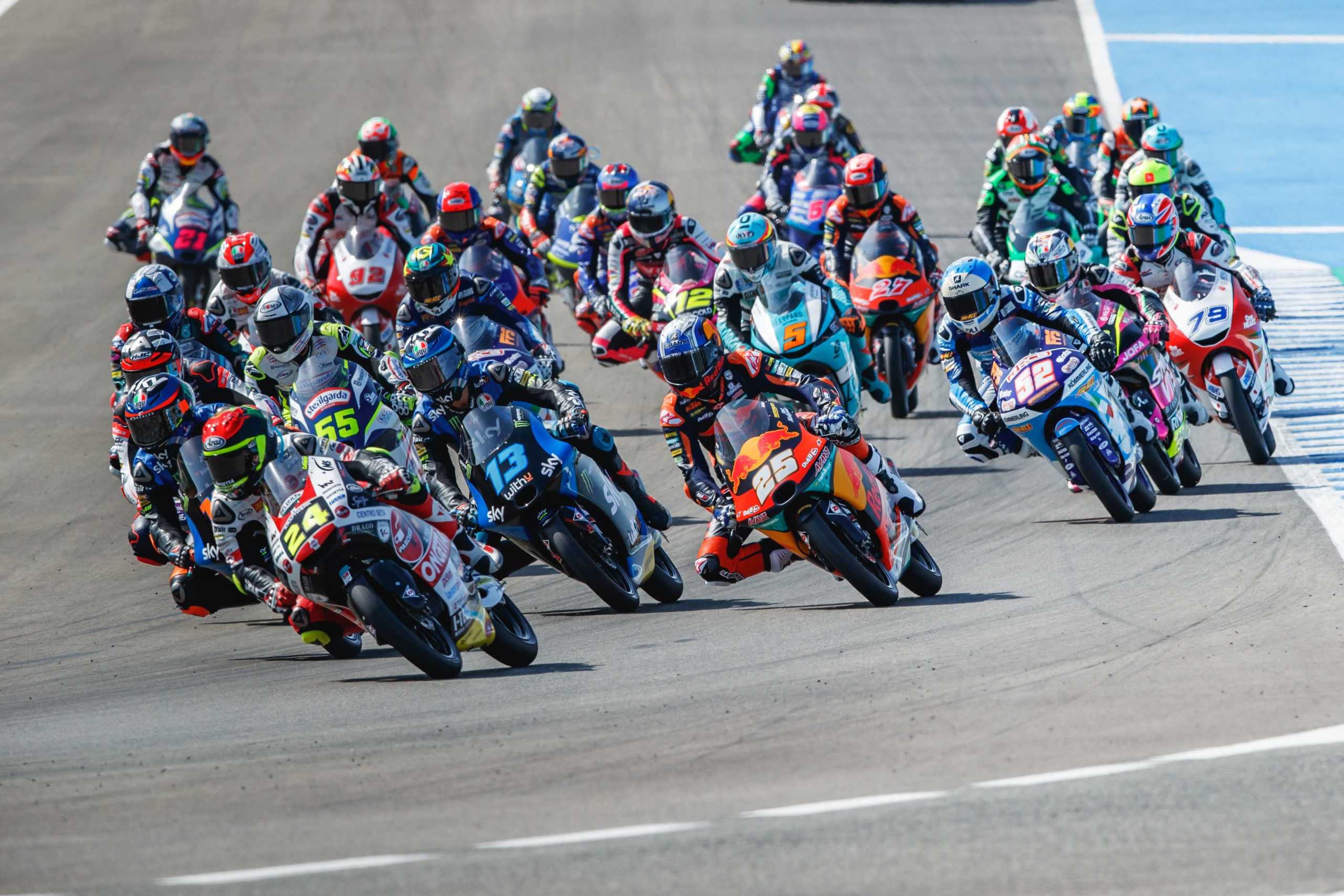 The red lights quickly faded away, and there's some pushing and shoving but Suzuki got the holeshot by some margin – it seemed he was gunning for the second win from two. Foggia and Tatay crashed with each other at turn one. Suzuki had a blinding first lap with a sizeable gap with about 20 bikes following him with Migno and Fernandez making the top 3. Lap 2 saw Vietti take third from Fernandez. By Lorenzo's corner the gap that Suzuki had, was now gone. By lap four Vietti had taken Migno and then Suzuki on the start-finsh straight. By the end of the lap, Suzuki was fifth and Arenas was fourth.
From lap five the standard Moto3 dog fighting began, with Arenas and Arbolino joining into lap six. Arbolino quickly made his way to second behind Viettti. Vietti and Arblino in second, stayed in front whilst Migno, Arenas, Fernandaz and Rodrigo were all where playing musical "chairs" until lap eleven when Arbolino scuttled past Veitti for the lead and kept it. Vietti couldn't keep second place though, falling back to fifth.
It was now a fight between Arbolino, Alcoba, Arenas and Binder. McPhee was now sixth behind Vietti. Arbolino's lead didn't last long before Arenas quickly grabbed first in a sort of group mele which you weren't quite sure who would be where, or was going to fall – a very typical Moto3 moment.
Into Lap twelve it was Arenas, Binder, Alcoba, McPhee and Arbolino in the top five. Suzuki, the once leader was hanging on in sixth but by the end of the lap having a resurgence to fourth. Arenas was hanging on in first, Moto3 style because McPhee had managed to go from fourth to second with Binder sliding to fifth. Arbolino was now back in the hunt. The tustle continued with Binder briefly taking second at the end of lap thirteen but by lap fourteen Arbolino had retaken second and McPhee was fourth.
Arenas continued to stay in first with the main three protagonists of Arbolino, McPhee and Binder swapping and sniping for places behind him. Arenas like Suzuki wanted a gap, but that gap never really appeared as each lap passed Lorenzo Corner they where swamped next to each other preying for any one but them to make a mistake. Coming up to Lorenzo Arbolino went wide, along with most the train behind him – except for John McPhee and by not going wide he took first into the start-finish straight.
It wasn't until lap eighteen that we finally saw the lead change. Arbolino made his move down the back-straight with Arenas droping behind Binder for third. McPhee managed to create more of a gap than Arbolino or Suzuki ever did but maybe because of the excessive dog fighting behind him. Arbolino, Vietti, Binder and Arenas were not in any mood to settle for anything less than first. With less than 4 laps to go the fuse was lit for the fireworks, either somebody would go wide or crash. The four were ready to pounce on McPhee.
Again the back straight was the centre of the action with Arbolino snuffling out Mcphee's lead and regaining first again. Binder crashes mid way through lap twenty-one. The final three left in the hunt was Arbolino, McPhee and Arenas. Into Lorenzo's corner and Arbolino goes wide again, allowing Mcphee back into first place, going into the last lap.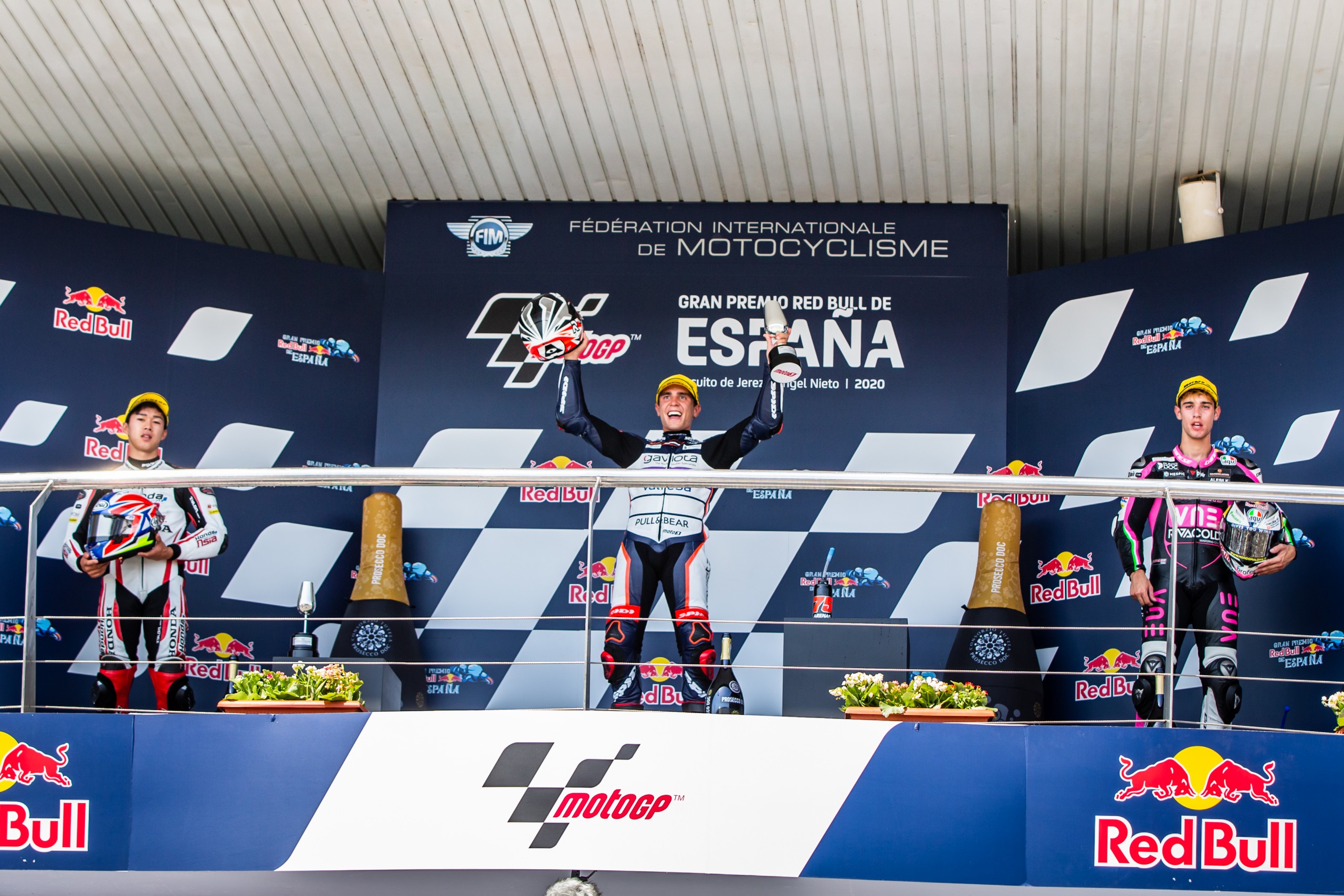 McPhee kept the pace going into turn one on the last lap. But McPhee was being prevented by Arbolino and Arenas from creating any gap, because they were snapping and sniping at his heal, ready to pounce. Arbolino was indeed ready to pounce and he made his move down the back straight into the braking area. McPhee slid back to second, but Aranas wanted second and into the corners before Lornezo Corner, he made his move. McPhee was having none of it, he made his move going sharper and closer to the apex then Arbolino and Arenas did but by doing so he went wide on the exit into the straight, slightly touching the grass and promptly hitting Arbolino causing McPhee to crash in a plume of dust. Arbolino went on to stay on his bike and to take second, Ogu took third with Arenas taking the top spot.
Moto2
In Q1 Fabio DI Ginnantonio , Xavi Vierge, Hafizh Syahrin and Joe Roberts all progressed into Q2. Only Vierge could make any substantial improvement on their grid placings in Q2 with Ginnantonio last, Roberts sixteenth and Syahrin one place up in fifteenth. At the front it was Martin who took pole with the other Jorge (Jorge Navarrro) taking second with the final front row being taken by Sam Lowes
The second race of the day saw the battle of the Jorges for the holeshot, with Jorge Martin and Jorge Navarro in second with Sam Lowes on third. Martin made the holeshot, with the other two on the front being consumed by the rows behind them, resulting in a huge gap for Martin by the first corner. The other Jorge – Jorge Navarro, crashed into the kitty litter. By the middle of the lap after the long back straight, the top three had shaken out as Martin, Canet and Marini followed by Lowes with Schrotter in fifth.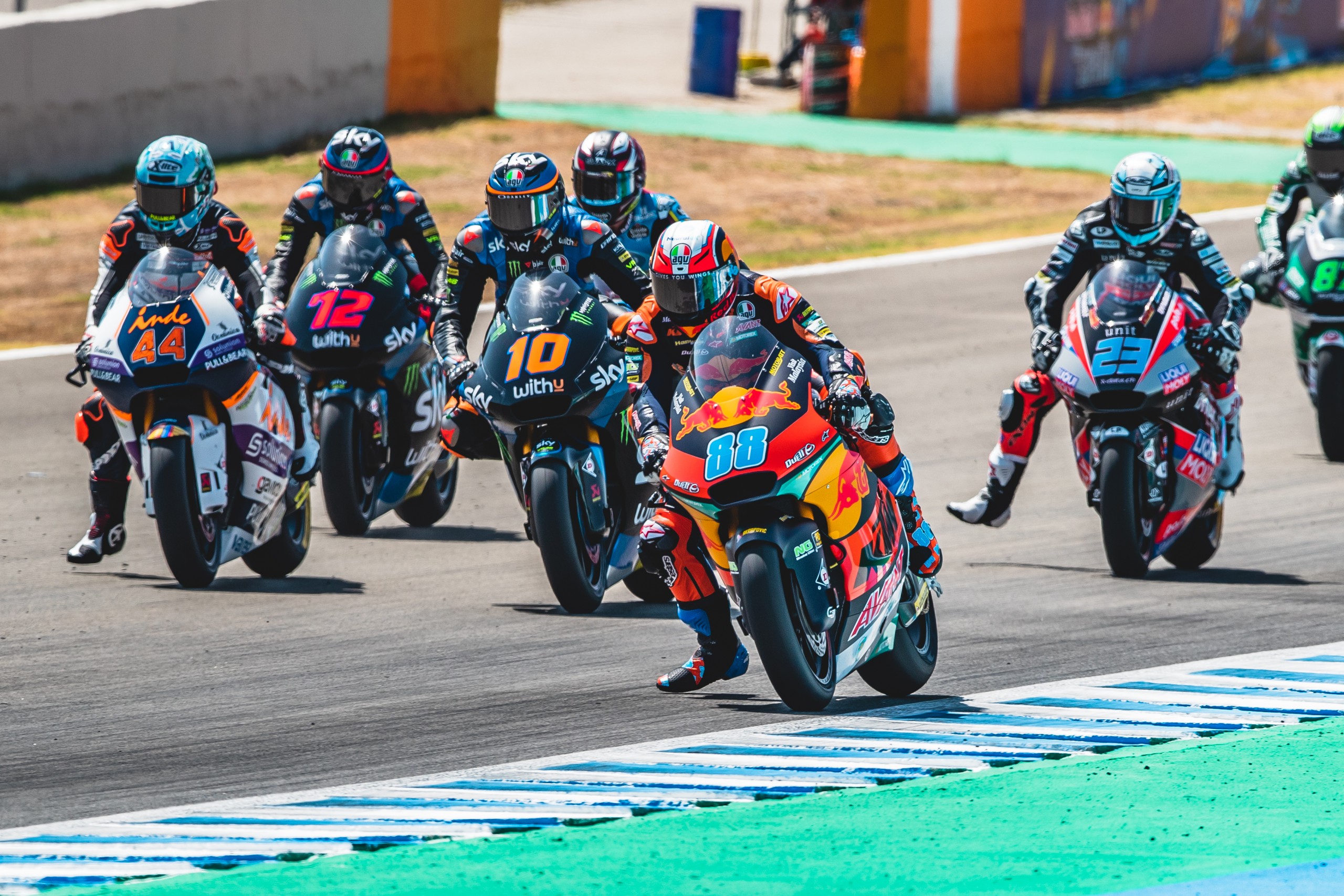 Into Lap three, and we saw a break-away group of four; Martin, Marini, Canet and Nagashima. Marini was on a charge, and just after the long back straight, he made his move swiftly under cutting Martin. Marini first, Martin second and Nagashlm third, with Canet and Bezzecchi behind them. Jorge Martin was slowly but surely heading backwards, with Nagashima taking second at Lorenzo's corner. At the end of lap five, Bezzecchi made the pass to take fourth from Canet.

The top three of Marini, Nagashima and Martin stayed that way with an increasing gap made by Marini into lap Seven, when finally Bezzecchi made his move along the back straight and going tighter into the apex pushing Martin back into fourth. Unfortunately for Bezzecchi, it was not to last because into turn 10 on lap eight, Bezzecchi's front folded on him after going onto the rumble strip and he crashed. Schrotter, into turn 11 on lap nine crashed looking winded from the fall. Two riders crashing in one lap removed two potential candidates for the podium
With fifteen laps to go, Marini seemed, along with Nagashima and Martin content with their positions. That though wasn't the case for Sam Lowes, as he was sixth on lap eight, he inherited fifth after Schrotter crashed. By the end of lap eleven, Lowes had caught and passed Canet for fourth. Lowes then started hunting down Martin for third. By lap eighteen, Lowes was only a second behind but Martin was starting to match Lowes lap times.
It wasn't just Lowes thinking he could grab another place, Nagashima also contemplated the same thing as he was closing in on Marini. Into lap twenty-one, Lowes now only .6 seconds behind Martin but his pit board showed a 0.5s to push him forwards. As much as Nagashima was catching Marini, he was, with 3 laps to go stil 1.585s behind Marini. It was to be a last lap attempt for both Lowes and Nagashima.
Luthi meanwhile crashed on turn nine, on the 22nd lap but by the start of the final lap the gap was 1.562 to Marini, which meant that Nagashima had settled for second. Barring the racing gods intervening, the same went for Lowes who was now 1.158s behind Martin. Being racers of course, 'it ain't done 'til the flag drops' on your bike and that indeed was the case with the final five being Marini, Nagashima, Martin, Lowes and Canet.
Despite waiting over four months for the championship to continue we saw a polished race worthy of its wait. Whilst lacking the drama of the MotoGP race or the Moto3 race, it certainly wasn't a filler race. Despite obtaining a second place, Nagashima maintains behind championship leader after the win at Qatar. Baldassarri second with Jerez's race winner a worthy third. The long list of title contenders still have every chance given the nature of the intermediate round. That said, Nagashima is a surprise contender. Next up is the Gran Premio Red Bull de Andalucía or Jerez to you and me.
Pos.
Points
Num.
Rider
Team
Time/Gap
1
25
75
Albert ARENAS
Gaviota Aspar Team Moto3
39'26.256
2
20
79
Ai OGURA
Honda Team Asia
0.34
3
16
14
Tony ARBOLINO
Rivacold Snipers Team
0.369
4
13
16
Andrea MIGNO
SKY Racing Team VR46
0.546
5
11
13
Celestino VIETTI
SKY Racing Team VR46
0.634
6
10
25
Raul FERNANDEZ
Red Bull KTM Ajo
0.682
7
9
2
Gabriel RODRIGO
Kömmerling Gresini Moto3
0.753
8
8
24
Tatsuki SUZUKI
SIC58 Squadra Corse
0.881
9
7
23
Niccolò ANTONELLI
SIC58 Squadra Corse
0.986
10
6
5
Jaume MASIA
Leopard Racing
3.646
11
5
71
Ayumu SASAKI
Red Bull KTM Tech 3
3.751
12
4
82
Stefano NEPA
Gaviota Aspar Team Moto3
3.936
13
3
55
Romano FENATI
Sterilgarda Max Racing Team
4.157
14
2
21
Alonso LOPEZ
Sterilgarda Max Racing Team
6.086
15
1
52
Jeremy ALCOBA
Kömmerling Gresini Moto3
5.608
16
 
6
Ryusei YAMANAKA
Estrella Galicia 0,0
6.098
17
 
11
Sergio GARCIA
Estrella Galicia 0,0
6.256
18
 
40
Darryn BINDER
CIP Green Power
17.642
19
 
27
Kaito TOBA
Red Bull KTM Ajo
28.324
20
 
73
Maximilian KOFLER
CIP Green Power
28.406
21
 
50
Jason DUPASQUIER
CarXpert PruestelGP
28.64
22
 
89
Khairul Idham PAWI
Petronas Sprinta Racing
28.844
23
 
9
Davide PIZZOLI
BOE Skull Rider Facile Energy
29.026
24
 
70
Barry BALTUS
CarXpert PruestelGP
33.352
25
 
53
Deniz ÖNCÜ
Red Bull KTM Tech 3
+1'03.589
Not Classified
 
 
 
 
 
 
17
John MCPHEE
Petronas Sprinta Racing
1 Lap
 
 
92
Yuki KUNII
Honda Team Asia
6 Laps
 
 
12
Filip SALAC
Rivacold Snipers Team
12 Laps
 
 
54
Riccardo ROSSI
BOE Skull Rider Facile Energy
15 Laps
Not Finished 1st Lap
 
 
 
 
 
7
Dennis FOGGIA
Leopard Racing
0 Lap
 
 
99
Carlos TATAY
Reale Avintia Moto3
0 Lap
Data derived from Motogp.com
Pos.
Points
Num.
Rider
Team
Time/Gap
1
25
75
Albert ARENAS
Gaviota Aspar Team Moto3
39'26.256
2
20
79
Ai OGURA
Honda Team Asia
0.34
3
16
14
Tony ARBOLINO
Rivacold Snipers Team
0.369
4
13
16
Andrea MIGNO
SKY Racing Team VR46
0.546
5
11
13
Celestino VIETTI
SKY Racing Team VR46
0.634
6
10
25
Raul FERNANDEZ
Red Bull KTM Ajo
0.682
7
9
2
Gabriel RODRIGO
Kömmerling Gresini Moto3
0.753
8
8
24
Tatsuki SUZUKI
SIC58 Squadra Corse
0.881
9
7
23
Niccolò ANTONELLI
SIC58 Squadra Corse
0.986
10
6
5
Jaume MASIA
Leopard Racing
3.646
11
5
71
Ayumu SASAKI
Red Bull KTM Tech 3
3.751
12
4
82
Stefano NEPA
Gaviota Aspar Team Moto3
3.936
13
3
55
Romano FENATI
Sterilgarda Max Racing Team
4.157
14
2
21
Alonso LOPEZ
Sterilgarda Max Racing Team
6.086
15
1
52
Jeremy ALCOBA
Kömmerling Gresini Moto3
5.608
16
 
6
Ryusei YAMANAKA
Estrella Galicia 0,0
6.098
17
 
11
Sergio GARCIA
Estrella Galicia 0,0
6.256
18
 
40
Darryn BINDER
CIP Green Power
17.642
19
 
27
Kaito TOBA
Red Bull KTM Ajo
28.324
20
 
73
Maximilian KOFLER
CIP Green Power
28.406
21
 
50
Jason DUPASQUIER
CarXpert PruestelGP
28.64
22
 
89
Khairul Idham PAWI
Petronas Sprinta Racing
28.844
23
 
9
Davide PIZZOLI
BOE Skull Rider Facile Energy
29.026
24
 
70
Barry BALTUS
CarXpert PruestelGP
33.352
25
 
53
Deniz ÖNCÜ
Red Bull KTM Tech 3
+1'03.589
Not Classified
 
 
 
 
 
 
17
John MCPHEE
Petronas Sprinta Racing
1 Lap
 
 
92
Yuki KUNII
Honda Team Asia
6 Laps
 
 
12
Filip SALAC
Rivacold Snipers Team
12 Laps
 
 
54
Riccardo ROSSI
BOE Skull Rider Facile Energy
15 Laps
Not Finished 1st Lap
 
 
 
 
 
7
Dennis FOGGIA
Leopard Racing
0 Lap
 
 
99
Carlos TATAY
Reale Avintia Moto3
0 Lap
Data derived from motogp.com