Its July and after four months of delay, MotoGP roared into life and finally held its first race of the 2020 Championship in the sunny climes of Jerez with its spaceship start/finish. Four subjects became clear as the weekend went on and one of which we have known for a while: Marc Marquez, Alex Marquez/Pol Espargaro, Dovizioso/Ducati  and Quartararo/Rossi/Yamaha.
Q1 saw Rins and Pol Espargaro taking the the top two slots to forward themselves into Q2 and Binder lost out by .128s.
Q2 saw a new fastest lap, set by Fabio Quartararo, which saw Marc Marquez not being able to match the two Yamaha machines. Quartararo had a dominate session with him initially setting a time of 1:37.064 and his second run saw a time of 1:36.993. It took Vinales several attempts to beat that time, and put in a lap of 1:36.844. In the dying minutes Quartararo, went faster with a new track record of 1:36.705. The #93's best saw him fall away to Quartararo's time in the last two sectors.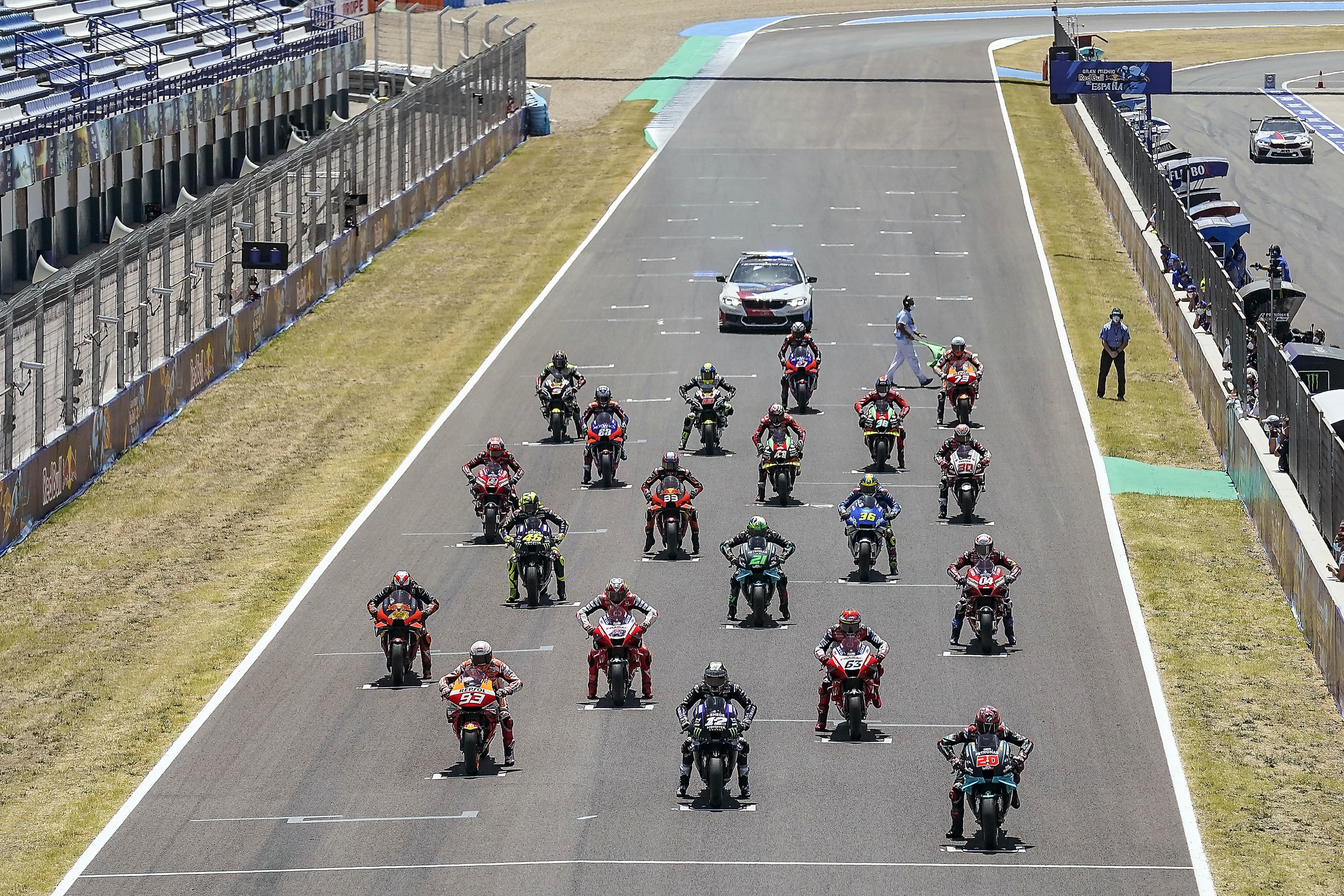 That set up a front three of Quartararo, Vinales, and M.Marqeuz. Vinales made the holeshot, with Quartararo bogging down and in the first few meters and going 2nd, with Vinales grabbing  the lead. Backwards Quartararo went, because by the 6th corner, Miller undercuts him at the apex. By the second lap at turn one he was down to p5, with Quartararo going wide.
Whilst Quartararo, was busying himself going backwards, Vinales wanted to create a big enough gap from the man behind. Marc Marquez is not only is a great pole setter and race leader but he can hunt you down. Lap after lap, just waiting to pounce like a panther. Vinales's gap making approach had a huge blow with a double wobble into turn 8, and MM93, was on the back of his wheel.
Lap 2 saw the gap between MM93 and Miller equalized, Quartararo's backwards movement down the pack finally ended at Lorenzo's corner. Miller crashes – a short race for him. Lap 3 was the time for Marc to pounce, with a shortened calendar season, he cannot afford to wait or to make mistakes. Actually none of the front runners can. Corner 5 where the Honda propelled Marc Marquez pounced, realizing that Vinales had gone slightly wide, undercutting at the apex, but Marc brakes and goes wide himself, Vinales retaking the lead as quickly as he gave it away but Marc continued to hound Vinales right up into the Pedrosa corner retaking the lead again. Vinales doesn't give and tries again at Lorenzo's corner. A.Espargaro crashes at the end of lap three.
Lap four saw a .5s gap between MM93 and MV12 but there were  signs that the Honda and Marc were at the limit, twitching and sliding wide (not by much but still visible). Lap 5 was an eventful yet expected result of the instability of the Honda, Marc motor-crossed through the kitty litter at turn four. Replays showed, Marc, sliding along and saving a near crash. Ending up back on track at p18, swiftly advancing to p16. How many more saves before a crash. That left the top three as Vinales, Miller and Quartararo. Quartararo, quickly started sniffing around the rear of Miller's Ducati.
Vinales now had a 0.6s lead from Miller. But Miller had a problem in the shape of the Petronas Yahama coming towards him like a bullet and into Lorenzo's corner, Miller goes wide and Quartararo nabs second. Meanwhile by the end of lap six, Marc was p14. Lap 8 saw Brad Binder crash but returning to the track and Marc climbing to twelveth place. Lap nine saw the top three compressed with Quartararo being the fall guy; Miller and Quartararo were ready for any mistakes. Vinales was making mistakes, and into Lorenzo's corner he went wide allowing both Quartararo and Miller to slide past him. Both Yamaha's where on softs, and at this stage with Rossi in an invisible eighth, it was seemly a great toss of the dice which now looks bad.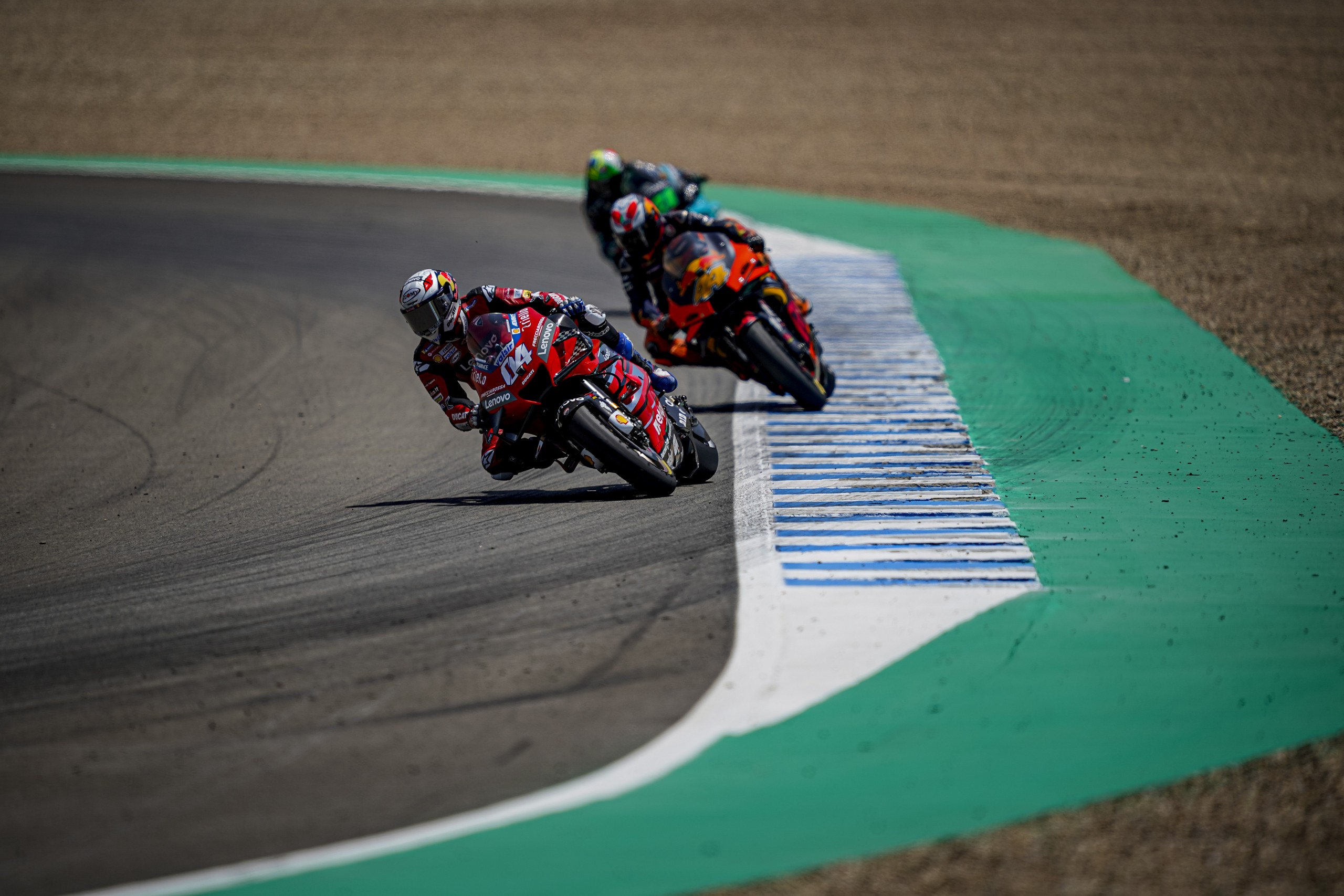 The next couple of laps saw, the top five, of Quartararo, Miller, Vinales, Bagnaia and Dovizioso all staying together with little attempts to overtake. Meanwhile by lap thirteen, Marc was ninth, quickly taking Oliveira then Rossi  for eighth. Into Lorenzo corner saw PEspargaro taking Doviizioso and lap fourteen was ready and so was the Ducati that was powering Dovizioso, which with its grunt, allowed him to retake fifth place. P.Espargaro goes wide himself and allows Morbidelli to take p6, with Marc hunting them both down.
Lorenzo's corner sees some more action with Dovizioso sliding past Bagnaia. Most of lap 16 saw Marc in eigth place who was watching in front of him two packs of Dovizioso, P.Espargaro, Bagnaia and Morbidelli scrapping. Lap seventeen saw Marc outbreak Morbidelli into Pedrosa corner. By turn eight, Marc passed Bagnaia. Into Lap 19 and we saw Marc around the back of PEspargaro's bike ready to snaffle fifth place with fourth shortly after. Before that displacement was to occur, Rossi's non descript race, came to a sad end with engine failure. By Lorenzo's corner Marquez had just done the job on Doviziozo.
The 20th lap around Lorenzo corner saw the bunched up threesome of Vinales, Miller and Marquez, play undercutting with Marc Marquez taking 3rd away from Miller. But if Marquez thought that he could just ride on to take Vinales, he was mistaken as Miller in the next corner retook third but he went wide after passing so Marquez got his third position.
By Lap 22 Marquez was on the heals of number two; Vinales and it seemed inevitable that he would be quickly consumed by the Spaniard. But it was that same corner where Marquez had motor crossed earlier which punted him to eighteenth. Turn four decided to take a second helping of Marc's position. This time the bike did not slide but high sides him onto the tarmac and rolling and bouncing him in the kitty litter. Marc initially managed to walk off to behind the railings and was looked at by the medical staff but was taken back via a stretcher. A later update confirmed that he had broken his right arm. He is due to have surgery on the 21st of July. With a shortened championship this could be enough to finish of any chances of retaining his championship.
With a 4.7s gap, Fabio Quartararo was on course to win the race, but behind him second and third were up for grabs. Morbideli came like a missile up to Miller's bike down the back straight, causing Morbideli to wobble and nearly loosing it causing him to drop to sixth. Fabio Quartararo's win is an important win for both him and his team and also for the French. Johan Zarco had been a great Moto2 Champion but now smeemingly lost in MotoGP due to both the bike and and his attitude, the French needed a new man to cheer. Hopefully things will change for Zarco. For Fabio it's important because your debut win is always special and you have chosen the right team and after so many near misses last year its even more special.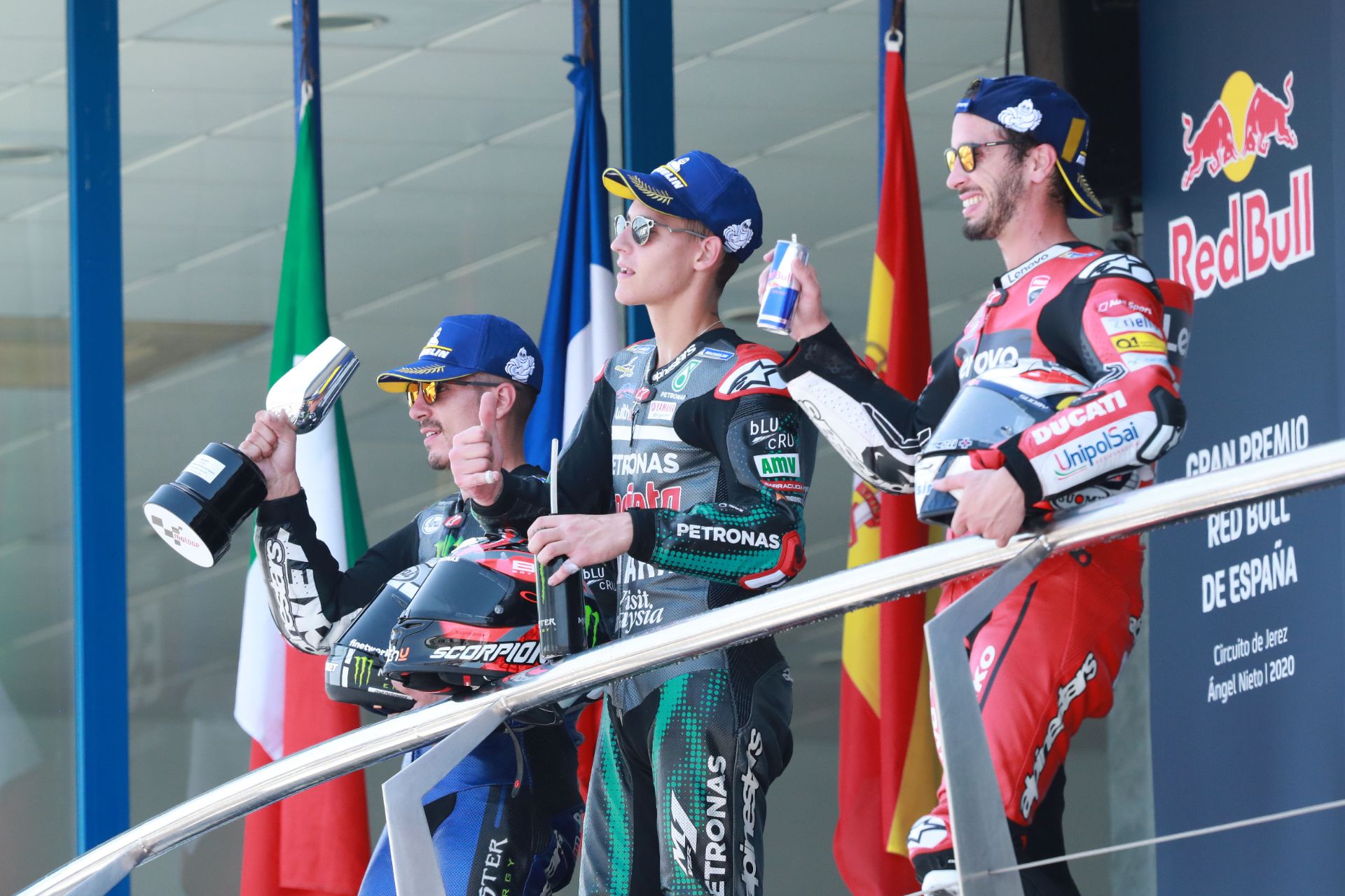 Yamaha have improved their bike for the 2020 season, and with no Marc Marquez for at least another Grand Prix, it's all for Yamaha to grab points to win the Championship, but which rider (and Yamaha), Vinales or Quartararo? Only time will tell, even with 3 or 4 races out and currently with zero points Marc can come back. Rossi is not on the pace to either Vinales or Quartararo, that has been amplified by this race. The result could be that Pertronas Yamaha SRT may not take his services for 2021.
Pol Espargaro, has signed for Honda for the 2021 season with Alex moving team and with the Jerez result it initally seems a good bet by the team. If Rossi is all at sea, Dovizioso could also be in the same boat. After being second in the championship for three years running there's only so much in your tank!
Pos.
Points
Num.
Rider
Team
Time/Gap
1
25
20
Fabio QUARTARARO
Petronas Yamaha SRT
41'23.796
2
20
12
Maverick VIÑALES
Monster Energy Yamaha MotoGP
4.603
3
16
4
Andrea DOVIZIOSO
Ducati Team
5.946
4
13
43
Jack MILLER
Pramac Racing
6.668
5
11
21
Franco MORBIDELLI
Petronas Yamaha SRT
6.844
6
10
44
Pol ESPARGARO
Red Bull KTM Factory Racing
6.938
7
9
63
Francesco BAGNAIA
Pramac Racing
13.027
8
8
88
Miguel OLIVEIRA
Red Bull KTM Tech 3
13.441
9
7
9
Danilo PETRUCCI
Ducati Team
19.651
10
6
30
Takaaki NAKAGAMI
LCR Honda IDEMITSU
21.553
11
5
5
Johann ZARCO
Hublot Reale Avintia Racing
25.1
12
4
73
Alex MARQUEZ
Repsol Honda Team
27.35
13
3
33
Brad BINDER
Red Bull KTM Factory Racing
29.64
14
2
53
Tito RABAT
Hublot Reale Avintia Racing
32.898
15
1
38
Bradley SMITH
Aprilia Racing Team Gresini
39.682
Not Classified
93
Marc MARQUEZ
Repsol Honda Team
4 Laps
27
Iker LECUONA
Red Bull KTM Tech 3
6 Laps
46
Valentino ROSSI
Monster Energy Yamaha MotoGP
7 Laps
41
Aleix ESPARGARO
Aprilia Racing Team Gresini
23 Laps
36
Joan MIR
Team SUZUKI ECSTAR
24 Laps
Race results derived from Motogp