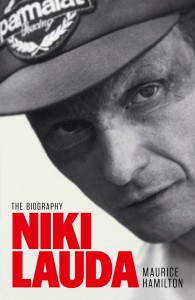 As a motorsport fan I've rarely felt the level of righteous indignation I experienced in September 2013, when Heart FM egregiously used this caption under a photo of Niki Lauda and a footballer. Admittedly, that footballer was David Beckham, but who hasn't heard of Niki Lauda?
Never fear, however, for Maurice Hamilton is here to put that injustice to rights with his biography of the great Austrian, fittingly titled Niki Lauda.
The expression GOAT is bandied about a lot these days. That's 'Greatest of all Time', for those of you who like to wave at trendy acronyms as they pass you by. Reading Hamilton's book, which is based on testimonies by journalists, peers and friends, as well as the forthright opinions of the man himself, it's clear that Lauda would have been among the first to say that GOAT is not really applicable to him. The term implies a natural ability that is seen rarely in the history of a sport; your Ronnie O'Sullivans, Mo Farrahs and Lance Armstrongs.
Okay, maybe not that last one.
What Lauda can easily be described as is a legend of F1, with three world titles as a driver and decades of involvement in the sport out of the cockpit.
Lauda disliked the misconception that he was a walking computer, thinking in binary terms and coldly assessing risk. This was rooted in his idiosyncratic and abrupt way of speaking, and his often harsh criticism and high expectations of others. He ignored the fluff and superstition of sport, and built a legacy from his own self-belief, business acumen and intelligence. He couldn't drive around a car's problems, but he could communicate effectively with his team to correct issues. Everything he did was for a purpose and was done with intricate attention to detail. And if there's one thing that is apparent in the fond comments by those interviewed by Hamilton, it's that Lauda possessed a great sense of humour and was deeply kind; aspects of his personality perhaps less widely accepted than his immense fortitude.
Niki Lauda focuses on Lauda's adult life and career, glossing over his youth and family except in how they affected his early ambition to go racing. Instead, the book gives engaging insight into Lauda's thought processes and how his work ethic and experiences set him apart from his contemporaries. He had ambition, but it went beyond driving. He had passion, but it was tempered by shrewd decision-making. He was outspoken, but he never exempted himself from his blunt criticism.
Niki Lauda is not just a book for fans; it's the story of a fascinating life, written with love.
To get the full Lauda experience, the impressive tome Niki Lauda: His Competition History by Jon Saltinstall was published in 2019. Read in conjunction with Hamilton's biography, it beautifully illustrates Lauda's racing career. This book doesn't belong on a coffee table; it is a stunning testament to a career that spanned the decades when single seater motorsport was precariously balanced between appalling danger and creative innovation.
Formula 1 is an inherently photogenic sport, and the sheer beauty of the vintage images in this book are breathtaking. For true fans of both Lauda and the history of motorsport, it's well worth the £60 asking price.
Niki Lauda: His Competition History is published by Evro.
https://www.evropublishing.com/products/niki-lauda-his-competition-history
Niki Lauda by Maurice Hamilton is published by Simon and Schuster.
https://www.simonandschuster.co.uk/books/Niki-Lauda/Maurice-Hamilton/9781471192012