Women have always had a love of two wheels with the start of the bicycle which gave them freedom and mobility and then when motorcycles came along they enjoyed them as much, if not more, as they were economical and fun – a perfect combination.
  It was after the introduction of front and rear shocks that people began to consider riding for longer distances and in 1915 a mother/daughter team, Avis and Effie Hotchkiss covered some 5,000 miles riding from New York to San Francisco and the following year, two sisters, Adeline and Augusta Van Buren rode up and down Pike's Peak on a pair of Indian Powerplus Bikes covering some 3,300 miles over two months. Can you believe that they were arrested at one point for publicly wearing trousers!
  In the 1920's, Bessie Springfield, who was known as the Motorcycle Queen of Miami, couldn't get a motorcycle licence to start with until a police officer intervened on her behalf. She then went on to make 8 solo cross country trips and was a dispatch rider. Can you imagine today not being able to go and get a motorcycle licence simply because you are a woman.
  Of course during the war, women played a vital role many of whom were motorcycle disptach riders delivering urgent messages and orders between headquarters and military units at a time when telecomunications were limited and insecure.
  In the 1930's motordromes or 'wall of death' were increasing in popularity. This is basically a giant barrel which riders on their motorcycles, commonly known as 'daredevils', ride around the inside of the walls at speed. There is a giant platform at the top for spectators. Early lady daredevils were Margaret Gast, also known as 'The Mile a Minute Gal', May Williams and Jean Perry.
  By 1940 The Motormaids had been established which was the first women's motorcycle club in the US. Today there are hundreds.
  How or why do women get into riding motorcyles? Well pretty much how or why the same reason that men do. Because their other half rides; their mum/dad used to ride; their mates ride, transport to work. Just because they want to.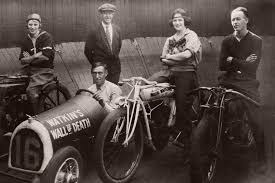 For me, my journey into motorcycles progressed from my love of anything with an engine in it. I used to compete in off road motorsport for a number of years. I have had several classic cars. I have always liked bikes but my parents would never let me have one.
  I used to go pillion with a friend and after a while I thought 'I want to ride a bike myself'.
  I told my other half that I wanted to get my bike licence and he said it was too dangerous and I wasn't allowed to!
  So I did what any normal petrol head girl would do – I went and did my CBT and bought a bike to learn on without telling the other half. Six months later I passed my test and bought a Honda Hornet 600. I now ride a Kawasaki Z900 and an MV Agusta Brutale 910.
  I have now been riding for 6 ½ years and I absolutely love it, I wish I had got my licence years ago. I try and get out for a ride most weekends. I have been on three European holidays and already have two more booked for the coming year.
  In the short time that I have been riding I have seen a rise in the number of women riding motorcycles and the bikes geared for women, for example, lower seating positions available, modern lighter bikes have also made it easier. Of course, woman are just as capable of riding the same bike as a man just as a man can ride the same bike as a woman.
  Also on the rise is the range of clothing and accessories available for women. Indeed when I first started riding I found it hard to find clothing that would give me the protection I need whilst offering me comfort, style and value for money.
  I am pleased to say that over the years manufacturers have stepped up and woken up to the fact that women are a big part of the motorcycle community and what a fabulous, welcoming community it is and one that I am proud to be a part of.