Last year, Max Günther's days in Formula E looked numbered. Despite an impressive start with Dragon, the German looked set to lose his seat to ex-F1 driver Felipe Nasr. Indeed, he was forced to sit out three rounds before he was reinstated in Rome, repaying the team's trust one race later by finishing in an impressive P5. When BMW lost António Félix da Costa to current champions Techeetah, Günther's ability to fill the gap left by the Portuguese driver was questioned. But Günther silenced the critics with a hard-fought win in Santiago last weekend, taking his first career win and becoming the youngest driver ever to win a race in the series. In doing so, he solidified BMW's stronghold at the top of the constructor's championship.
Mitch Evans started the race in the top spot, claiming his and Jaguar's second pole position, beating out Günther by a mere two tenths of a second. Pascal Wehrlein posted a half decent laptime to start in P3, with Felipe Massa matching the Mahindra's time to the exact second. The biggest surprise was that of Oliver Turvey who managed to make his first superpole appearance in over a year, slotting his NIO into a respectable P5, whilst Sébastien Buemi failed to hook it up and had to settle for a disappointing P6. Mercedes again looked strong in qualifying with Stoffel Vandoorne and Nyck de Vries both slotting into the top ten whilst Venturi's Edoardo Mortara used the Mercedes powertrain to great effect and merely missed out in a spot in the superpole shootout. The Swiss driver managed to pull out a superb time after an amazing recovery to avoid Robin Frijns who lost control of his Virgin on the approach to turn one. Other casualties included Jérôme d'Ambrosio who suffered powertrain failure, leaving him to nurse his Mahindra to the finish line whilst Oliver Rowland, who was fastest in practise, made contact with the wall at turn 5, ruling him out of contention.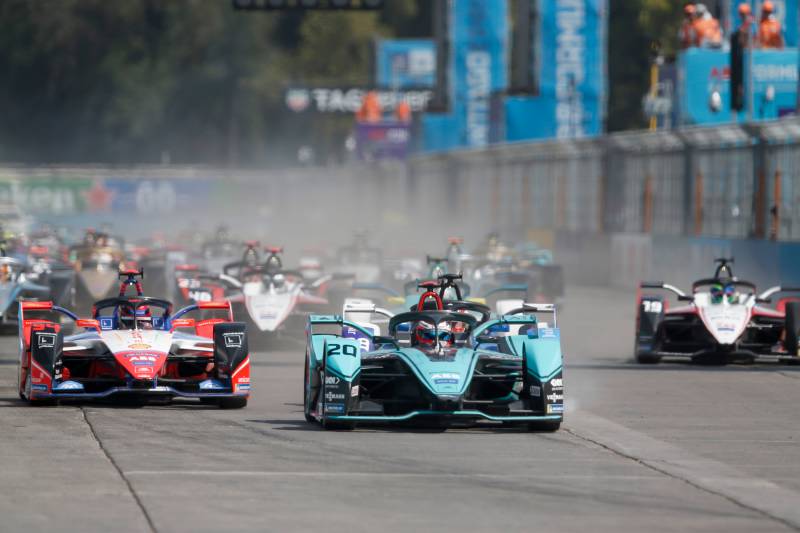 Evans maintained his lead at the start of the race, as Wehrlein took advantage of Günther's scrappy start to snatch away P2, whilst further down the field, championship leader Alexander Sims began his climb up the order, by forcing his way past the Porsches of André Lotterer and Neel Jani. However, the BMW picked up damage during the confusion and came to a stop on the track. It was to be a disappointing end to the weekend for Sims, after such a successful start to the opening campaign in Riyadh. Sam Bird also suffered more bad luck as he was spun around after an incident between Oliver Rowland and Daniel Abt into turn 11, dropping out of points contention and down to a lowly 19th place. Rowland was the next casualty as he lost part of his front wing, forcing him into the pits as Mortara passed Turvey and upped the pressure on the leading pair of Günther and Evans.
Santiago soon turned into the battle of the teammates as Felipe Massa joined his teammate at the front battle, and soon sparks were flying as the pair jostled for the top spot. Massa was forced to yield at turn 7 after being forced wide, opening the door for Techeetah pair Da Costa and reigning champion Jean-Éric Vergne to slip through. With just over twenty minutes left on the clock, Günther used his last few remaining seconds of attack mode to snatch the lead away from Evans. Vergne disposed of Wehrlein to secure P3 before disaster struck as the Techeetah's front left tyre began to rub against the bodywork. Vergne tried to hold off his advancing teammate, but was forced to give up the position and pull into the pits, another unfortunate end to a poor opening campaign.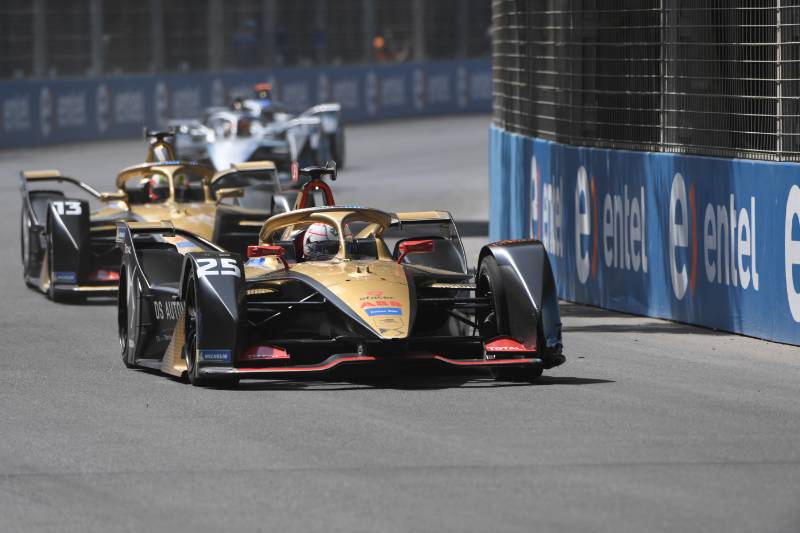 Da Costa on the other hand, began to chase down the leaders. He managed to pass Evans with just over five minutes remaining, before he hunted down Günther. As the two cars approached turn 10, Da Costa forced the German wide, passing the BMW on the inside with more force than was necessary. As the time ticked down, with both drivers struggling with battery temperature, Günther sensed an opportunity and in the dying moments of the race, retook the lead into turn 9 and ultimately, the victory – his first career win and BMW's second win of the campaign. He was joined by Da Costa in his first podium appearance for reigning champions Techeetah and poleman Evans, who was forced to settle for P3.
Formula E will return in Mexico City on 15th February.