After tremendous rainfall on Friday, the conditions were almost perfect for the British Superbike riders in Cadwell Park, for qualifying for the eighth round of the 2019 championship.
It was Josh Brookes (Be Wiser Ducati) took pole position, with a stunning lap of a 1'26.2 for his third pole of the season. Brookes has been well known for his Mountain performances over his BSB career, but his technique has faced criticism. A pole lap of that quality will silence those criticisms, at least until tomorrow. But Brookes' pace has been strong all weekend, since the test on Thursday, so the Australian will certainly be a favourite going into race day.
Brookes' pole lap was the target Bradley Ray (Buidlbase Suzuki) needed to take him to his first front row of the season. 2019 has been a difficult year for Ray so far but perhaps this is the beginning of a return to form for the #28.
Tommy Bridewell (Oxford Racing) completes the front row for sunday's first race, as he seeks a return to the podium having missed it on both occasions in Thruxton.
Scott Redding (Be Wiser Ducati) has had a strong Cadwell Park debut. A front row looked likely until Bradley Ray's stealthy lap for second, but a fourth-place start is by no means a disaster for the championship leader. Danny Buchan (FS-3 Racing Kawasaki) has had a strong weekend, and qualified fifth, whilst Jason O'Halloran (McAMS Yamaha) completes the second row.
Dan Linfoot (Santander Salt TAG Yamaha) suffered a mechanical problem towards the end of Q3 which compromised his session, and qualified seventh. The Tyco BMW Motorrad pairing of Christian Iddon and Glenn Irwin complete the third row.
Andrew Irwin (Honda Racing) was the fastest rider to not make it out of Q2 thanks to Iddon's late lap. That means the #18 Honda will line up at the head of row four, ahead of an incensed Peter Hickman (Smiths Racing) whose final lap was ruined when he caught Gino Rea (Bike Devil Sweda MV Agusta). Luke Stapleford (Buildbase Suzuki) completes row four.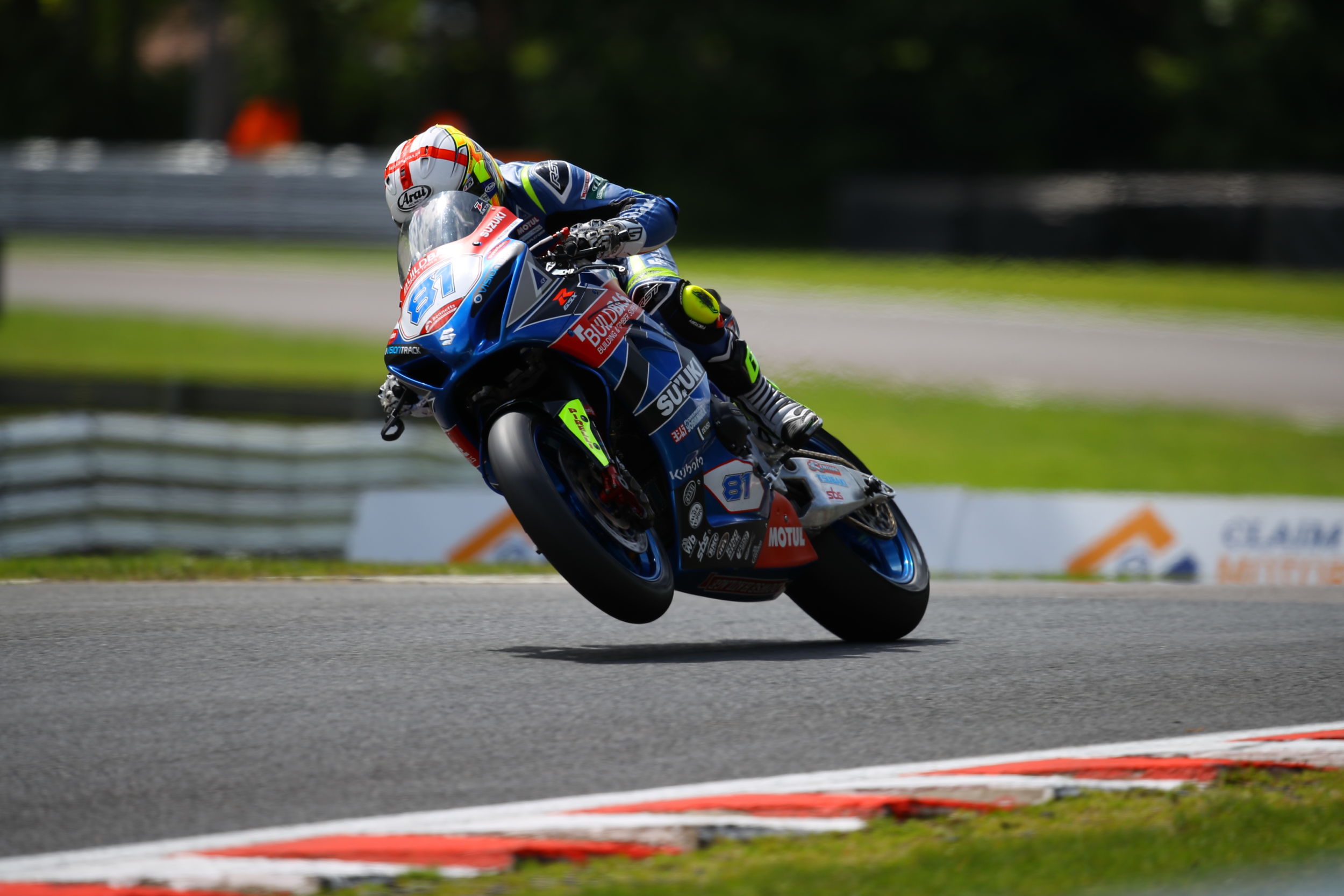 Xavi Fores (Honda Racing) starts from thirteenth in Sunday's first race, ahead of an impressive Matt Truelove (Raceways Yamaha) who is having his best weekend on a Superbike so far. Row five is completed by Rea; whilst row six sees Josh Elliott (OMG Racing Suzuki) ahead of the injured Tarran Mackenzie (McAMS Yamaha) and Ryan Vickers (RAF Regular & Reserves Kawasaki) who crashed in the Hairpin in Q1, meaning his Q2 was compromised – on his first flying lap the #7 crashed again at the Hairpin, meaning he didn't set a time in Q2.
Ben Currie (Quattro Plant JG Speedfit Kawasaki) was the fastest rider to not make Q2 on his first SBK visit to Cadwell. The Australian will be joined on row seven by Billy McConnell – in place of the injured Luke Mossey at OMG Racing Suzuki – and Hector Barbera (Quattro Plant JG Speedfit Kawasaki) who is now in full time as Currie's teammate.
Dean Harrison (Silicone Engineering Racing) qualified twenty-second, ahead of Joe Francis (Lloyd & Jones Bowker Motorrad) and Claudio Corti (Team WD-40); whilst David Allingham (EHA Yamaha) qualified only twenty-fifth after a crash, ahead of Sam Coventry (Team 64 Motorsports) and Shaun Winfield (Santander Salt TAG Yamaha). Dean Hipwell (CDH Racing) and Fraser Rogers (Gearlink Kawasaki) complete the grid.
Featured Image courtesy of Suzuki Racing