Still in the grips of the European heatwave, Assen was already roasting by the time the Moto3 riders rolled out for the start of the eighth race of their 2019 World Championship.
Niccolo Antonelli and his Sic58 Squadra Corse teammate, Tatsuki Suzuki, led the way in the very early stages, whilst Kaito Toba (Honda Team Asia) and the two VNE Snipers bikes of Tony Arbolino and Romano Fenati also looked strong.
The group was, as was to be expected, encompassing of almost the entire field. Even after five laps, twenty-six riders could have been classed in the 'front group', and from there it was only retirements which split the group.
Eventually, Jakub Kornfeil (Redox PruestelGP) was gifted an advantage at the front thanks to action in the final chicane. Unfortunately for the Czech rider, his victory hopes were dashed by a long-lap penalty, a sanction which he was not the first to receive in the race after several riders found themselves taking the long route at Osserbroeken.
Kornfeil's penalty left Lorenzo Dalla Porta (Leopard Racing) out front from Tony Arbolino, whilst Kornfeil dropped back into third place and within reach of the group behind.
Dalla Porta had a reasonable gap to Arbolino, but with the tow and target of his compatriot, Arbolino was able to set the fastest lap of the Grand Prix on the penultimate tour, which set up an all-Italian last lap scrap for the win.
Arbolino tried to pass in turn seven, but that was a strong point for Dalla Porta.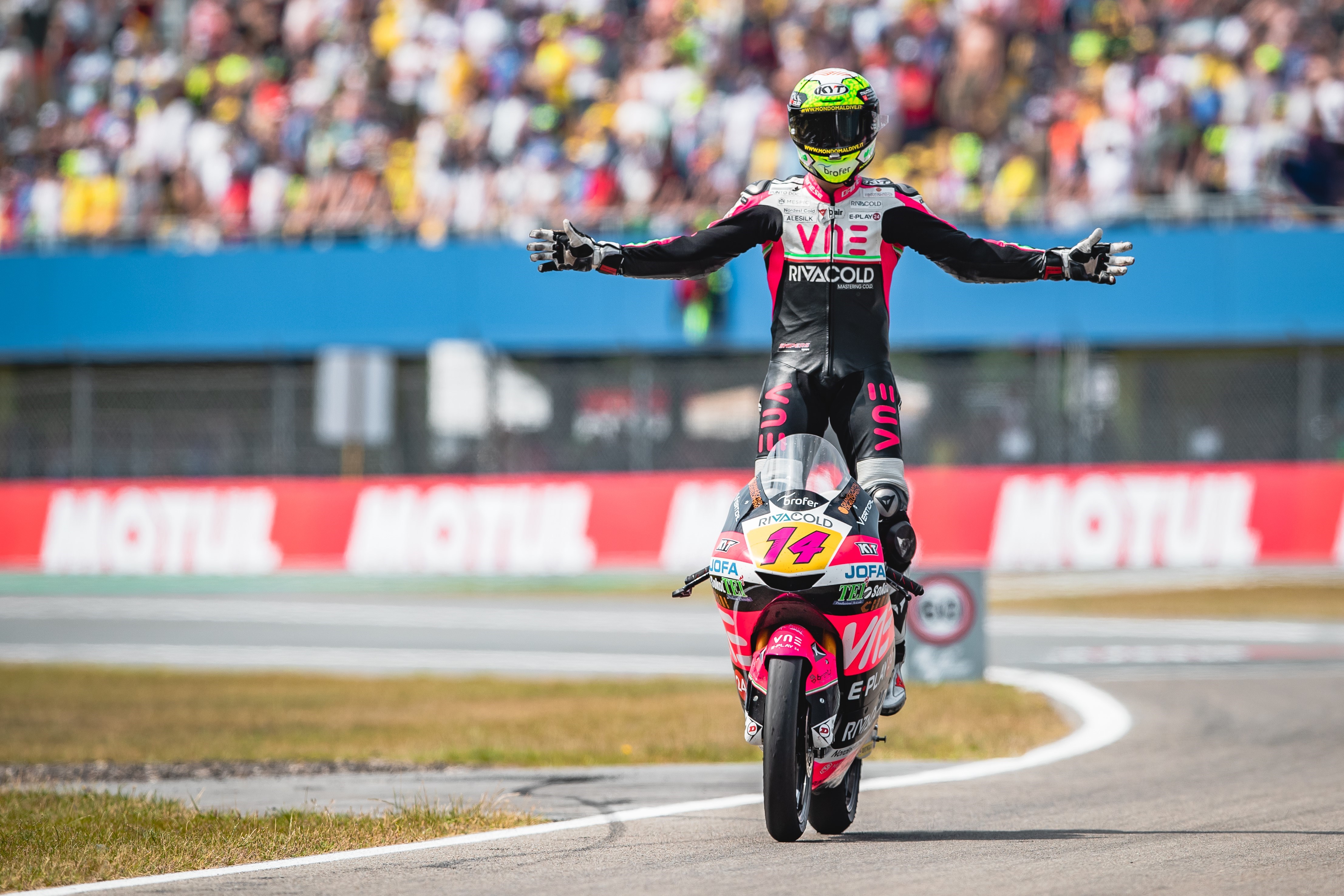 The #14's attempt forced him wide and cost him time, but by Mandeveen the leading two were together once more, and Arbolino was in the prime position to try to pass in the Ramshoek, which he did with complete finesse, running wide on the exit to protect the inside line at the chicane, forcing Dalla Porta to the outside. Dalla Porta had a better run through the chicane, but it was not enough to deny Arbolino, who became the first rider to win two races in 2019, and the first rider to repeat victory in thirteen Moto3 Grands Prix.
In taking his second win of the year, and beating Dalla Porta for the second time in a last lap fight, Arbolino confirmed his status as a championship challenger and, although he does not hold the points lead – partly thanks to his breakdown in Barcelona – perhaps he does have the biggest target on his back ahead of Sachsenring.
Dalla Porta will be disappointed to miss the victory when it was so close, but after a difficult weekend for the Italian he will be content to take points out of the championship lead of Aron Canet (Sterilgarda Max Racing Team) who finished down in twelfth, meaning the gap is trimmed by sixteen points with one race before the summer break.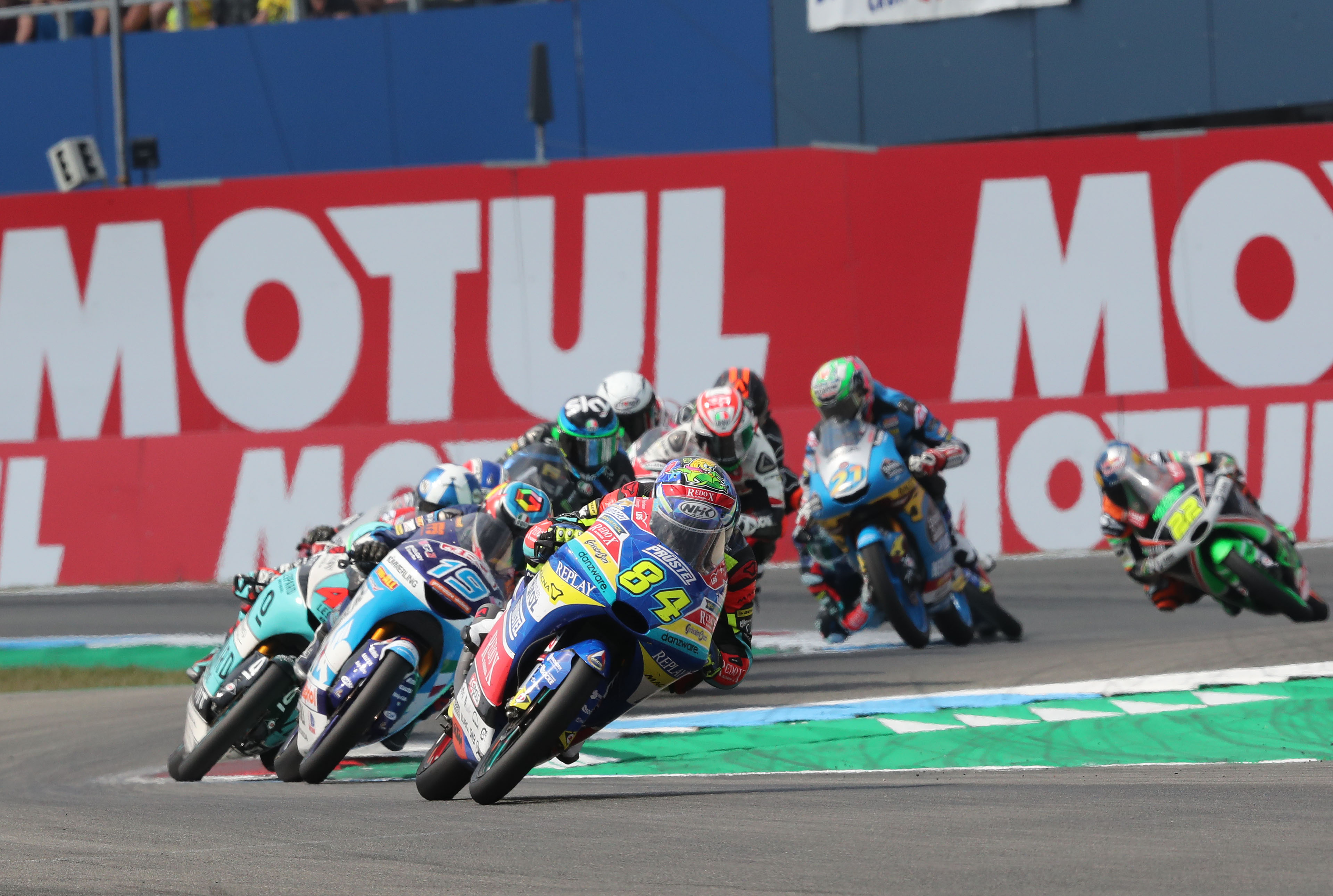 Kornfeil was able to break away from the group after his long lap penalty and secure his first podium of the season, which he deserved after a strong weekend at a track which is perhaps not best suited to the KTM which tends to struggle in the long corners.
Gabriel Rodrigo (Kommerling Gresini Moto3) finished fourth, despite dropping as low as twentieth at times, whilst John McPhee (Petronas Sprinta Racing) rounded out the top five. Ai Ogura (Honda Team Asia) was sixth over the line, ahead of Marcos Ramirez (Leopard Racing) and Niccolo Antonelli (Sic58 Squadra Corse) who appeared to take the long lap penalty for no reason which dropped him back to the lower reaches of the top twenty before fighting back to eighth. Dennis Foggia (Sky Racing Team VR46) and Alonso Lopez (Estrella Galicia 0,0) completed the top ten.
Romano Fenati looked very strong in the first half of the race but dropped back to eleventh in the end, ahead of the aforementioned Aron Canet who will need to bounce back in Sachsenring. Kazuki Masaki (BOE Skull Rider Mugen Race) was in twenty-fifth when the front group contained twenty-six riders, but he stayed on the bike and came through to finish thirteenth for three points, ahead of Filip Salac (Redox PruestelGP) and Sergio Garcia (Estrella Galicia 0,0).
Can Oncu (Red Bull KTM Ajo) was another rider to receive a long lap penalty and finished sixteenth, ahead of Ayumu Sasaki (Petronas Sprinta Racing) who had the mother of all rear-end saves early in the race. Makar Yurchenko (BOE Skull Rider Mugen Race) finished 12.984 seconds off the win in eighteenth.
Andrea Migno (Bester Capital Dubai) remounted after a crash for nineteenth, ahead of Stefano Nepa (Reale Avintia Arizona 77) and Riccardo Rossi (Kommerling Gresini Moto3) who was yet another rider to take the long lap loop. Wildcard Ryan van der Lagemaat (Qnuim Racing) was twenty-second ahead of Tom Booth-Amos (CIP Green Power) who was the final classified rider in twenty-third.
Surprisingly, it took until seven laps from the flag before there was a retirement, as Jaume Masia (Bester Capital Dubai) dropped out with mechanical problems and Albert Arenas (Sama Qatar Angel Nieto Team) crashed out.
Tatsuki Suzuki (Sic58 Squadra Corse) dropped out on the next lap and was involved in an incident where Kaito Toba (Honda Team Asia) clipped the back wheel of Celestino Vietti (Sky Racing Team VR46) in De Strubben. Vietti and Toba went down and Suzuki had nowhere to go, and neither did Raul Fernandez (Sama Qatar Angel Nieto Team) who was also caught up in the incident. Fernandez, Toba and Vietti all got back to the pits but were unable to continue.
Darryn Binder (CIP Green Power) made his presence known, as usual, in the group, sending riders wide at almost every opportunity. He eventually crashed at De Strubben with four laps to go.
Featured image courtesy of Gold and Goose/KTM