The eighth round of the 2019 Moto2 World Championship saw a strong battle at the front between as many as nine riders for almost the duration of the race. Eventually, it was Augusto Fernandez (Flexbox HP 40) who came out on top for his first Grand Prix win.
Brad Binder (Red Bull KTM Ajo) took the early lead with the holeshot, and led from pole sitter Remy Gardner (ONEXOX TKKR SAG Team). Binder's lead lasted for more than half the race, whilst the group battled behind. The South African had a quick bike and minimal corner speed. He was riding the KTM like a Ducati MotoGP bike, hitting the brakes late, stopping in the mid-corner and firing the bike out. It was a strategy that was crucial to his race, because his rivals had superior pace.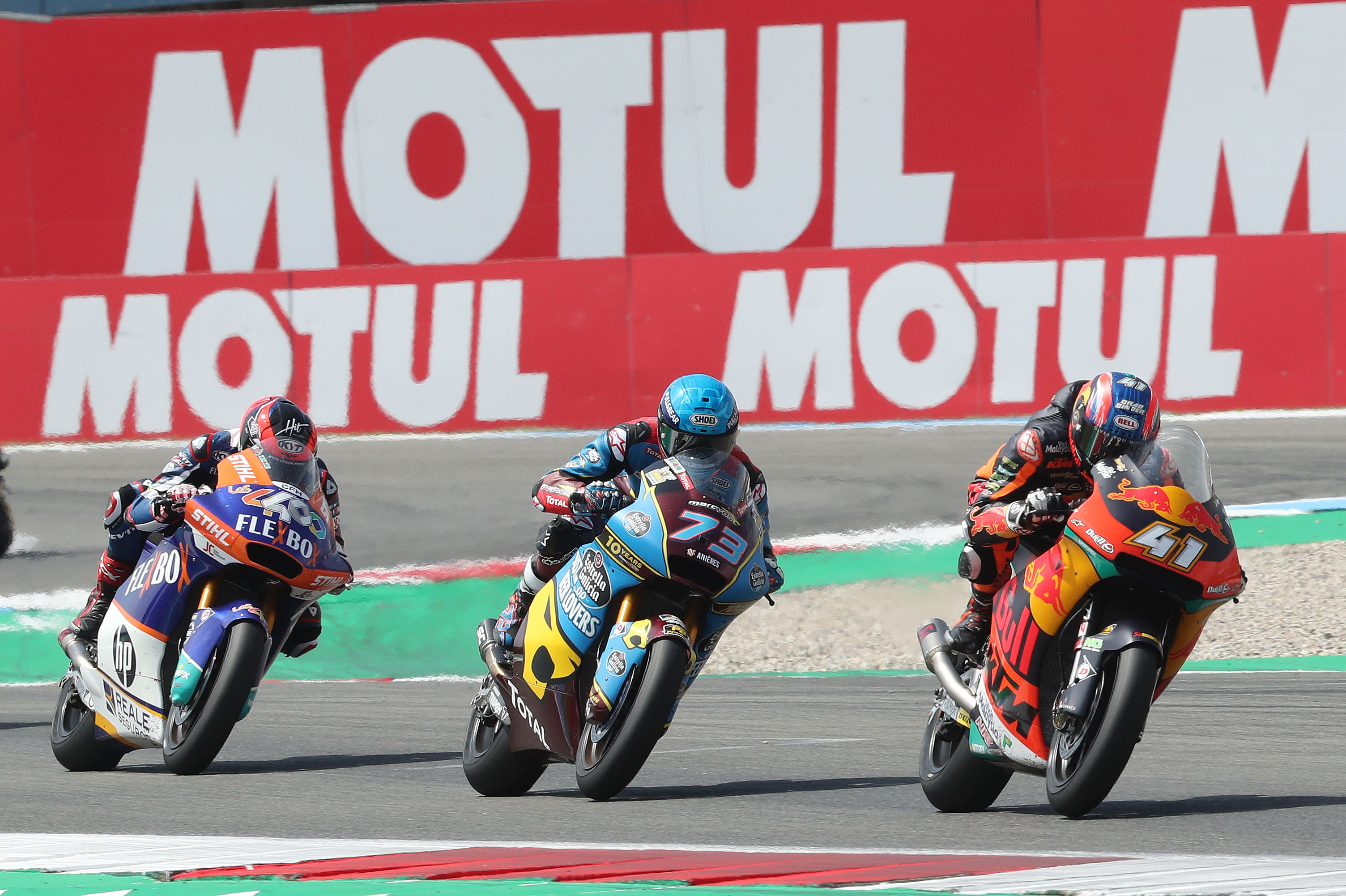 This became clear when Binder was able to pull a gap of almost one second to the group behind thanks to their battling. However, with Alex Marquez (EG 0,0 Marc VDS) in second place Binder's advantage was gone in one lap, and Lorenzo Baldassarri (Flexbox HP 40) had come along with Augusto Fernandez, too.
Marquez was able, eventually, to pass Binder, and with four laps to go had a chance to break away. However, Baldassarri got past Binder, too, and closed down Marquez. Two laps from the flag, Baldassarri tried to make his move – one that both he and teammate Fernandez had pulled off several times before in the race – by cutting to the inside at Osserbroeken. This time, though, it did not work for Baldassarri, who folded the front and took Marquez with him. Six of the first seven races had been won by Baldassarri and Marquez, and now they were both out (also bringing to an end Marquez' run of consecutive race wins stretching back to Le Mans in the middle of May).
That left Fernandez out front from Binder, who had almost no grip on the KTM. Of course, in the final two laps Binder would try to close down the Spaniard, but it was not possible.
Fernandez took his first ever GP win, in the same vein as Takaaki Nakagami three years ago. The #40 rider had looked aggressive all race long, if frustrated by the limiting pace of Binder out front. The Spaniard was nearly out at De Strubben just a few laps before Baldassarri cleaned out Marquez and handed him the win, when he lost the front in the middle of the corner after passing Binder in Osserbroeken. It was impressive enough that Fernandez should stay on the bike so to come away with twenty-five points is remarkable.
KTM finally took their first podium of 2019 thanks to a fantastic ride by Brad Binder. His second place is the result of a perfect strategic play, Dovizioso-esque, and some luck courtesy of Baldassarri. It will be interesting now to see whether this latest update from KTM is something that will work in other tracks, too, and if they are finally on the right direction back to the front of Moto2.
The carnage at the end of the race meant that Luca Marini (Sky Racing Team VR46), who dropped in and out of the front group as the race went on, was able to come away with a rostrum. After Baldassarri and Marquez crashed, Marini had to hold of Tom Luthi (Dynavolt Intact GP) who had been forced backwards when he was caught up in the crash of Xavi Vierge (EG 0,0 Marc VDS) at De Strubben when the Spaniard had his bar taken away by Fernandez. Vierge's bike was in the middle of the track and, whilst Luthi hit it, he did not go down. Marini was successful in his defence and, despite another up-and-down weekend for the Italian he was able to take his second podium of the season.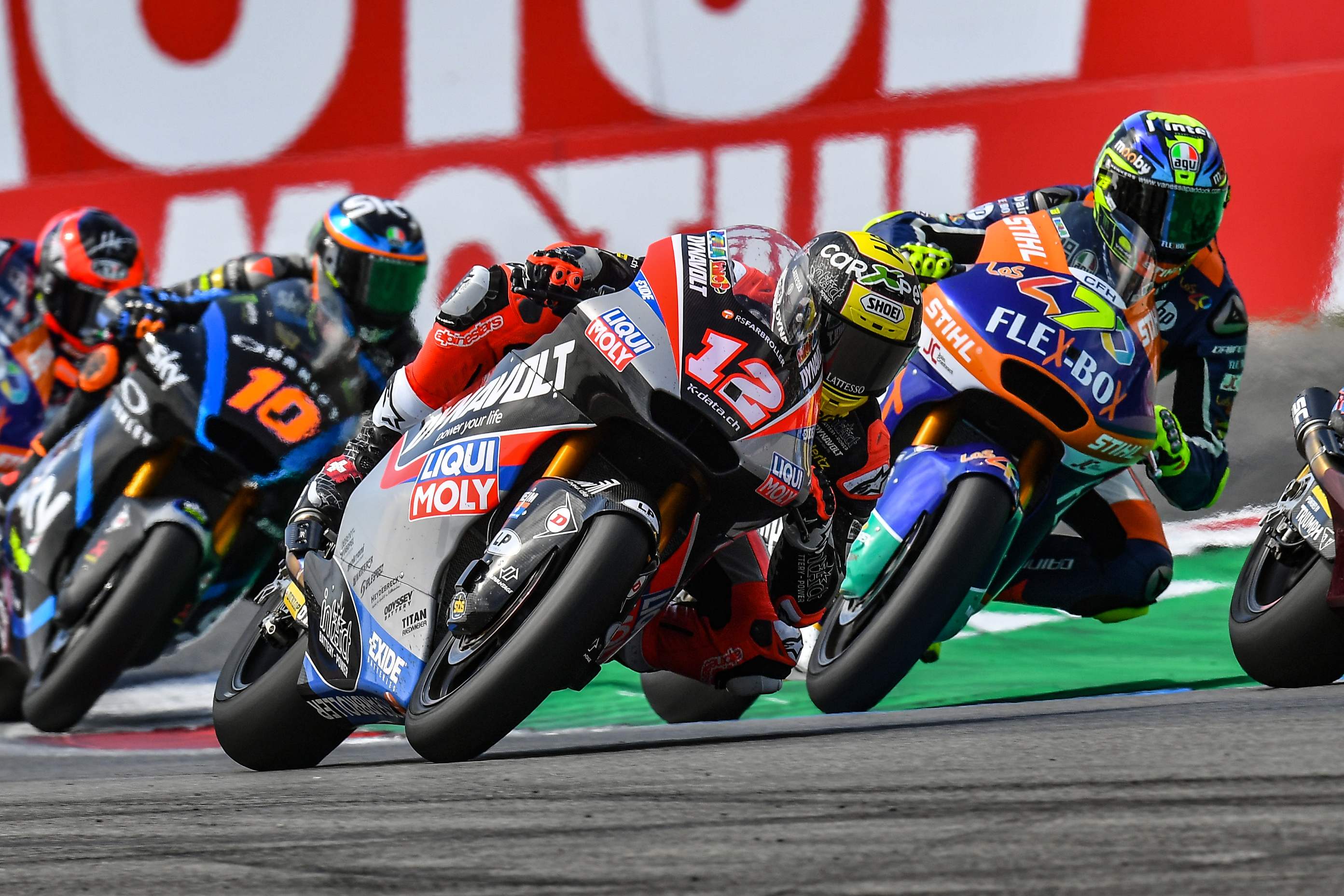 Luthi was unfortunate to be involved in the Vierge crash, although not as unfortunate as Enea Bastianini (Italtrans Racing Team) who was unsighted behind Luthi and went down as a result after yet another strong ride for the rookie. However, with the no-score of Marquez Luthi's fourth place takes him to the top of the championship ahead of Sachsenring.
Tetsuta Nagashima (ONEXOX TKKR SAG Team) spent most of the race just off the back of the leading group, which in the end got him fifth place and his best result in the Moto2 World Championship simply by avoiding trouble. Similarly, Andrea Locatelli (Italtrans Racing Team) got promoted to sixth place with the absence of the leaders in the final laps. Stefano Manzi (MV Agusta Idealavoro Forward) was able to come from last on the grid (courtesy of a penalty for his hand in taking IDEMITSU Honda Team Asia's Dimas Ekky out of the weekend) to seventh – his equal best finish in Moto2 (the other coming in Silverstone 2017). Marcel Schrotter (Dynavolt Intact GP) received a long lap penalty and finished in eighth, ahead of Dominique Aegerter (MV Agusta Idealavoro Forward) and Marco Bezzecchi (Red Bull KTM Tech3) who scored his first points and first top ten in Moto2.
Fabio Di Giannantonio (Beta Tools Speed Up) took an early trip through the gravel and finished eleventh, whilst Jake Dixon (Sama Qatar Angel Nieto Team) picked up his first Moto2 World Championship points in twelfth. Lukas Tulovic (Kiefer Racing) was another first-time World Championship points scorer in thirteenth, whilst Iker Lecuona (American Racing) finished fourteenth after a crash and Joe Roberts (American Racing) took the final point in fifteenth.
Steven Odendaal (NTS RW Racing GP) was sixteenth, ahead of Jonas Folger (Petronas Sprinta Racing) and Xavi Cardelus (Sama Qatar Angel Nieto Team) who was the final finisher in eighteenth.
Bo Bendneyder (NTS RW Racing GP) had a home race to forget as he was taken out in an incident with Simone Corsi (Tasca Racing Scuderia Moto2) and Nicolo Bulega (Sky Racing Team VR46) who also both retired. Remy Gardner seemed to have a gearbox issue and crashed out at the chicane, before Jorge Navarro (Beta Tools Speed Up) ended his run of top tens and joined Gardner in the final chicane gravel one lap after the Australian. Sam Lowes (Federal Oil Gresini Moto2) crashed out in an incident with Jorge Martin (Red Bull KTM Ajo) whilst the pair were running in the front group – Martin later retired when he lost the rear of the KTM into Osserbroeken. It was a shame for both Martin and Lowes, who were having their best respective rides of 2019. Enea Bastianini was taken out in the aforementioned crash of Xavi Vierge, before Alex Marquez was taken out by Baldassarri.
Featured Image courtesy of Gold and Goose/KTM