The statistics will say that Dani Sordo won this event, but we know that it was Ott Tanak's weekend. Here's the story of how this all came to pass. The event started with a short stage on Thursday evening which was won by Seb. The real stages would follow on Friday.
Friday
It was a warm start to the day and there were eight stages facing the crews. Over a 140km in total as well, providing a big challenge, with a lunchtime service break in the middle. Starting positions looked like this- Ogier, Tänak, Neuville, Evans, Meeke, Suninen, Latvala, Mikkelsen, Sordo.
Starting first on the SS 2 – Tula 1 (22,25 km), a long technical stage, we saw straight away that being in the middle of the line up would allow a much faster pace, with more grip. Teemu starting sixth on the road gave him better grip and he set a very good time, winning the stage from Elfyn and Jari-Matti. Who were fourth and seventh in the lineup.
The following stage, SS 3 – Castelsardo 1 (14,72 km), saw Teemu again set the fastest time, the new co-driver partnership already paying off. Jari-Matti ensured it there were two Finns at the top, and with Elfyn only fifth fastest, the Welshman fell behind Jari-Matti to third. Championship leader Seb was now almost 30 seconds from the lead.
On then to SS 4 – Tergu – Osilo 1 (14,14 km) and Ott took a very good stage win from Latvala and Sordo, who set an identical stage time. Latvala now took the lead as Teemu lost 15 seconds in the stage and fell to second overall, whilst Ott's pace now lifted him into third overall. But it was Lappi who had the worst stage, picking up a puncture and tumbling down to eleventh overall.
After the lunch service, there was both good and bad news for Citroen. Firstly, Seb hit a rock in the stage, SS 5 – Monte Baranta 1 (10,99 km), and they pulled over and stopped in the stage to attempt a fix, but unfortunately, they were unable to and retired for the day. There was some good news, as Esapekka Lappi won the stage from Ott, who edged a little closer to leader Latvala. Teemu fell back as he ended the stage ninth fastest, dropping to fifth overall.
The rerun of SS 6 – Tula 2 (22,25 km) saw lots of position changes! Teemu won the stage with Dani second fastest and Ott third. All of this meant that Ott and Dani held a joint lead, with Teemu just eight tenths off in third overall. Those falling from the top of the leaderboard included Latvala, who lost eight and a half minutes after a roll in the stage, whilst Thierry was passed by Kris Meeke, but still in the fight.
The following stage, SS 7 – Castelsardo 2 (14,72 km) saw three crews tackle the stage, before it was halted- The reason? Well, the first clue was that an ambulance had entered the stage, and it turned out that a spectator was taken ill.
Well, SS 8 – Tergu – Osilo 2 (14,14 km) saw Dani take another stage win, from Lappi and Latvala. With the previous stage having been cancelled, there was no official leaderboard, whilst the officials grappled with how best to deal with handing out notional times.
The final stage then, SS 9 – Monte Baranta 2 (10,99 km) and we were still waiting. The top three fastest were, Andreas, Esapekka and Dani.
When the leaderboard was finally updated, this is how it looked.
STANDINGS AFTER DAY 1
Sordo / Del Barrio (Hyundai i20 WRC) 1:36:01.5
Suninen / Lehtinen (Ford Fiesta WRC) +10.8
Tänak / Järveoja (Toyota Yaris WRC) +11.2
Mikkelsen / Jaeger (Hyundai i20 WRC) +20.2
Evans / Martin (Ford Fiesta WRC) +20.3
Meeke / Marshall (Toyota Yaris WRC) +29.5
Neuville / Gilsoul (Hyundai i20 WRC) +57.7
Lappi / Ferm (Citroën C3 WRC) +1:03.5
Hänninen / Tuominen (Toyota Yaris WRC) +2:38.0
Let's hear then from the drivers.
Hyundai Motorsport
Dani Sordo (1st)
"We have had a great start to this rally, but it is important to remember it is run over three days; we can't win on Friday! Still, we have found some very competitive pace from the Hyundai i20 Coupe WRC, benefitting of course from our road position. We have had to make the most of this opportunity today in order to get the strongest road position for Saturday. It has required us to be very focused, especially in the afternoon loop, because we know the smallest mistake here can have big consequences. We sacrificed a bit of speed in the final stage to ensure we ended the day strongly. Leading the rally sounds good to me, but there's a long way to go."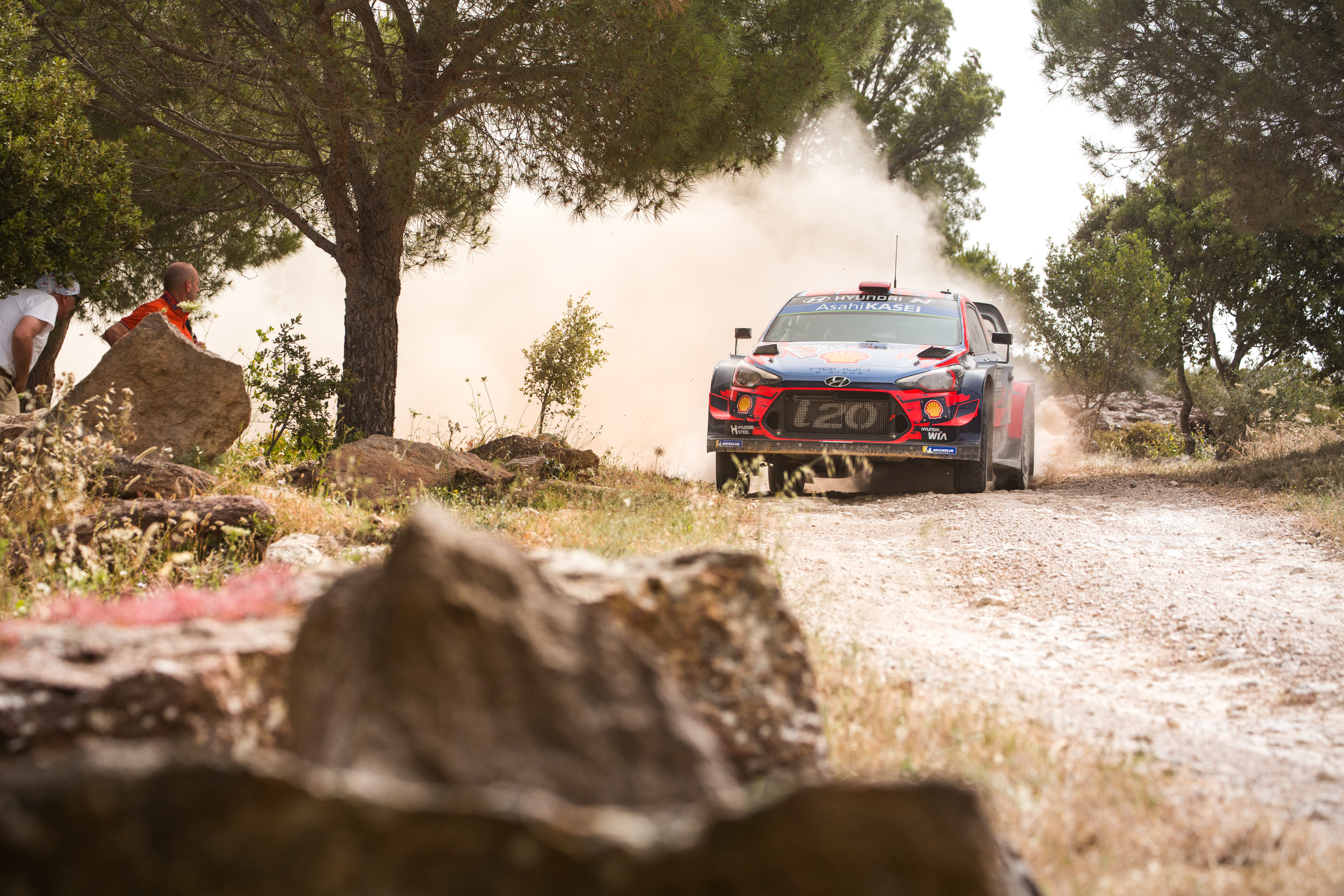 Andreas Mikkelsen (4th)
"Our day got off to a bad start when we made the wrong tyre choice on the morning loop – it was clear from the start that it was going to be tough. There was nothing we could do and the car was all over the place. By the final stage, the rear tyres were slicks. We had a much better afternoon. The driving was good, the tyre strategy was correct and we had a great feeling from the car. Road order is going to be really important tomorrow so it's a shame we couldn't be even higher up the order, as I am sure we could have been without our morning issues."
Thierry Neuville (7th)
"We've not had the greatest of days, but the important thing is that we've survived. This morning although we didn't opt for the best tyre choice, it was enough to keep us close to the lead. The extra weight was the biggest disadvantage; there are a lot of stones on the outside where the car is dancing, and we struggled to keep the car straight. The afternoon started badly when we had a miscommunication on the pace notes and ended up in a ditch. There's no one to be blamed, it's just one of those things but we lost a lot of time. We used a lot of tyre performance on the next stage, which was ultimately cancelled for the other crews, and that left us at a disadvantage. We are going to face an uphill battle for the rest of the weekend, but we don't give up. A podium is still not out of the question."
M-Sport WRT
Teemu Suninen (2nd)
"I have to say that I'm really happy with our performance today. I think we did a great job with the whole team, and it was just a shame that we did that one mistake in the morning – spinning and losing over 10 seconds.
"Jarmo has been teaching and coaching me all day and I have to say that I really enjoyed being the student again. I am still young and it's great to be next to a really experienced co-driver like him.
"I think everyone will be really fast tomorrow, and we need to focus on our own performance. I would be happy with a podium, or even a top-four, but let's try our best and see what happens."
Elfyn Evans (5th)
"When the going was good, the speed was there, but we didn't have the correct feeling with the car for some stages this morning – and that cost us quite dearly.
"Things were looking up in the afternoon but with the cancellation of the second stage [SS7] for the guys behind, we used a lot more tyres. I then made a little mistake in the next stage [SS8], and there was a massive cleaning effect in the last one [SS9].
"We dropped down the order a lot further than we would have liked, but it's still incredibly close and we'll fight our way forward tomorrow."
Toyota Gazoo Racing WRT
Ott Tänak (3rd)
"It has been a challenging day but I believe we did everything we could. This afternoon we had an extra challenge running first on the road: Some sections were OK but in the narrow sections the ruts were full of loose gravel and it was really hard to find traction. In the last stages it was difficult for us to compete with the guys whose tyres had done one less stage. But we had a good rhythm and I could just try to push on every stage. Tomorrow it will be a big fight but we will have a better road position and hopefully this will make all the difference."
Kris Meeke (6th)
"These stages today were mostly new for me, and I struggled a bit this morning just to find my way. We maybe could have had a different tyre choice as well, as the temperatures were very high already by mid-morning which was tough on the medium tyres. This afternoon was stronger and we had a decent rhythm. The car's been near perfect and I'm generally quite happy. Tomorrow's stages are more traditional from this rally and I have knowledge of them from the past, so hopefully the feeling should be better and we'll try to take every position we can."
Jari-Matti Latvala (TBC)
"We had a really good morning. It was very hot and I knew the tyre wear would be high in those conditions, so I took five hard tyres and I think it was a great choice. Then in the first stage of the afternoon, at a hairpin I pulled the handbrake too early, we cut the inside of the corner and rolled. It was a stupid mistake. It took a lot of effort for Miikka and I to get the car back on its wheels. The car was driving fine in the next stage and we could set a good time. But on the last stage, accelerating out of a hairpin the steering locked to the left and we went off the road and couldn't continue. It's difficult to take at the moment but hopefully we can come back and enjoy it tomorrow."
Citroën Total WRT
Esapekka Lappi (8th)
"We had a bit of an up-and-down leg, what with my puncture this morning and the sensor issue that meant we had no engine boost, so we had trouble putting it all together. But we finished the day better than we started it. Unfortunately, on gravel, the opening leg is always fairly decisive and our day means that we won't have a good position in the running order tomorrow. We'll have to rely more on endurance to have a chance of moving up the standings."
Sébastien Ogier (DNF/Rally2)
"The retirement was clearly my mistake. I just cut a little too much on a very tight left-hand corner, hit a big rock and broke the steering arm. I knew exactly where the rock was, as we had passed it three times on the shakedown. There's a slight crest, a bit blind and perhaps I turned in slightly too early. We tried to do some makeshift repairs, but we couldn't manage and so we had no other option but to retire. There's not very much for us to hope for from this weekend now. As one of the early runners, I don't think we have any chance of scoring five points in the Power Stage, given how loose and sandy the roads are, so we'll watch what our rivals do."
Saturday
This would be the longest day of action, with over 150km of stages, including two 28km stages back-to-back. The start list looked like this – Ogier, Latvala, Hänninen, Lappi, Neuville, Meeke, Evans, Mikkelsen, Tänak, Suninen, Sordo.
Straight away, there were changes to the leaderboard after SS 10 – Coiluna – Loelle 1 (14,97 km), with Ott winning the stage and moving ahead of Teemu into second overall. Elfyn started well, passing Andreas for fourth overall, but this battle was certainly not over.
There was more trouble for Seb, who'd damaged his rear suspension and stopped again to fix it in SS 11 – Monti di Ala' (28,21 km). Ott won the stage, closing on Dani for the lead, the gap now just 2.6 seconds between them! Andreas repassed Elfyn in their fight over fourth place.
An inspired choice of medium tyres for Ott lead to another stage victory in SS 12 – Monte Lerno 1 (28,03 km) and with it the overall lead now by six seconds. Elfyn passed Andreas once more, whilst Thierry didn't seem to be able to find any pace at all, firmly holding seventh overall, almost 50 seconds from Kris.
The afternoon stages started with SS 13 – Coiluna – Loelle 2 (14,97 km) and Ott continued to build a lead over Dani. Once more the fight between Elfyn and Andreas continued with them setting the exactly same time in the stage, with Elfyn holding fourth from the Norwegian.
SS 14 – Monti di Ala' 2 (28,21 km) saw Ott open up an even bigger lead, winning the stage by almost seven seconds from Teemu, who was consolidating his podium challenging position of third. Dani remained in second overall.
The final stage of the day, SS 15 – Monte Lerno 2 (28,03 km) and the top three was Ott, Teemu and Thierry. Rally leader Ott had won every stage today, and increased his lead to almost half a minute over Dani Sordo. Thierry moved up as well, as Kris lost two and a half minutes after having to stop and change a tyre having got a puncture, so he fell to eighth.
STANDINGS AFTER DAY 2 
Tänak / Järveoja (Toyota Yaris WRC) 3:04:10.3
Sordo / Del Barrio (Hyundai i20 WRC) +25.9
Suninen / Lehtinen (Ford Fiesta WRC) +42.9
Evans / Martin (Ford Fiesta WRC) +1:25.4
Mikkelsen / Jaeger (Hyundai i20 WRC) +1:33.3
Neuville / Gilsoul (Hyundai i20 WRC) +2:32.4
Lappi / Ferm (Citroën C3 WRC) +2:58.3
Meeke / Marshall (Toyota Yaris WRC) +3:53.3
Hänninen / Tuominen (Toyota Yaris WRC) +7:23.2
    Ogier / Ingrassia (Citroën C3 WRC) +1:19:20.6
Let's hear from the drivers.
Toyota Gazoo Racing WRT
Ott Tänak (1st)
"We've had a very strong day, but it was really demanding. We had to fight hard to get into the lead and make the gap that we have now. This morning we had a very good tyre call, and I believe that gave us some advantage. The car was working well and I had the confidence to push. This afternoon the conditions were rough and it was hot in the car. It was tough to push while also managing the tyres, and it would have been easy to get a puncture. But we had a very clean run with a good rhythm. We're in a great position but we still have a big job to do tomorrow with four tricky stages waiting for us."
Kris Meeke (8th)
"This morning I had a decent rhythm but I was still hesitating a bit in places, as it had been four years since I'd last driven these stages. Still, we managed to maintain the gap to the two drivers in front of us even though they had an advantage with the road cleaning. This afternoon I improved my rhythm and the first two stages went really well. Then in a fast section we had an impact with something in the middle of the road and it damaged a rim. I always knew this rally would be one of my toughest of the year, so to have been fighting for fourth tomorrow would have been really nice, so it's really disappointing. Now we just need to bring home some points tomorrow."
Jari-Matti Latvala (22nd)
"The goal for today was to enjoy the driving, but it's never easy to be first on the road. This morning was very good, I was actually very happy with the stage times for the road position that we had. The afternoon we tried something different with the setup and to have the car a bit stiffer, but it didn't work for my driving style: I couldn't feel the grip in the same way, so the times were not that great. But when I didn't have that confidence, I knew to stay calm and not make mistakes. Tomorrow we'll go back to the setup we had this morning with some fine tuning, and hopefully we can get some points from the Power Stage."
Hyundai Motorsport
Dani Sordo (2nd)
"We have had another good day but we just haven't been able to match the pace of Tänak. We expected him to be fast based on his performance yesterday, and so it proved. I have been pleased with our own performance, though, as we've been able to hold onto second place quite comfortably. We have had to take it easy at times, in order to avoid picking up punctures, but the gap is still manageable to third place. We will try to push as much as we can tomorrow and secure our first podium finish of the season."
Andreas Mikkelsen (5th)
"The fight for fourth is well and truly on; it gives us all the motivation we need to keep pushing. It wasn't always possible to find the best times today. We struggled to find confidence on the first pass, as we did on Friday, when the stage conditions are particularly slippery. There's a fine line in this event because it's so easy to pick up a puncture on the second pass. My tyres were gone by the end of the loop, so I had to take it super carefully. We lost some time to Elfyn as a result, but we'll do all we can to get that back tomorrow."
Thierry Neuville (6th)
"It's definitely not been the sort of day we were expecting to have. We wanted to show improvements compared to yesterday but we've struggled. The morning loop was challenging and I didn't feel confident in the car. Our tyre choice was again not ideal but we just had to persevere. In the past four or five events, we have really felt confident in the car but that is missing in this rally. Our pre-event test (PET) was obviously not good enough. We have spent today making adjustments to the settings and the differentials, we have learned some things but we're not where we need to be."
M-Sport WRT
Teemu Suninen (2nd)
"I think we can be really happy with our performance today. The pace has been really solid all day and we were in the top-three on all of the stages.
"Dani [Sordo] is still some seconds away, but let's see what we can do. We'll try to catch him if we can, but I'll still be happy with third position.
"Also, things with Jarmo are working really well – we have spent 14 hours together in the car today and we're still smiling so that's good!"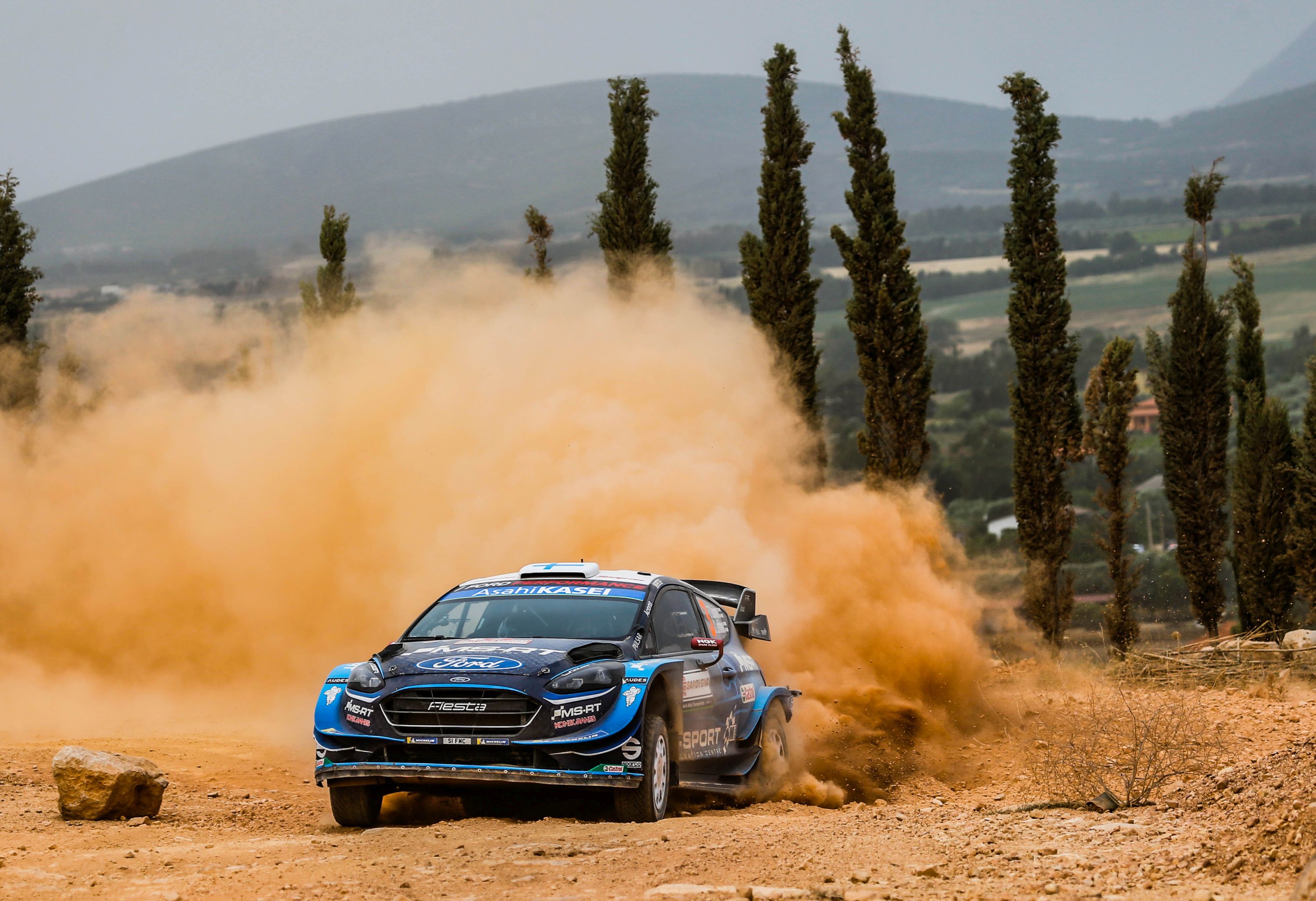 Elfyn Evans (4th)
"It's been an okay day for us. I was a bit disappointed with the speed in some places, but overall, it's been fairly positive and we're back up to fourth place.
"It's going to be a close fight with Andreas tomorrow so it was a shame to lose some time with the dust on the last stage. It was coming and going with light dust in some places and thick dust in others where we had to completely slow down.
"Everyone else had a clean run, so let's see what happens with that. Whatever the outcome, it's still going to be close, so we've got to keep pushing. It's another tricky day tomorrow, but we'll give it our best and hopefully come away with another strong result."
Citroën Total WRT
Esapekka Lappi (7th)
"Apart from one stage where we lost a bit of ground, we more or less managed to keep pace with Neuville today, who was behind us in the running order, so that's pretty pleasing. I was comfortable in the C3 WRC but we couldn't hope to do much more with our road position."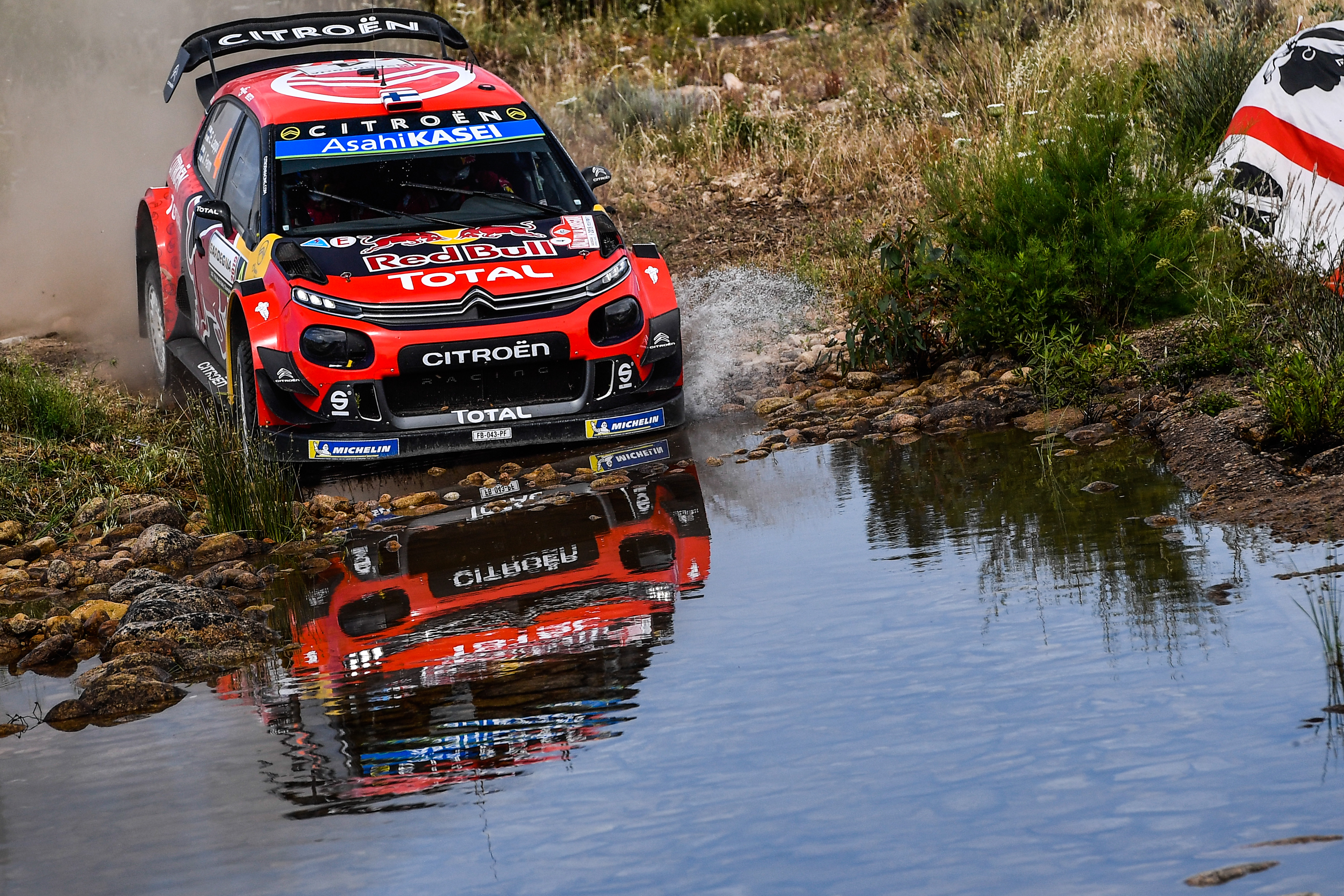 Sébastien Ogier (44th)
"Our mistake this morning was disappointing, because it then prevented us from really testing ourselves against our rivals on the second loop. We tried to do what we could, but without having driven the stages at full speed on the first run, it was clearly almost impossible to set fast times in the afternoon. SS13 is the only stage where I tried, because we had completed it in normal conditions on the first loop, and the time was okay. Obviously, you can count on me to try and grab some points in the Power Stage, even though it looks like it will be mission impossible. As the stage is rough, perhaps some crews won't be flat out, but we'll be pushing as hard as we can."
Sunday
Well, we had just four stages left totalling 42km's of action. This was the start list – Ogier, Latvala, Hänninen, Meeke, Lappi, Neuville, Mikkelsen, Evans, Suninen, Sordo, Tänak.
Andreas won SS 16 – Cala Flumini 1 (14,06 km), with Elfyn just two tenths of a second behind him and holding fourth place very nicely from the Norwegian by seven seconds. Ott increased his lead a little more over Dani, who was looking good for his first podium of the year.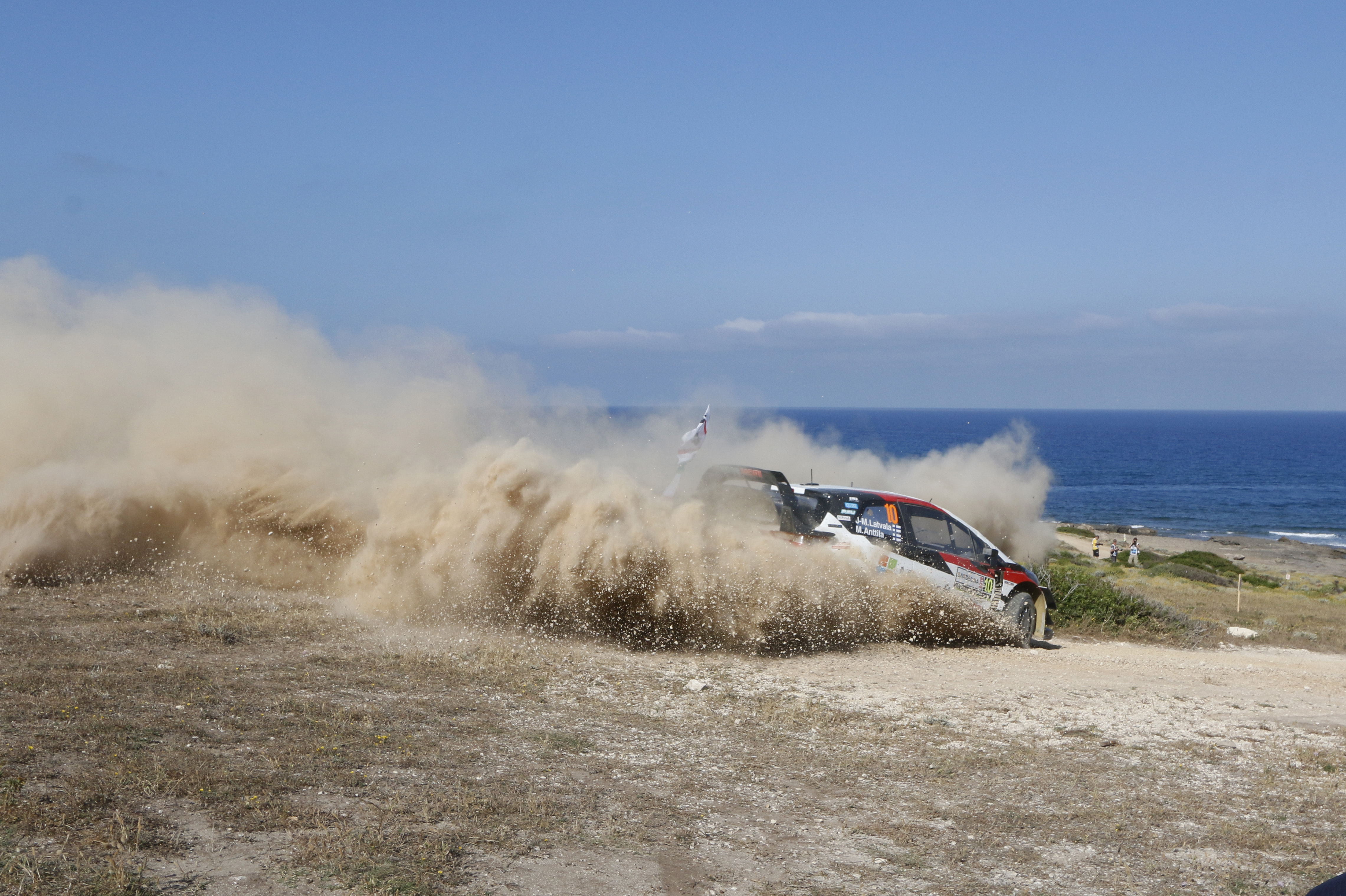 SS 17 – Sassari – Argentiera 1 (6,89 km) was also won by the Norwegian and with Elfyn five and a half seconds slower the gap in their battle for fourth was getting close! Ott was still holding the lead. Seb pushed in the stage, looking to get comfortable, ready for later, when the stage would be rerun.
A further stage win for Andreas in SS 18 – Cala Flumini 2 (14,06 km), took him closer to Elfyn, just six seconds separating them. Seb took it very easy through the stage, saving his tyres for a big push in the rerun of the stage, which would be the powerstage, his best hope for scoring points.
Finally, SS 19 – Sassari – Argentiera 2 Power Stage (6,89 km), and there were three surprises! Firstly, Seb set a great time, good enough for second fastest, behind Andreas who's made it three out of three stage wins! Elfyn could only manage fifth fastest, losing the fight to Andreas, and then lastly with Dani Sordo having already finished, there was drama for Ott, who'd lost his powersteering in the first sector of the stage, the Estonian lost two minutes in the stage, falling to fifth place. All of this meant Dani had won, securing a popular win in the service park.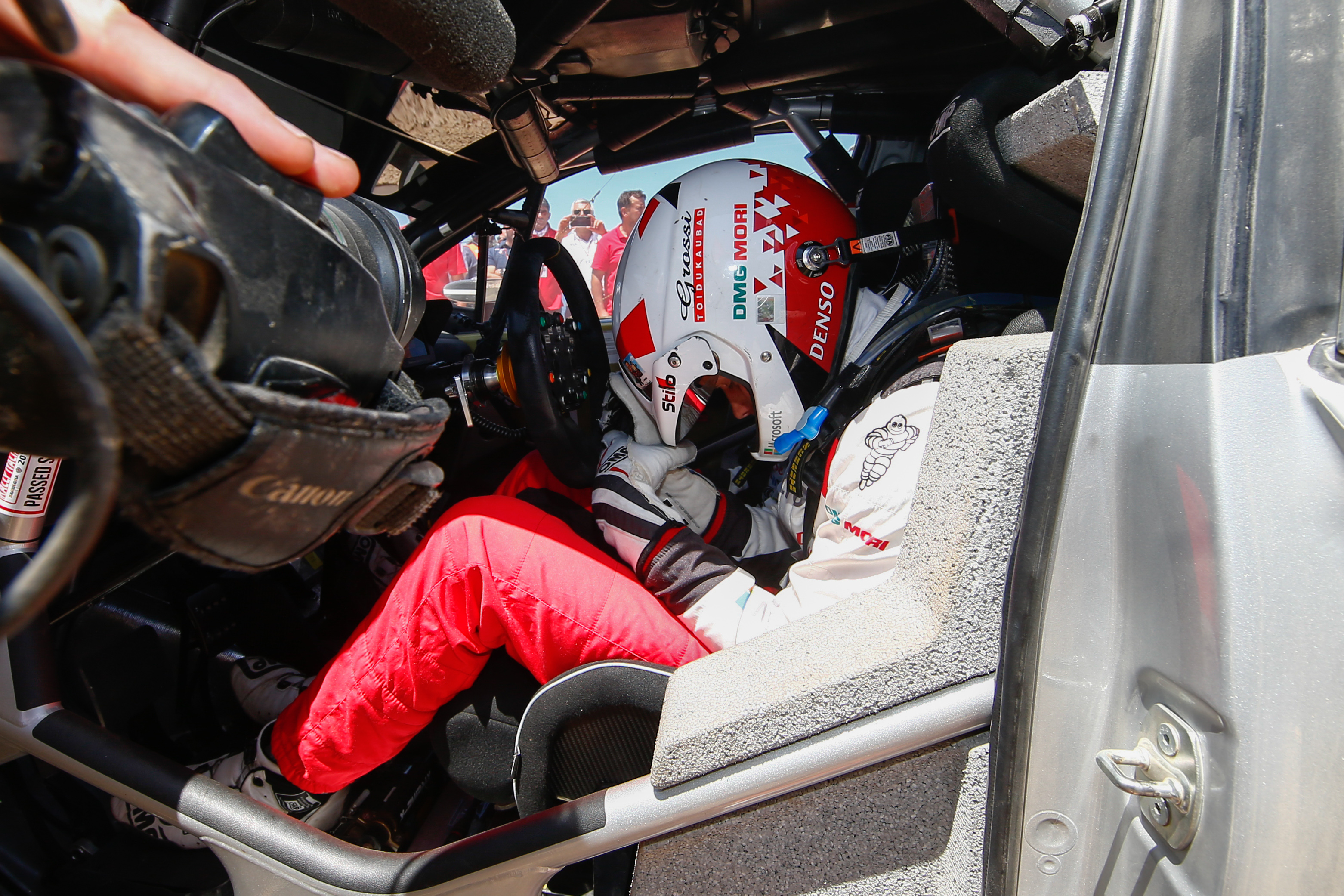 FINAL RALLY STANDINGS
Sordo / Del Barrio (Hyundai i20 WRC) 3:32:27.2
Suninen / Lehtinen (Ford Fiesta WRC) +13.7
Mikkelsen / Jaeger (Hyundai i20 WRC) +32.6
Evans / Martin (Ford Fiesta WRC) +33.5
Tänak / Järveoja (Toyota Yaris WRC) +1:30.1
Neuville / Gilsoul (Hyundai i20 WRC) +2:06.7
Lappi / Ferm (Citroën C3 WRC) + 2:59.6
Meeke / Marshall (Toyota Yaris WRC) +4:40.1
   Ogier / Ingrassia (Citroën C3 WRC) +1:22:58.5
Well, that was a big surprise, with Dani Sordo scoring his second victory at the top level of rallying!
Let's hear from the drivers!
Hyundai Motorsport
Dani Sordo (1st)
"This is incredible. I have no words; it's just an amazing feeling to take my first win for Hyundai and the second WRC win of my career. Of course, I am very sorry for Ott and Toyota to have experienced such bad luck on the Power Stage. At the same time, we knew we had to keep the pressure on in case this sort of situation occurred. I just can't believe it happened. We have been quick and consistent all weekend. There was no chance to beat Ott on outright pace so we just did what we could and avoided mistakes. It wasn't easy but we made it through to the end – and we now have this fantastic victory as a reward. Thanks to Carlos and to the team for the support and for sharing this result. I think it will take some time to fully sink in."
Andreas Mikkelsen (3rd)
"We gave it a massive push on the final morning in an effort to cut the gap to Elfyn Evans. We had to dig deep but we were confident in our chances. The car felt really nice and we were properly in the zone. Taking all four stage wins was a fantastic feeling and we would have been content to take fourth. Unfortunately, Ott had his issues, which then handed us a podium finish, which was an unexpected but very welcome bonus. Although it has been achieved at one of our rival's expense, we are grateful to score a 1-3 result this weekend."
Thierry Neuville (6th)
"Absolutely not the weekend we were looking for. We have not been in the fight, so it's been a case of damage limitation. A combination of incorrect tyre choice and other issues on Friday put us on the back foot from the start, and we've not been able to play a role since. We have to put it down to 'one of those weekends' and look to regroup and fight back in Finland. We pushed as hard as we could in the Power Stage but we could do no more. Congratulations to Dani; we have worked together at Hyundai for six years now and I am really pleased to see him and Carlos secure their first win for the team."
M-Sport WRT
Teemu Suninen (2nd)
"I am really pleased with our performance this weekend. We had good speed with some fastest times on Friday, and then we were extremely consistent after that – especially on Saturday where we set the second or third fastest time on every stage.
"Today was a lot more difficult. The plan was to bring the car home, but this car really doesn't like being driven slowly and we had to pick up the pace to make it nicer to drive. It was really hard to judge the rhythm, but we made it and it's nice to get my first podium of the year.
"Also, the partnership with Jarmo was working really well. I thought it would be a lot more challenging having a new voice in my ear, but actually this is the voice I heard whilst watching the rally on the TV as a kid – and that gave me some good memories and big smiles all weekend."
Elfyn Evans (4th)
"It's really disappointing to have missed out by such a small margin. Looking back, the first stage of the loop was okay but we gave far too much away in both passes of the Power Stage. It's so rough in there and so easy to make a mistake – but also so easy to make the time if you're willing to put it all on the line. I wouldn't say that we didn't push, but I was definitely too cautious in the hairpins and that's where we lost it. It's difficult right now, but it's still a good result and we've strengthened our position in the championship."
Toyota Gazoo Racing WRT
Ott Tänak (5th)
"Very early in the final stage, something very strange happened with the steering and basically it was locked. We were stationary for some time, fighting to get the steering working. Somehow, we managed to get going again, but there was a lot of time lost and so was the victory. I'm frustrated, but I also feel very sad for the team. Everybody put so much effort in for this event and in the end to lose it in this way is really a shame. I'm sure that the team will work hard to solve the problem, and we will keep fighting. It's been a tough season so far but the championship situation is much better than it was at the same time last year. Now it's time to have some rest and be away from rallying for a bit, and then it's back to business."
Kris Meeke (8th)
"I was quite enjoying it yesterday afternoon: We were improving our rhythm and our speed. Then we had the issue in the final stage, and that meant that we didn't have much to fight for today: We were just focusing on bringing it home to score some points for the team. I knew this would be a tougher event for me, but we can take some positives from yesterday. Now I'm looking forward to Rally Finland and the rest of the year: I know that the team was really strong over the second half of the season and I think everyone's going to give everything from now until the end of the year."
Jari-Matti Latvala (19th)
"Today the target for me was to score some points on the Power Stage. I wanted to get into a nice rhythm this morning and keep the speed up. Then, on the third stage, I was just saving the tyres. The Power Stage was always going to be hard with our road position, and I struggled a bit in the ruts, but we had a decent run and we were able to take some points away. Overall it has been a tough weekend for me after the positive start. It's not been the rally that we were hoping for. But we need to look forward and keep fighting."
Citroën Total WRT
Esapekka Lappi (7th)
"Obviously, it wasn't quite the result that we were hoping for. The problems we had on the first leg went a long way to determining the rest of our weekend. We weren't able to perform at our true level given our position in the running order. It was pretty much impossible to make up ground on these roads, where the grip increases so much with each passing car. We also weren't helped by making the wrong call on tyres on Saturday morning. But at least we made it to the finish. We'll now get back to work so that we're in better form for our home round in Finland."
Sébastien Ogier (42nd)
"Sometimes in motorsport, you have a weekend where things just don't go your way and this weekend was clearly one of those. We'll put it behind us and focus on the future. In running first on the road, the best we could have realistically hoped for would have been to finish around fifth, so my mistakes cost us a few points. But it is still incredibly close in the championship, even though I'm not the kind of person to take any pleasure from the misfortune of others, especially when it's Ott. I'm now going to have a holiday and recharge my batteries. We'll be back in Finland and try to do a lot better."
DRIVERS' WORLD CHAMPIONSHIP
Ott Tänak – 150 points
Sébastien Ogier – 146 points
Thierry Neuville – 143 points
Elfyn Evans – 78 points
Teemu Suninen – 62 points
Kris Meeke – 60 points
Andreas Mikkelsen – 56 points
Dani Sordo – 52 points
Esapekka Lappi – 40 points
Jari-Matti Latvala – 40 points
MANUFACTURERS' WORLD CHAMPIONSHIP
Hyundai WRT – 242 points
Toyota Gazoo Racing – 198 points
Citroën Total WRT – 170 points
M-Sport Ford WRT – 152 points
Summary
Well, what a remarkable round! It had everything! First of all, Ott Tänak showed once again that he with his co-driver Martin Järveoja in that Yaris WRC are a force to be reckoned with. The combination is devastatingly effective, just so fast, even when second on the road. They are now in the championship lead. He'll have to open the road at the next round in Finland, like Thierry did last year. That will be an interesting event.
Dani Sordo drove brilliantly to head into the final day holding second place, and it would have been a well-deserved podium. His first win since 2013, when he was driving for Citroën at that years Rally Deutschland is well deserved! Andreas also found some good pace, and it was a good result for the Norwegian, who is still under pressure I believe to deliver strong results.
Teemu's performance was really impressive as well, with Jarmo Lehtinen making his return to the co-driver's seat at the top level for the first time since 2014. Thinking about Elfyn, and his performance over the weekend, he drove pretty well, but it was a surprise to see him lose some much time to Andreas. He'll want to analyse with Scott, where they went wrong, as it could have been a podium, and to some degree, he was over shadowed by Teemu.
At Citroën, they had an event to forget, apart from a brilliant drive from Sébastien Ogier to second fastest time in the powerstage, despite being the first car. A strange mistake from the Frenchman saw his challenge end, but he's still well in the fight, and he is a bit lucky that Ott didn't win as well. Esapekka is still getting used to his C3, but he had a good event, with a stage victory, but a puncture didn't help him.
We now have a seven week break before the next event, Rally Finland on the weekend of the first to the fourth of August. We'll then have six events in five months to decide who wins this year's championship!