Whilst Saturday in Jerez saw the MotoGP riders circulate under clouds, and Sunday morning's warm up the same, the Andalusian sun was out for the race, and had been cooking the track up since the beginning of the Moto3 race.
Perhaps this is the reason for the subdued pace at the start of the race. Marc Marquez (Repsol Honda Team) made the holeshot, and led from Franco Morbidelli (Petronas Yamaha SRT) at the start. Having been the fastest on pace all weekend, it might have been expected that Marquez would pull away, running the high-1'37s he had been capable of through the weekend. However, Marquez' first laps were in the mid-1'38s – in fact, the second lap was his slowest of the race.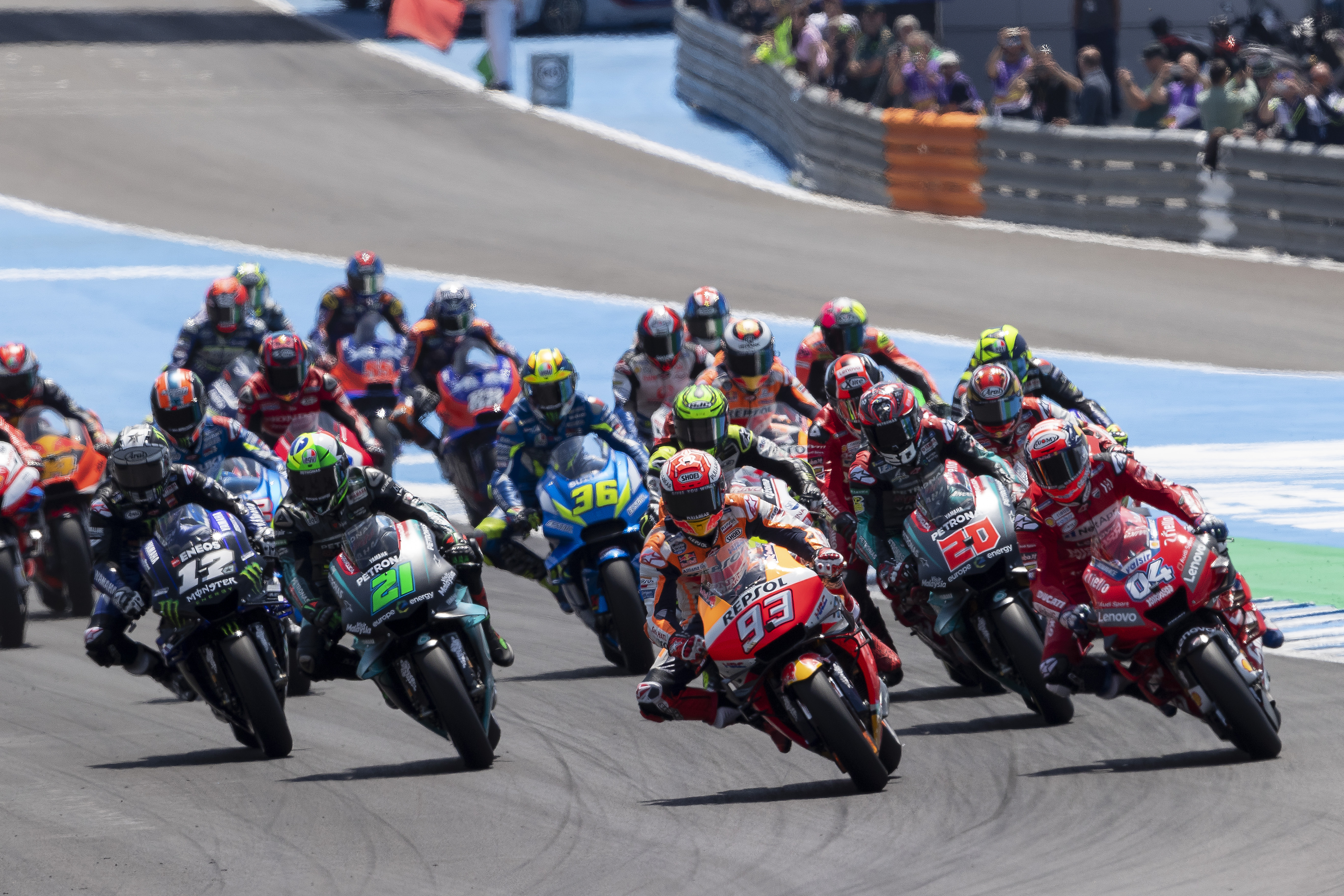 There seemed to be chance for Morbidelli, who was very close to Marquez in several places, and looked poised to pass him for the lead. However, once Marquez had settled into his rhythm and the pace dropped to low-1'38s and high-1'37s, the gap began to grow. Once Morbidelli had lost touch of Marquez, his rhythm seemed to drop.
Petronas Yamaha SRT teammate, Fabio Quartararo, was soon by Morbidelli. There was already a two second gap to Marquez, but the Frenchman was able to pull clear of his more experienced teammate, who was now under pressure from Alex Rins (Team Suzuki Ecstar) after the Spaniard had got past Andrea Dovizioso (Mission Winnow Ducati) a lap or two later than he would have hoped.
It took Rins another lap or two to line up Morbidelli, and as he passed the Italian for third, Quartararo retired simultaneously. It was quite heart-breaking to see the Frenchman put out of contention after such a fantastic weekend, a stunning pole and with such a clear shot at a first-ever MotoGP podium. But a gearbox or gear lever problem forced him out, and Rins inherited his secod place.
Quartararo's retirement meant that when Rins passed Morbidelli, the Italian retained a provisional podium position, but it was not long before Maverick Vinales (Monster Energy Yamaha MotoGP) was able to pass him in the straight from turn five to turn six. The speed with which Vinales was able to dispatch Morbidelli indicated the satellite Yamaha rider's tyre woes. They were on equal machinery but Vinales took only half of the 0.3-mile long straight to pass his stablemate.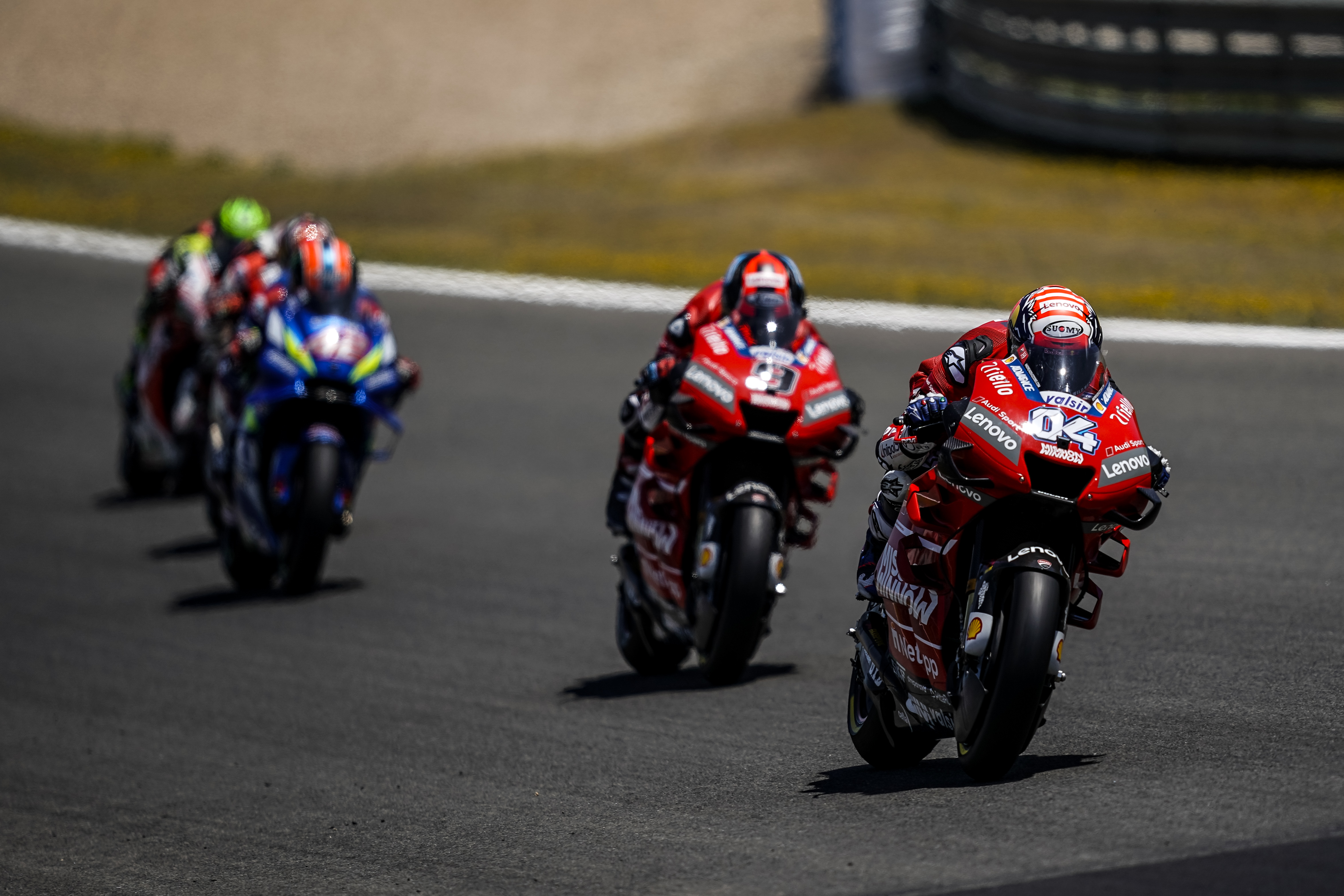 Dovizioso was next to pass Morbidelli, and then Danilo Petrucci (Mission Winnow Ducati). The two factory Ducati riders would then engage Maverick Vinales in the battle for the final podium spot.
In the meantime, Morbidelli fell back to Cal Crutchlow (LCR Honda CASTROL) and Jack Miller (Pramac Racing) behind, who were also coming under pressure from Valentino Rossi (Monster Energy Yamaha MotoGP) who had made almost no progress from the first lap when he was tenth. Quartararo's retirement had promoted Rossi to ninth, but in the mid-race he appeared to have no answer for the riders ahead of him.
But, as Morbidelli fell behind Crutchlow and then Miller, Rossi arrived, and made quick work of the three of them. It was too late for the Italian to do anything about the factory Ducatis and, anyway, he lacked the pace late in the race.
By now, Alex Rins had given up any hope of closing on the dominant Marquez, and was starting to slip closer to Vinales, who was pushing on to try to keep Dovizioso at bay, whilst Petrucci had been dropped by the pair of them.
In the end, there was no change. Marquez picked up his second successive Jerez victory, his third in the premier class, and received the championship lead with it.
Alex Rins, on the other hand, moved up to second in the championship, one point adrift of Marquez with a solid second place. Once more, it was Rins' qualifying which prevented him from taking the race win. It seems to be a Suzuki issue more than a Rins issue when it comes to qualifying, since Joan Mir (Team Suzuki Ecstar) is rarely strong in time attacks either, but in any case it is an issue that Rins and Suzuki need to remedy if they are to achieve the results necessary to challenge for the championship.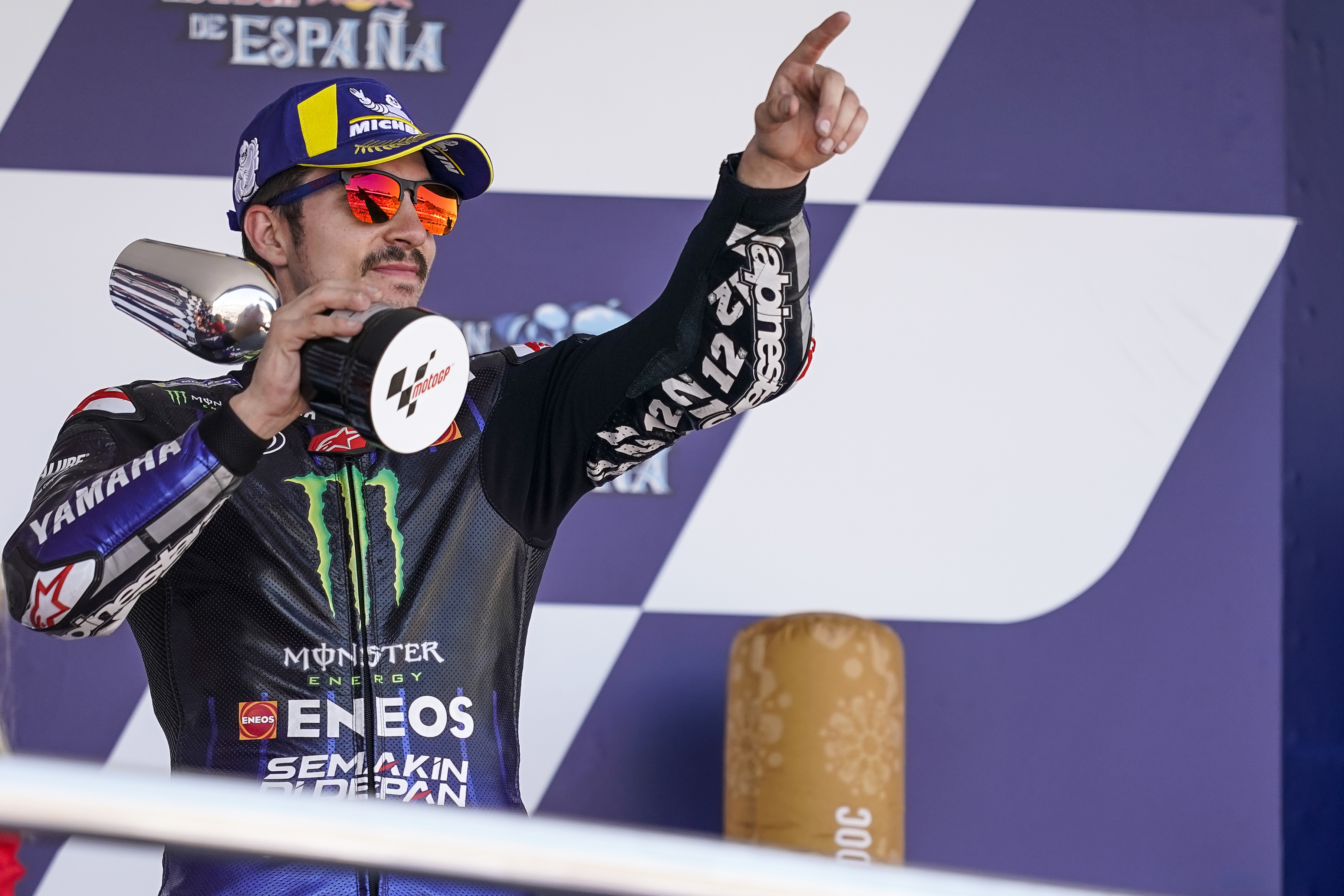 Maverick Vinales had never achieved a premier class podium in Jerez before this weekend. He arrived at Yamaha at the wrong moment for that, and the Suzuki always struggled in the heat whilst he was a GSX-RR pilot. However, his third place is proof of the progress Yamaha has made over the winter, and that should give him, the team, his teammate and the factory confidence going forward – they are in the right direction.
Vinales' resolve in the final lap – which was his fastest of the race – of course meant Dovizioso missed the podium, and is still without a podium in a premier class race at Jerez. Nonetheless, the Italian goes to one of Ducati's strongest tracks in two weeks' time at Le Mans only three points off Marquez' championship lead.
Danilo Petrucci took fifth place, his best finish of the season after a trio of sixths to open his factory Ducati career. Like Dovizioso, Petrucci had seemed to have the potential to fight with Marquez in the race, certainly to have a good shot at the podium. However, another poor qualifying limited his chances, and he struggled for pace at the end of the race.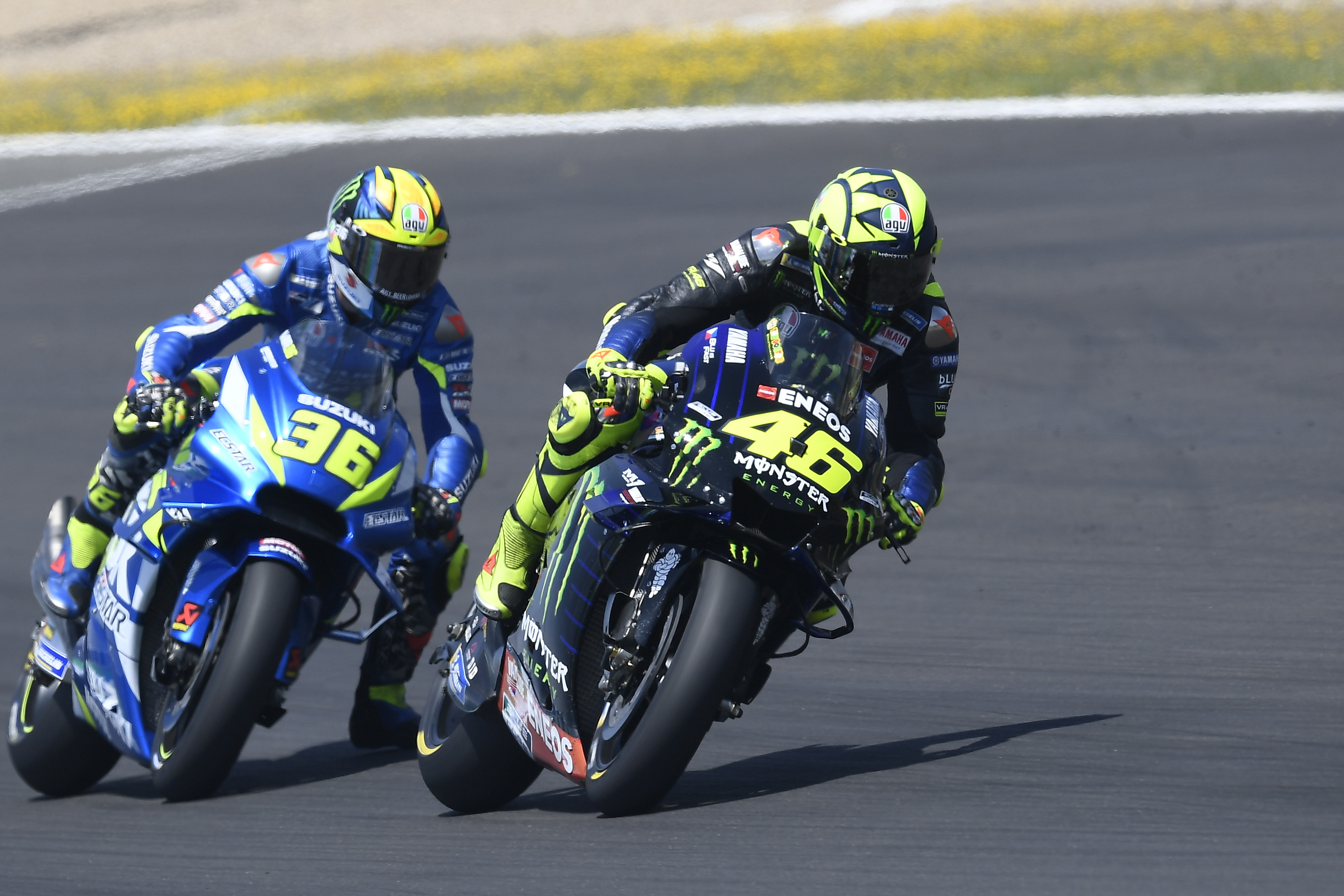 Valentino Rossi salvaged a sixth place out of what was quite a bad weekend. If it was cloudy he may have had more, but it was not and he suffered in the mid-race. Like Petrucci, his potential was limited by a poor qualifying position, but ultimately The Doctor lacked pace in Jerez, and will need better in the next races if he is to do as people suggested after Austin, and fight for the championship.
Despite being passed by Crutchlow earlier in the race, Morbidelli was able to re-pass the Briton towards the end. Seventh was perhaps not the result the Italian was hoping for after a stunning qualifying, but it is possible to say that he got sucked in by Marquez. He saw seven world titles in front of him, and who can blame him for wanting to have a go at that? Perhaps it was that which killed his tyres and his late race pace, but either way there is no doubt Morbidelli would have learned a lot in this race.
Cal Crutchlow picked a medium rear tyre. He was in front of Morbidelli when Valentino Rossi went past them, but was nearly two seconds behind at the flag, and only a couple of tenths clear of teammate Takaaki Nakagami (LCR Honda IDEMITSU). Crutchlow admitted in the weekend that he was suffering with his foot after the first three races, and for mobility in his injured ankle. His FP4 crash was unlikely to help his physical condition, but after pole position last year the Brit will have been disappointed with his performance this weekend.
Stefan Bradl (Team HRC) had the prettiest bike on the grid, and rounded out the top ten with it, quite impressively.
Five seconds and two places – Aleix Espargaro (Aprilia Racing Team Gresini) was in between – behind Bradl was Jorge Lorenzo (Repsol Honda Team) who was unexpectedly slow. He dropped to fifteenth in the early stages, and made little progress from there, which was a complete surprise after his strong pace in the weekend, ending the race twelfth.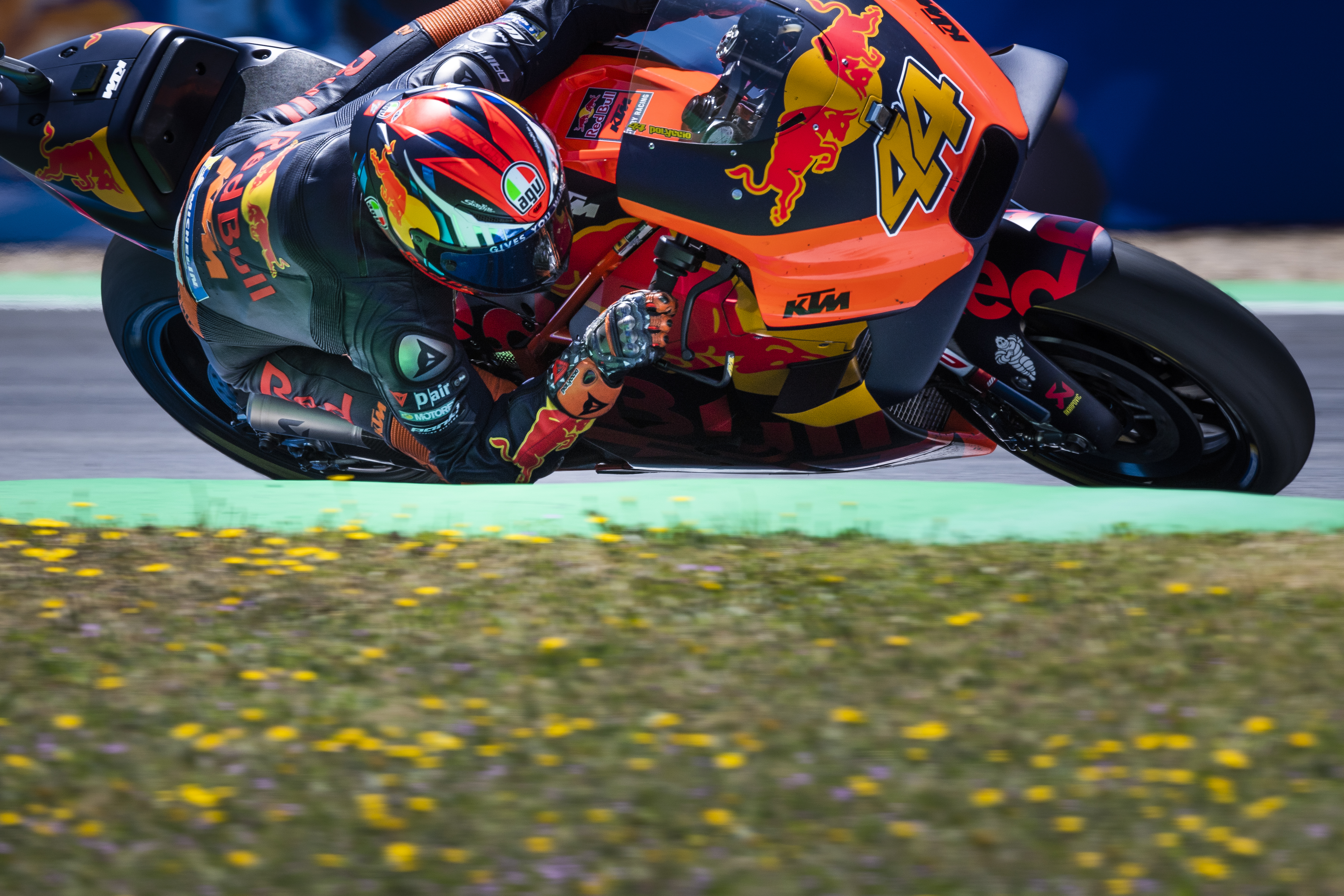 Pol Espargaro (Red Bull KTM Factory Racing) assumed his normal position as top KTM in thirteenth place, six seconds ahead of teammate Johann Zarco (Red Bull KTM Factory Racing) who turned his disastrous weekend into two points. Tito Rabat (Reale Avintia Racing) took the final point in fifteenth.
Karel Abraham (Reale Avintia Racing) was eight seconds behind teammate Rabat, and nearly five seconds in front of Aprilia test rider Bradley Smith (Aprilia Racing Team). A couple of tenths further back of Smith was Miguel Oliveira (Red Bull KTM Tech3) who had his most difficult weekend of MotoGP so far, but still nine seconds ahead of Hafizh Syahrin (Red Bull KTM Tech3) who was last of the nineteen finishers.
Francesco Bagnaia (Pramac Racing) crashed at turn two, before Quartararo joined him in retirement. Joan Mir (Team Suzuki Ecstar) had spent the majority of the race staring at the backside of Valentino Rossi, but ended it on the floor at turn thirteen. Jack Miller (Pramac Racing) was down at turn thirteen, too – Aleix Espargaro ran wide whilst passing the Aussie, Miller cut back underneath him but folded the front, and Espargaro was lucky to stay on – Miller less so.