A few hours on from being handed his first win in British Superbike courtesy of a Tarran Mackenzie (McAMS Yamaha) penalty, Josh Elliott (OMG Suzuki) lined up on the front row as he eyed a dream double.
He did not make the start he would have wanted, though, and his poor launch ensured it was Mackenzie who made the holeshot.
However, running wide at Brooklands meant Mackenzie lost out to Dan Linfoot (Santander Salt TAG Yamaha) who took the lead, and led the first lap.
Throughout the opening stages of the race, the front group was quite large, despite retirements from Jason O'Halloran (McAMS Yamaha) who suffered a mechanical problem and Scott Redding (Be Wiser Ducati) who fell after contact with Andrew Irwin (Honda Racing).
By lap nine, though, there was a distinctive front four of Josh Elliott, Dan Linfoot, Danny Buchan (FS-3 Kawasaki) and Tarran Mackenzie.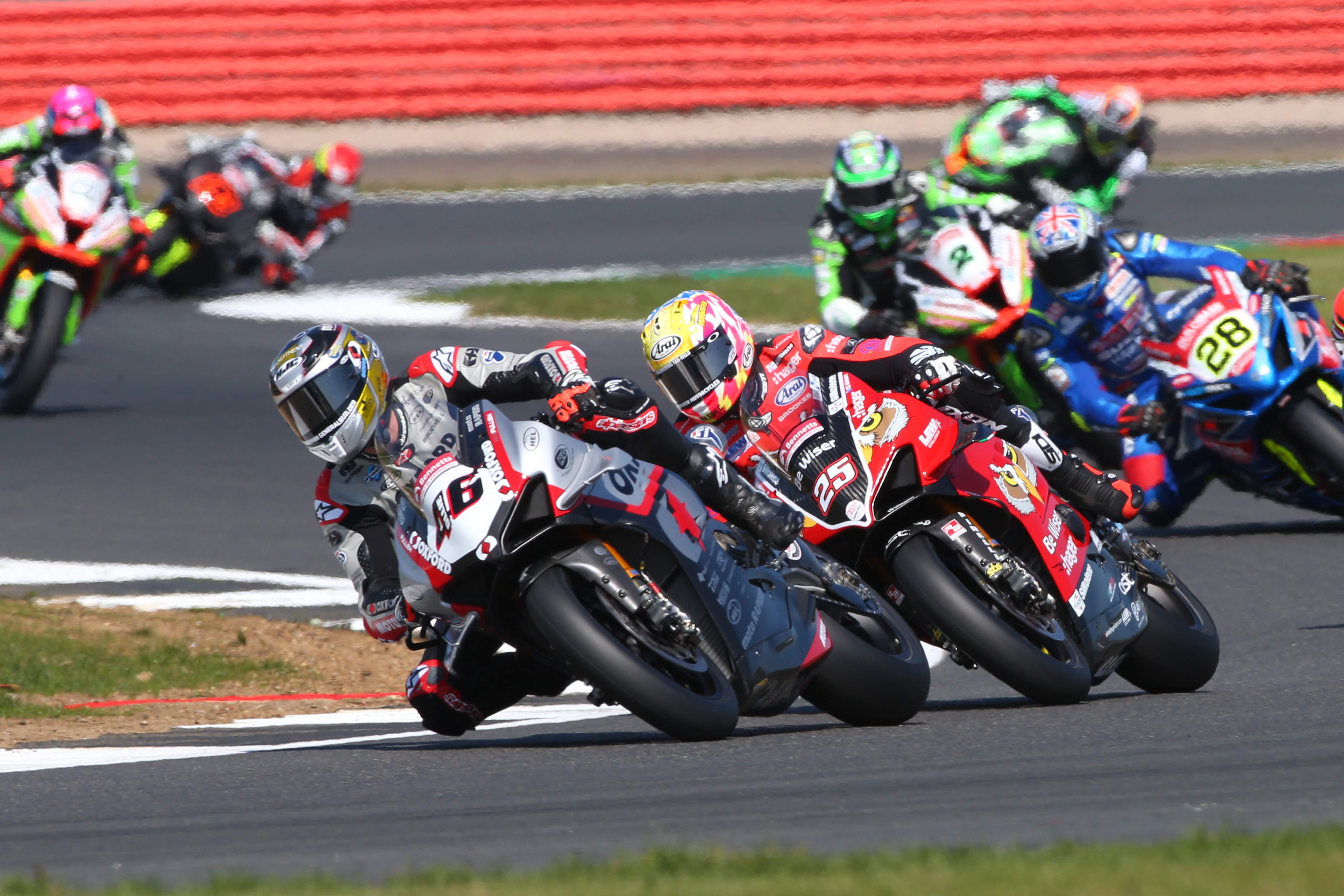 Another quartet behind was led by Andrew Irwin, from Luke Mossey (OMG Racing Suzuki), Tommy Bridewell (Oxford Racing) and Josh Brookes (Be Wiser Ducati), with the #18 Fireblade bringing the trio behind up to the front group.
This charge was halted, though, for the Northern Irishman when on lap twelve he was handed a long lap penalty for the previous incident with Redding.
Irwin took the penalty at his first opportunity, on lap thirteen, and the following lap Mackenzie passed Elliott for the lead. Elliott's pace to that point had not been so electric, and with the trio behind of Bridewell, Mossey and Brookes closing in Mackenzie was seemingly intent on keeping the fight for the win to as few contenders as possible.
The pace dropped when Mackenzie hit the front. Elliott and Buchan were able to go with him, but Linfoot dropped off the back of the leading three, and into the clutches of Bridewell who went past on the Wellington straight on lap eighteen.
On lap twenty, as Mackenzie and Elliott were beginning to stretch away from Buchan behind, Josh Brookes brought the safety car out as his Ducati expired for the third time in the weekend. There was plenty of oil pouring from the Australian's V4R, and the retirement meant that Brookes left Silverstone with zero points.
The safety car worked to bunch the field up, so on lap twenty-five of what was now a thirty-three-lap race there was all to play for.
Mackenzie held the lead on the restart, although Elliott piled the pressure on through Woodcote and Copse.
Once again, though, it was Mackenzie and Elliott with a small gap behind to Buchan, who in turn had a small lead over Bridewell behind. By the end of lap twenty-seven, Bridewell had caught Buchan, who in turn had caught Elliott, and so there was an eight-wheeled fight for the win.
As the final lap started, though, the clear battle was for second. Mackenzie had worked a bit of a gap for himself out front, and Bridewell had dropped off a little in fourth place. Buchan was close, though, to Elliott in second, but was unable to make a move before the line.
It was Mackenzie who arrived at the flag first, for his first BSB win, and this time he kept it. With Elliott finishing second, the two winners from Silverstone leave round one joint on points at the top of the championship.
Whilst Mackenzie was somewhat expected to fight for wins this season, perhaps not so many believed he would achieve his first victory in the first round. In comparison, few probably thought that Josh Elliott would take a podium this season, but he as come away from the first round with a win and a second. For the pair of them, there are many positives to take from this first weekend of the season.
A similar situation exists for Danny Buchan, who was the only Kawasaki rider to make the top ten in the second race, and one of only two ZX-10RR pilots to finish inside the top ten across both races. It was a Saturday night turnaround which proved pivotal for Buchan's weekend, after a difficult Saturday with a poor qualifying. A step in warm up allowed him to make a good race in the first outing – despite running on in Brooklands early on – and to set a good lap time allowing him to start further up the grid for the second race, which in turn enabled him to claim his first podium since Knockhill last summer.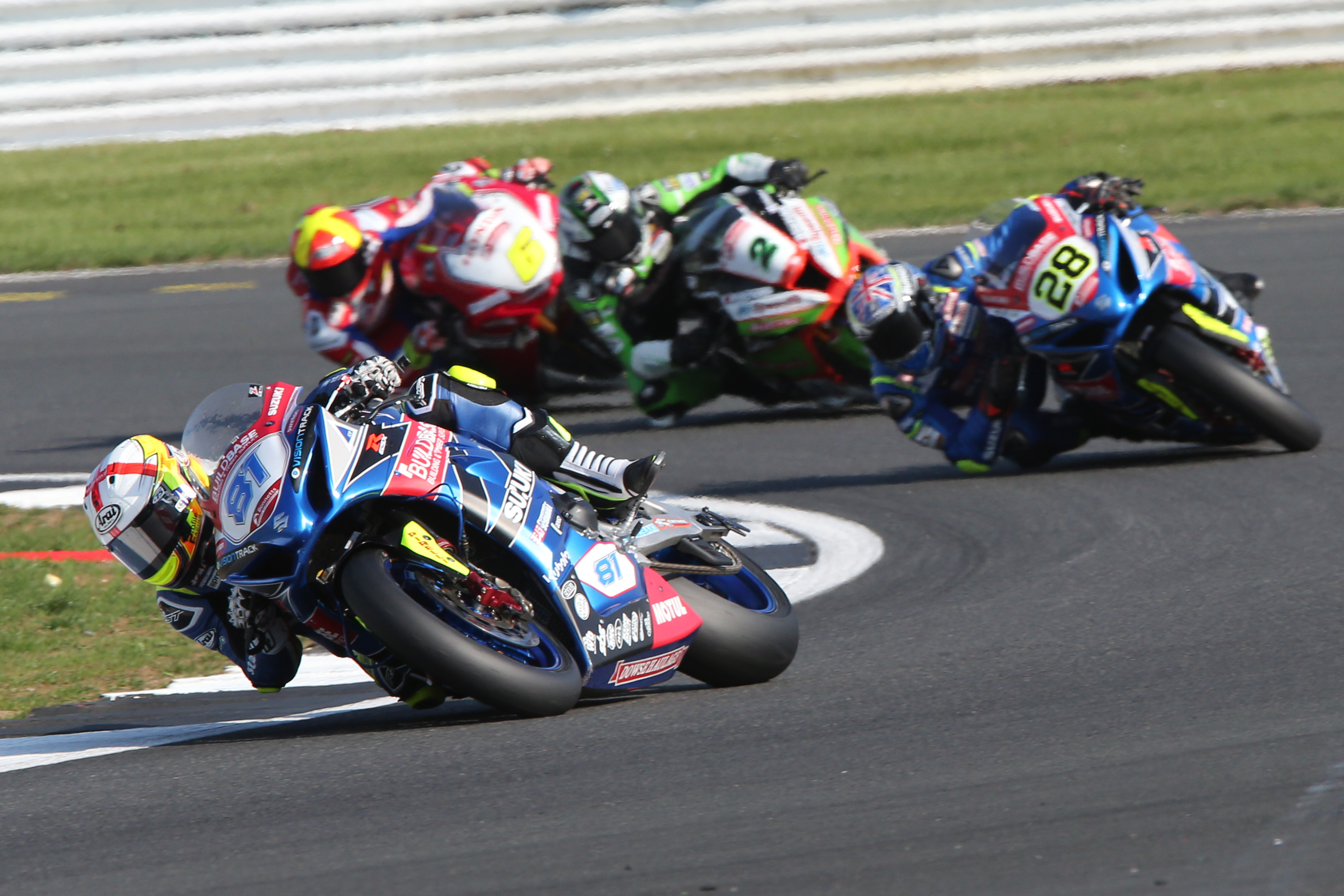 Fourth place went to Tommy Bridewell who was the top Ducati, ahead of Luke Stapleford (Buildbase Suzuki) who once more impressed on his first weekend as a full-time BSB rider. Two top tens – including one top five – from the first weekend of the season is a strong return for the 2015 British Supersport Champion.
Sixth place went to Luke Mossey, meaning it was three Suzukis in the top six, making the GSX-R 1000 the most populous bike in the top six in race two.
Andrew Irwin recovered from his long lap penalty just before half distance to take seventh place, a couple of tenths clear of his rookie teammate Xavi Fores (Honda Racing) in eighth; whilst Dan Linfoot and Bradley Ray (Buildbase Suzuki) completed the top ten for the second race of the season.
Glenn Irwin ended a difficult debut weekend for Quattro Plant JG Speedfit Kawasaki with an eleventh place, ahead of Keith Farmer (Tyco BMW Motorrad), Ben Currie (Quattro Plant JG Speedfit Kawasaki), Peter Hickman (Smiths Racing) and Ryan Vickers (RAF Regular and Reserves Kawasaki) who completed the points in his second career BSB race.
Claudio Corti (Team WD-40) and Fraser Rogers (Gearlink Kawasaki) were the first two retirements, both out on lap one. The aforementioned retirement of Jason O'Halloran came a couple of laps later, and a lap before Scott Redding was out. Conor Cummins (Milenco by Padgetts Motorcycles) was the next to go on lap ten, before Shaun Winfield (Santander Salt TAG Yamaha) on lap sixteen. Both Dean Harrison (Silicone Engineering Racing) and Josh Brookes retired on lap twenty, and James Ellison (Smiths Racing) was the final retirement a lap later.
Featured Image courtesy of Dutch Photo Agency/Red Bull Content Pool