From the moment Claire Williams confessed there were problems on the horizon for their new challenger, FW42, it was evident to me, and to the F1 community, that things weren't getting any better for her team. And, lo and behold, those fears were set in stone on Barcelona's first testing day, when every team but the 9-time Constructors' champions were ready to go. Once they did arrive, they came to realise they'd made another step back – they were over a second off the next slowest car.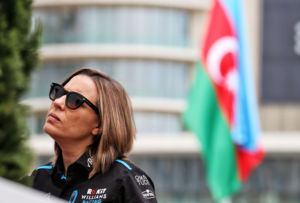 So, naturally, this has got the wheels whirring in motion once again, that of the fans and media taking turns pummelling the back markers proverbial pinata with their stinging words, memes and hot takes. 'The worst team I've ever seen' has even been doing the social media rounds. The three races they've competed in have done scant good for fanning the flames, but I'm here to tell a little story that might just put things into perspective – the tale of Andrea Moda, F1's true joke team.It's September 1991, and F1 outfit Coloni are going through the wars. A Subaru engine supply scolded the team, and they switched back to customer Ford units for 1991. It did them no good, and the team consisting of just six people and even had Portuguese rookie Pedro Chaves walk out on them. They needed a buy-out to get back on their feet and grow into a respectable F1 outfit – and their prayers appeared to have been answered, when Italian shoe designer Andrea Sassetti threw his finances into the project.
And from the off, the whole saga was a Herculean disaster. The signs, believe it or not, were initially promising – planning to field two drivers instead of the one they were limited to in '91, both Alex Caffi and Enrico Bertaggia would be enjoying the fruits of what was intended to be BMW's labour back in 1990, utilising that car design and coupling it with a Judd V8 powertrain. But when the team arrived in South Africa for the season opener, they had to make do with a modified Coloni chassis from the last year, with their new (old?) design still not ready.
Not that they'd even race it. The FIA weren't impressed with the team's refusal to pay a $100,000 sum required of new teams, something Sassetti disputed as Andrea Moda were bought rather than created. They were excluded from racing in Kyalami, and by the time they caved to the FIA's demands for the next race in Mexico, they were still preparing the new cars and both their drivers were out of the door for publicly airing their annoyance at the lack of preparation going on.
For the third race, surprisingly experienced coup Roberto Moreno and newcomer Perry McCarthy would turn up to Brazil, looking to drive the team forward. Perry wouldn't get the chance, being denied a Super Licence to race around Interlagos, and the staggering lack of pace the car offered would deny Moreno a path out of pre-qualifying.
Their former fired driver Bertaggia came back to the attention of Sassetti with significant funding, but as the team had already made their two designated driver changes he was prevented from reversing his decision. The sheer ineptitude of Sassetti's grasp on rulebooks led him to resent McCarthy from then on in, blaming him for failures and blatantly disadvantaging him for the benefit of Moreno.
It took until Monaco for things to get better – and even then, it was only by their and Coloni's lowly standards and not those of a standard F1 team. Moreno managed to get through pre-qualifying, due to attrition in the session more than anything else, but his skill did keep his qualifying time within the threshold needed and actually pipped Eric Van de Pole to 26th and second last on the grid.
This was celebrated like a victory by the team, which given in its former guises the last time they did this was 1989 was at least slightly understandable. It only took 11 laps for Moreno to retire from the race, but participating at all was at least something to build on.
Build on it they did not. Out of the paddock, Sassetti's unprofessionalism was laid bare when his Italian nightclub was burned down to the ground by an attempted killer, who then attempted to shoot him dead. Yeah, that really happened. Andrea Moda were taking bullets left right and centre on the track too, if they were ever to go out on it. They withdrew from the next race in Canada due to their Judd engines not being there – the cars were present, yet the unit that makes them go was not. Only Brabham lending an engine allowed Moreno to take part in another fruitless pre-quali. And it still got much, much worse.
French truck drivers protesting prevented the parts needed at Magny Cours arriving, so once again they couldn't run. Sponsors eventually got to the end of their tether and jumped, Sassetti was having to cut costs more and more, and eventually things spiralled into the dangerous. Only one car's worth of parts were ready for Britain, but Andrea Moda would swap parts between the machines in a quick rush, hoping both drivers could set their times without farce. Speaking of farce, even that word isn't strong enough for a team sending their driver, McCarthy in this case, out on wet tyres on a dry circuit.
Before long, the team was rightfully barred from taking part in the World Championship. Constant no-shows, not one clean-ran race, and the constant unprofessionalism and anarchy of Sassetti left the FIA with no choice to bar the outfit, and given Andrea Moda were found to be putting a damaged steering system in McCarthy's car, it was best they weren't able to race. The final nail in the coffin for the team? Sassetti's arrest in Belgium over forging invoices. As bad as Claire and the Williams gang have been over the last eighteen months, they have a long way to go before they match the biggest joke team of F1.