The Circuit of the Americas is not famed for its fantastic ability to produce fantastic racing, nor is it famous for producing memorable races. In fact, the mood in the MotoGP paddock this weekend has been somewhat negative about COTA, primarily because of its surface. However, everybody forgot about the surface come race time for the MotoGP riders.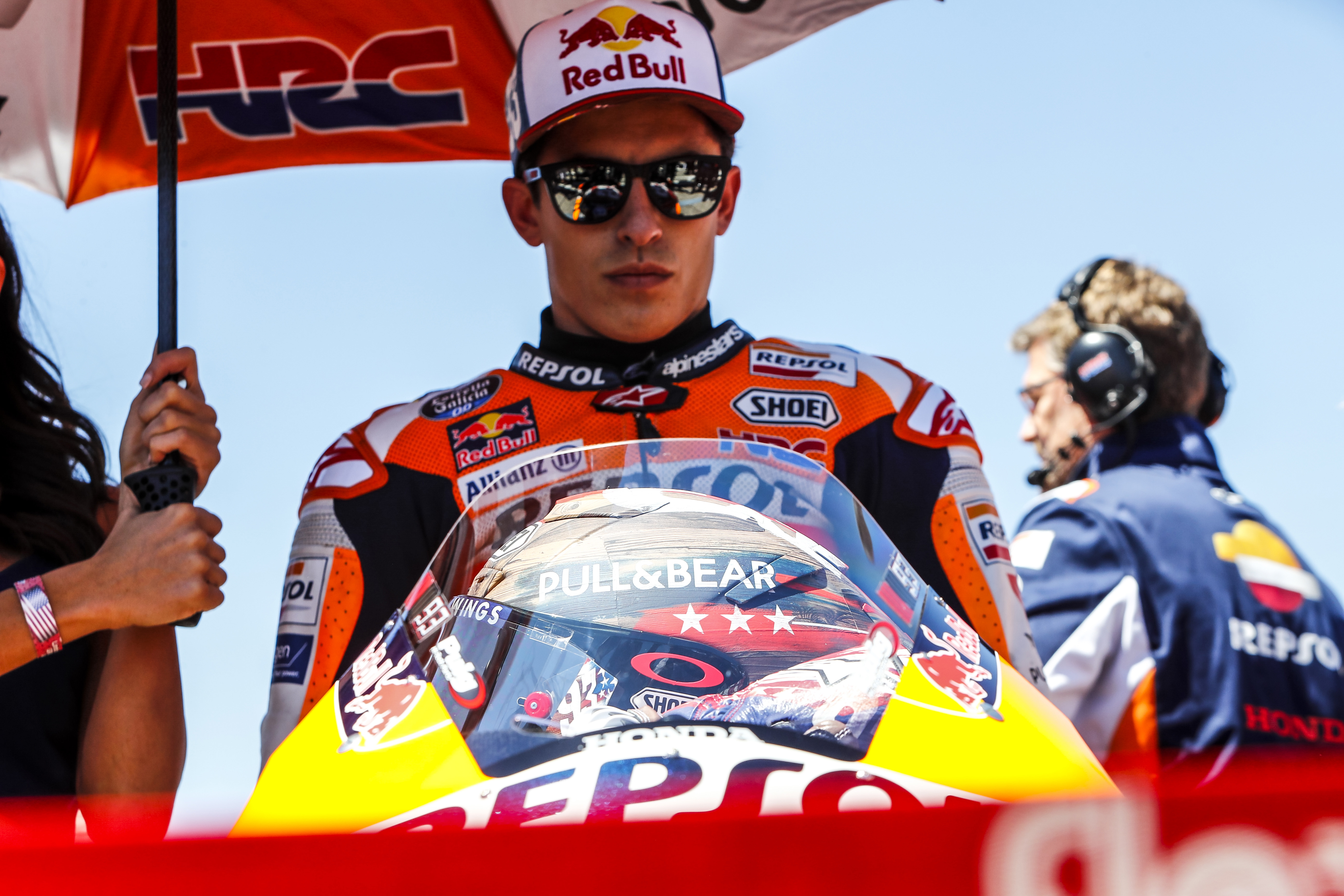 Marc Marquez (Repsol Honda Team) didn't make a great jump from pole. In fact, the best jump off the front row was that of Cal Crutchlow (LCR Honda CASTROL), but nonetheless the front three on the grid went into turn one in the same order: Marquez from Valentino Rossi (Monster Energy Yamaha MotoGP) and Crutchlow.
Marquez bolted, as you would expect, but Rossi went with him. For one lap Valentino Rossi was able to keep Marquez within striking distance, which around COTA is quite an achievement. However, Marquez' lead soon grew, and went out to one second, then two, then three, and Rossi's attention switched to those attacking his position from behind: Crutchlow, Jack Miller (Lamborghini Pramac) and Alex Rins (Team Suzuki Ecstar).
Crutchlow looked like he had the pace over Rossi, but the Italian had his YZR-M1 set so it was punching well off the bottom gear corners, and Crutchlow was not able to find a way past. The Brit's frustration grew, and eventually he crashed in turn eleven, and all hopes of a second podium finish from the opening three races was gone.
Soon after, the unthinkable happened. Whilst the world feed visuals went to a replay, the audio remained with the live feed, and the crowd could be heard. They were in shock.
Marc Marquez had never been beaten at the Circuit of the Americas, he had not lost in America since 2009. But, at the 2019 Grand Prix of the Americas, he folded the front of the Honda RC213V in turn twelve on lap nine, and his incredible run was at an end.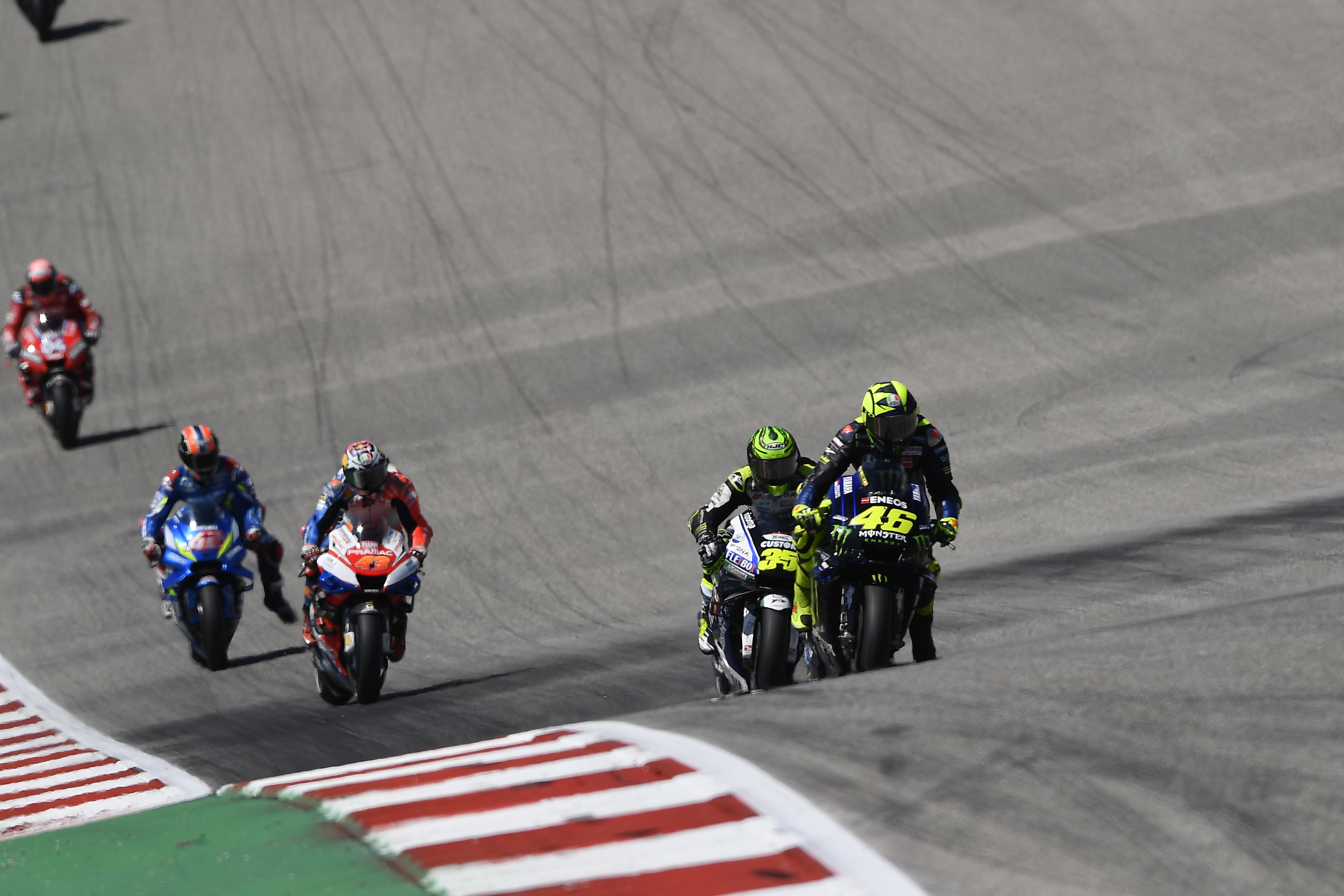 Suddenly, the race for second had become the race for the win. Valentino Rossi led, initially, from Jack Miller, but it was not long before Alex Rins passed the Aussie as the Desmosedici ran wide in turn eleven.
That released the Suzuki, and he closed on Rossi. After spending a few laps stalking his prey, Rins made his move on lap seventeen at turn seven – ironically, the same corner where Marquez made his race-winning overtake on Dani Pedrosa for his first ever MotoGP win back in 2013.
Rossi tried to respond, but running wide in turn eleven with two laps to go was a mistake he could have done without, even despite an all-or-nothing final lap which saw him close almost to within striking range.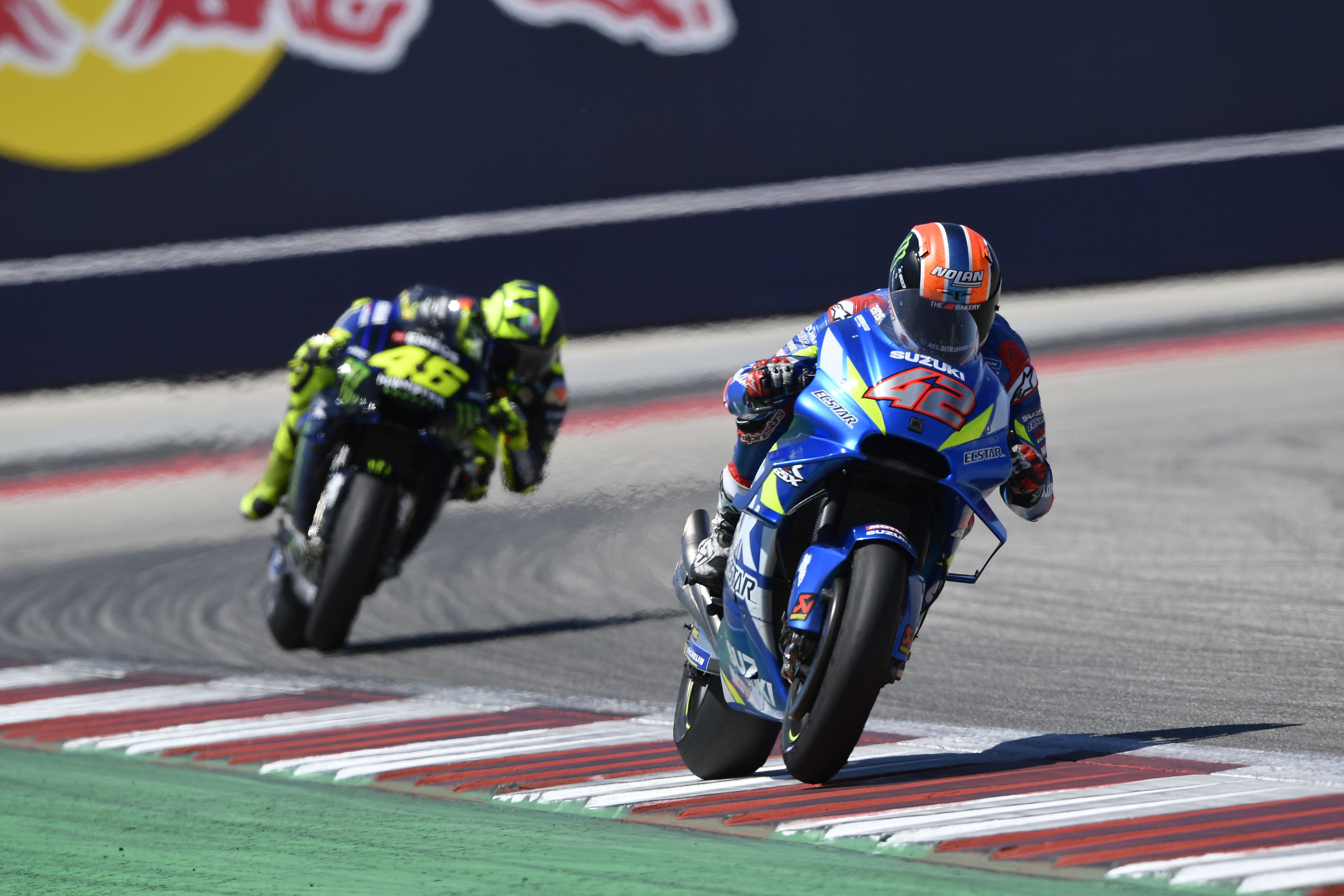 Rins held firm, and took his first ever MotoGP win, at a track where nobody can win apart from the reigning champion. A completely unexpected result, and one which saw the Spaniard climb to third in the World Championship standings.
Whilst it was a first win for Rins, it was also a first win for Suzuki since 2016, when Maverick Vinales won at Silverstone. This is important for Suzuki, who have been knocking on the door with Rins for well over half a year, and – crucially – they did it without concessions. Now we wait to see whether the floodgates have opened for Rins and Suzuki.
Once more, Valentino Rossi was thwarted in the closing stages of a race, which seems to have happened quite a lot since his last win in Assen 2017. Nonetheless, the effort put in by The Doctor throughout the race was undoubted, and he was gracious enough to congratulate Rins on his debut win, and admit the Suzuki rider was better on the day. The positives for Rossi are that he had, like in Argentina two weeks ago, tyre left at the end of the race with which he could fight back, as well as now being second in the World Championship, three points off the top.
Jack Miller had been without a podium since his memorable win back in Assen 2016 on the Marc VDS Honda, but he put that streak to an end in Texas with a pretty tough, lonely ride to third. He chose soft tyres on both ends of his Ducati, but the front was too soft. In fact, it was front locking which sent him wide in turn eleven that allowed Rins through. Once he realised he didn't have the grip to fight with Rossi or Rins for the race win, Miller settled into third, but a charge from Andrea Dovizioso (Mission Winnow Ducati) kept the Aussie on his toes until the end.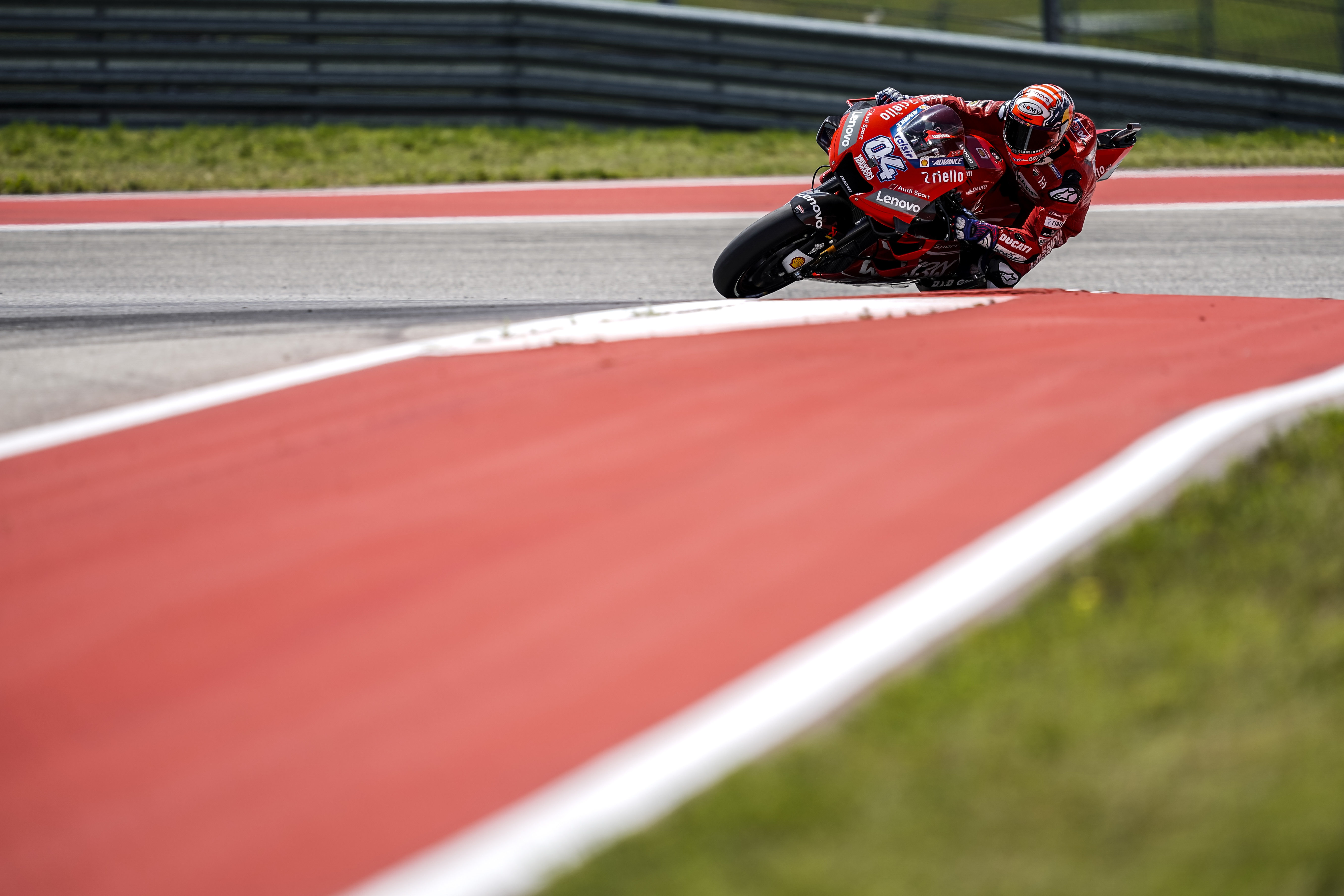 It was a difficult race for Dovizioso, which was always going to be the case after qualifying thirteenth. However, it was not the qualifying, in the end, which kept him from the podium, it was a lack of pace in the beginning of the race. He started well, climbing immediately to sixth, but he soon dropped to seventh behind Franco Morbidelli (Petronas Yamaha SRT), and he stayed there for much of the race. He was eventually able to pass his compatriot, but it was too late to get near Miller for the podium. Nonetheless, it is Dovizioso who leads the standings heading into the classic European tracks, with Jerez next up in two weeks.
Morbidelli was able to hang onto fifth place which, at a track he finished last at in 2018, is a solid result for the 2017 Moto2 World Champion. He dropped nine seconds behind Dovizioso once the Ducati got past, but he managed to split the factory Ducatis, coming home three seconds ahead of Danilo Petrucci (Mission Winnow Ducati), who will just be glad the weekend is over after a third sixth place in as many races.
Behind Petrucci was Morbidelli's Petronas Yamaha SRT teammate, Fabio Quartararo who took his best MotoGP finish so far with seventh. Three seconds further back was Pol Espargaro (Red Bull KTM Factory Racing) whose eighth place finish is not as spectacular as his fifth place qualifying, but impressive nonetheless for the Spaniard, who was twelve seconds ahead of his teammate, Johann Zarco (Red Bull KTM Factory Racing).
Francesco Bagnaia (Lamborghini Pramac) took an impressive debut top ten finish with ninth, after his electronics-induced crashes in Q2. Takaaki Nakagami (LCR Honda IDEMITSU) completed the top ten.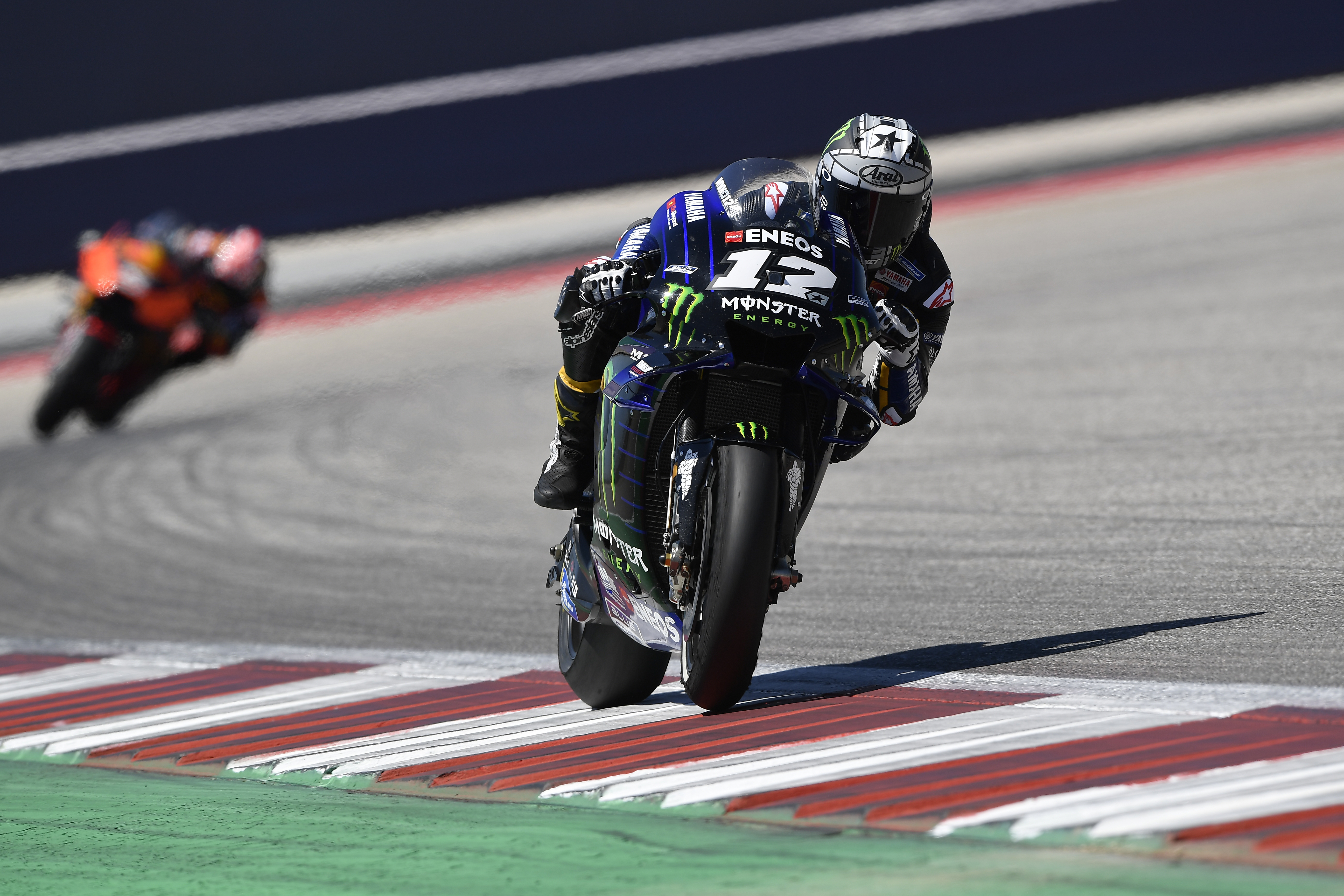 Maverick Vinales' (Monster Energy Yamaha MotoGP) race was ruined before it began, as he was given a ride through penalty for a jump start. It was more clear than Cal Crutchlow's in Argentina, and the Spaniard has nothing he can complain about. However, there was some confusion about his penalty, as Vinales took the long lap penalty initially before completing his ride through, so cost himself an extra two or three seconds than he needed. His fight back through the pack had him recover to eleventh, just ahead of Andrea Iannone (Aprilia Racing Team Gresini).
Johann Zarco came home in thirteenth, just 1.8 seconds ahead of rookie stablemate, Red Bull KTM Tech3's Miguel Oliveira who was fourteenth. Tito Rabat (Reale Avintia Racing) took the final point in fifteenth.
The first non-points-scorer was Karel Abraham (Reale Avintia Racing) who was sixteenth, ahead of Joan Mir (Team Suzuki Ecstar) who also had a ride through but could only recover to seventeenth. Hafizh Syahrin (Red Bull KTM Tech3) was the final classified finisher in eighteenth.
Before Crutchlow and Marquez went down, Aleix Espargaro (Aprilia Racing Team Gresini) crashed the factory RSGP. The only other retirement was the third, final-standing factory Honda of Jorge Lorenzo (Repsol Honda Team) whose nightmare top ten drought stretching back to Austria last year will enter its ninth month after a mechanical in Texas put an end to his race.
Featured image courtesy of Box Repsol