After taking his second pole position of the season in Texas, and generally dominating the Moto2 weekend in the Lone Star State, Marcel Schrotter (Dynavolt IntactGP) was the favourite to take his first Moto2 win in Sunday's race.
The German made it to turn one first, but ran wide, allowing Alex Marquez (EG 0,0 Marc VDS) into the lead and fellow Dynavolt IntactGP rider, Tom Luthi into second place.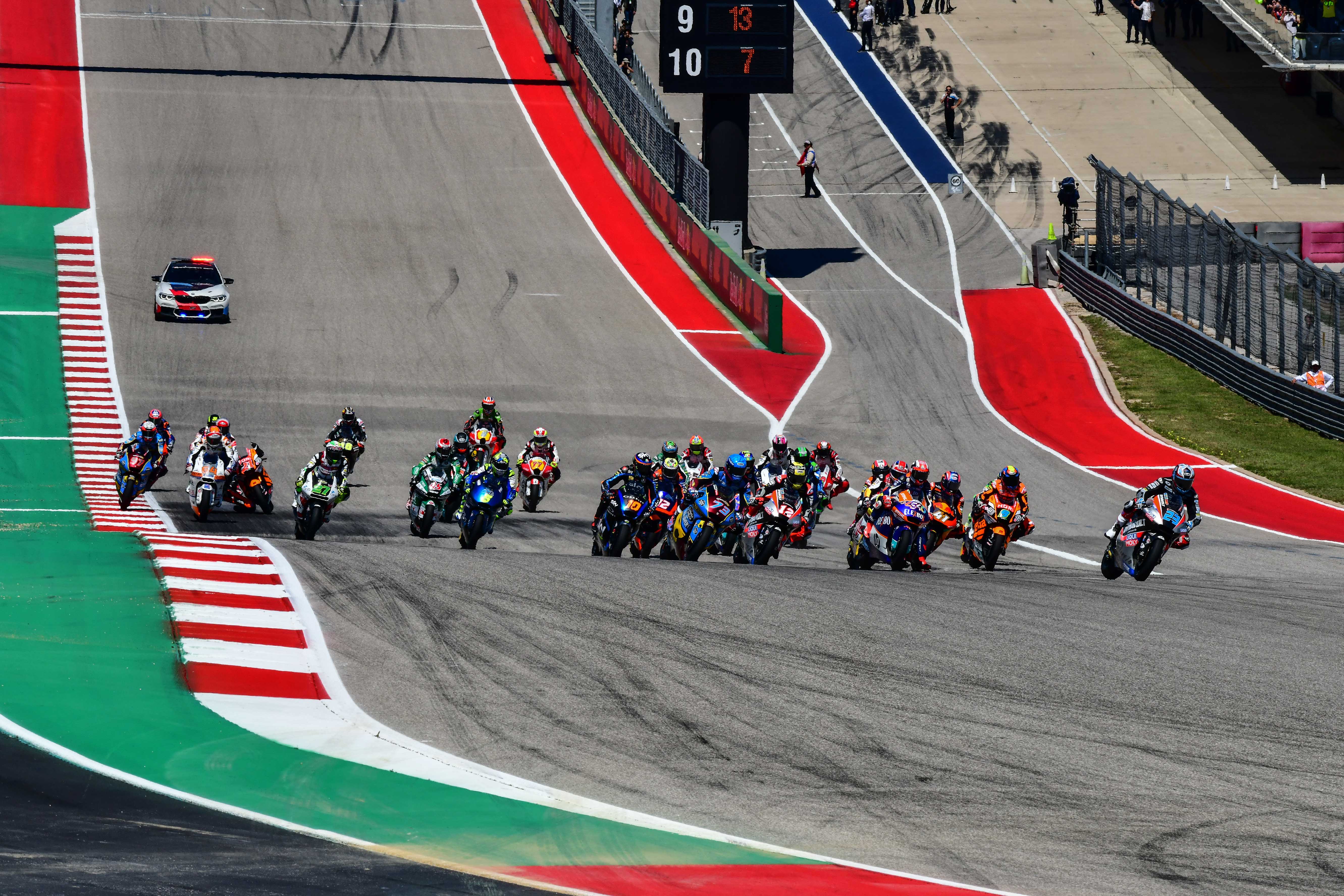 There was also a reasonable gap between the two Dynavolt bikes, however when Luthi engaged Marquez in an initial battle for the lead, the German was able to close in.
Luthi's first attempt to go for the lead was a failure, as Marquez was able to resist the Swiss' assault. A few laps later, though, and as Schrotter had fallen back once more, Luthi made a second attempt to take the lead away from Marquez, and this time it worked. Luthi passed Marquez on the inside at turn twelve, forced the Spaniard out a little wide and thus prevented him from mounting a counter-attack.
From there, Luthi went unchallenged. Even when Schrotter was finally able to pass Marquez for second, he was unable to close the gap to his teammate.
Instead of for the lead, the main battle that was developing now on track was that for fourth place, as Sam Lowes (Federal Oil Gresini Moto2) was falling back towards Jorge Navarro (Beta Tools Speed Up) and Luca Marini (Sky Racing Team VR46), and Mattia Pasini (Flexbox HP 40) was not too far behind either, having surpassed fellow Italian veteran Simone Corsi (Tasca Racing Scuderia Moto2) for seventh.
The gap between Navarro and Marini behind Lowes swung back and forth throughout the race, as Marini's strong pace was intervened by series of small mistakes. But, ultimately, the pair of them were closing down on Lowes' fourth place.
Once Navarro was able to pass Lowes, Marini soon followed suit, recognising the strong pace the Spaniard was showing, and the Speed Up rider was closing on Alex Marquez for third. Marini managed to go with Navarro and join the battle for the final podium position.
Before long, Mattia Pasini had passed Lowes to join in the fight, too, as Navarro and Marini struggled to make a pass stick on Marquez.
Eventually, Navarro was able to pass Marquez, and a few mistakes from Marini – some induced by gearbox issues that had plagued many riders throughout the weekend – allowed the #9 to break away and consolidate his third place.
The mistakes of Marini had allowed Pasini to pass, and set on after Marquez. Soon the Italian was through, and Marquez was back in the clutches of Marini, although the #10 ran out of time to make his move.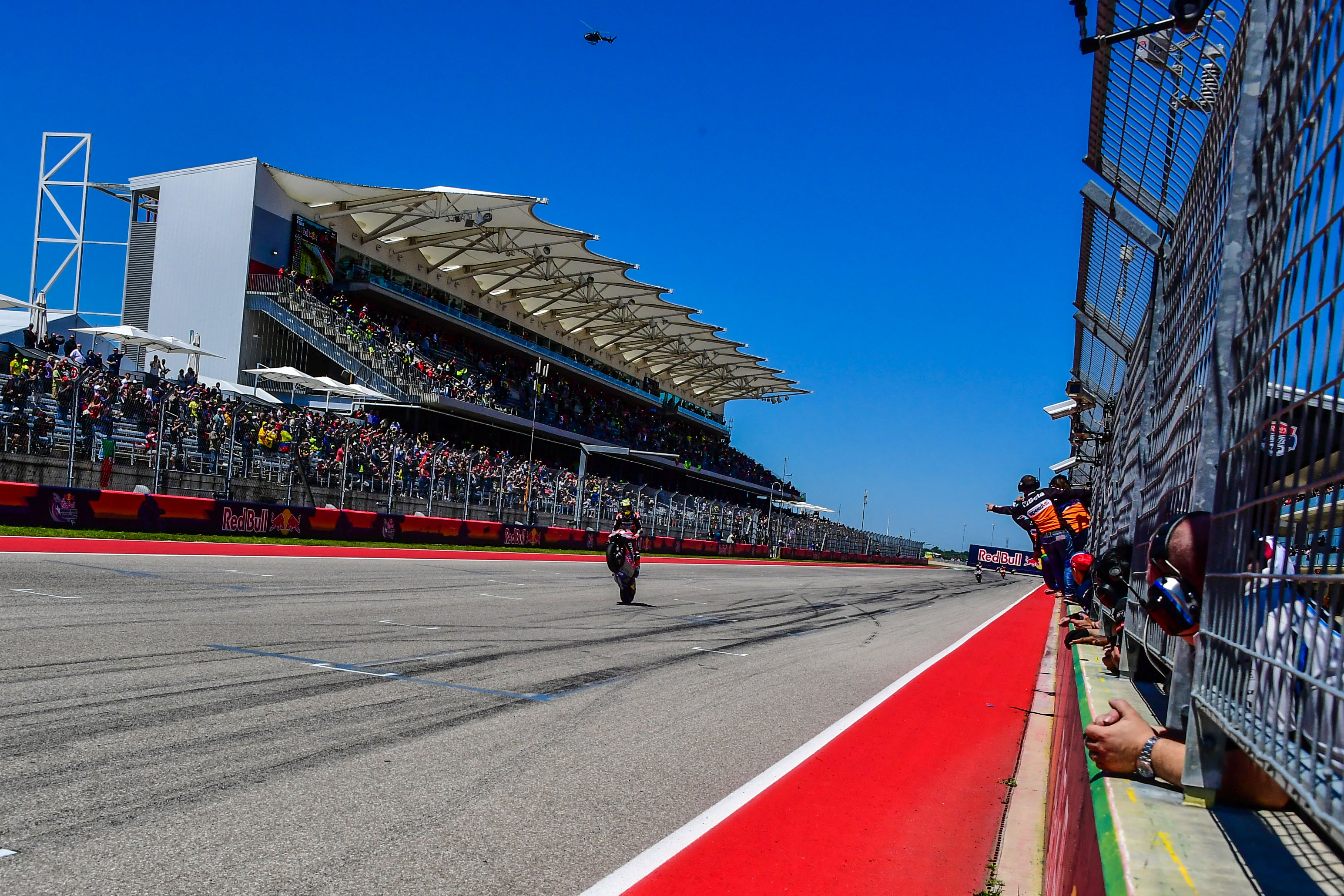 All of this was happening nearly five seconds behind the dominant winner, Luthi, who took his first win of his Moto2 return, and became the first rider to win a Moto2 race the year after being dropped from MotoGP since 2010, when Tony Elias, Alex De Angelis and Yuki Takahashi all took wins. Despite his DNF in round two at Argentina, Luthi now lies just five points behind the championship leader.
Second in the Texan race and now second in the World Championship standings is Marcel Schrotter, who will be content enough with his second podium from three races, but the frustration will be there having missed out on what was looking to be a nailed on win for the German.
An impressive first podium in Moto2 for Jorge Navarro came at just the right time for the Spaniard. Two years of relatively poor performances compared to what was expected of the multiple Grand Prix winner mean that this season is somewhat 'make or break' for him. To now go into the European season – which begins in two weeks in Jerez – off the back of his first intermediate class rostrum should be a good confidence boost for the Speed Up rider.
Having not ridden a Triumph Moto2 bike before this weekend, the speed Mattia Pasini showed in practice was quite remarkable. Moreover, his late race pace having not ridden a Grand Prix since last November was similarly remarkable, and his emotion at taking this fourth place when he arrived back in the garage after the race was understandable. It is a shame that Pasini is currently ambulance chasing, but hopefully sooner rather than later we will see the #54 back on the grid on a permanent basis.
Fifth place was where Alex Marquez ended up, nearly eight seconds behind the lead he once held. Once more, it was a disappointing late-race performance after a decent start from the Spaniard, a trend which has characterised his races over the past year. Jerez is next up, and he needs to change this trend at his home Grand Prix.
Sixth place went to the sixth-placed rider in the standings, Luca Marini. For a man who is still suffering some after-effects from his shoulder surgery at the end of last year, it is probably quite positive that he can be severely disappointed with a sixth place. He had his first podium of the year in sight at one stage, but the aforementioned mistakes let that get away. Despite being over twenty points behind now in the World Championship, Marini will be confident of a turnaround as the championship heads into its European segment in two weeks.
Sam Lowes ended up seventh. He pushed on hard at the end, the group fighting ahead giving him confidence he could bridge the gap that had grown to the battle for the top five. However, he could not make enough of an impression, and the Brit now lies thirty-one points behind in the championship standings.
Simone Corsi came home in eighth, unable to go with Pasini once the Pons rider went through. Just under two seconds behind Corsi was Enea Bastianini (Italtrans Racing Team) who once more took top rookie honours in ninth, and finished over six seconds ahead of his Italtrans teammate, Andrea Locatelli, who rounded out the top ten.
A difficult qualifying made for a tough race for Remy Gardner (ONEXOX TKKR SAG Team) who finished eleventh. The Aussie finished three tenths clear of his Stop and Go teammate, Tetsuta Nagashima in twelfth; then came Bo Bendsneyder (NTS RW Racing GP), Dominique Aegerter (MV Agusta Idealavoro Forward) who scored MV's first GP points in forty-two years; and finally Jorge Martin (Red Bull KTM Ajo) who was the first KTM home and rounded out the points.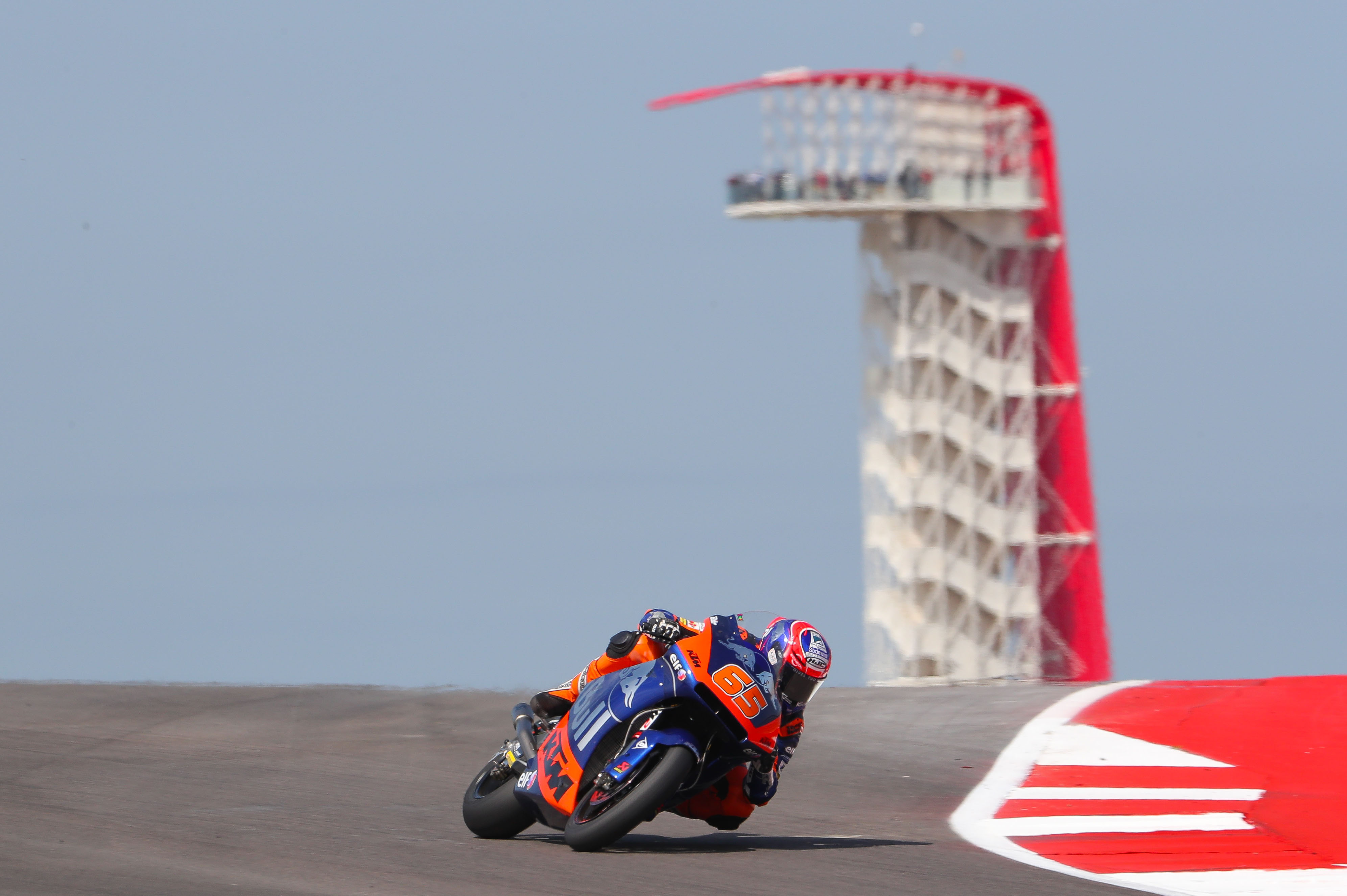 Sixteenth went to Jesko Raffin (NTS RW Racing GP), ahead of Khairul Idham Pawi (Petronas Sprinta Racing), Philipp Oettl (Red Bull KTM Tech3), Lukas Tulovic (Kiefer Racing), Somkiat Chantra (IDEMITSU Honda Team Asia), Stefano Manzi's replacement at MV Agusta Idealavoro Forward, Gabriele Ruiu, and finally Dimas Ekky (IDEMITSU Honda Team Asia) who was the twenty-second and final finisher.
There were four retirements on the first lap alone. As usual in COTA, there was some mayhem at turn one, as Joe Roberts (American Racing) got into Fabio Di Giannantonio (Beta Tools Speed Up) with the pair then collecting Xavi Vierge (EG 0,0 Marc VDS), taking all three of them out of the race. Then, Jorge Martin had a moment on the throttle on the exit of turn nine, and championship leader Lorenzo Baldassarri (Flexbox HP 40) had nowhere to go but into the back of the Spaniard, and down he went. Such was his performance in the first two races, Baldassarri keeps hold of his championship lead by three points from Schrotter.
Brad Binder (Red Bull KTM Ajo) was the next to retire with a mechanical, and then Xavi Cardelus (Sama Qatar Angel Nieto Team) dropped out. The best weekend of Marco Bezzecchi (Red Bull KTM Tech3) in Moto2 ended with a crash six laps from the flag in turn one. Ike Lecuona (American Racing) was the final retirement, five laps from the end.
Featured image courtesy of Dynavolt IntactGP