Renault's Daniel Ricciardo says he is confident the team are "heading in the right direction", despite the problems he has suffered in the first few races of the 2019 season.
Ricciardo has suffered two DNFs in two races, retiring from his home Grand Prix in Australia as a result of damage sustained when his front wing was broken at the start of the race, and then grinding to a halt on lap 53 of the Bahrain Grand Prix due to a loss of power.
Despite this, Ricciardo still believes that there are signs of promise and was buoyed by a positive showing in the post-Bahrain Grand Prix test.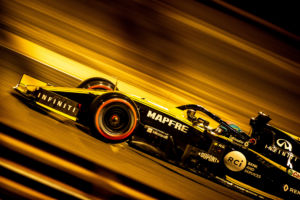 "I'm certainly getting there in terms of extracting the maximum [from the car] and getting more comfortable," he said. "These things do take time, but it's good to iron out these details going forward. We'll get there soon and sure enough and I'm confident we're heading in the right direction."
Renault have identified a certain pattern in their performance over the course of the weekend, and Ricciardo says it's just a matter of the team finding their feet and delivering on the potential of the car.
"We showed signs [of pace] over the race weekend, going from a struggle on Friday, followed by an improvement on Saturday to being in and amongst it on Sunday.
"The car clearly has pace, but for me, it's about finding all of it. I feel there's a lot more to come."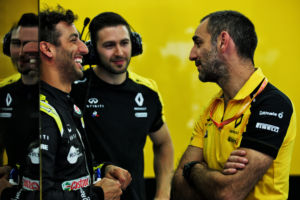 Team Principal Cyril Abiteboul shared a similar sentiment. "The start of the 2019 season has fallen short of our high expectations," he said. "Our overall competitiveness is good enough for our drivers to be racing in the top ten and closer to the top teams than last year, but we have suffered from reliability issues.
"We move onto China with caution, but also with a resolution to really get the season going."
[Featured image – Renault F1 Team]