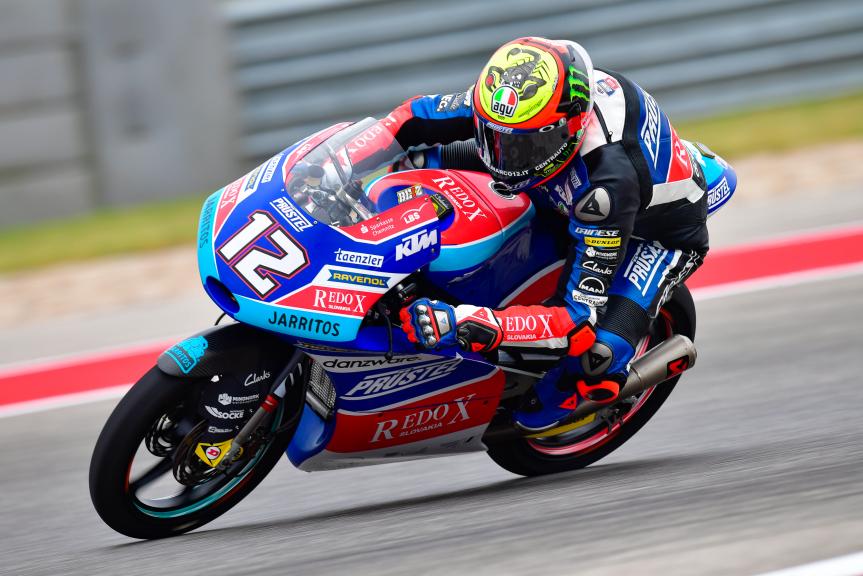 Although the Championship might be all wrapped up for Jorge Martin (Del Conca Gresini Moto3), the fight still rages on for his teammate Fabio di Giannantonio (Del Conca Gresini Moto3). He will need to produce a stellar ride in Valencia this weekend to close the nine point gap between him and fellow Italian Marco Bezzecchi (Redox PrustelGP) – 6th or better will clinch second place in the Championship for him (that is if Bezzecchi doesn't place better than him).
That would make a Gresini top two as the team with the most dominant rider look too grow their 2018 season bragging rights. It was Martin who won in Valencia last year (his first career win), but whether the Spaniard can keep up with two hungry Italians remains to be seen as the weather grows progressively worse in Spain.
The torrential rain that has been hampering Free Practice One will throw a spanner in the works for some riders – why would Martin risk injuring himself (again this season) when he's already won the Championship? He can take it slightly easier on Sunday but the Spanish crowd might stop him from doing that when the racing begins.
But there are riders out there with a lot to prove still. With parts of the Championship still open and several riders leaving Moto3 for Moto2 in 2019 including Martin, Bezzecchi, di Giannantonio, Nicolo Bulega (SKY Racing Team VR46) and Enea Bastianini (Leopard Racing), chances are we might see some elbows out racing. Looking to put one final effort in before they have to say goodbye to their bikes, and factoring in the miserable weather, this Sunday's race could be a chaotic one, depending on who wants it most and who braves the rain better.
The track itself though doesn't necessarily favour the Honda. In fact, the Japanese manufacturer has only won at Circuit Ricardo Tormo once, and that was last year with Martin. Up until that point the KTMs had dominated since 2012 when the 125 cc category turned into Moto3.
Martin is still with Honda, but KTMs that could stand in his way are Bezzecchi who has a lead to maintain in the Championship for second, Celestino Vietti (SKY Racing Team VR46) who has widely impressed as he stands in for the injured Bulega (how he'll fair in the wet conditions will be interesting to see) and Gabriel Rodrigo (RBA BOE Racing Team) currently sits in seventh position in the Championship.
Although fortune favours the bold, the rain tends to strike down those who are too bold in wet conditions. It might be less a game of speed on Sunday, and more a race of tactics (and just a little luck).