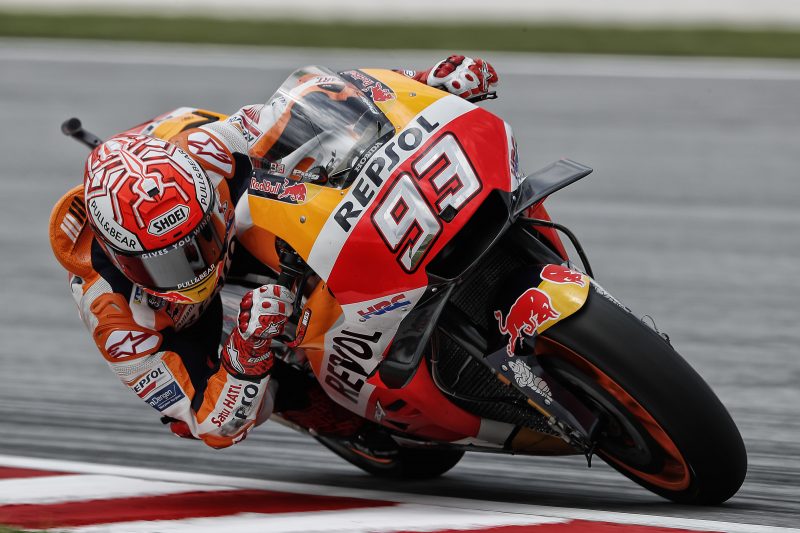 The Malaysian Grand Prix certainly felt like a throwback race to about ten years ago; Valentino Rossi (Movistar Yamaha MotoGP) was leading until four laps to go and Dani Pedrosa (Repsol Honda) was riding better than he has almost all season.
The only thing missing was Jorge Lorenzo (Ducati) – who withdrew from the weekend following Friday practice, still very much struggling with injury.
It was a race that most dream of seeing, Marc Marquez (Repsol Honda) was chasing down Rossi who had a great start and managed to thunder past Johann Zarco (Monster Yamaha Tech 3) but the gap between the two was lengthening. It felt like Rossi had the race in the bag until he slid out with four laps to go and then Marquez romped to the finishing line. Zarco was over taken by a keen Alex Rins (Suzuki), and Maverick Vinales (Movistar Yamaha MotoGP) rather predictably had late race pace so only really performed near the end of the race.
It was a long race for most, there were no huge jumps like in Moto3, so instead it felt like riders would pick off a rider with each lap and slowly climb the leader board. It wasn't fast paced, even though Marquez did set a new circuit record. Even though the Championship is all tied up for Marquez, Rossi would need to win in Valencia to secure second in the Championship, while Vinales could beat his team mate to third if he scores 3 points or more than Rossi does in the final round. So, there is still a lot to play for as the MotoGP class rolls into Spain one last time in 2018.
An area of great concern during the race however, was that Marquez had really abused his back tyre to gain on Rossi, so had Rossi finished the race – would Marquez be able to keep up or would his tyre have lasted at all until the end? Exploding tyres is not totally unheard of, but for someone as light as Marquez, it is rather surprising that the wear and tear was so evident. Repsol Honda probably would have looked into this but they're most likely too busy celebrating their Constructor's Championship title and Rider's Championship.
Although, it was Hafizh Syahrin (Monster Yamaha Tech 3) who put in a stellar performance in front of his home crowd. The Tech 3 rider is the first Malaysian rider in MotoGP to race at the Sepang International Circuit, and to be in the top ten and the best Rookie is a feat in itself. He was probably hoping to secure more points again Franco Morbidelli (Estrella Galicia 0,0 Marc VDS) who is ten points ahead of him in the Rookie standings.
All in all, it was a memorable race for Marquez and Rossi fans alike, albeit for very different reasons but the Malaysian fans got something truly special out of their home favourite. But if you felt like this race lacked anything, it was a good old fashioned fight for the podium, unfortunately it just wasn't meant to be this time around.