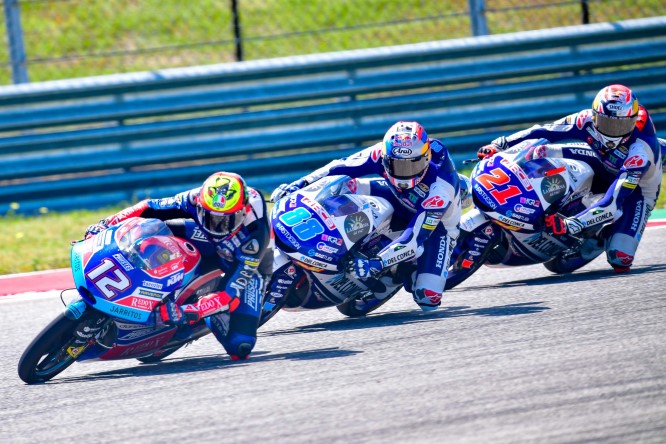 As the 2018 season starts to come to an end, Moto3 rolls into town for the last of the fly-aways in Malaysia. With the Championship battle still well underway, the next race is vital to see if Marco Bezzecchi (Redox PrustelGP) will close the narrow gap between himself and front runner, Jorge Martin (Del Conca Gresini Moto3), or see if the Gresini rider will get one step closer to clinching the title.
But it's not just down to those two, as Fabio di Giannantonio (Del Conca Gresini Moto3) could creep into first place if he has two stellar runs and Bezzecchi's unfortunate luck continues.
With all to play for it will be an interesting weekend, but rather predictably Martin will be starting from pole position after clinching his record breaking 11thpole. Bezzecchi is right on his tail in 2ndthough, so no one will be playing catch-up like in Phillip Island.
The Italian Tony Arbolino (Marinelli Snipers Team) and Scotland's John McPhee (CIP – Green Power) round out the top four, with last weekend's breakthrough talent Celestino Vietti (SKY Racing Team VR46) qualifying in an impressive 12thplace. Could we see another top 10 finish, or even another podium? It would definitely spice up the Championship, if Martin and Bezzecchi weren't enough.
Martin does have good form at the Sepang International Circuit, finishing 2ndlast year, behind Moto2's Joan Mir (formerly Leopard Racing) and in front of Enea Bastianini (Leopard Racing). However, Bezzecchi finished in 19th, and he'll be looking to improve on that if he wants to stand any chance of pipping Martin to the title – and his good qualifying will help with that.
Qualifying didn't show any particular bike benefiting from the two long straights that the Sepang International Circuit is know for, with a results almost splitting perfectly between the Honda and KTM bikes – but all year long the KTM has had incredible speed in a straight line. So, this particular feature might help Bezzecchi but only if his fortunes change.
All riders will be looking to get some last-minute points in to improve their chances when they all descend upon Valencia for the last race of the season, but after riding three weekends in a row, they'll be feeling a little delicate, especially the guys who've suffered some nasty crashes. Jaume Masia (Bester Capital Dubai), Gabriel Rodrigo (RBA BOE Racing Team) and Nicolo Bulega (SKY Racing Team VR46) will not be racing this weekend, but Bulega's replacement could be the cat amongst the pigeons in terms of the Championship.