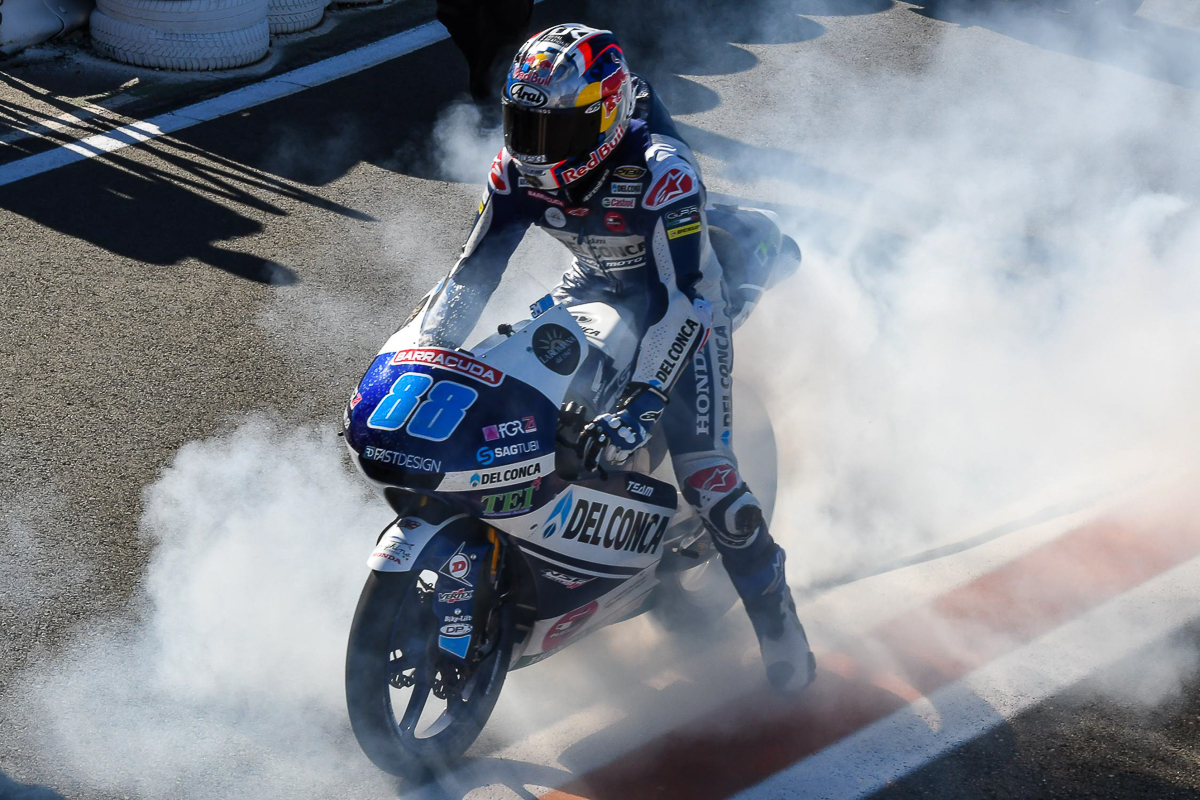 It was a dreamy race weekend for Jorge Martin (Del Conca Gresini Moto3) who started from pole position, won the race and clinched the Championship with one race to go. But it was commiserations for Marco Bezzecchi (Redox PrustelGP) who saw his Championship chances slip away as he settled for second position in the title fight and fifth in the race.
Ultimately, this sealed his position in the Championship, as even if his closest rival Fabio di Giannantonio (Del Conca Gresini Moto3) did win the final race of the season in Valencia, he would be one point shy of second place in the Championship. di Giannantonio managed to come back from 13th in qualifying to finish just behind his compatriot, Bezzecchi.
There seemed to be a flash of nerves from Bezzecchi, who had to scores better than fifth if he wanted to keep his Championship hopes alive until the next race. However, he just didn't seem able to pick off one extra rider before the finishing line. Martin though managed to run away with his lead as soon as he got to the final few laps, whether that was tyre conservation or nerves too, he seemed to handle it better than his rival.
However, things could have been very different had Aron Canet (Estrella Galicia 0,0) not slid out of first place. Could the Spaniard have thrown a spanner in the works and forced the Championship fight onto Valencia? It just wasn't his race.
It was a good weekend for Leopard Racing who got a double podium – Lorenzo Dalla Porta in second and Enea Bastianini in third. Very impressive for Dalla Porta who has had some solid results in the later half of the season, and Bastianini who would have been fighting for every point to catch up to di Giannantonio in the Championship. Their rivalry can continue though as they both move up to Moto2 in 2019, as well as Bezzecchi and Martin.
It was an Italian heavy top 10 with only four riders coming from different countries. But both of the SIC58 Squarda Corse riders (Italy's Niccolò Antonelli and Japan's Tatsuki Suzuki) managed to score tenth and ninth places respectively. This is of particular significance as the late MotoGP rider Marco Simoncelli passed away after an accident at the 2011 Malaysian GP. The team, started by Paolo Simoncelli, haven't had a joint top 10 effort this season, so for both bikes to make it over the finishing line like they did was a special moment for them.
Unfortunately, it wasn't the case for home favourite Adam Norrodin (Petronas Sprinta Racing) who finished last after he crashed out at the Sepang International Circuit having had an impressive run to 12th.
With the Championship done and dusted, Valencia will be an interesting race because all riders can relax and race for fun – could that mean that some new faces grace the last podium of the 2018 season? Or will Martin want to extend his record for pole positions achieved in a season?