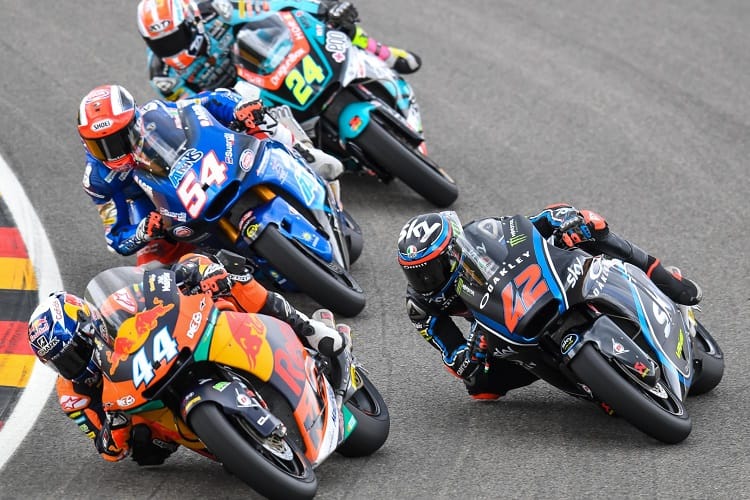 A difficult weekend in Australia – the most challenging of his 2018 season so far – meant that Francesco Bagnaia (Sky Racing Team VR46) had to wait to be crowned 2018 Moto2 World Champion. Fortunately for Pecco, he has another shot this weekend, and at the more conventional Sepang International Circuit, with its bipolar characteristics in comparison to Phillip Island, the Italian rider has the 2018 intermediate class title firmly in his sights ahead of this weekend.
As has been the case for a while now, Miguel Oliveira (Red Bull KTM Ajo) is the only rider who can stop Bagnaia from clinching the crown this weekend. To do so, the Portuguese must outscore Bagnaia by twelve points to ensure the championship fight goes down to the final round in Valencia. Of course there are many situations which could allow this to happen but the simple way to put this is to say that Oliveira has to win with Bagnaia finishing off the podium for the title to go down to the wire.
But, will Oliveira win? Given his recent form, you would say probably not. After his Red Bull KTM Ajo teammate Brad Binder's victory last time out in Australia, Oliveira now has less wins than the South African over the course of the season, and hasn't won since Brno at the beginning of the second half of the season. If ever there was a time for Miguel to turn around his form, it would be now, but that doesn't mean it is going to happen.
Of course it was Oliveira who won the Moto2 Malaysian Grand Prix last year, as Franco Morbidelli wrapped up the 2017 title. This victory was the second of his back-to-back-to-back wins to finish off the season, and Brad Binder is coming into this weekend with the possibility to make a repeat of his teammate's results of last year. Binder is in fantastic form at the moment, and has at least had the matching of Oliveira since his win in Aragon. The race the South African put together in Phillip Island was stunning, and suitable given Kork Ballington's recognition as a MotoGP Legend on the same weekend. However, should Oliveira's pace be enough to fight for the top positions, there should be no doubt that Aki Ajo, Pit Beirer and the rest of the top KTM mob will be urging Binder to play the team game.
Another crash for Lorenzo Baldassarri (Pons HP40) last time out meant that Binder almost has third place in the championship wrapped up, sitting forty-one points ahead of the Italian. Coupled with Joan Mir's (EG 0,0 Marc VDS) second place in Oz and suddenly there is quite a big fight again for fourth in the championship, with only four points separating Baldassarri in fourth at the moment, and Mir's Marc VDS teammate Alex Marquez in sixth.
It is Mir who has the Sepang form, too, after having taken the Moto3 victory in Malaysia last year. In comparison, both Marquez and Baldassarri crashed out last season. If form is anything to go by then Mir could have that fourth place all but wrapped by the time the chequered flag comes out on Sunday.
Augusto Fernandez (Pons HP40) had his best weekend as a Grand Prix rider last weekend in Phillip Island. The Spaniard was fast from the get-go in FP1 and missed the podium for all of 0.008 seconds to Xavi Vierge (Dynavolt Intact GP) who also saw a return to form. Remember, also, that this weekend will not be Fernandez' first time in Sepang, as he rode the Speed Up last season, finishing just half a second behind his then teammate Simone Corsi.
Vierge also had a strong weekend in Malaysia last year, finishing eighth on the Tech 3. Vierge's teammate, Marcel Schrotter, will be hoping for better luck this weekend, as he showed some stunning pace in the race, but had to use it all to come from last on the grid thanks to mechanical troubles on the line. It wasn't such a good race for Schrotter last year, though, in Malaysia, as he finished second-last and nearly one minute off the win.
As well as Schrotter, Luca Marini (Sky Racing Team VR46) will be after a better weekend in Sepang than he experienced last season, when he crashed on the first lap. Not only will Marini want to make a good result for himself this weekend, but he will also want to be at the front to help Bagnaia, his teammate, in his quest for the title. Throughout this season it has been clear that Marini is very aware of his teammate's situation, and has proved a strong number 2 for Bagnaia – just look at how happy Luca was to have taken four points from Oliveira in the final laps of the Thai Grand Prix a few weeks back.
That sort of assistance could prove vital this weekend, as Francesco Bagnaia looks to bank his second match point.