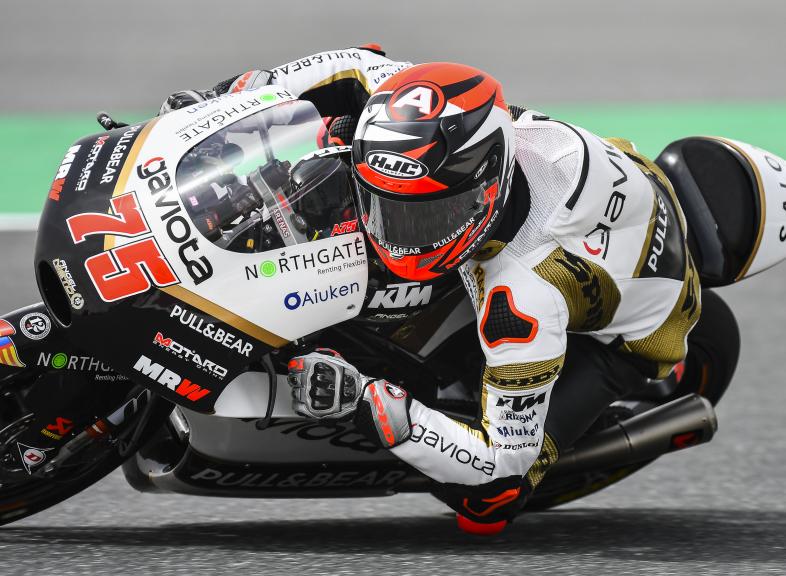 It was a breath taking race that saw more than half the grid eligible for a podium finish – but it was Albert Arenas (Angel Nieto Team), Fabio di Giannantonio (Del Conca Gresini) and Celestino Vietti (Sky Racing Team VR46) who relished in the moment and the champagne. Except for 17-year-old Vietti, who isn't old enough to spray champagne, but then again, a podium on your second ever Moto3 race probably tastes sweeter than any bubbles ever could, and he raced hard for it.
For di Giannantonio it was a necessary podium. The Italian has been battered and bruised on just about every race weekend for the last 3 weeks, making this a much deserved second place finish. And the man of the moment, Arenas, took his second win of the season and this time around he truly earned it – whether you think his Le Mans victory was really di Giannantonio's, or not.
This entire race was important for the Championship, two very important crashes happened, and a few near misses, have changed the course of this season. Firstly, Lorenzo Dalla Porta's (Leopard Racing) crash meant that his team mate Enea Bastianini (Leopard Racing) could keep his fourth place in the Championship.
Then it was Gabriel Rodrigo's (RBA BOE Racing Team) unfortunate collision with Championship contender Marco Bezzecchi that paved the way for Martin to extend his lead in the Championship beyond the one point that he started this weekend with. However, this wasn't really the case, as there is only 12 points between the Italian and the Spaniard now, but it could have remained at just one point because luck seemed to be firmly on Martin's side. He narrowly avoided two crashes/contact which could have seen both of their weekends reduced to null and avoid effectively.
However, it does beg the question – had di Giannantonio not had his Le Mans victory taken away from him, could he be leading the Championship right now? With 20 points between the Championship leaders, he definitely could have made life difficult for Martin and Bezzecchi after this week's results.
The race itself saw real talent shining through from all riders as, the top 15 stayed particularly tight and positions were traded so often that the leader board couldn't keep up with them. It was Tony Arbolino (Marinelli Snipers Team) and Denis Foggia (Sky Racing Team VR46) though showed potential for a podium finish, that was before they took each other out whilst vying for the top spot behind Martin.
But ultimately due to a constantly changing lineups, whether to do with crashes or overtaking, you found yourself rooting for half the grid at least once. This race has left the Championship wide open for the top three riders still, but it might have invigorated the rest of the grid as the majority of them got a taste of leading a race. With only two races to go, who could clinch the title between Martin, Bezzecchi or di Giannantonio?