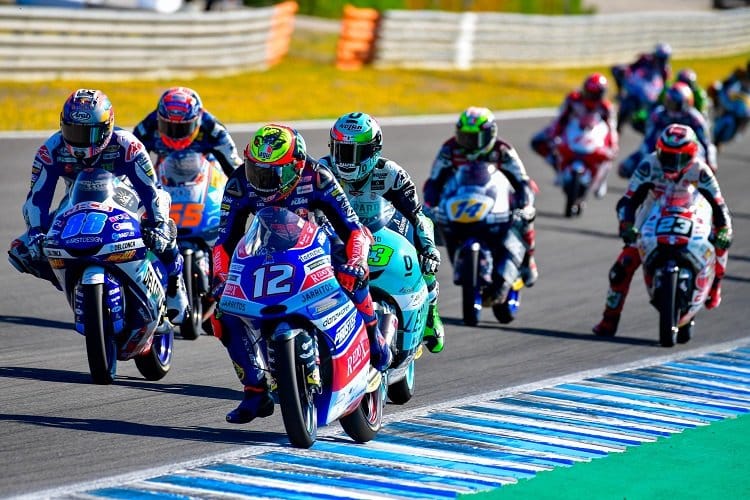 Combining one of the most thrilling tracks and the most unpredictable classes, makes for very entertaining viewing. Moto3 is descending upon Phillip Island in Australia and it looks to be a promising one with defending champion Joan Mir no longer in Moto3, the win could be anyone's.
As has been the case for the majority of this season, it's Jorge Martin (Gresini) and Marco Bezzecchi (Prustel) who need to score big points as the 2018 season draws to a close soon. With just one point between them, Martin will be looking to extend his lead and Bezzecchi will be doing all he can to overtake Martin and clinch a possible Championship title.
The three Italians who make up 3rd-5thshouldn't be overlooked as Fabio Di Giannantonio (Gresini) looks to come back from his awful Motegi high side (his participation at Phillip Island was hit or miss for a second). Enea Bastianini (Leopard Racing) is in 4thand will want to secure some much needed points (33 to draw level with Di Giannantonio) to make it to the top 3 in time for the season ending, and Lorenzo Della Porta (Leopard Racing) will want to continue to fine form he's had and maybe step onto the podium once again.
However, the Island is formidable and when the weather is wreaking havoc with races, the wildlife can get in the way too. And both of these things can play a huge part in how makes it to the end of a race, let alone scores points. The possible wet weather will mean that the likes of Martin, who ride well in rainy conditions, have the chance to do well but T1 is arguable the fastest corner on the racing calendar so when all the riders pile into this corner first time round – it could catch a few riders out. It's also been very cold the last few days, meaning that cold tyres will be something all riders need to be aware of.
There are 7 left hand corners (to 5 right hand corners) so the tyres should warm on all side relatively evenly but this could still catch riders out in the opening laps before their tyres are properly heated. And of course, it wouldn't be a Phillip Island preview if the wildlife isn't brought up. The main culprits are seagulls but other wildlife has wondered on track in the past, and it's hard enough racing but dodging animals makes the AusGP a unique experience.
With 2018 bringing in the 29th Phillip Island GP, only Sunday will reveal whether it was the weather, wildlife or the own fault of the riders that messes up someone's Grand Prix weekend.