A win in the inaugural Thai Moto2 Grand Prix allowed Francesco Bagnaia (Sky Racing Team VR46) to increase his World Championship advantage to 28 points, with four rounds left in the season.
However, considering the form of his main championship rival, Miguel Oliveira (Red Bull KTM Ajo), in the final three races of 2017 – of which he won all three – and that there are still 100 points up for grabs in 2018, there is still a lot to play for this year, as the championship heads into the far-eastern triple-header, with Motegi and the Japanese Grand Prix first up this weekend.
But it was Alex Marquez (EG 0,0 Marc VDS) who won last year in Japan. In fact, his 2017 Japanese Grand Prix triumph remains his most recent victory in the Moto2 World Championship. The Spaniard's hopes of a top three finish pretty much vanished at Thailand when he crashed out of a good position, and one from which he could fight perhaps for the podium. He now lies thirty-one points behind Brad Binder (Red Bull KTM Ajo), who is currently third in the standings, so perhaps his sights are now set on the fourth place of Lorenzo Baldassarri (Pons HP40).
Marquez's form of late would also make it a surprise to see him take the top step this weekend, despite his success at the Twin Ring in the past, starting in 2013 when he took his first GP win at the Japanese track.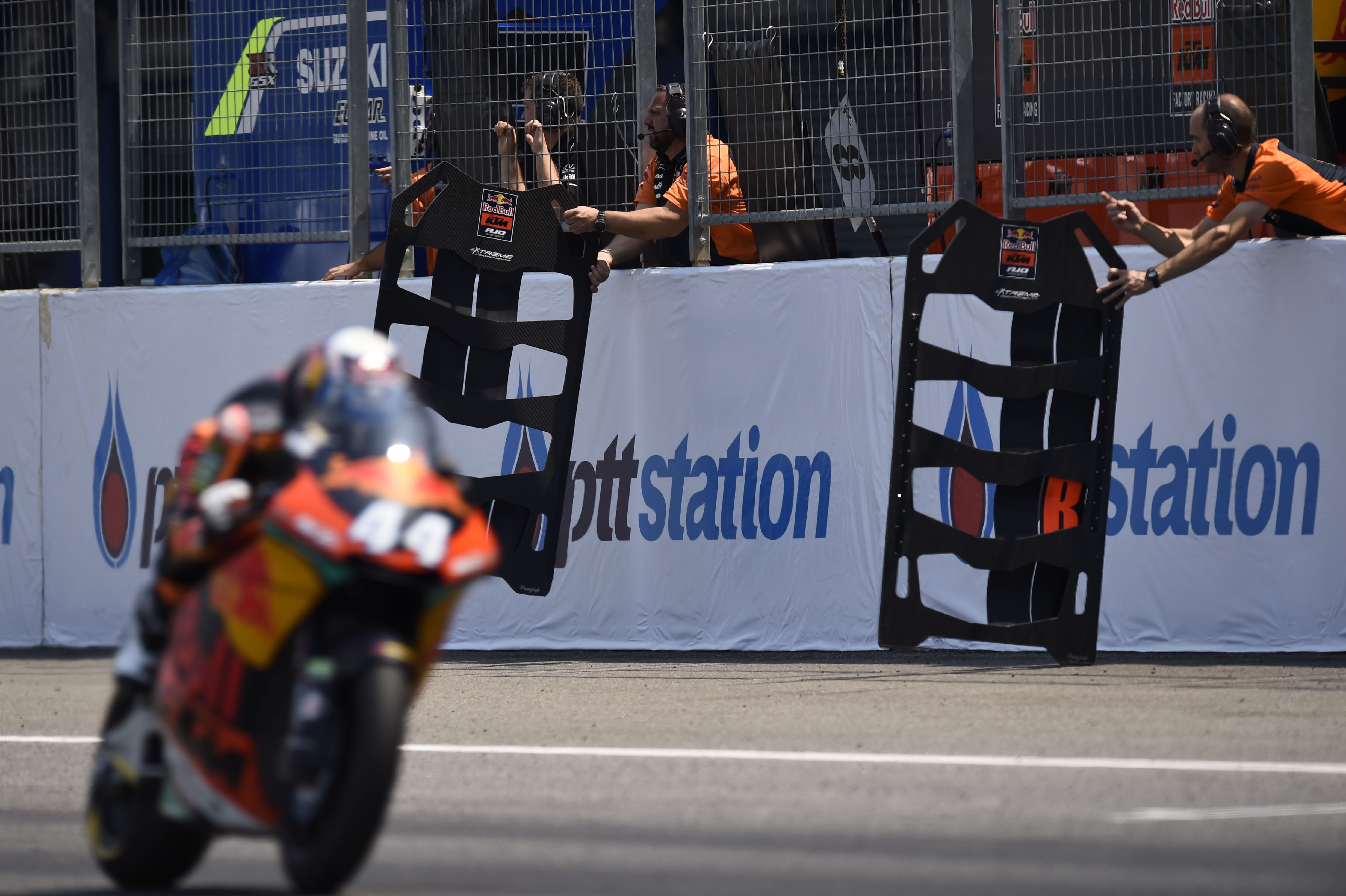 With that in mind, perhaps we should look at the two Red Bull KTMs of Miguel Oliveira and Brad Binder, as well as the two Sky VR46 bikes of Pecco Bagnaia and Luca Marini to be fighting for the win this weekend.
Bagnaia's Thai win was stunning. The general thought pre-race was that the two factory KTMs would escape in the second half of the race when the tyre wear arrived. But instead, it was the opposite, and Bagnaia – once he settled into a rhythm – checked out and contented himself whilst out front with the five points that he would be gaining on Oliveira. Hence, he was rather excited to learn that his teammate, Marini, had taken second behind him, to steal another four points from Oliveira.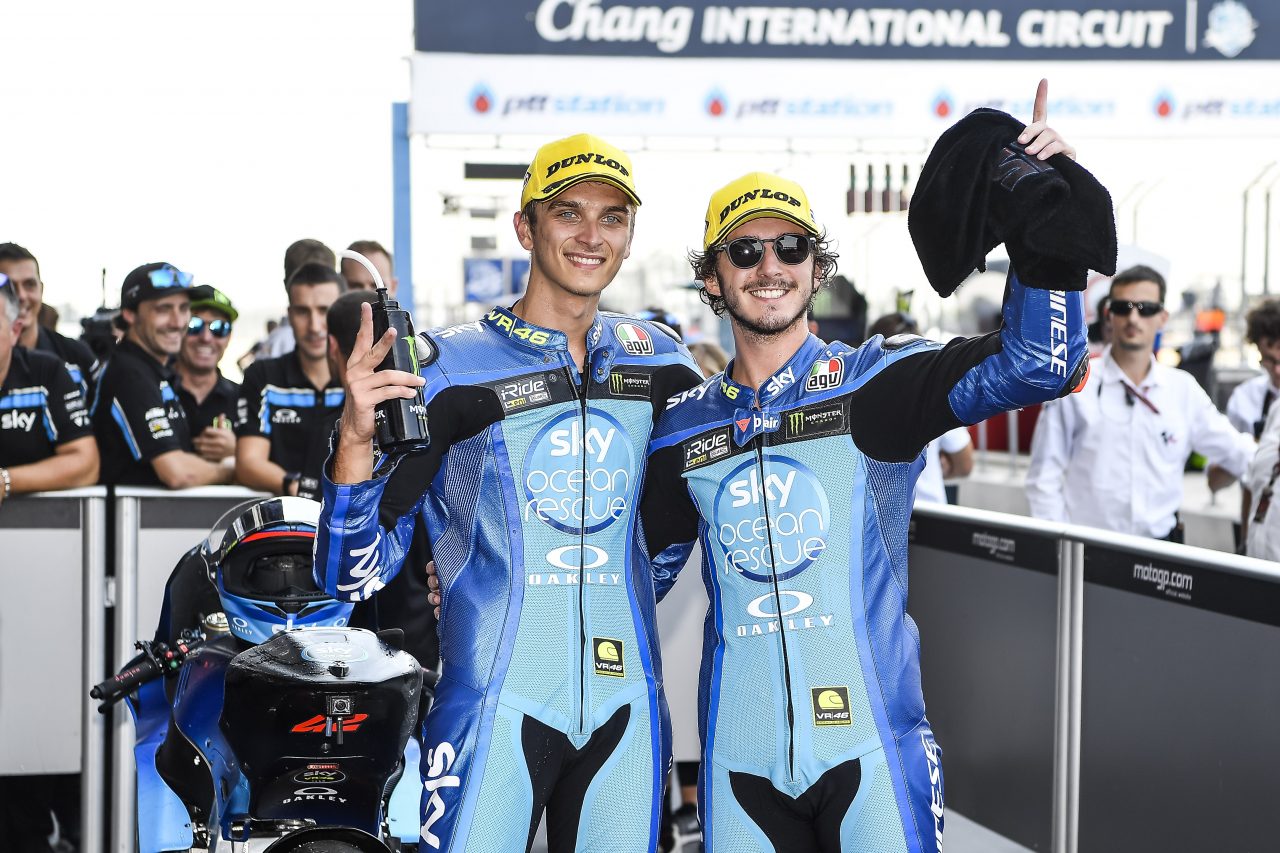 It was a welcome return to form for Marini, whose previous podium appearance back in Austria was starting to seem something of a while ago with some more difficult weekends in Misano and Aragon. However, the memories for Marini of Motegi are not fantastic, as he was the first retirement of the 2017 race.
Miguel Oliveira's most recent memories of Japan are also not so fantastic, as he finished 7.5 seconds off the win last season in 7th place, and two seconds behind Bagnaia in 4th. However, Oliveira's 2015 podium at the Japanese Grand Prix means he has one more rostrum finish in Motegi than his Italian rival, Bagnaia, whose best result in Japan was that fourth place twelve months ago.
Brad Binder looked at times as though he was faster than his championship-challenging teammate, Oliveira, in Thailand. However, he never broke rank, and allowed his Portuguese colleague to take the third place which could prove crucial in the championship in a few weeks' time, and a similar 'rear-gunner' job by Binder could prove valuable for Oliveira in the remaining races of the season.
Other riders to watch out for this weekend include Lorenzo Baldassarri, who will be eager to bounce back after his disappointing crash off pole position in Buriram and Xavi Vierge (Dynavolt Intact GP) who took his first Grand Prix podium in Motegi last year.
Also, Joan Mir (EG 0,0 Marc VDS) is still after his first Moto2 win, and only has four rounds left to achieve that before he heads off to MotoGP next season with the Ecstar Suzuki squad. The Spaniard is also just two points behind his teammate, Marquez, in the standings, in the battle for the championship top five.