In a season of unknowns and new challenges, there was one constant… Scott Dixon. The new universal aero kits turned the pecking order on its head and completely disregarded all the form books, leading to sensational racing and a championship duel that went right down to the last race. The top three drivers in the championship – Dixon, Alexander Rossi and Will Power – all ended equal on three wins, but it was the races in between that counted, and there Dixon shone.
Here we'll dissect the season, looking the most notable driver's years as well as a few other honourable mentions.
Scott Dixon (Chip Ganassi) – 1st – 3 wins – 678 points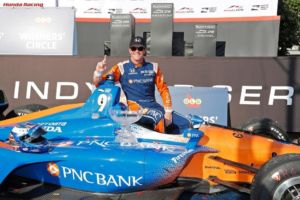 What to say about Dixon… he's one of those drivers that you run out of superlatives for within the first race of watching him. Something that Rossi said earlier in the season is as close as you get to doing Dixon's form this year justice – 'Dixon never has a bad race'. His worst finish came at Iowa with a twelfth but that was on a day where many other title contenders also struggled, meaning he lost very little.
One of the highlights of Dixon's season has to be his dominant win at Toronto which saw him nearly double his championship lead while all his title rivals faltered in quite a major way. That said, consistency was the real winner for Dixon in 2018; with him finishing all but two races in the top ten, he was always going to be a tough driver to beat. Texas saw Dixon pick up the championship lead and, nine races later, Sonoma sealed title number five, after leading the standings for nine straight races.
Alexander Rossi (Andretti) – 2nd – 3 wins – 621 points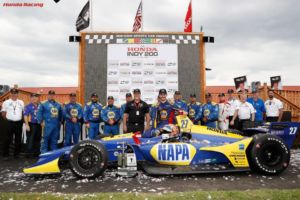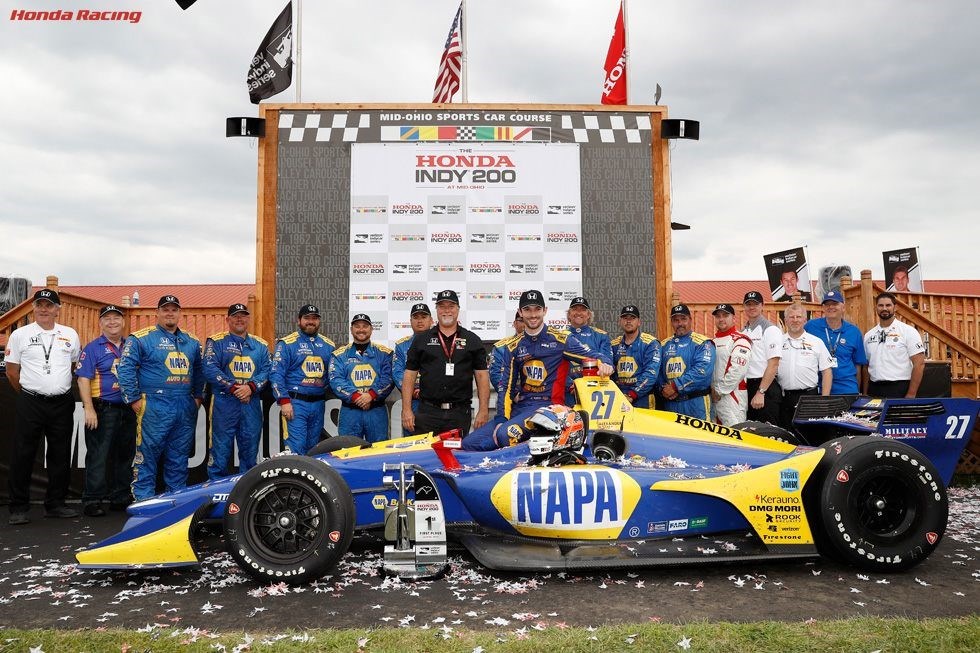 The third year of Rossi's IndyCar venture saw his best season yet, getting within a whisker of his first championship. Despite three wins and a further five podiums, Rossi couldn't topple Dixon – even though his season was hardly inconsistent, completing all but two laps. Rossi only had three finishes outside the top ten and pulled off some of the best overtakes all season, only once really coming to blows as a result. That once was at Sonoma and, with double points on offer, it forced Rossi to kiss goodbye to his title aspirations.
For Rossi, the best moment of his season is much harder to pick out. The back-to-back wins at Mid-Ohio and Pocono come close but the Indy 500 was really where the Andretti driver came into his own. After nothing short of a disaster in qualifying, Rossi started the 500 from thirty-second but made remarkable progress throughout the race, completing multiple risky overtakes to finish fifth, after being in with a shout of the win at some points in the race.
Will Power (Penske) – 3rd – 3 wins – 582 points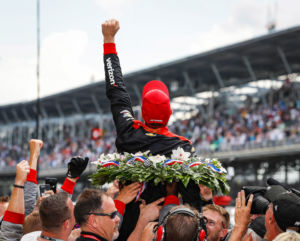 It's been a long time since the top Penske in the championship was only third. After years of dominance, Penske were finally overhauled by both Chip Ganassi and Andretti, curtesy of the regulation changes. Nevertheless, Power didn't have a half bad season, though his six DNFs didn't do anything to help his championship challenge. Consistency was the key this season, more so than it has been in the past, and Power was anything but that.
Undoubtedly, the highlight of Power's season came in the Month of May where the 2014 series champion was utterly dominant, first winning the Indy GP and then the all-important Indy 500 to take the championship lead, albeit only briefly. It was Power's first Indy 500 win and he was elated after the race, introducing the world to the 'Will Power crazy eyes', much to the amusement of the rest of the paddock.
Ryan Hunter-Reay (Andretti) – 4th – 2 wins – 566 points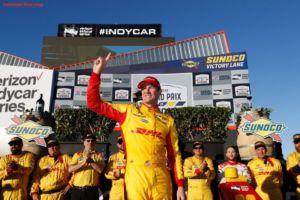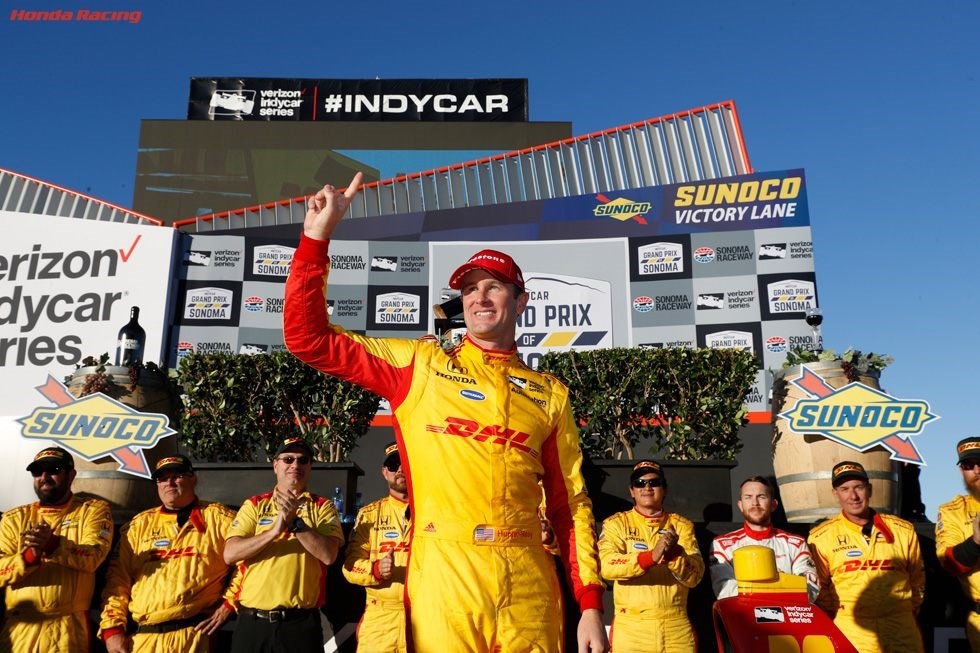 Hunter-Reay will be annoyed at having spent the majority of the season in teammate Rossi's shadow, yet 2018 was far from all doom and gloom for the #28 driver. Six DNFs hardly helped his cause and he was never really a factor in the championship however, Hunter-Reay did end his 41-race win drought in the second race at Detroit before going onto win the final race of the season at Sonoma.
Hunter-Reay would certainly win 'Celebration of the Year' (if it was actually a thing) with his frolics following his victory at Detroit. Sticking to a pre-race bet, the 2012 champion climbed into the fountain by the side of the track, even riding one of the carved lions at one point… it was certainly an unforgettable moment!
Josef Newgarden (Penske) – 5th – 3 wins – 560 points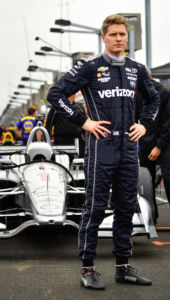 Newgarden had one aim and one aim only this season: retain the championship. After a fairly promising start with two wins from the first four races, Newgarden's season started to unravel from there on, only clocking up one more appearance on the podium with a win at Road America.
There's no one race where it all went wrong for the defending champion, it was just a culmination of not-so-good races that hampered any chance he had at taking his second championship. Despite leading the most laps and equalling most wins, fifth was the best Newgarden could do, just getting piped by Hunter-Reay for fourth at Sonoma.
Simon Pagenaud (Penske) – 6th – 2 podiums – 492 points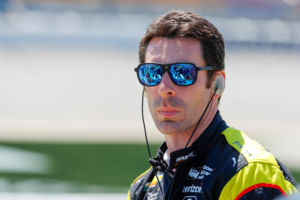 Going winless with his worst season since 2015 was certainly not what Pagenaud was planning to do this season. Admittedly, sixth place in the championship isn't all that bad but the world has come to expect more of Penske drivers. It took until Texas for Pagenaud to take his first podium of the season with a second-place finish behind Dixon, before his second and most recent podium three races later at Toronto, again behind Dixon. It's not what he was hoping for, but it could've been a whole lot worse.
Sebastien Bourdais (Dale Coyne) – 7th – 1 win – 425 points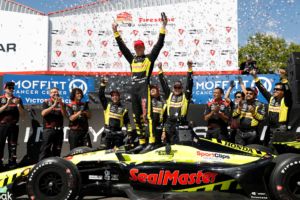 Bourdais was definitely one to peak early in 2018, taking his one and only win at the very first race of the season on the streets of St. Petersburg and then waiting fifteen races for his next podium at Portland. The win at St. Pete was rather gifted to Bourdais by Rossi's rather overambitious move on race leader Robert Wickens, demoting the pair and leaving Bourdais in the clear to take his first win since the same race last year, and also his first since his huge crash at the Indy 500 that saw him sit out the majority of 2017. The Frenchman is on the up once more and should be a force to contend with in 2019.
James Hinchcliffe (Schmidt Peterson Motorsports) – 10th – 1 win – 391 points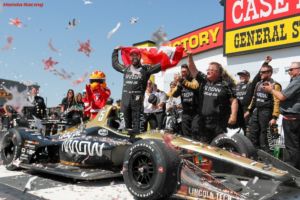 Talk about a season of up and downs… Hinchcliffe's had it all! From the heartbreak of getting bumped at the Indy 500 to the jubilation of taking his first win since his life-threatening 2015 Indy 500 crash and then the very difficult circumstances, for the entire team, that rounded out the season.
Iowa couldn't have been better for Hinchcliffe, stealing the win off Newgarden in the last stint, but the whole season really ended on a downer for SPM with Wickens' Pocono crash. Hinchcliffe and Wickens are close friends off-track and the crash clearly impacted Hinchcliffe's performances in the races following Pocono – SPM were glad to be done with 2018, and you can hardly blame them.
Robert Wickens (Schmidt Peterson Motorsports) – 11th – 4 podiums – 391 points
It was the rookie season that, very unfortunately, proved too good to be true for Wickens. He burst onto the IndyCar scene by taking pole in his first race at St. Petersburg and so nearly took his first win in the same race, only being thwarted by an overambitious Rossi – starting a friendly rivalry that would resurface throughout the season. Wickens also took 'Rookie of the Year', beating Andretti's Zach Veach by 77-points but, somehow, the win managed to elude him, despite coming oh-so close on a number of occasions.
That all, however, faded into obscurity with Wickens' devastating Pocono wreck that's left him with an uncertain future. The Canadian's started to give social media updates on his long road to recovery and SPM have said that the #6 will remain reserved for Wickens, as and when he's ready to come back, however long that may take.
Zach Veach (Andretti) – 15th – 2 Top Fives – 313 points
While fellow rookie Wickens took the world by storm, Veach quietly got on with some very impressive performances in his first IndyCar season. Veach was probably in the best team to be in as a rookie with three strong teammates to rely on for data and some amount of coaching, but that's not to take away from the work that the young American has put into this season. He never really grabbed the headlines but Veach delivered five Top Ten finishes and two Top Fives, ending up 79 points off teammate Marco Andretti.
Tony Kanaan (A.J. Foyt) – 16th – 4 Top Tens – 312 points
Sixteenth in the championship is certainly not where you expect to find arguably one of the best drivers on the grid, but it's true testament to just how difficult this season has been for Kanaan and A.J. Foyt alike. Kanaan left Chip Ganassi at the end of 2017, after reported fallings-out with the team, and joined A.J. Foyt with the aim of making them championship contenders once again. The less that's said about Kanaan's 2018 the better… the fight to get back into title contention is going to be a tough one for A.J. Foyt, to put it lightly.
That rounds out the 2018 IndyCar season, and what a season it was! Old hands facing new challengers was always going to be good and we expect more of the same next year, with even more drivers desperately wanting to get into the mix.
Drivers Champion: Scott Dixon
Manufacturers Champion: Honda
Rookie of the Year: Robert Wickens
Full Championship Standings:
Scott Dixon
Alexander Rossi
Will Power
Ryan Hunter-Reay
Josef Newgarden
Simon Pagenaud
Sebastien Bourdais
Graham Rahal
Marco Andretti
James Hinchcliffe
Robert Wickens (R)
Takuma Sato
Ed Jones
Spencer Pigot
Zach Veach (R)
Tony Kanaan
Charlie Kimball
Matheus Leist (R)
Max Chilton
Gabby Chaves
Ed Carpenter
Jordan King
Zachary Claman De Melo (R)
Jack Harvey
Carlos Munoz
Pietro Fittipaldi (R)
Santino Ferrucci (R)
Rene Binder (R)
Conor Daly
Kyle Kaiser (R)
Patricio O'Ward (R)
Helio Castroneves
JR Hildebrand
Stefan Wilson
Oriol Servia
Alfonso Celis Jr. (R)
Colton Herta (R)
Danica Patrick
Jay Howard
Sage Karam
James Davison