Round 17 of the 2018 Formula One World Championship brings us to the first and only figure-of-8 circuit on the calendar – the infamous Suzuka for the Japanese Grand Prix.
A 17-hour flight from the last race in Russia, this race sees two back-to-back fly-away races – a gruelling prospect for both the drivers and the teams. This, however, is nothing compared to the now almost insurmountable 50-point gap that Sebastian Vettel has to overcome to win the championship after a third placed finish last time in Russia.
Vettel now needs to win each of the final 5 races and hope that Hamilton finishes third in all of them. If this were to happen, they would end the season dead-level on points, and Vettel would take the title on races won.
This wouldn't be a bad place to start would be one of the greatest comebacks of all time in Formula One. Suzuka is Sebastian Vettel's favourite track, and the German has 4 wins here. All of them, however, came with Red Bull – his barren run here with Ferrari must end this weekend if he is to have any chance of success in 2018.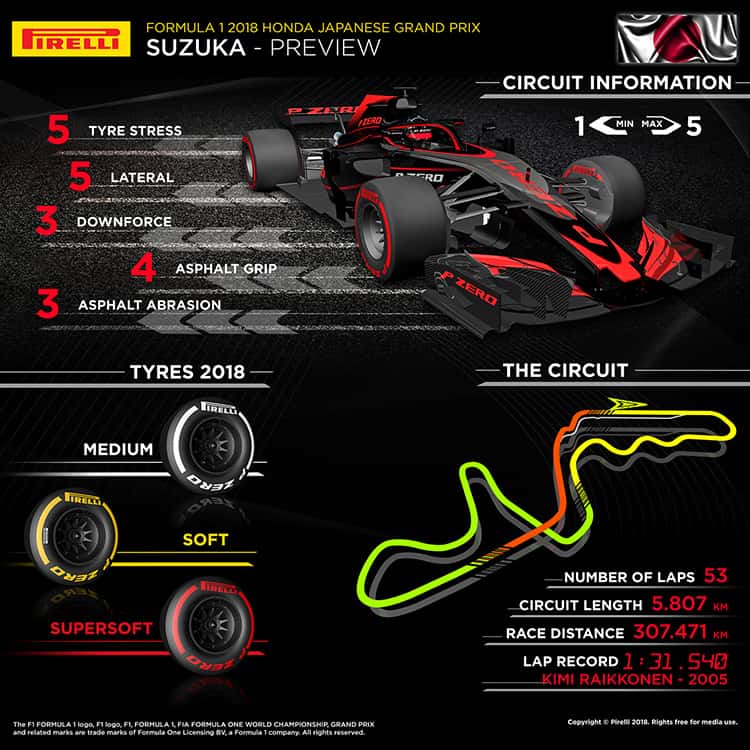 The 5.8 kilometre circuit took back hosting duties from Fuji for 2009, and has been the host ever since. It did host the race before however, including the 1996 Japanese Grand Prix, in which Damon Hill took his sole championship win, a very popular one too, for Williams. And who can forget the championship decider in 1990? In which Ayrton Senna deliberately drove into Alain Prost into Turn One to seal the championship.
The famous 130-R corner runs over a bridge overlooking the two degner corners and the run up to the hairpin of turn 10 – a genius and beautiful feature from the circuit's designer John Hugenholtz.
The first sector is one of the most challenging and technical sequence of corners in F1 – the fast chicane of turns 3 and four leads to a quick left in turn 5, before a short braking zone into turn 6, and running nearly flat-out through turn 7.
The twisty and fast-flowing nature of the track is something the drivers relish – it was described by Kevin Magnussen last year as a "real driver's circuit."
With the balance of horsepower shifting last time in Sochi in Mercedes' favour, it would seem that Ferrari have all but given up on their 2018 challenge and started focusing on their 2019 car. Despite the fact that this is a very technical track, power is needed, so let's hope the Scuderia have at least remembered to bring some reliable spark plugs this year. Red Bull have been strong traditionally here over the years, and given how well Max Verstappen performed in Russia – carving his way from 19th to fifth in the first seven laps – don't count him out of a win.
Whether Ferrari still believe they have hope this year or not, Sebastian Vettel certainly won't give up on this title challenge, but with a team that has seemingly turned their attention to next year at a track where Mercedes have dominated for the last four years, expect more joy for Mercedes, and another dagger to Ferrari.