Qualifying for the 2018 MotoGP Grand Prix of Aragon got underway under glorious Spanish sun, giving almost ideal conditions for racing motorcycles, with forty-five degrees of track temperature, next-to-no cloud cover and essentially negligible wind.
And once Q2 rolled around, it was Jorge Lorenzo who took pole position. Whilst the other riders got caught up in the waiting game of "who blinks first". Lorenzo found himself some good space on the track, and he set about going quickly. After his first run, he had one tenth to find compared to Marc Marquez's provisional pole time from the first run, so he knew his third consecutive pole position was well within reach, and despite his teammate Andrea Dovizioso setting provisional pole moments before the Spaniard crossed the line, Lorenzo was indeed the rider to reign supreme on Saturday. Added to that is his race pace, from which you can deduce that Jorge Lorenzo has a reasonable opportunity to take his fourth win of 2018 tomorrow.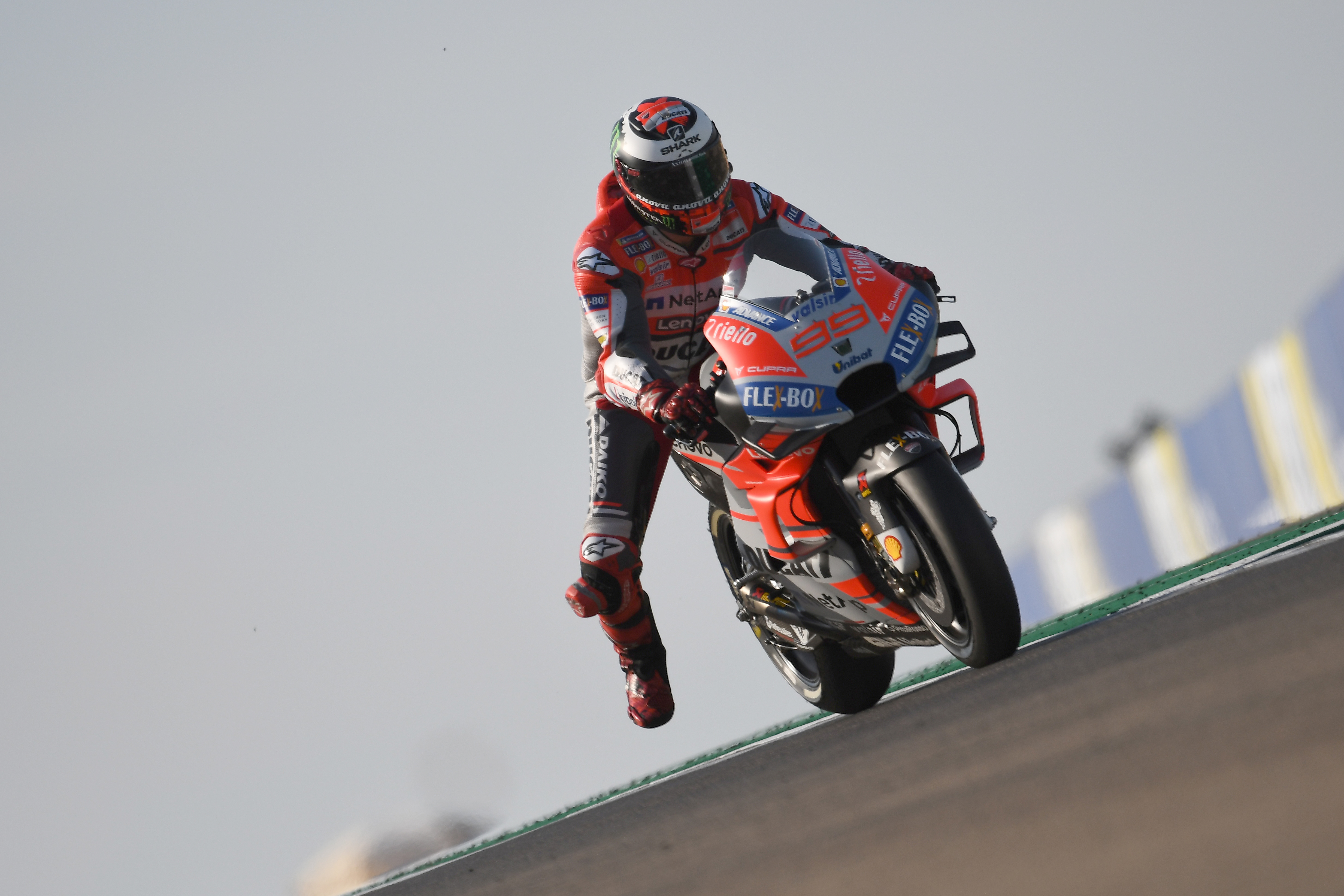 But perhaps the rider with the best chance to win tomorrow is the one starting from the middle of the front row, Lorenzo's Ducati teammate, Andrea Dovizioso. His final lap was far from perfect, as he had some traffic throughout, and faced the disturbance of having to bail out of his first lap of run two, also for traffic, before it even began. In addition to this, Dovizioso went into his final attempt at pole position knowing that Marc Marquez was somewhere behind him, as they had been trying to get behind each other for the two laps previous. But Dovizioso was able to put that out of his mind, and take second on the grid, knowing that he could have had pole, had he had some decent track position, and that he has an incredibly strong race pace for tomorrow.
Marc Marquez missed out on pole, like Dovizioso, for traffic. The Spaniard ran wide in turn eight on his final lap in Q2, but somehow gained time doing so (that is a mystery which sums up Marquez quite perfectly), only to lose half a second in turn twelve where he was distracted by traffic ahead do him, who were scattered across the width of the circuit. That was the verdict of Cal Crutchlow, anyway, who crashed due to this scattered traffic moments after Marquez and Dovizioso passed through it. Ultimately it was third for Marquez, and staying with the Ducatis tomorrow seems as though it will prove a difficult, if not impossible task. That said, Marc has not won since the Sachsenring, and in his home circuit will be desperate to end Ducati's winning streak. Expect something quite spectacular from the #93 tomorrow.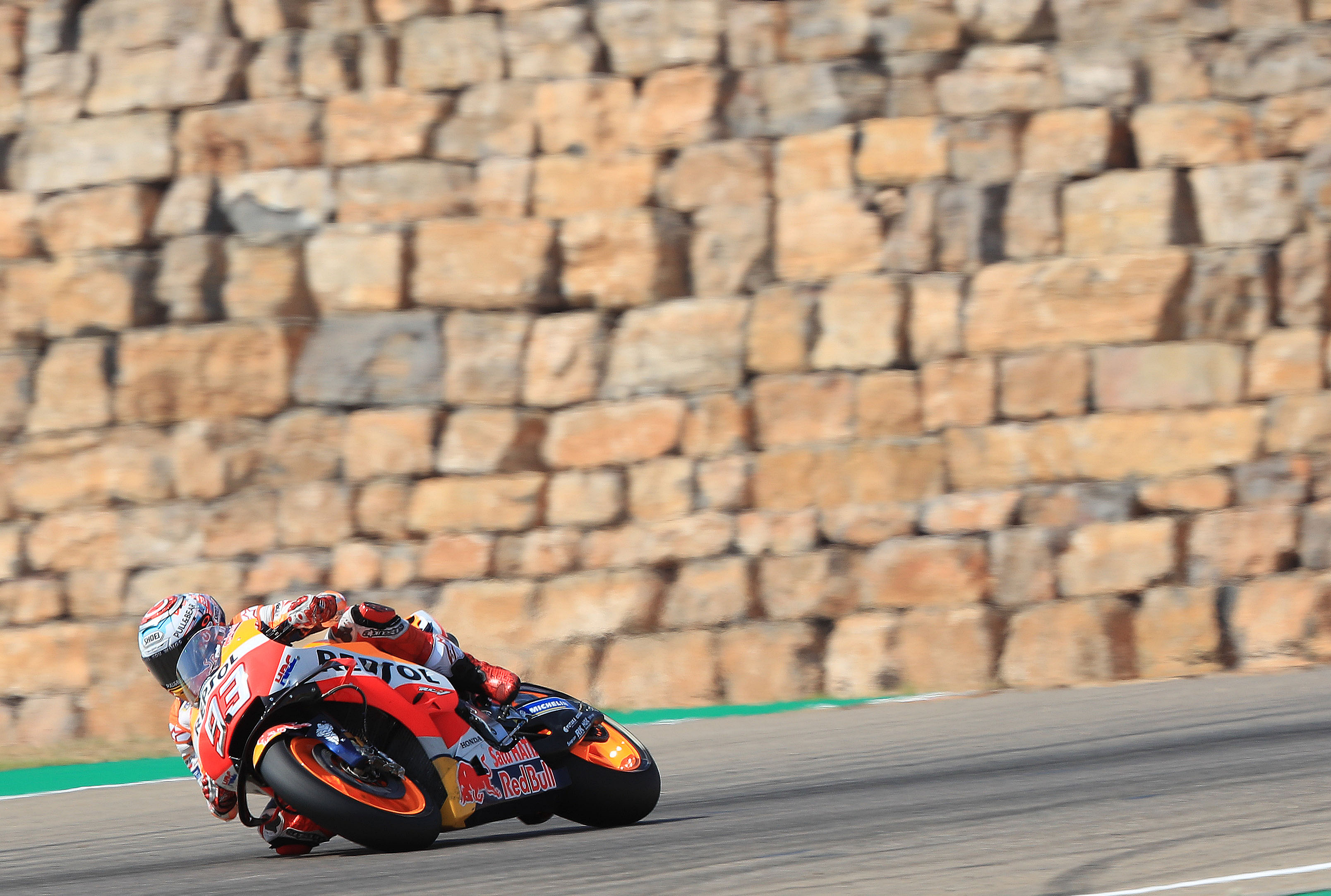 Despite his crash, Crutchlow did enough earlier in the session to take fourth on the grid, as the 'best of the rest' behind those riders who are almost 2018's 'aliens'. Like Marquez, Crutchlow will have a tough time hanging with the Ducatis tomorrow, his weekend made no easier by the fact that the hardest of the three front tyre compounds is too soft for his style with the Honda.
It was a decent qualifying for Andrea Iannone, who was clearly excited to be back in Q2 after missing out for the first time in 2018 back in Misano. He took fifth place, lapping only 0.288 seconds slower than Lorenzo's pole time, but with that being said, it would be a surprise to see the Italian fighting for the podium tomorrow – the Suzuki, at least in his hands, simply does not have the tyre life.
Dani Pedrosa is getting somewhere close to being 'back'. Despite his ongoing corner speed issues, Pedrosa took sixth on the grid today, after advancing to Q2 directly from FP3 for the first time since he announced his retirement. If things go his way, he could see his first podium of 2018 tomorrow, the soft front tyre compounds mean that he has some good confidence with the front, and that is helped by the high track temperatures the riders are experiencing this weekend.
The race tomorrow looks like it could be a difficult one for Danilo Petrucci, who qualified seventh, and is likely to struggle with tyre wear. He is one of the riders who stresses the tyre the most, because he rides the Ducati, with a lot of power, and he also has a lot of weight. Everyone is struggling a bit for tyre life this weekend, Davide Tardozzi in fact thinks tomorrow's Grand Prix could be similar to that of Brno, with a large period of tyre saving in the first part of the race, before pins are pulled in the final laps.
The middle of the third row belongs to Alvaro Bautista, who impressed again for the Angel Nieto Team, and qualified ahead of Alex Rins who was ninth and completed the third row.
The top ten was rounded out by Jack Miller, which was something of a surprise because he had looked stronger than that through free practice. Maverick Vinales and Takaaki Nakagami – both of whom came through Q1 – completed the fourth row.
Eleventh might seem like a disaster for the factory Yamaha of Vinales, but with Johann Zarco in fourteenth and Valentino Rossi in eighteenth, it looks like he was getting the most and more out of the M1, whose manufacturer seems to be in absolute crisis this weekend. If Austria was 'rock bottom', then Aragon is proving positively subterranean.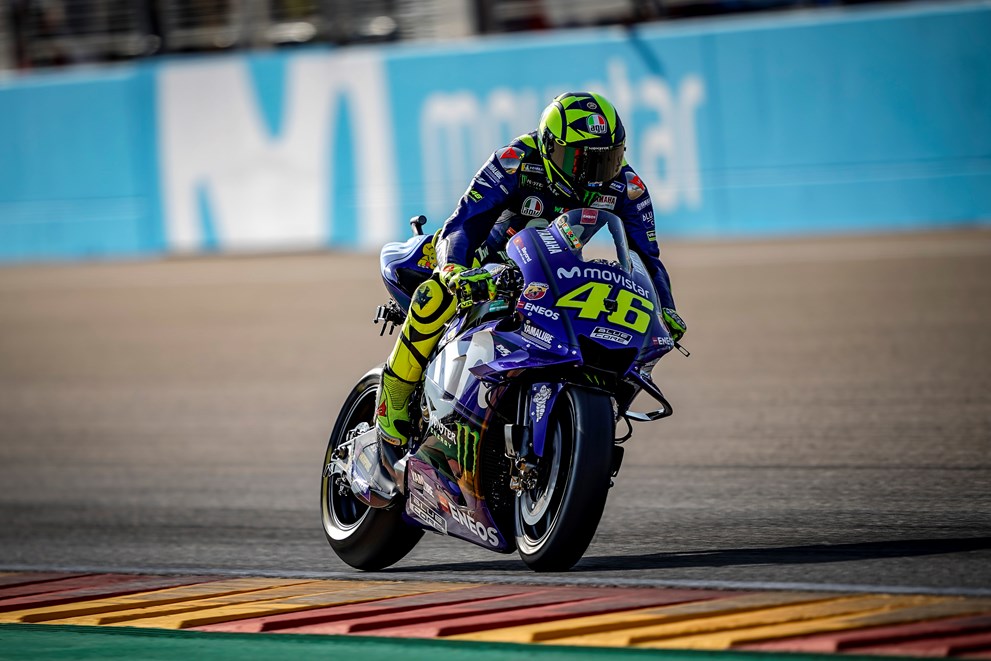 That said, for all the flack Yamaha have taken in the past two years, Valentino Rossi has to take some blame for his performance today. His perpetual positivity seems to have run its course. The day started badly with a crash in FP3, and in Q1 he posted only one competitive lap time, otherwise being distracted by his want to get a tow, specifically from his teammate.
Rossi was out-qualified by Franco Morbidelli on last year's Honda, Johann Zarco on last year's Yamaha, Aleix Espargaro on an Aprilia which is worse than last year's, Bradley Smith on an under-developed KTM and Karel Abraham on a 2016 Ducati in Q1. Perhaps the worst part is that tomorrow could yet be worse still.
In nineteenth place was Hafizh Syahrin, 0.3 off Rossi, ahead of Tom Luthi and Scott Redding who completed row seven.
Only two riders will be on row eight tomorrow, because Pol Espargaro further damaged his already-broken collarbone. This means that Xavier Simeon and Jordi Torres (replacing Tito Rabat) are the only riders on the back row of the grid.