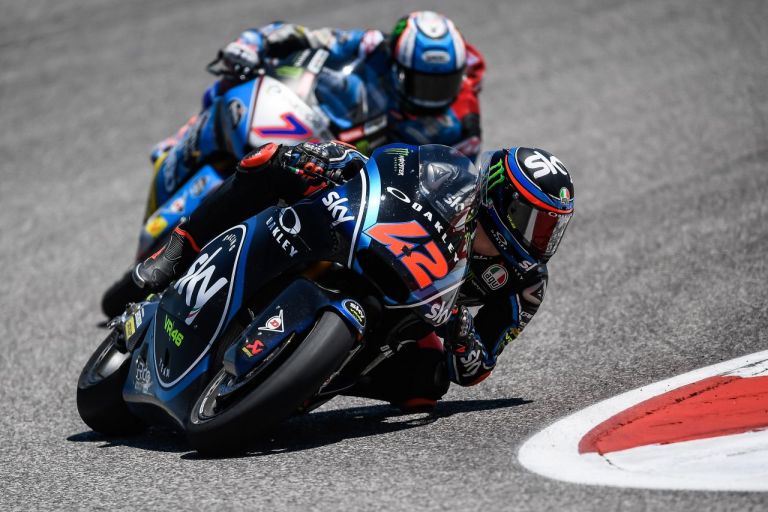 Coming into round fourteen of the 2018 Moto2 World Championship, Francesco Bagnaia sits atop the standings, with a points advantage he extended last time out at his home Grand Prix in Misano; as the intermediate class approaches Motorland Aragon this weekend, the Italian's championship lead stands at eight points over main title rival Miguel Oliveira. In fact, Oliveira is the only rider threatening Bagnaia, as the pair have completely dominated this season so far; Brad Binder sits third in the championship, 87 points behind Oliveira.
Motorland has proved bipolar for the pair, looking at their past results at the circuit. Oliveira has scored two podiums in Aragon, with a win in the 2015 Moto3 race, and a podium last year in the Moto2 race. Meanwhile, Bagnaia's best result has been tenth, which also came in last year's Moto2 race, and he has only one other points-scoring finish here, which came in 2015 when he rode the Aspar Mahindra to eleventh. The relative void between the pair's records at this circuit could make this race pivotal for the World Championship, especially as it is the final European race before the four fly-away races.
That said, Bagnaia is in a supreme vein of form at the moment, having won the last two races, and it would be a considerable surprise to see him not in contention this weekend, and no doubt he will be aiming for his seventh win of 2018 come Sunday.
But, for Oliveira, this race represents a good opportunity to take some points out of Bagnaia, and perhaps reclaim the championship lead, partly thanks to his good form in Aragon compared to Bagnaia, but also because of how the KTM performed in Motorland last year. Oliveira's late race fightback towards the front two riders of Mattia Pasini and eventual winner Franco Morbidelli was typical of KTM, as he made the most of the Austrian chassis' impressive tyre management, although he finally ran out of pace to catch the Italian pair with a few laps remaining.
With this being the second year of the KTM Moto2 chassis, and the improvements that we have seen with it in 2018, the Red Bull KTM Ajo team will be highly anticipating an assault on the victory from the Portuguese rider. Furthermore, with Jeffrey Herlings wrapping up the MXGP world title last weekend in Assen, and Jorge Prado edging closer to the MX2 championship with one Motocross World Championship meeting to go, you would expect that a lot more attention would start to come the way of the championship-contending orange-framed road racers, Oliveira being of course one of those.
Outside of the two runaway championship combatants, there are riders in the frame for not only the podium, but also the victory this weekend.
Firstly, Mattia Pasini who – as previously mentioned – fought with Franco Mobidelli until the very end of last year's Moto2 race in Aragon, will be looking to step back onto the podium for the first time since he won in Argentina. Coming off the back of two consecutive fourth places – which marked something of a return to form for the Italian – the #54 is certainly in a good position to be able to end his rostrum drought.
As well as Pasini, Luca Marini will be hoping to return to the podium this weekend, after a tough race in Misano where he had to retire because of a problem with the bike early on in the race. Previous to that home GP disaster for Marini, he had scored three podiums in a row in the previous three races, and he will be hoping that he can bounce back from his San Marinese disappointment.
As Marini did earlier in the year, Marcel Schrotter picked up his first ever Grand Prix podium in Misano last time out, ending a long period of waiting stretching back for most of the season. It took Schrotter 105 GPs to take his first podium, and now the aim for the German will be to make it 106 GPs before his first win.
It will also be worth keeping an eye out for the two Marc VDS riders this weekend. Alex Marquez took his first Moto2 podium in Aragon back in 2016 when he finished third behind Sam Lowes and his then-teammate Franco Morbidelli. Similarly, Joan Mir won in Aragon last year in the Moto3 class, so will hoping to be fighting at the front again this weekend, especially after something of a dip in form over the last few races.
That win for Sam Lowes back in 2016 was the last time he stood on the podium of a Grand Prix, and of course also his last victory. On the approach to this weekend, the British rider has pinpointed Motorland as a good opportunity for him to take a good result and you feel that the #22 will not be contented by anything less than a rostrum finish this weekend. Additionally, Sam Lowes has become a father since Misano, and we saw the positive impact that had on Cal Crutchlow back in 2016 as he took two wins in the second half of that season. However, the first of Crutchlow's races as a father began with a ride-through penalty for a jump start and a fifteenth place. Similarly, Aleix Espargaro was out of the Catalan GP earlier this season after six laps, the Barcelona race being the first Grand Prix after the birth of Max and Mia Espargaro. It's fair to say that in recent history, new fathers have not done especially well in Grands Prix, but it is entirely possible that Lowes could be the anomaly this weekend.