Renault's Nico Hulkenberg will be starting his 150th Grand Prix at the upcoming Singapore Grand Prix, and he is hoping for a "positive weekend" at a circuit that he sees as something of an anomaly on the F1 calendar.
"It's a unique Grand Prix in more ways than one," Hulkenberg said, "and it's the only real night race we have on the calendar. Racing under artificial lighting does take a little getting used to, but Singapore has been on the calendar for so long now, it feels pretty normal. We don't see too much daytime there as we're working on European time. We sleep until lunchtime and then the work begins. The facilities at Singapore are really good, and it's a very enjoyable venue for a Grand Prix."
With its relentless twenty-three corner layout and temperatures in excess of thirty degrees even at night, since its inaugural race in 2008 Singapore has developed a reputation for being one of the most physically demanding Grand Prix around.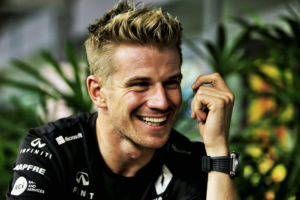 "The circuit itself is very physical and puts a lot of strain on the body," Hulkenberg added. "It's up there as one of the toughest circuits of the season. It's a long lap with corners coming thick and fast, with not many straights to have a break. The humidity makes it hard combined with all the action we're doing at the wheel with non-stop corner combinations and frequent gear changes."
This weekend's race is the tenth anniversary of the first Singapore Grand Prix at Marina Bay and, as mentioned, is also Hulkenberg's 150th in F1. As such, he is hoping he will be able to move on from the last couple of races, where he has started from the back of the grid thanks to penalties.
"It's a significant milestone to have been racing in Formula 1 for so long with that many races under my belt. But it's just a number at this stage and we have a challenge on our hands in the midfield battle, so I'll be drawing on my experience and targeting a positive weekend in Singapore.
"We did all we could from the back of the grid [in Italy], and I'm pleased with how the weekend progressed. It's good that the team are back in the points especially at a power-sensitive circuit like Monza. The penalties are hopefully out of the way and we head to Singapore in [a] confident mood aiming to have both cars in the points."