Rinus VeeKay is one of the brightest stars in Mazda Road to Indy's middle class, Pro Mazda. He's currently fighting for the title with fellow rookie, Parker Thompson, and, with only a few points between the pair, he has a very good shot at it. Although Dutch-born, Rinus' aim is to continue racing in America, heading for IndyCar, rather than returning to Europe. Here is what he had to say when I talked to him in early July.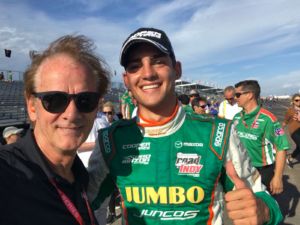 Emily Inganni – How is this season of Pro Mazda going for you so far? Have you performed as you expected?
Rinus VeeKay – It's been a reasonably good season so far, except of some mechanical gremlins. I swept the opening weekend in St-Pete and finished every race in the top 5, except for one DNF in the Indy GP because of a start accident. Toronto is coming up and I'm feeling really confident going into that weekend. I had two podiums there last year and the team and I are good at street courses.
(Rinus went onto sweep the Toronto weekend, taking both wins in a show a dominance)
EI – What do you want to get from the rest of the season? Is the championship still in your sights?
RV – I want to score the maximum points available! I think I'm still in a championship battle and I won't give up, but I know it will not be easy. We're going to some great tracks where I had a lot of podiums last year and the team is working harder than ever to get the maximum results.
EI – Is it any different to work with a team like Juncos that is in IndyCar as opposed to one that is only in the Mazda Road to Indy?
RV – There's quite a difference. With the Pro Mazda team, we can also learn from Juncos and their own IndyCar team. I also get to visit the pit lane during the IndyCar races and listen to everything that goes on, which is really educational for me.
EI – Do you think the Mazda Road to Indy is successful at progressing young drivers careers?
RV – I think that the Mazda Road to Indy is the best series/ladder system to progress your racing career! With their unique ladder system and scholarships, they really give a driver the chance to get to the top.
EI – You're Dutch-born so what made you decide to race in America rather than in Europe?
RV – I got scouted by the Mazda Road to Indy (MRTI) organization at the last round of the 2015 US Open Go-Karting championship in Las Vegas. They invited me to do a USF2000 test in in COTA. I got a look into the MRTI and I really loved it! I still think that it's the best decision in my life.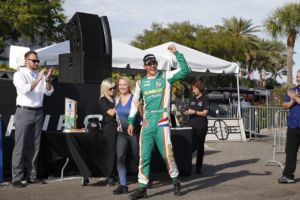 EI – Where can you see your career going? Do you want to carry on racing in America or return to Europe?
RV – I'm focusing to make a career in America and be a very successful IndyCar driver in the near future. I'm already training as hard as I possibly can to achieve my goal.
EI – Lastly, what advice would you give to young drivers looking to make a career out of racing?
RV – My advice to other young drivers is to keep moving forward and don't think in the past!
A big thank you to Rinus for answering my questions, we've got another interview coming up tomorrow so stay tuned!
(Featured image courtesy of Rinus VeeKay)