After losing his championship lead last weekend in Brno, Francesco Bagnaia has hit back strongly today in the Austrian Grand Prix qualifying by dominating to take pole position by 0.310 seconds from main championship rival, and standings topper, Miguel Oliveira. It wasn't all perfect for Bagnaia, he ran out of fuel at the very end of the session but he got his time in early, and from that point no one got near it. Typically, Bagnaia's qualifying result is somewhat indicative of where he is on the race pace, like most Moto2 riders, and that has to be a worry for the rest of the pack ahead of tomorrow's race.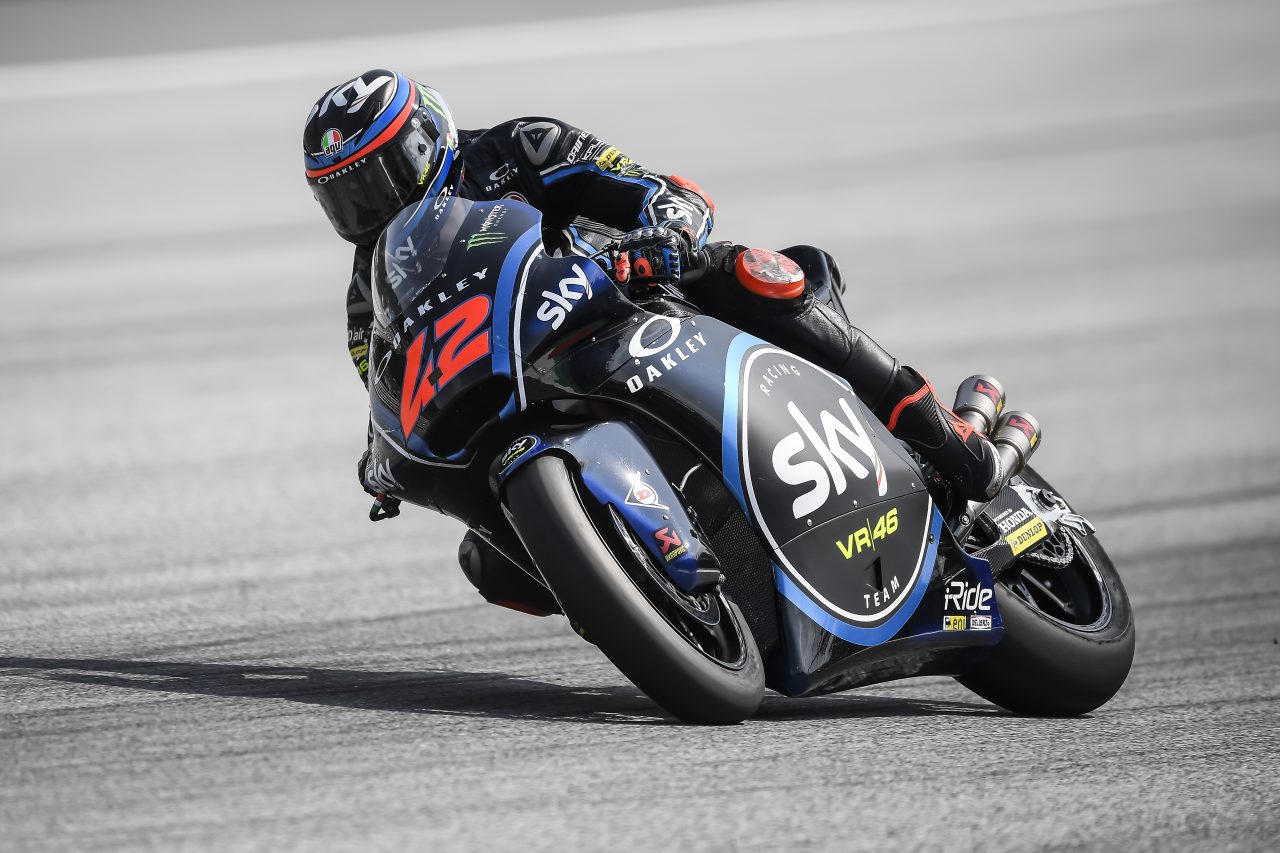 However, a second place in qualifying for Oliveira, his second decent qualifying in a row after fourth place last week, shows that KTM have definitely sorted the qualifying issues out, at least on the #44 side of the Red Bull KTM Ajo garage, that have been holding the Portuguese back in the first half of the season. From the front row of the grid, Oliveira can mount a serious victory challenge, and a win here would make him the clear favourite for the title.
The front row of the grid is rounded out by Fabio Quartararo, who is back on form this weekend at a track he has excelled at historically. If the tyre duration that the Speed Up of Quartararo has become known for over the past few races is there again tomorrow, he could be an outside shot of the podium, if not the win.
Fourth place represents Jorge Navarro's best performance in Moto2 qualifying, a position from where he will be hoping to make the podium – which would also be a first for the Spaniard. Navarro is currently under pressure for his job for next year, with Fabio Di Giannantonio from Gresini Moto3 looking likely to slot into that squad, so a decent advert from Jorge wouldn't go amiss in this moment.
Alex Marquez qualified fifth despite a crash towards the end of the session. With the championship basically over for Alex, his goal from here is just to win as many races as possible and, failing that, make the podium. However, he hasn't looked particularly likely this weekend, but if it rains tomorrow, everything is out the window.
The final position on row two is taken by Mattia Pasini, which is quite impressive from the Italian on one of the more difficult circuits for his left-handed braking, no-clutch downshifting technique. The last races have been difficult for Pasini, so he will just hope for a race where he competes to the end with the front runners again.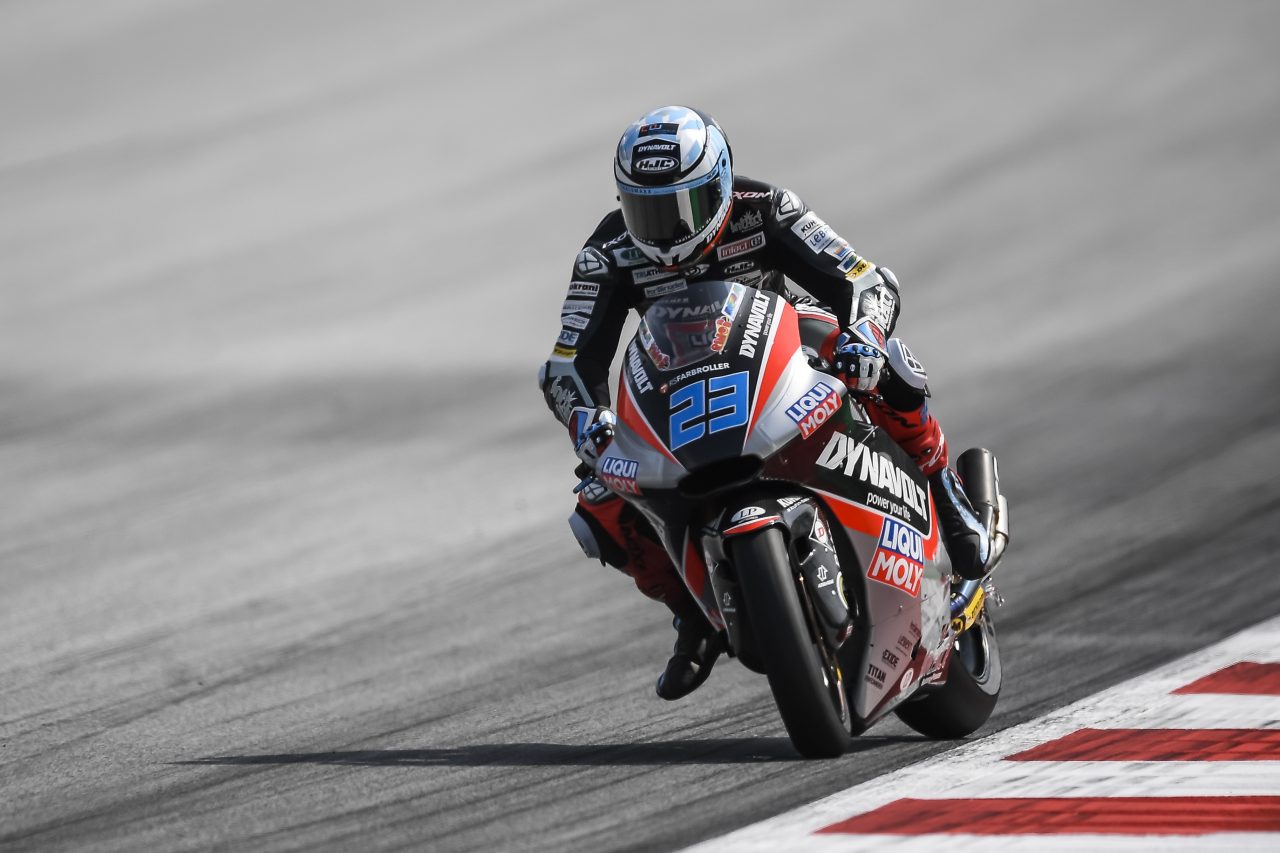 Marcel Schrotter took seventh place for tomorrow's grid, ahead of Brad Binder who might have hoped for more on his 23rd birthday. Lorenzo Baldassarri suffered a crash at the end of the session, and so could only manage the ninth fastest time. That said, Baldassarri has looked quite decent this weekend, and he always races better than he qualifies, so watch out for the #7 tomorrow.
There was a crash, also, for Luca Marini. It was a shame for the lanky Italian, as he had been having a solid weekend to that point. The fall left him unable to set a time at the end, so has to make do with tenth on the grid tomorrow, with race pace holding decent potential. Remy Gardner and Iker Lecuona complete the fourth row of the grid.
Augusto Fernandez continues to perform for the HP40 Pons team, this time taking thirteenth place in qualifying, ahead of Andrea Locatelli and Romano Fenati.
Sam Lowes could only manage 16th place on the grid, ahead of Danny Kent who is another in need of a good advert – however, unlike Navarro, it isn't arriving for Kent. Simone Corsi completes row six.
19th place went to Domi Aegerter, whilst Joan Mir could only take 20th place. Even though Mir crashed, 20th is very disappointing, especially at a track where he went so well in Moto3. But, he is another who tends to race better than he qualifies, so watch for the #36 coming through the pack.
Tetsuta Nagashima was the subject of the 'shot of the weekend' (so far, at least) yesterday, when he was caught in slow motion surfing his Idemitsu Honda Team Asia Kalex between turns nine and ten in the pouring rain. But, in qualifying it was only 21st for the Japanese rider.
Row eight is headed up tomorrow by Khairul Idham Pawi, who is ahead of Stefano Manzi and Joe Roberts.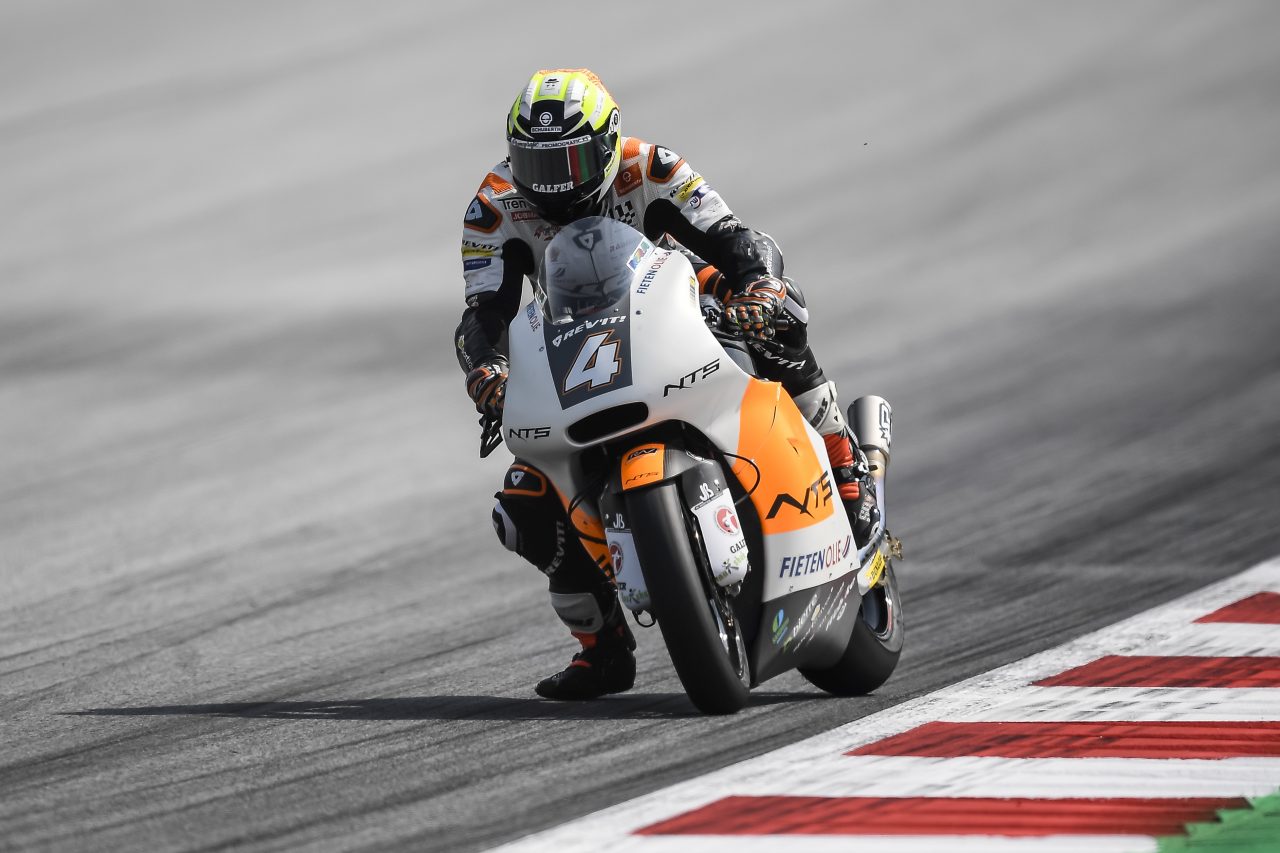 Roberts and NTS teammate Steven Odendaal produced a nice moment in free practice, when they were 1-2, Odendaal leading Roberts. It showed the potential of the NTS chassis, which hopefully has got some riders interested for next year, as they are after a top rider to pilot one of their bikes next season, believing that they can be at the front with an experienced, fast rider.
As it was, though, Odendaal could only manage 25th, one place behind Roberts, but ahead of Jules Danilo and Bo Bendsneyder on row nine.
Xavi Vierge set the 28th fastest time in the first minutes of the session. He sat the rest of qualifying out in the medical centre after a second flying lap crash with Odendaal, where Vierge squeezed the South African up onto the kerb on the outside of the entry to turn one. Vierge's rear tyre got caught with Odendaal's front mudguard, and the Spaniard went flying over the top of the bike, and broke his wrist. As a result, Vierge is out of the weekend, so 29th-fastest Niki Tuuli will start 28th tomorrow.
Isaac Vinales will join Tuuli on the tenth row. The Spaniard is replacing Eric Granado, who was fired out of Forward Racing after Brno thanks to his other commitments in the Brazilian Superbike Championship. Vinales' replacement at SAG, Alejandro Medina, will complete row ten.
Xavi Cardelus will start 31st, and Federico Fuligni will be 32nd and last on the grid.