Introduce yourself Chris
Well, I've been here five years. I started out in the customer engineering department, spent a couple of years there, I was working with Nassar Al Al-Attiyah, and we did WRC2 and we won that championship, did a couple of years in the Middle East. I then transferred over to the works team in 2015 and been there ever since. I worked with Elfyn these past years including last year in the D-Mack car and obviously this year as well, so that's where we're at really. With the works team, we actually quite a small team, we have a lot of responsibilities, not just the car, kind of spread out to other departments.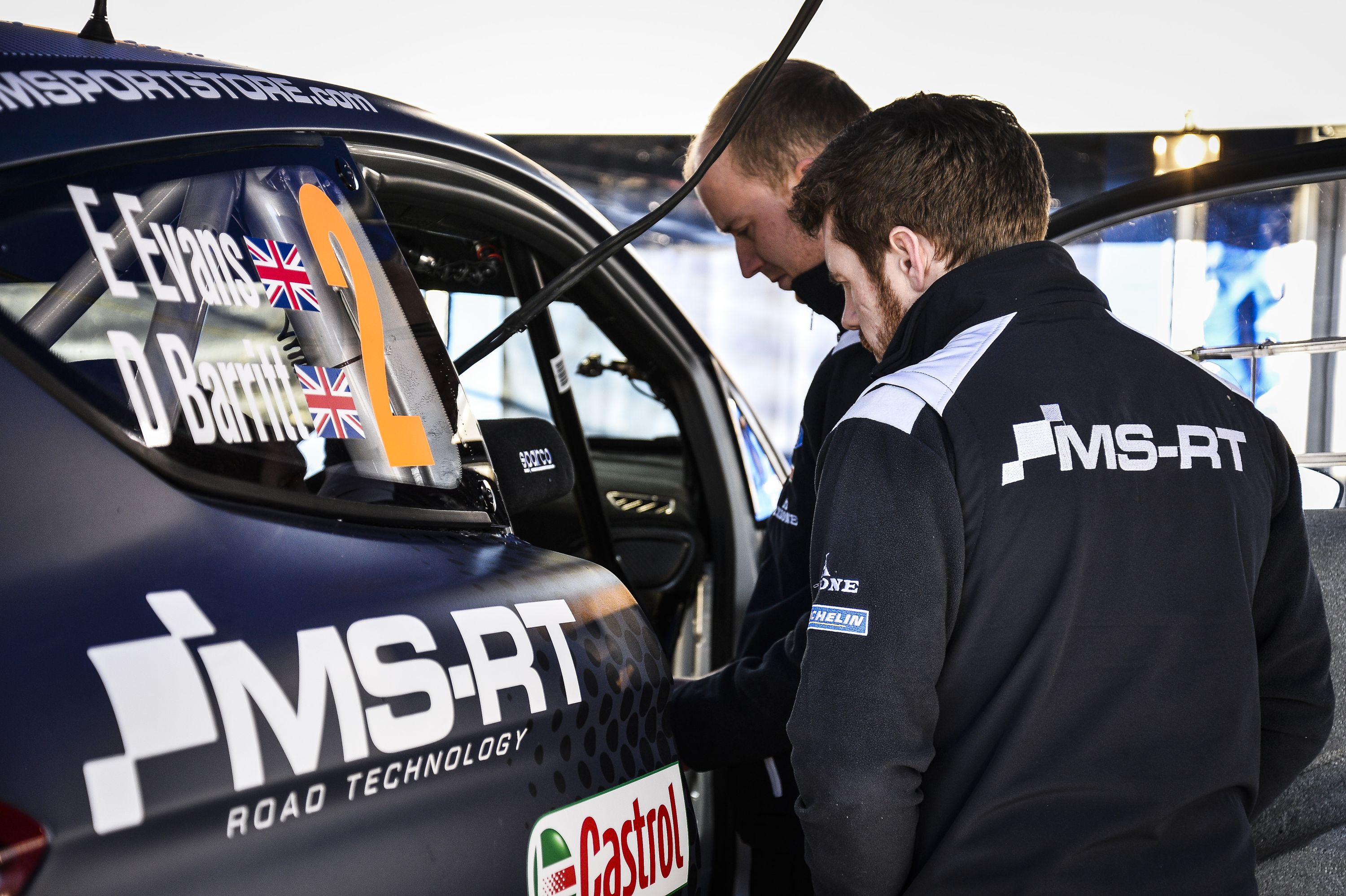 Okay, well the reason for this call is to get a point from the safety aspects of the way the cars are constructed, how you tackle the events, from that safety aspect, keeping everything safe so they can go all out knowing it's all safe.
Warren Nel
The first question is, in terms of the FIA, what kind of checks do they do on the cars, are there any inspections for the cars, before you enter each year?
Chris Roberts
Yes, the main inspections are during scrutineering at each event, so with the car being homologated the FIA expect you turn up with a design that is homologated, within the safety regulations. As a manufacturer, we actually self-scrutineer before the event.
The event scrutineers and the FIA technical delegate will arrive in the service park and will go to each manufacturer team and they will inspect simple things like fire extinguishers, they'll look at the cut off switches and they'll check the safety foam around seat and the doors, side impact structures, just very basic checks, but they expect us to self-scrutineer and present the car in a safe manner. Now one of my responsibilities is to liaise between the FIA and ourselves with regard to what we are going to seal at each event, be it engines, transmissions, whatever it is we are sealing and we present a scrutineering form for each car and that declares that part is safe to start the event.
If you then get caught at post event scrutineering, if that part of the car is found not to conform to the form, there can be penalties. There is a certain amount of trust from the FIA to the manufacturers as we present the car in a safe manner. Now, that is different for a customer team, so anybody who competes as a customer WRC or in the WRC2 or any of the support championships, they don't self-scrutineer, they are inspected a bit more thoroughly, as I guess they have fewer resources, they maybe are not familiar with the regulations, so they have to present their car to the FIA and pass a series of tests before they start. In that respect, it's easier for a manufacturer, but a lot goes into it, with homologating the car and so on.
W.N 
In terms of the construction of the car, were there many changes to the cars, compared to the previous generation, other than the obvious things?
C.R
Yes, there was a big drive in fact. The main concern from the FIA was looking back to the mid 2000's, the cars hadn't really progressed from then to 2015, 2016, so in that ten-year period the safety side hadn't really developed, so there was a bit of a push from the FIA and also the Global Institute for motorsport safety, which is an independent body that sits inside the FIA. So, going back to when they presented the new regulations in 2015, the FIA came up with a safety road map for the WRC.
The first thing presented to the teams, a proposal for safety enhancements as part of the new for 2017 regulations. Now each car is fitted with an accident data recorder and using statistical analysis they were able to see the highest 'G' impacts on the cars could sustain without having any injuries and if there was a threshold above which there were injuries to the crews and then they would work to increase that threshold by improving various aspects of the safety that's when they started to present a proposal for new equipment, to change the design of the cars that means that incorporated new seatbelts and new side impact, new regulations on seats as well.
That was all the effort to increase the safety. Now the safety road map is something that all the teams are working towards, for 2017 we had to as part of the new regulations, the cars were wider and that allowed us to add 20% extra impact foam and this was in the door the carbon structure along the sill as well. As well as that we were able to introduce new regulations for the fuel tanks and we had to fit a medical light to the windscreen so that in an impact of over 25g the light switches on and any marshal that arrives at the car, if this bright blue light is flashing, then the crew will need medical attention.
W.N
Thinking then during an event, if there is any damage to the car during an event what happens there, obviously you'd try to fix it, but would the FIA come a re-inspect the car before it goes back out?
C.R
If it's an impact that damages the safety cage, the FIA will want to inspect that. If it's an impact that we deem we car repair, we'll have to get the car re-scrutineered again during the rally2 service, plus if it's an impact that we deem we can't repair then at that point the FIA remove the seals that are on the body shell and roll cage and then when that shell is repaired and brought back into circulation, it will have to be re-inspected and sealed again.
We always have the FIA technical delegates around and they'll always be checking if there is any damage to the roll cage. Effectively the roll cage can be damaged and repaired during an event. We can change parts of the roll cage if we need to, but if we do that it has to be with a piece that's already been pre-inspected at the start of the homologation process to the car, we will present pieces of roll cage that aren't assembled to the FIA and they will fit seals to them and those will be the only parts we can fit into the car.
W.N
How many pieces would you therefore be transporting to each event?
C.R
Well, I think we carry three full kits to each event, actually and they take up a lot of space. Certainly, since this new generation of car that came in at the start of last year (2017) we've never had impacts there, we've not needed to replace roll cage parts, but we've only had one large accident, which was with Elfyn in Mexico, and in that case the shell had to be completely rebuilt and that car hasn't come back into circulation yet, so when that does come back in we'll have to get it re-inspected and sealed again.
W.N
Now thinking of the safety crews that go into the stages, when are they mainly used?
C.R
They are mainly for tarmac events, and each crew has a safety crew and they don't have to be a qualified person, but they tend to be. Obviously in Elfyn's respect, it's his dad, ex-WRC driver Gywndaf and Phil Mills and these guys have a timetable they have to follow when they go through the stages and that can be as close as forty minutes before the stage actually goes live and those guys would call back to the crews and engineering as well and then if they correct the notes they will pass those through the team back to the rally crew.
W.N
Of course, we saw Phil Mills sit in alongside Elfyn after Dan's concussion which was caused by that high-speed roll during Mexico, so I asked Chris about this.
C.R
It's something that I feel quite strongly about, I have strong views personally. The issue with the crews, when they get concussion is it maybe that they feel okay within themselves, or they may not feel they have concussion, but say in Dan's case, he felt ill, he wasn't sure if he could continue, so in that case the first point of contact between the team and the crew is myself or the car engineer, so it's possible if you don't have immediate medical assistance to basically diagnose possible concussion, you can end up with the crew speaking directly to the engineer, I don't know if we can continue, and for me I think someone who has not qualified and should not have an opinion on medical issues and it shouldn't really fall to the team or the engineer to make a decision if they should continue or not.
With Dan, it was a case that he felt a bit ill, and obviously didn't know he was concussed, and we took a view that he had to seek medical assistance, but he did one more stage after the accident, a little super special before coming into service – so he actually went through another stage, a small stage, and the kind that you wouldn't expect them to have another accident, but because there hadn't been any kind of medical assistance where he was checked out, it's possible they could have had another accident there, so for me I think that was a bit of a failing there in the safety system. I think that's something that needs to be looked at. (Chris made it clear this was his own personal opinion).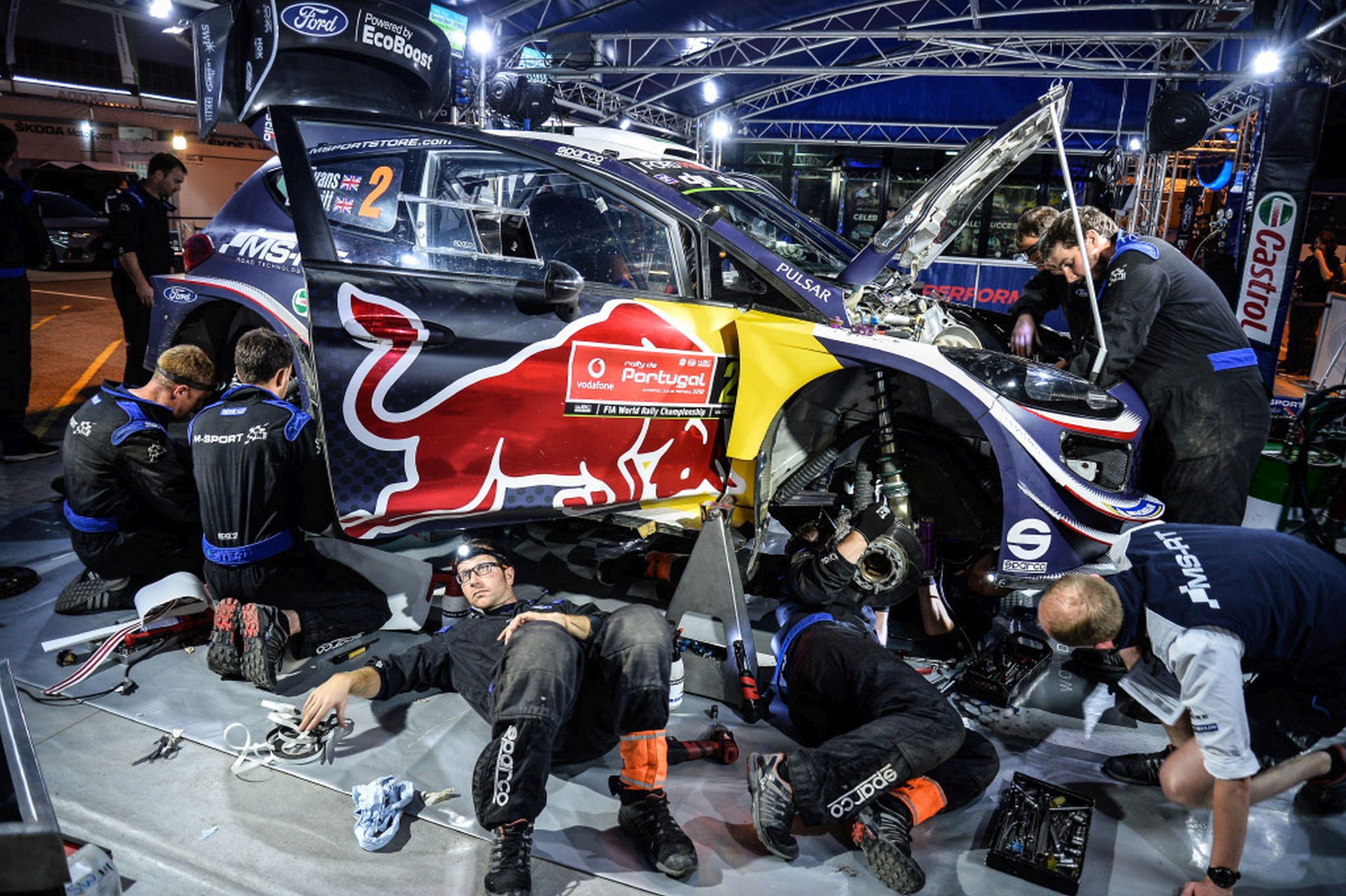 Chris also talked about Julian Ingrassia, who suffered concussion last year at Rally Finland.
C.R
They were both side impacts, which were between the head and the seat, which is an area the FIA are looking at, going forward and next year they are bringing in a new helmet standard for Formula One which is supposed to improve safety. We've not seen a rally version yet, but the intention of the FIA is back to the safety road map is that will be introduced next year. Hopefully that will reduce these concussions.
W.N
One more question for you then – When the recce is completed, do you sit down with Elfyn and Dan and discuss the stages?
C.R
Yes, we have a team debrief, and debrief just after the event with all the crews together, go through aspects of the cars performance, team performance as well. We'll also give feedback to the team manager about how the event has been run, tend to do that as soon as possible after the event, so we'll do that at four or five o'clock, Sunday afternoon.
Then after that we'll conduct our test for the next event which tends to be a about a week later. Now with Elfyn in the UK, he sometimes comes up to the factory and we'll sit down in the office and we'll look at things in more detail, so in that respect it's quite good that he's only a few hours down the road, and we can get together and look at some things. Obviously, the relationship between the engineer and the crew is a close one. We are always in constant contact.
W.N
Finally, I asked Chris if there was anything he wanted to talk about additionally.
C.R
Well, we've got a few more safety things coming in the pipeline. Things being brought forward by the FIA. One area we're working on with the FIA is the seat rails, integrating the seats into the bodyshell. We're looking how these can bend and deform to take some of the impact away from the crew, and this is something which will be introduced for 2020 – that's the seats themselves, the way they're anchored into the shell.
For next year we'll start using the Formula One biometric gloves, so basically the crew will wear these, and they'll send real time data, actually measure blood oxygen levels, that will be sent to the FIA and the medical crew and if there's been an accident, particularly an accident where the car has gone off the road and they can't quite reach the crew, the medical crews will be able to assess the crew without being with the crew and this will be a good advancement.
One final thing which is being brought in is a high-speed camera, which is fitted into the cockpit and this means we can see the impacts and how the body is moving inside the car and that's something that's started being used in Formula One and we started testing that, with the intention to bring that in next year.
These are all good steps indeed to look after the crews and Chris said,
Rallying is a living environment, rather than a circuit, so has different safety requirements.
Finally, I'd like to say a big thank you to Anna at M-Sport for being so helpful in arranging this and to Chris a massive thank you for taking time out of his busy schedule to answer my questions.
Look out during this week for more articles from my colleagues about safety in motorsport.