At every motorsport event, there is an army of marshals, prepared to deal with whatever the racing throws at them – from cleaning the track after an incident to waving warning flags, the marshals are vital to any and every race weekend, be it club racing or F1. We caught up with Karen Richards, a marshal with four years' experience, to find out about what the job entails.
Emily Inganni: What inspired you to start marshalling and how long have you been doing it for?
Karen Richards: We, my husband and I, have been keen motorsport spectators for many years. I think my earliest memories are of Hunt vs. Lauda, especially the epic 1976 season and of course later on Senna vs. Prost. A few years ago, we were at Goodwood Festival of Speed & dropped into the Goodwood Marshals Club tent for a chat & the rest as they say is history! We have been marshalling for 4 years now and love every minute. It gives you the opportunity to be more involved with racing at all levels and of course, the views are great when you're on post!
EI: What is the training process for new marshals? How long does it take?
KR: There are training programme for new marshals run by various Marshal clubs, we belong to the British Motorsport Marshals Club (BMMC). Potential new marshals can attend a 'taster day' at their local circuit where they shadow marshals on post to get an idea of what the role is all about. Then it is advisable to join a club and attend a training programme before becoming a trainee marshal. Training sessions include both theory and practical sessions, also covering firefighting and rescue unit work. Training will cover all aspects and disciplines of the sport and whilst being a trainee there will always be experienced marshals to guide and advise you at race meetings.
Full details of the training process and membership advice is available on the BMMC website at: www.marshals.co.uk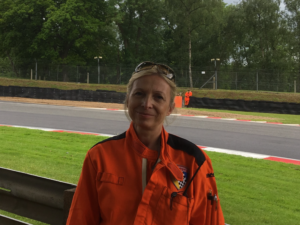 EI: Which events have you marshalled at so far? Do you have any favourites?
KR: We have covered a multitude of different events from club racing, Formula E and endurance racing. I think my favourite is the Le Mans 24-hour event closely followed by the London EPrix in 2016, there was something special seeing cars racing around the streets of London.
EI: What does a race weekend entail for you day-by-day as a marshal?
KR: Race weekends always start with a daily sign on and allocation of post and duties/role for that day. This could be anything from flagging, track or incident depending on experience, other roles can include paddock marshal, start line marshal, pit marshal and scrutineer amongst others
Once on post there are checks and distribution of fire extinguishers, ensuring the circuit equipment is available e.g. flags, brooms etc, then the post chief will brief everyone before the meeting starts
EI: What safety protocol is in place for incidents near your marshal post? What kind of ones have you had to deal with?
KR: There is a general safety protocol for all incidents which is covered in training. There will also be an allocated incident officer, an experienced marshal, who will direct proceedings in the event of an incident. Generally speaking you will deal with cars stuck in gravel traps, car fires, collecting debris from the track etc.
EI: Do the procedures differ from event to event or is there a universal way of doing things?
KR: There is a universal approach to dealing with events with safety for marshals, drivers & spectators being paramount.
EI: How much contact do you have with race control during a race?
KR: The post chief is in contact with Race control throughout the meeting & will pass on relevant information as appropriate.
EI: Are there any specific events that you'd like to marshal at in the future?
KR: Not specifically but I am always looking forward to the next Le Mans 24 Hours!
EI: Finally, what would you say to people thinking of marshalling? Do you have any advice?
KR: If you love motorsport then try marshalling as it gives you a different perspective on the art of motor racing… I don't think you will be disappointed!
For further information visit the BMMC website here: www.marshals.co.uk
Thanks to Karen for taking the time answering my questions, if you want to find out any more information about marshalling or are thinking of giving it a go, hit the link above!
(Featured image courtesy of Karen Richards)