Francesco Bagnaia came into this weekend after having had his championship lead cut to one point by Miguel Oliveira in Barcelona two weeks ago. Bagnaia had to rebound, and he has, qualifying for the Dutch TT on pole – his second in the intermediate class – after topping all three free practice sessions. Bagnaia has the best pace, and he is in the best position to capitalise on that tomorrow. Bagnaia is the favourite, but as we know with Moto2 – it is just not that simple.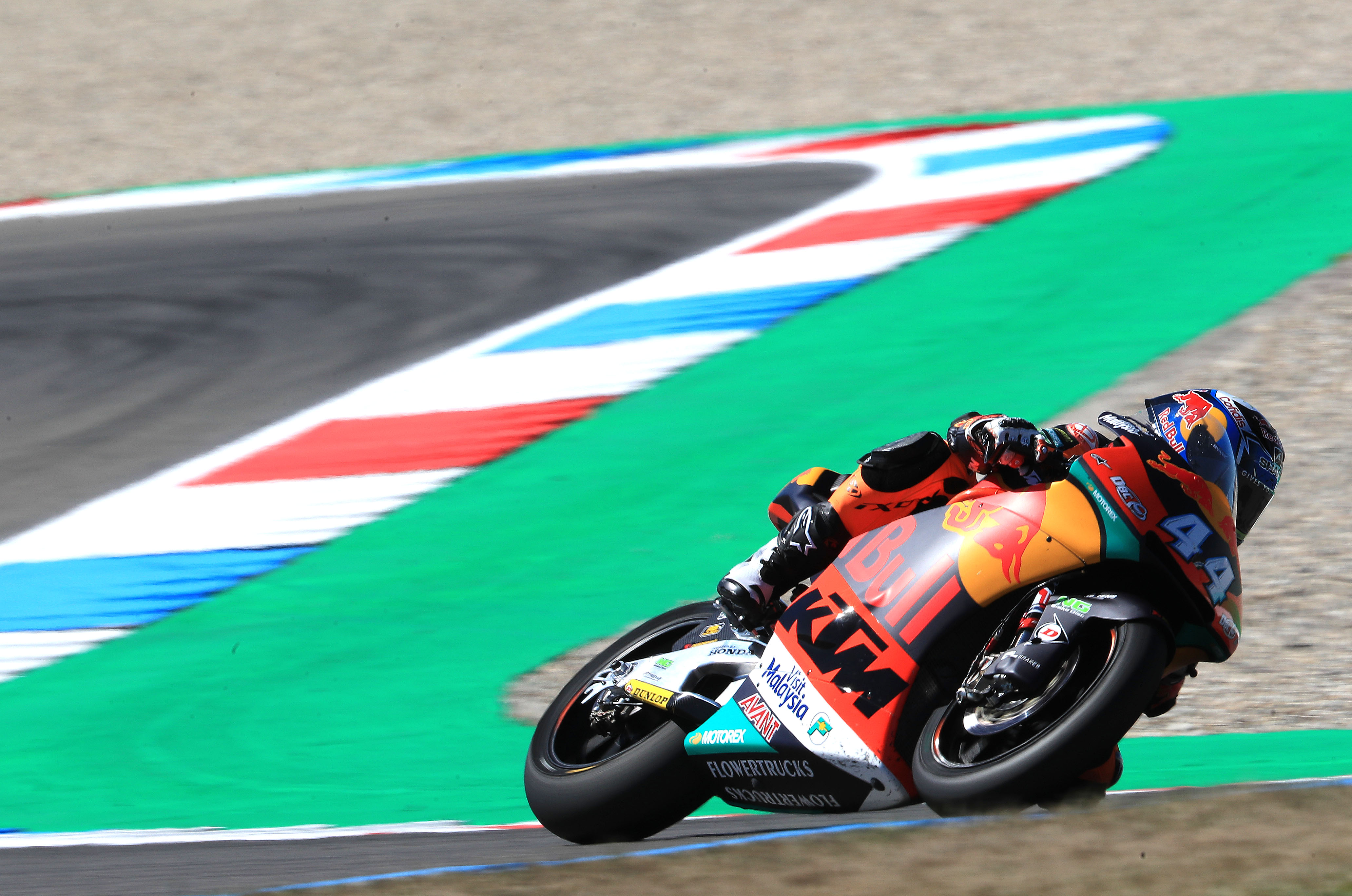 For a start, Marcel Schrotter has been phenomenal in the last few races, and this weekend has been no different, qualifying second and looking good all weekend. We will only find out whether Schrotter will be able to take the fight to Bagnaia tomorrow but if anyone is going to do it, it could well be the German.
Luca Marini made sure that the Dynavolt Intact GP Kalex of Schrotter will be the meat in a Sky Racing Team VR46 sandwich on the front row by putting the #10 Kalex third on the grid. This has been Marini's best weekend since Le Mans last year; now that he is fully fit he is being able to express his potential, and whilst his performance this weekend might be a surprise, if he stays fit for the remainder of the season Marini's name towards the top of the timesheets might not be such a rarity by November. Of course, racing is much different to qualifying, but Marini will be targeting the podium tomorrow, which would be his first in Grand Prix racing.
Alex Marquez starts from fourth tomorrow. The Spaniard has had a tricky weekend, struggling for consistency, but managed to pull a lap out of the bag in qualifying to give him a decent chance to make a good result tomorrow. Typically, this year, Marquez has gone well in practices only to fail to live up to expectations in the race. Maybe a more difficult time in practice will yield a more impressive race for Marquez – with expectations perhaps a little lower he will be able to ride more freely and perhaps get a better result as a consequence.
Xavi Vierge starts precisely behind his teammate, Schrotter, in fifth place. The #97 has been fairly under the radar this weekend but has put himself in a good position for tomorrow; tending to race better than he qualifies, Vierge should be one to watch tomorrow and could well arrive on the rostrum.
Qualifying has been an issue for KTM this season, and Sam Lowes was the highest placed rider on an Austrian chassis today, qualifying sixth. Often, Lowes has underperformed in races this season, but in Barcelona he rode fantastically to come from a pre-race bike issue and starting last to finish ninth. If he can ride as well as that tomorrow, there is no reason why Lowes can't make a return to the podium, albeit a while later than most expected.
Montmelo winner, Fabio Quartararo, has continued his good form on the Speed Up this time out, qualifying seventh, and he has looked strong all weekend too. Getting his first win seems to have freed the Frenchman up a bit, so he should be quite competitive tomorrow, but being a newcomer to Moto2 frontrunning, it is difficult to predict what he might be able to do come race time.
Andrea Locatelli has enjoyed a brilliant weekend, finishing second in FP2 yesterday, and qualifying today in the middle of the third row, in eighth. It's his second season in Moto2 and finally, it looks like something is clicking for the Italian. Hopefully for Loka, he can turn his good pace over the weekend into a good result in the race tomorrow.
Jorge Navarro has crashed a lot this weekend, but he has also been quick. He goes from ninth tomorrow, and it will be interesting to see what the Gresini rider can do in the race, because as yet he hasn't made the step probably most people thought he might from rookie Moto2 season to season two.
Joan Mir, again, did not have such a stellar qualifying performance, but always races better. He rounded out the top ten today but it would be a surprise to see him absent from the podium fight tomorrow. Joining Mir on row four are a disappointing Mattia Pasini and an incredibly impressive Khairul Idham Pawi who, like Locatelli, may have finally found something with the Moto2 bike.
Lorenzo Baldassarri has looked okay this weekend, but nothing special. He qualified thirteenth, but with the times so tight (he was only 0.347 seconds off pole) he can still make progress tomorrow. Typically, consistency is Balda's strongpoint, and if he can have good consistency tomorrow he can still rescue a good result and some important points for the championship.
There have been moments this weekend where Romano Fenati has looked like he can fight for the podium, but qualifying was not one of them. Like Baldassarri, he suffered from the tightness of the field – being just 0.453 seconds off pole but down in fourteenth on the grid. Again, Fenati's pace shows potential, so if he can make a good start then he can be in the mix towards the front.
The last rider on the fifth row is Isaac Vinales, who starts ahead of Augusto Fernandez, who has got the Pons gig full time in the wake of Hector Barbera's dismissal.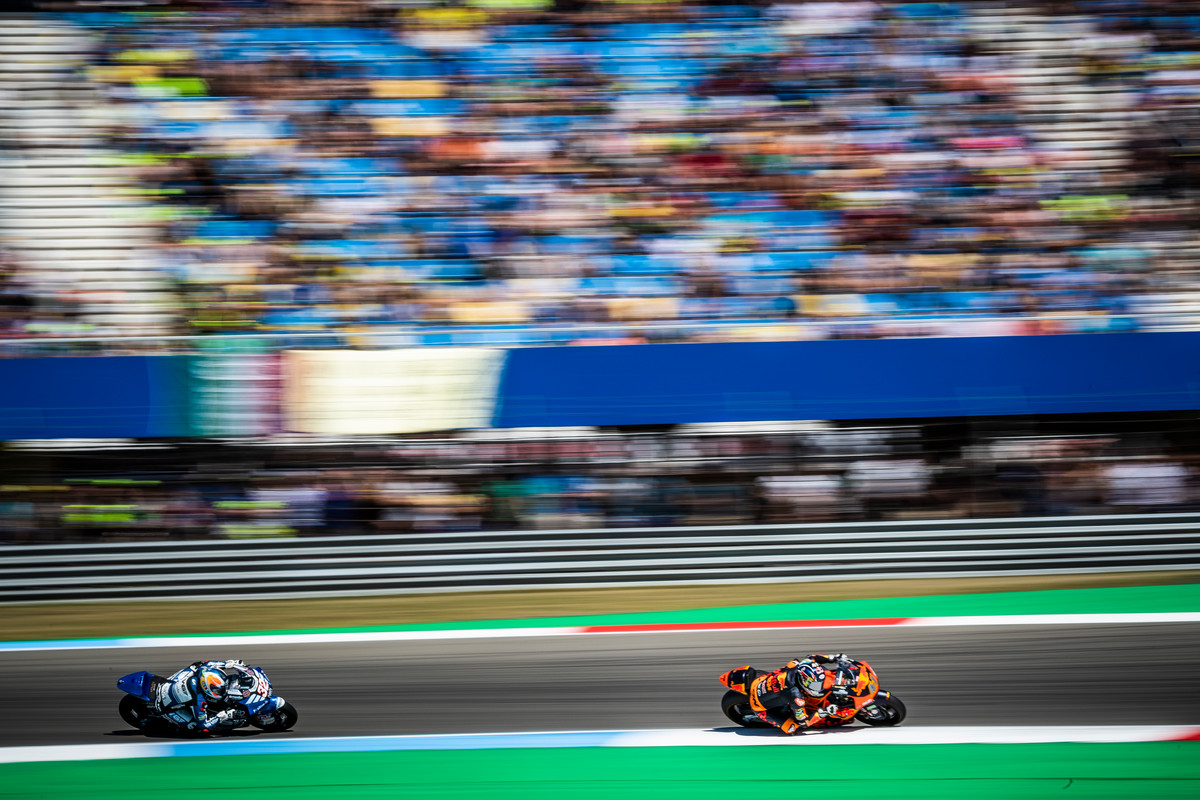 Miguel Oliveira once again decided to make life difficult for himself in the race by qualifying 17th. He was also 17th on the grid in Montmelo and finished second, but there are only so many times you can qualify in the back end of the top 20 and get away with it. Oliveira's pace has been good this weekend, anyway, so he can still make a good result, but he also needs to make a good start to be able to do so. Remy Gardner lines up on the back of row six.
Nineteenth place was taken by Iker Lecuona, ahead of Simone Corsi, although the Italian will start from last after riding into the back of Oliveira in Barcelona on the cooldown lap.
Domi Aegerter will start twentieth, Brad Binder 21st, Danny Kent 22nd, Bo Bendsneyder 23rd, Stefano Manzi 24th, Steven Odendaal 25th, Niki Tuuli qualified 27th (which would have been 26th) but might not be able to race because of a big high side at the end of qualifying. Eric Granado will be 27th Joe Roberts 28th, Jules Danilo 29th, Xavi Cardelus – who also crashed at the end of qualifying – will be 30th, and finally Federico Fuligni will start 31st.
Tetsuta Nagashima crashed yesterday, and was taken to hospital to have surgery on a broken finger. Hopefully he will be back in Sachsenring, although the doctors have to make a decision first.