Fabio Quartararo may have stunned everyone on Saturday with his first ever Grand Prix pole position, but on Sunday afternoon he sealed the deal, taking the victory. It wasn't a straightforward job for the Frenchman, though, as he had to recover from an average start that allowed Alex Marquez into the lead, as Fabio dropped to fifth in turn one, where the two Dynavolt IntactGP bikes came through with Pecco Bagnaia.
Whilst that was happening at the very front, Miguel Oliveira made his usual start: coming from a different continent to be in the front group. This time, the Portuguese went from seventeenth to seventh, and by the end of the first lap and a half he was fourth. After setting a series of fastest laps and picking his way through the field, he took the lead at turn ten on lap eight. Oliveira was unable to open up much of a margin, though, and when he ran wide at turn four with thirteen laps to go, Quartararo was soon underneath him.
From there, Quartararo went unchallenged, stretching away from Oliveira, making the Portuguese look almost amateur. Not only was Quartararo's victory unexpected, it was also masterful, dominating the field to the point where the question has to be asked: why only now? Quartararo's ability and speed has never been questioned, and after changes made to his personal management and training personnel have been clearly so successful, you have to wonder why it didn't happen sooner. Had it been so, he would likely still be at Pons HP40 and perhaps fighting for the Moto2 World Championship; or maybe he would be in the Estrella Galicia Marc VDS team having won the Moto3 title for them in 2016. Quartararo's story in Grand Prix racing so far has been one of 'what if's', and this win only increases that – but if the double Junior World Champion can continue in this form, and take more podiums and victories with Speed Up, his real future might just start to look as promising as his hypothetical one as it did in 2015.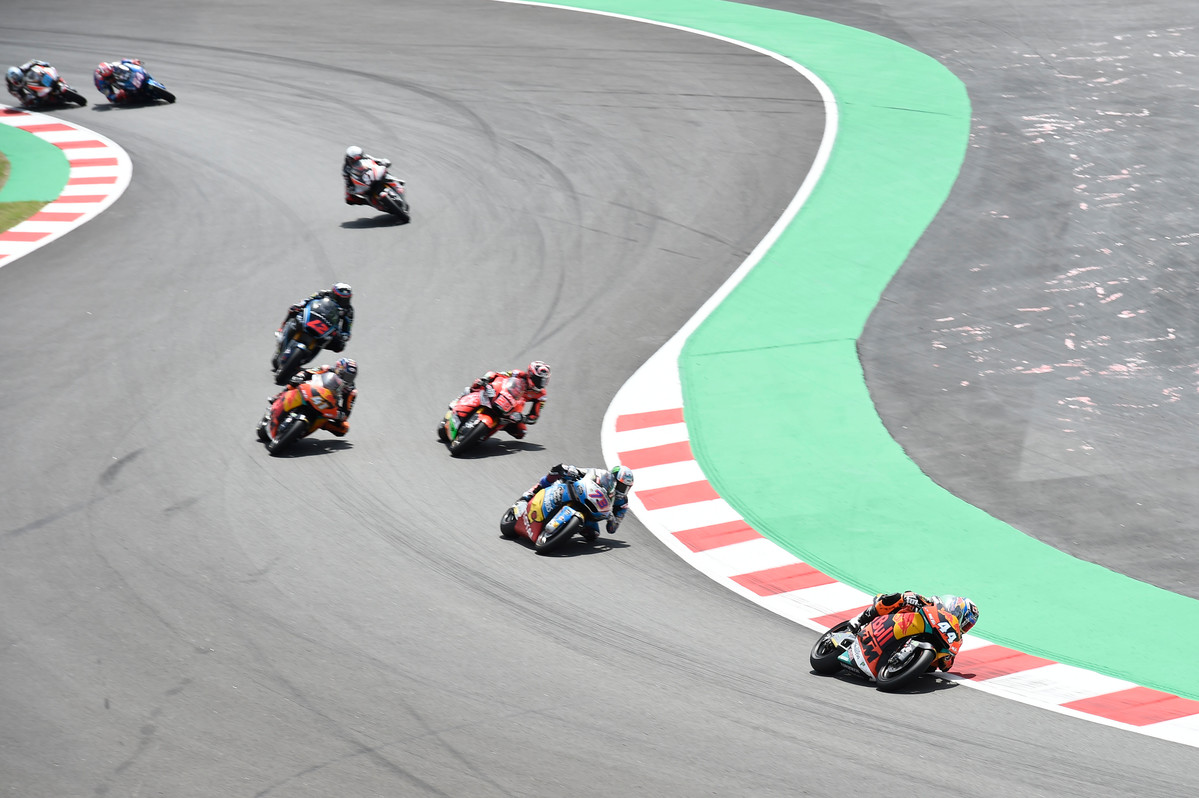 Oliveira may have had no answer for Quartararo on Sunday, but he still took second place and after starting seventeenth, it is probably fair to say that he should be reasonably happy with his performance. Crucially, he beat Bagnaia (by quite a bit) and cut the gap in the championship to just one point. Twelve rounds remain and we are pretty much back to square one in the intermediate class championship, and there are reasons to say that both Oliveira and Bagnaia are evenly matched as we approach the second half of the season.
Third place went to Alex Marquez. Whilst this meant he closed in, in the championship to be precisely one race win behind Bagnaia, but he will be disappointed to have missed the victory. Once more, Barcelona proved a race of unfulfilled promise for Marquez: quick in practice, nailed on for the win, only to find himself in more difficulty in the race, and dropping back in the end. Maybe a cooler Dutch climate can yield a first 2018 victory for the Spaniard.
The late-race drop off from Marquez this time brought him into the grasp of the two Dynavolt Kalex's of Marcel Schrotter and Xavi Vierge. Schrotter realistically should have beaten Marquez to the podium, in fact you could even argue that he had the potential to challenge Oliveira for second, but a mistake in the early phases of the race when he ran wide at turn one and dropped five or so positions. His fightback was strong, though, but still he will be frustrated to have missed the podium. It was not all bad for Marcel though, as he got a motocross jersey from American motocross/supercross star Adam Cianciarulo.
Vierge went under the radar in the race to end up fifth, which was quite a good result for the Spaniard after a weekend which was not straightforward. Three seconds back of Vierge was Brad Binder, who fell away from about the midpoint of the race onwards – for whatever reason he cannot manage the race distance as well as teammate Oliveira, although he can keep the leading pace fairly often in the beginning of the race.
Seventh place went to Lorenzo Baldassarri, who lost his third place in the championship standings to Marquez after this race. It had been a difficult weekend for Balda, and he will hope for more in Assen to try and keep himself in the championship frame. Nearly three seconds back of Baldassarri was a frustrated Francesco Bagnaia. It was a tyre problem which cost the championship leader a shot at the podium and maybe even the victory; after the race he put a photo of his tyre on Instagram, and it had a huge chunk of rubber missing from it. A frustrating race for the Italian but not a threatening one in the long run, his pace is not in doubt.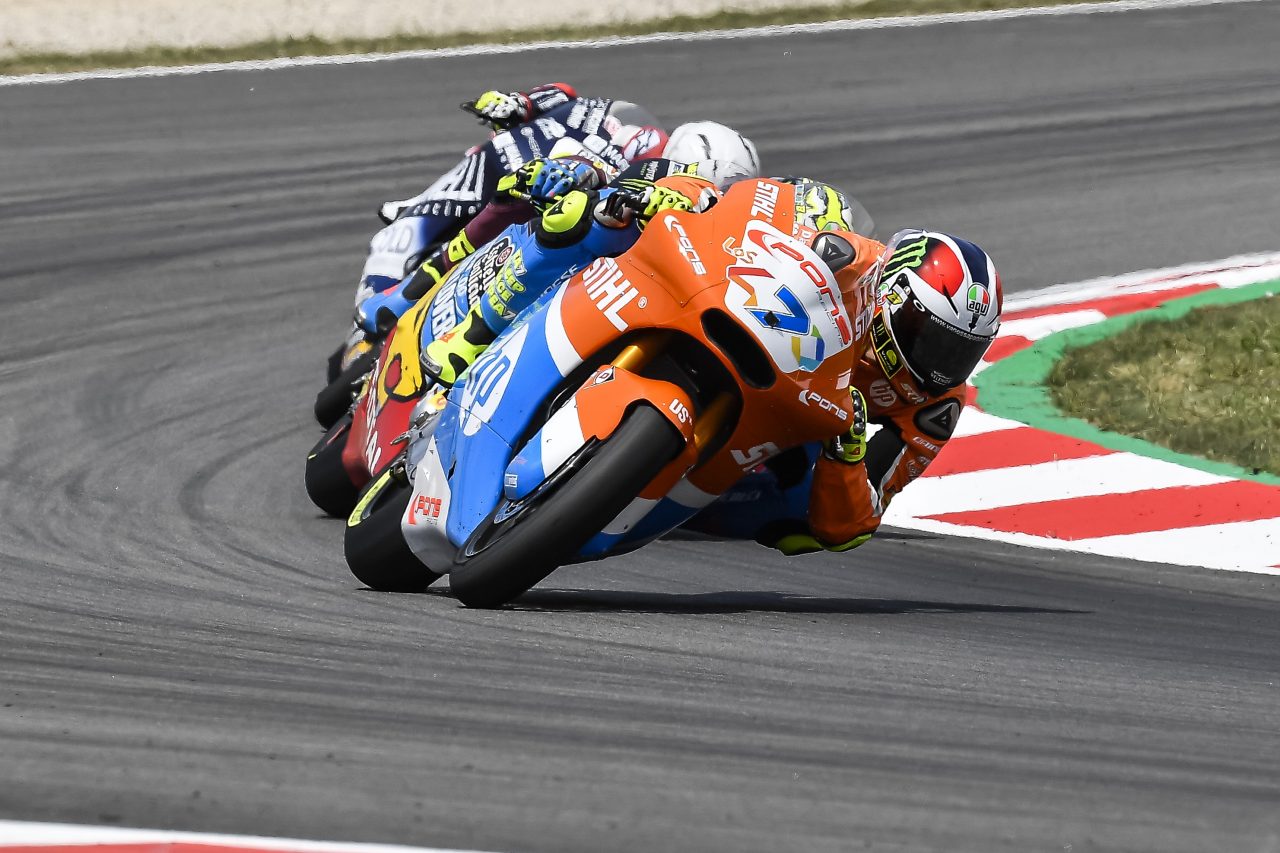 The extent of Bagnaia's struggles can be contextualised by the following: Sam Lowes had a fuel pump problem before the race began, and did not make the grid for the formation lap. This meant he had to start the race from last, rather than his qualifying position of ninth. By the end of the race, Lowes was only three seconds behind Bagnaia, and had recovered to his original qualifying position – ninth. It was a stunning race by Lowes, much of it off camera, but where he might have previously made mistakes and in the end had a poor result, he showed calmness and class in a difficult situation to make a good race. Credit has to go to his team manager, also, who was making a big effort to calm the Brit down before the race when everything looked so negative. In another team, Lowes might have crumbled. As it is, he can go to Assen in a good frame of mind.
It was Lowes' teammate, Iker Lecuona who returned to the top ten after a few difficult races, as he finished in P10 in his home GP.
Andrea Locatelli took eleventh place, ahead of Simone Corsi. But the drama for Corsi was not in the race, rather it came after the chequered flag. Corsi was looking everywhere other than in front of him after the race had ended, and when he looked up he was too late to react to the impending situation, and he slammed into the back of Oliveira on the run into turn one. Thankfully, neither rider was hurt in the incident, but Corsi received a back of the grid penalty for Assen; an understandable decision from the stewards.
Tetsuta Nagashima finished thirteenth, ahead of Augusto Fernandez on his return to Grand Prix racing in place of Hector Barbera. The fact that Fernandez was wearing fully liveried up Stihl Pons HP40 leathers strongly suggests he will remain with us in Grands Prix for the remainder of the season, which is no more than he deserves. Remy Gardner took an impressive point on his return from two broken legs as he rounded out the top fifteen.
Edgar Pons wildcarded this weekend and finished sixteenth, better than he ever managed, pretty much, as a full-time GP rider, and ahead of Luca Marini who may have felt better physically better on the bike this weekend than in Mugello but clearly did not have the feeling with the bike as he ended the race seventeenth. Eighteenth went to Steven Odendaal on the NTS, ahead of Khairul Idham Pawi in P19 and Domi Aegerter who completed the top twenty.
Danny Kent was P21, thirty seconds down on his race winning teammate, and then came Joe Roberts, a further seven seconds back, Jules Danilo, Dimas Ekky, and Eric Granado who was the final finisher.
Stefano Manzi, Niki Tuuli and Bo Bendsneyder all got caught up in an incident at turn four on the first lap which ended their respective races. They were joined on the sidelines by Jorge Navarro, Federico Fuligni, Joan Mir, Mattia Pasini (who crashed because of a gearbox problem), Romano Fenati and Isaac Vinales.
Featured image courtesy of Markus Berger/KTM