Jorge Lorenzo qualified on pole position for the Catalan MotoGP, with a stunning final sector on Saturday afternoon. It was his first Ducati pole and gave him the perfect opportunity to put his superior pace to use, and demolish the field as he had done two weeks previously in Mugello. His only real threats came from Marc Marquez and Andrea Dovizioso, who had shared similar pace with each other across the weekend and had the potential to upset Lorenzo's rhythm.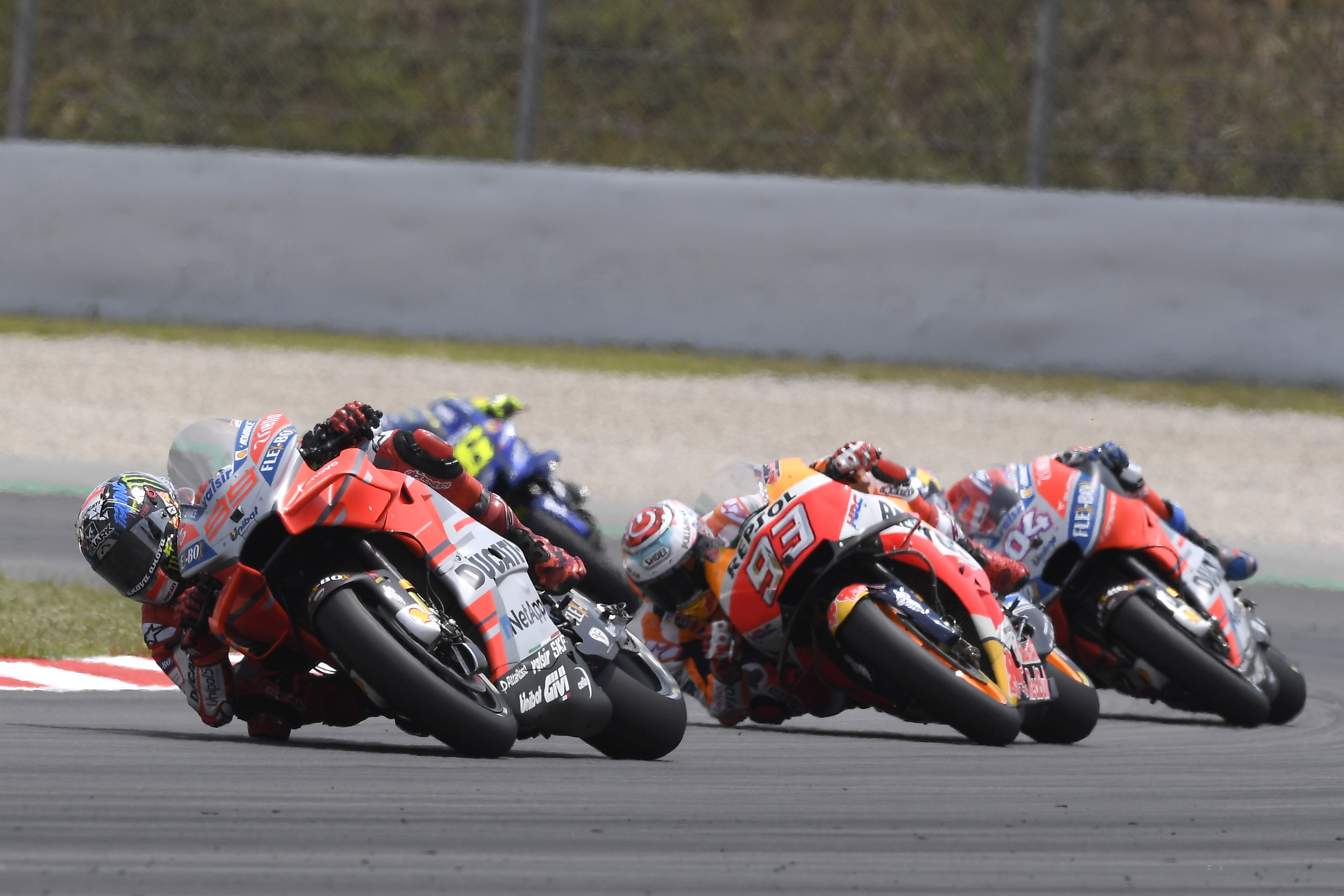 Marquez made a great start, whereas Lorenzo did not, and made it into first place, with the buffer of Andrea Iannone's Suzuki between him and Lorenzo. However, the number 29 ran wide when trying to pass Marquez for the lead on lap one in turn 10, allowing Marquez back through and the #99 Ducati into second place as well. This let Lorenzo line up perfectly a pass into turn one. Marquez defended the inside as hard as he could but Lorenzo was unstoppable on the brakes.
From there, Marquez tried to stay with Lorenzo and, despite looking at ease, he was clearly on the limit because, when Dovizioso crashed behind him at turn five on lap nine, he dropped the pace and let Lorenzo go by two seconds, preserving his second place and the twenty points that come with it.
Jorge Lorenzo's pace in this race was incredible. Between lap seven and thirteen, his lap times were separated by less than one tenth of a second, and over the whole race only 1.2 seconds separated his fastest time from his slowest. This was vintage Jorge Lorenzo and when he rides like that, there is no one person on the planet who can stop him.
Of course, demolishing the best riders in the world two races running opens up inevitable questions about a World Championship challenge. Can he do it? Probably not, but possibly. Over the past two races we have seen that Lorenzo has the pace to win races, the problem is that they were both at circuits he adores. We haven't yet seen how he might go at a circuit he is less suited to. Another problem is that he is forty-nine points behind Marc Marquez in the championship, and it's perhaps fair to say that taking two race wins out of Marquez and with twelve rounds left is not so easy. Furthermore, Lorenzo is not as consistent as Marquez. Where a bad weekend for Marc in the remaining races might be a fourth or a fifth, it could be a lot worse for Jorge, especially if the track conditions are neither wet nor dry. Speaking of which, Assen is next, the birthplace of Jorge Lorenzo's wet weather demons, courtesy of the crash he suffered in the Thursday practice at the Dutch TT back in 2013 in which he broke his collarbone. In the years since 2013, Lorenzo has only managed to podium in Assen once, in 2015 on his way to World Championship number five.
After Assen comes Sachsenring, another of Lorenzo's weaker circuits; and the other thing that Assen and Sachsenring have in common is that Marc Marquez loves them both: he has five wins in Holland and is unbeaten since 2008 in Germany. However, if Jorge can somehow keep the gap to Marquez below fifty points after the next two races, the ones which come after the summer break are far more favourable: Brno suits, both him and the bike, as does Austria. He goes well in Silverstone and the Desmosedici won there last year in the hands of Dovizioso.
Misano is the perfect place to be an enemy, Lorenzo's favourite role! Aragon is one of his best circuits during the season and he is the only one, other than Marquez to win there since 2013. In Japan too, Lorenzo moulds Motegi into his circuit by focussing on corner exit and acceleration from low speed, Phillip Island again suits his style, so long as it does not provide changeable conditions. He has always enjoyed Sepang and he was under the lap record there in this season's winter test and lastly Valencia is another of his best circuits. Thailand is a question mark, but in theory the Ducati should work quite well there. So, Lorenzo can fight for the championship, but the next two rounds can eliminate that possibility.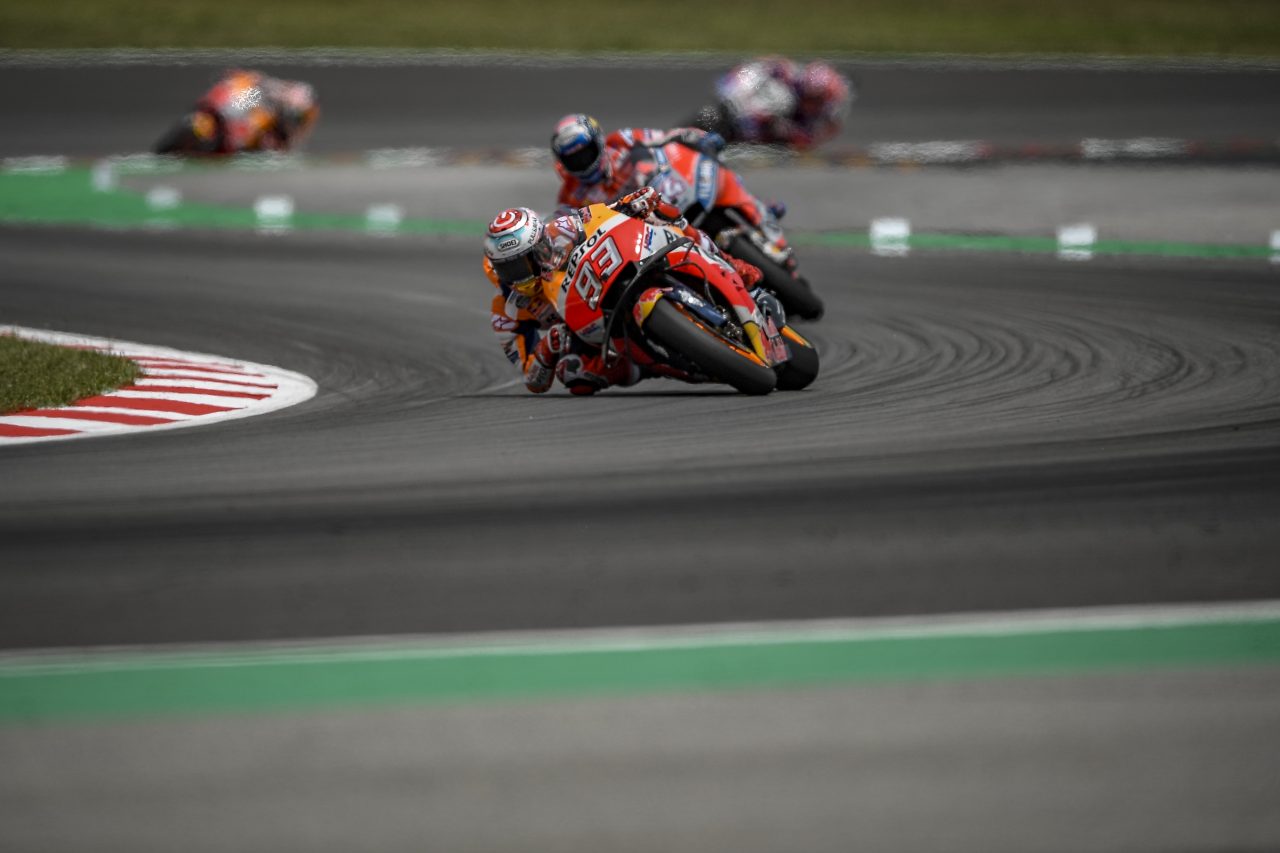 For Marc Marquez, the race was perfect. He missed the win, but that does not matter. After Mugello, Andrea Dovizioso had closed down the Spaniard's advantage in the championship to 29 points – a recoverable margin. But after Barcelona, Dovi is precisely as far back as Lorenzo: 49 points. Furthermore, Marquez's advantage over the factory Yamahas increased to 27 over Valentino Rossi, with Maverick Vinales a further eleven back. With Assen and Sachsenring being races Marquez can definitely win, he could have the title all but won by the summer break.
Valentino Rossi's race proved uneventful and yet it exceeded expectations. He did not have the pace of either of the factory Ducatis or Marquez, but the crash of Dovizioso allowed the number 46 to recover a podium position, more than he could have expected. In Assen next time out, it will be almost precisely one year since he or Yamaha last won a Grand Prix, but despite this the Italian is still in mathematical championship contention. There still needs to be more found from Yamaha with the acceleration of the M1, and what they tried in the Monday test after the race did not aid that, but with what he has there is no questioning the great job Rossi is doing, and in Assen you can never discount him.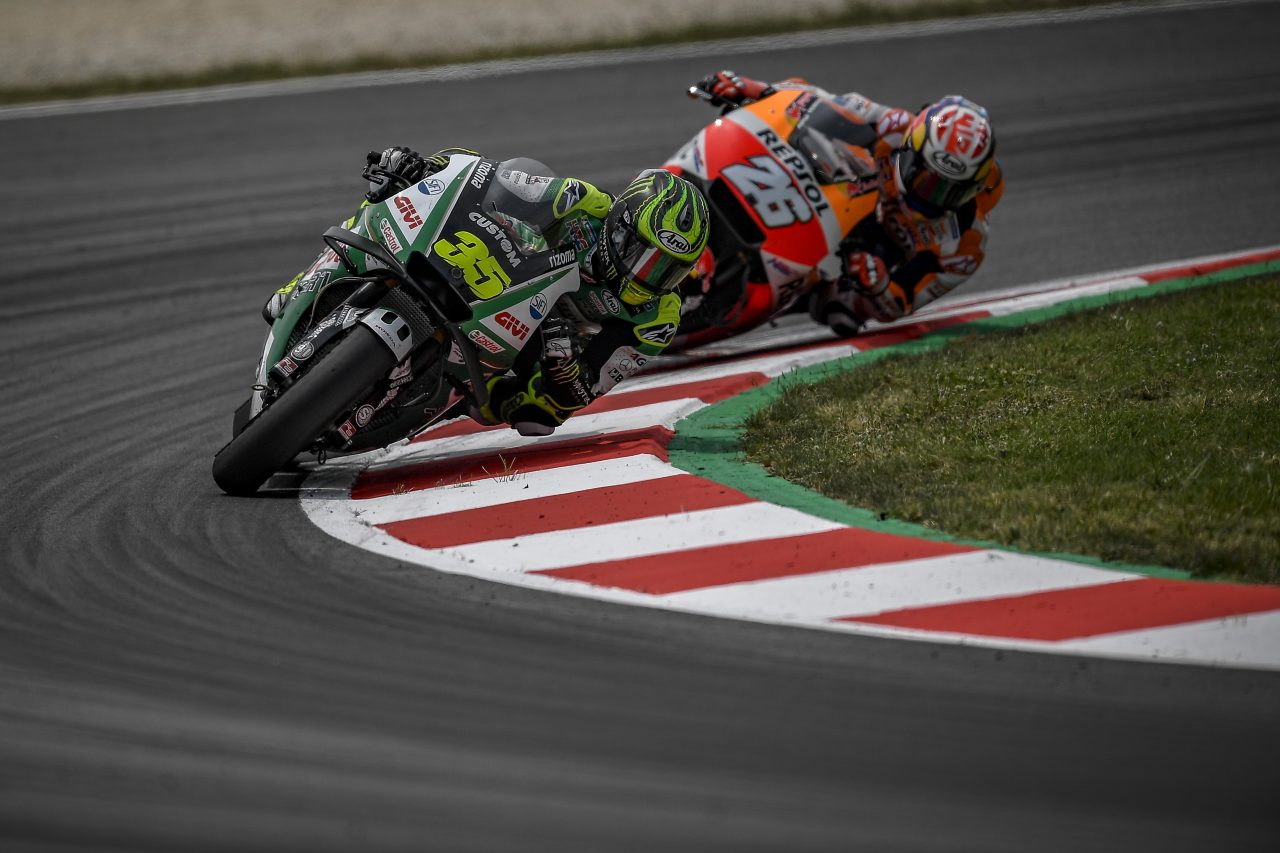 Cal Crutchlow finished fourth. He was embroiled in a mid-race battle with Dani Pedrosa and Danilo Petrucci, but upped and left just quick enough to evade the attentions of Johann Zarco and Maverick Vinales when they turned up in the fourth-place battle with just a few laps to go. In truth, it seemed that Cal could have finished on the podium in the first part of the race. He took over one second out of Valentino Rossi when he was chasing down Pedrosa and Petrucci, and dealt with the number 9 quickly, only for his charge to be halted by Pedrosa, whose defence was very strong. Crutchlow also ran wide in turn 10 at one point to hand the fifth position back to Petrucci, and that meant that it was only with seven laps to go that he passed Pedrosa for fourth place. He duly departed, but was too late to do anything about Rossi. Anyway, a fourth place finish from eighth on the grid was a good result for Crutchlow, especially as he went against the Honda grain by using the soft rear tyre.
Dani Pedrosa did a similar thing, using medium tyres front and rear, rather than the hard-hard combination which was more expected from the Hondas. This worked for him in the beginning of the race, because he had enough grip, but also enough support, to make a good pace. However, by the end of the race, he had no rear grip left – edge grip nor drive grip – so he had little to fight Crutchlow with. Even still, he positioned the bike very well, which is why it took Cal so long to get by the number 26, but in the end tyre grip won out, as usual, and Pedrosa wound up in fifth place, just ahead of Maverick Vinales.
And what a disappointing race it was for Vinales. Through the weekend he had spoken about how he had worked to be more comfortable in the race, how he felt he had found something for the first five laps. But he had no chance from the start, from which he put the M1 in reverse and fell through the pack to the back end of the top ten. Whilst his teammate, Valentino Rossi, and also Johann Zarco, are able to be aggressive in the first laps, Vinales is not, and this issue must be fixed if he is to win races. This is not a new thing, though, it was the same last year: in Qatar, he did not get going until halfway through the race. It was the same story in Argentina. In Assen he crashed trying to recover from a bad qualifying and a poor start and he could have won in Phillip Island had he started better. The difference is that now, these poor starts ruin his whole race because he cannot overtake – whereas he was able to still come through to the podium or even win in 2017 after a bad start, in 2018 he can go nowhere. The worst thing for Vinales is that it is only him having the problem, and whilst he is suffering with this, the other side of the Movistar Yamaha garage is enjoying its fourth podium of the year and third in succession. Something has to change in the #25 box, and quickly.
One positive for Vinales, is that he was three seconds clear of Johann Zarco at the end of the race, which didn't look remotely likely before Le Mans. Since then, though, the Frenchman has become a little bit invisible. It was somewhat expected in Mugello, because Johann struggled there last year, but in Barcelona, he finished fifth last year, so only seventh place this year seems a bit odd. But, next up is Assen, and for Johann that is the scene of his first MotoGP pole position which he took in wet conditions last season. Hopefully for him he can have another good weekend this year in Holland to get his season back on track.
Danilo Petrucci had a strong start to the race, but suffered towards the end, no doubt with tyre wear, and could only manage eighth place. seven seconds behind him was Alvaro Bautista who scored his fourth successive top ten finish with ninth place, a couple of seconds clear of the factory Suzuki of Andrea Iannone who had a bizarre race, going from challenging for the lead on lap one to being 24 seconds away from the win by the end, and down in tenth place.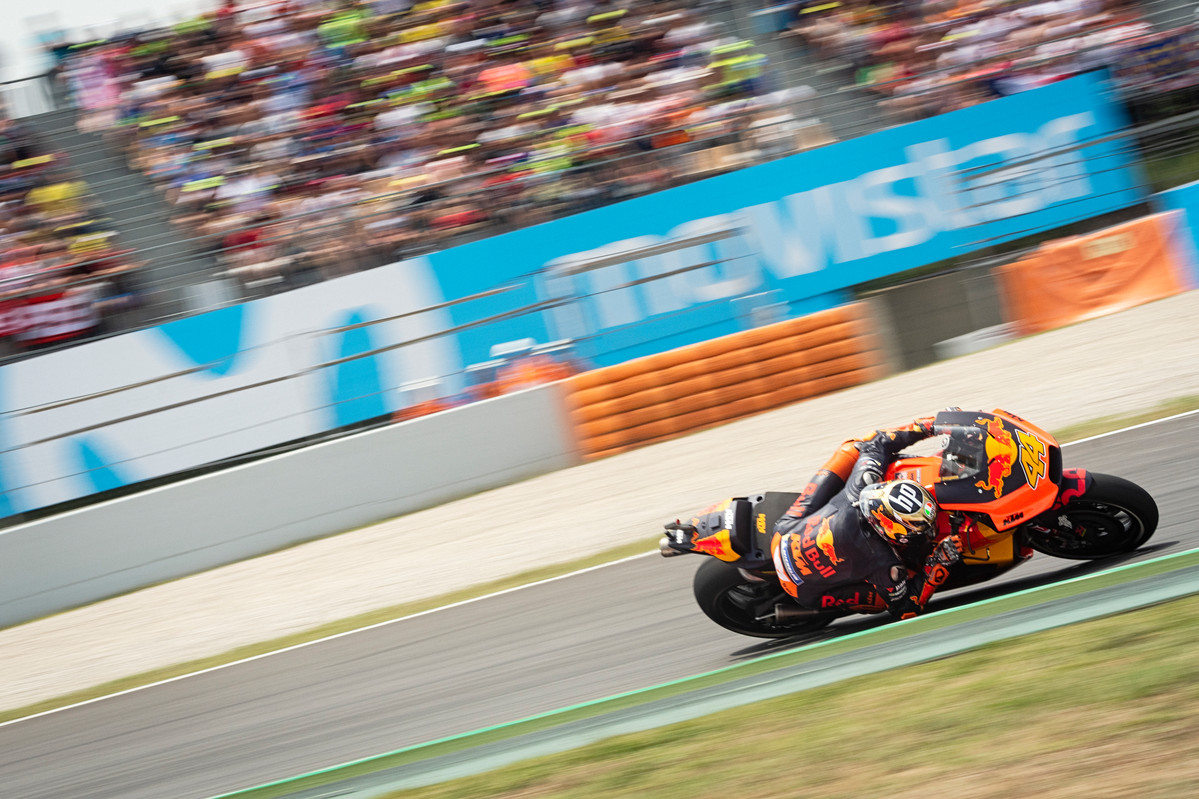 Pol Espargaro took KTMs best result of the season in eleventh place, ahead of Scott Redding who had a good race to twelfth – a good result after probably his best weekend on the Aprilia. Thirteenth went to Karel Abraham, who was the final finisher. Franco Morbidelli was fourteenth, but classified three laps down.
Only fourteen classified finishers leaves plenty of retirements: Mika Kallio was the first to go on lap one; then Sylvain Guintoli crashed out two laps later; Tom Luthi went one lap after Guintoli; Aleix Espargaro crashed one lap after Luthi; then came Simeon's exit with seventeen to go; one lap before Dovi crashed; then Rins retired with thirteen laps left; two laps later Taka Nakagami folded the front in turn five whilst trying to pass Bradley Smith, and took the British rider with him; Jack Miller crashed with seven to go; Tito Rabat' Ducati blew up one lap after Miller bowed out; and finally Hafizh Syahrin had a strange crash at turn four.
A race of attrition, then, in the premier class for the Catalan GP, but it was Jorge Lorenzo who came out on top. Can he continue this form in Assen, or will Marquez reclaim his authority in the 2018 World Championship?