The seventh round of the 2018 Moto3 World Championship looked, in the early phases, to be a fairly straightforward, uneventful affair, at least in the fight for the lead. Jorge Martin bolted immediately, only Tatsuki Suzuki able to go with the Spaniard. It looked set, Martin would win, eventually breaking the Japanese, and assume the championship lead.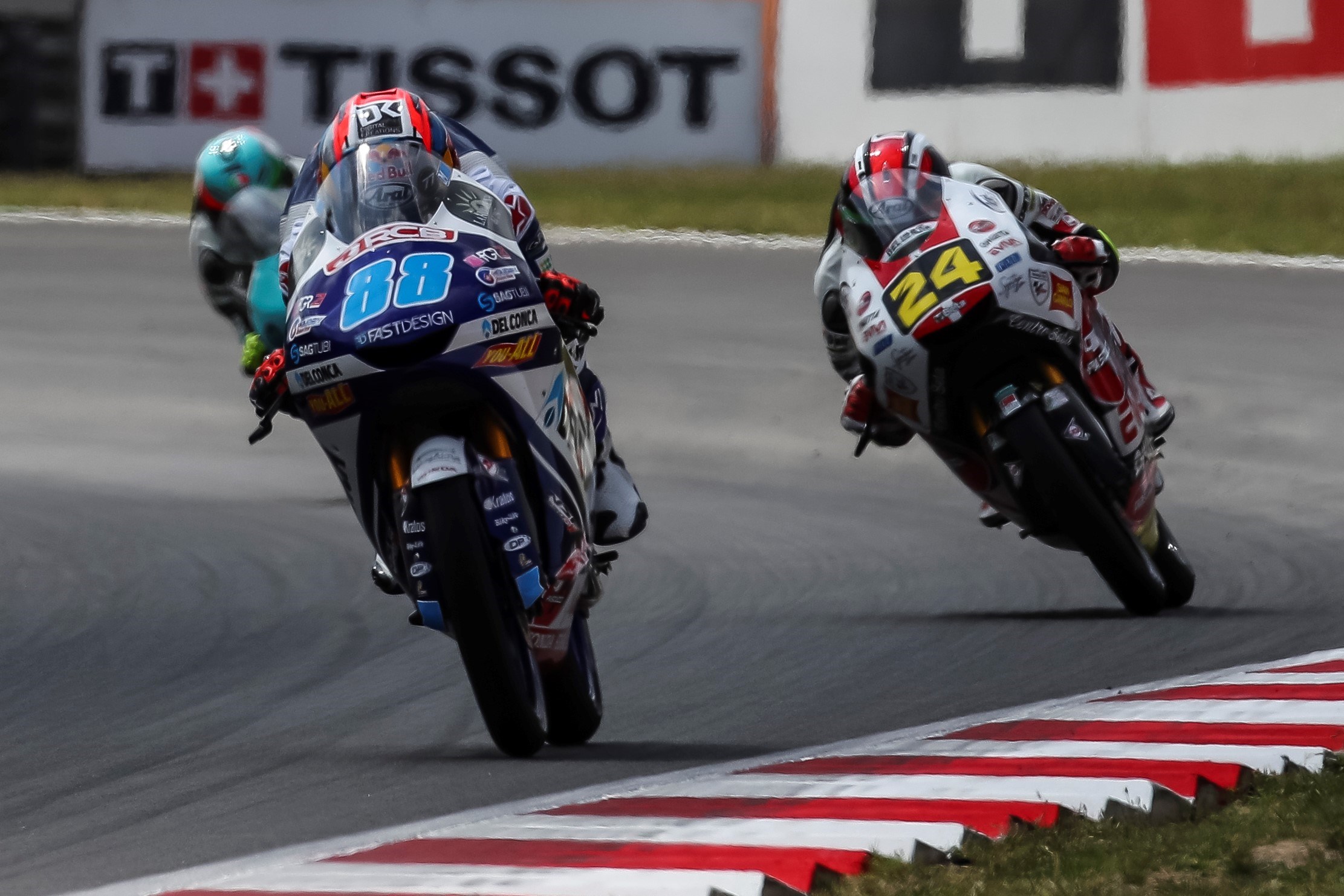 But it did not go like that. It was not Suzuki who faltered, it was Martin, crashing at turn nine on lap nine. He tried to re-join but the bike wouldn't allow it. Suzuki duly fell back to the chasing pack of about ten or eleven riders, unable to maintain the pace Martin had previously been setting which had been good enough to pull the pair clear.
The drama was not done there, though, as Aron Canet and Albert Arenas came together into turn four with six laps to go and took down Nicolo Bulega in the process. Bulega had returned to the front-running pace this weekend, and felt he had the potential to win the race. When he was taken out, he was angry and expressed that to Canet and Arenas who at the time were both lying on the floor; Canet eventually carried away on a stretcher whilst Arenas was able to walk off. Bulega's anger at the incident was understandable; he had finally gotten back to the front of a Grand Prix after spending all of last year at the back end of the top ten, and all of this year fighting for last, and crashing. That said, putting that before the safety of your competitors when they are clearly suffering is not perhaps the best way to go about things. Canet and Arenas were both largely unharmed in the incident, as was Bulega, and that is the most important thing.
The craziness did not end there: Jaume Masia made contact with John McPhee as a result of avoiding Marco Bezzecchi at the end of the pit straight. Masia lost control and collected Andrea Migno when he fell. Again, both riders were okay, but this time there was less anger in the gravel trap, and Masia was as apologetic as was to be expected, which Migno acknowledged.
That left five bikes in the leading group: Enea Bastianini, Marco Bezzecchi, John McPhee, Gabriel Rodrigo and Tatsuki Suzuki.
They had six laps to sort themselves out, and in those six laps it was Bastianini who took charge, and broke away just enough in the final stages of the race to put himself out of danger into the final corners, as he took his first win of the season, and first since Motegi 2016 when he beat Brad Binder with some stunning late-race pace. This win was different, though, for Enea, because it was his first outside of Gresini, and it also brought him into championship contention. He climbed up to fourth in the championship, and now sits thirty-five points behind table-topping Bezzecchi, but, perhaps more importantly, twelve points behind Jorge Martin who still surely has the be the championship favourite. There are another four points in front of Martin to Fabio Di Giannantonio, but the Italian's poor weekend in Barcelona showed a weakness in his season which could cost him in November.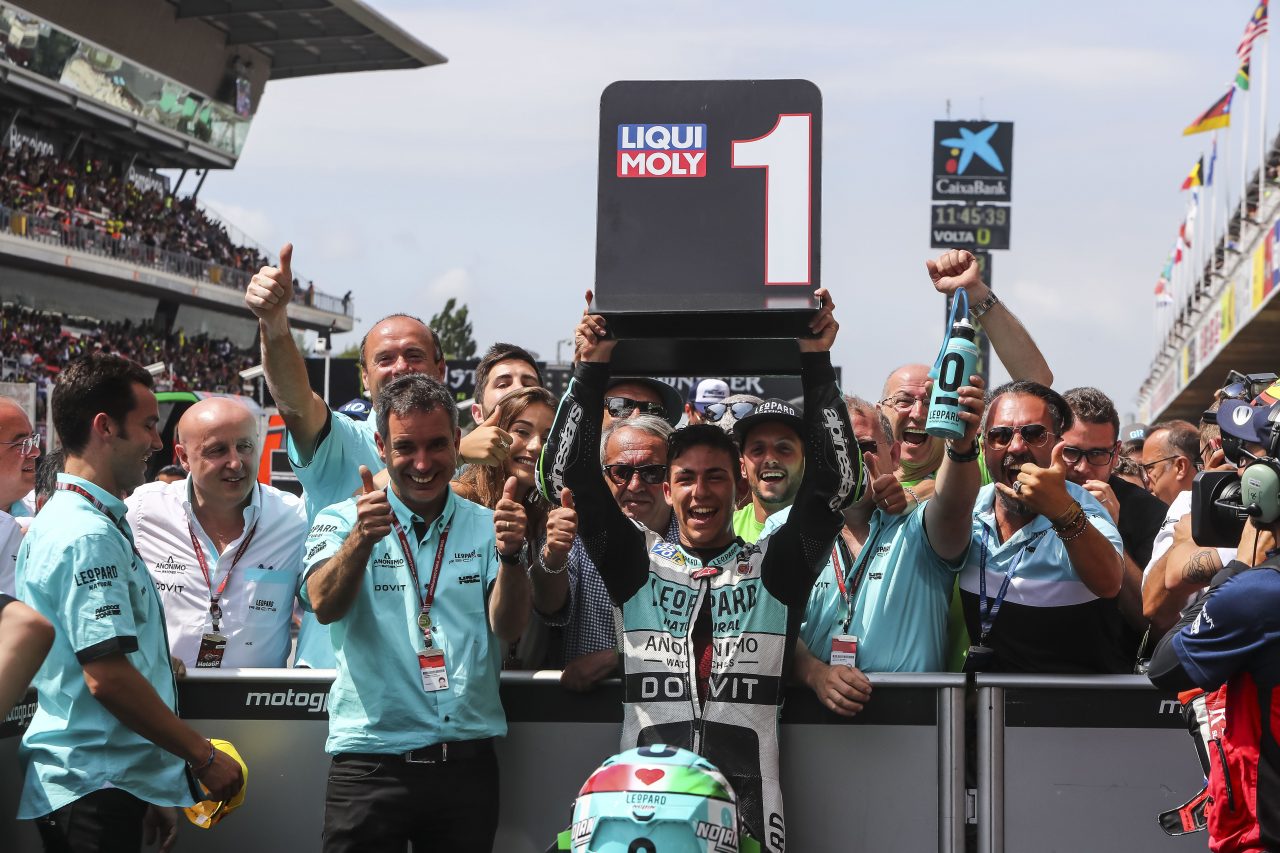 So, Bastianini is back in the championship hunt with this victory, but it is Marco Bezzecchi who remains atop the standings after he snatched second place from Gabriel Rodrigo on the line. It had been a tough weekend for Bezzecchi, struggling to find a good feeling with the PruestelGP KTM across all three days, but he still managed to arrive in the podium, showing his strength and potential in this season – even when things aren't quite correct, Bezzecchi manages to be there and score important points for the championship. His strength is his consistency, and this is highlighted by the statistic that the Italian has finished on the podium in every race which he has finished. Bezzecchi is in the championship hunt 100%, it's just hard to believe he can be there at the top until the end.
Third place went to Gabriel Rodrigo, who claimed his first podium of his Grand Prix career. There is no doubt that Gabri deserves this, he has been challenging near the front for a few seasons now, only for crashes to take him out of contention. Unfortunately, crashes are still a big part of his racing, but if he can find a way to finally phase them out somewhat, he can be a regular podium contender.
John McPhee took fourth place, his best result of the season, and it shows what he can achieve when he makes a good qualifying. As he becomes more in tune with the CIP-Team Green squad, surely results such as these will only become more recurrent for the Scot, as he surely looks to find himself a Moto2 ride for next season.
The only man who could match Jorge Martin's pace at the start of the race, Tatsuki Suzuki, could in the end only manage fifth place. Still, it is a much better result than he picked up in Mugello, and also his best result of the season – his previous best being sixth in Le Mans. Kaito Toba led the second group home, with a sixth place finish, his career best, ahead of Di Giannantonio who recovered from running off track at turn five to finish seventh and move into second in the championship. Alonso Lopez came from the back of the grid to finish eighth in the second of his four home races; Dennis Foggia took his first top ten finish as a full-time Grand Prix rider with ninth palace which is a good result from a difficult weekend; and Raul Fernandez rounded out the top ten, which is very impressive from the Spanish wildcard – surely we will see him in the GP paddock full-time next season.
Eleventh place went to Jakub Kornfeil, ahead of Makar Yurchenko, Adam Norrodin, Nakarin Atiratphuvapat and Livio Loi rounded out the points. Philipp Oettl was sixteenth and the seventeenth and final finisher was Lorenzo Dalla Porta.
Darryn Binder was the first retirement on lap one. He was joined on the side lines by: Kazuki Masaki, Jorge Martin, Marcos Ramirez, Ayumu Sasaki, Tony Arbolino, Albert Arenas, Aron Canet, Nicolo Bulega, Andrea Migno and Jaume Masia.
Featured Image courtesy of hondanews.eu