In 2015, Fabio Quartararo came into the Moto3 World Championship with the Estrella Galicia team as the next big thing, and a double CEV Moto3 champion. The rules were changed for Quartararo, to allow champions of the Moto3 Junior World Championship to graduate to the World Championship from the age of 15, rather than 16 years. But a broken ankle in Misano 2015 pretty much ended his year, and a move to the Leopard team, who won the 2015 World Championship with Danny Kent, as well as KTM machinery hindered the Frenchman's progress. He had an awful 2016, not even reaching the podium. Fabio then went to Moto2 in 2017 with the Pons HP40 team, but was fired from the team at the end of the year after another tough season. Speed Up was the destination for Quartararo for 2018, and up to now, he was looking pretty ordinary: 20th in Qatar, 22nd in Argentina, 15th in Texas, 10th in Jerez, 8th at home in Le Mans, and 11th last time out in Mugello. There has clearly been progress, but nothing which you might say is pointing to something special.
However, since Quartararo arrived in Barcelona, he has been rapid. He may have been only 23rd fastest in FP1, but that was only 1.1 seconds of the top time; then in FP2 he was third; FP3 he was eighth and in qualifying he took his first ever Grand Prix pole position, and Speed Up's tenth their relatively short history. It was a brilliant lap by Fabio, and completely unexpected – he has been nowhere for two-and-a-half years and all of a sudden he arrives on pole position, and by over one tenth which is a huge rarity in Moto2. His consistency over the weekend points to promise for Sunday, but he really is an unknown quantity, it is difficult to say what he can achieve.
Alex Marquez and Marcel Schrotter join Quartararo on the front row, Marquez having looked strong all weekend and Schrotter similarly. For Marquez, tomorrow is crucial; with the championship falling away from him he needs to take a lot of points out of the championship leaders and tomorrow offers a good opportunity to do just that, with some unusual names seemingly able to mix it with the typical front runners. A win tomorrow could launch Marquez back into contention.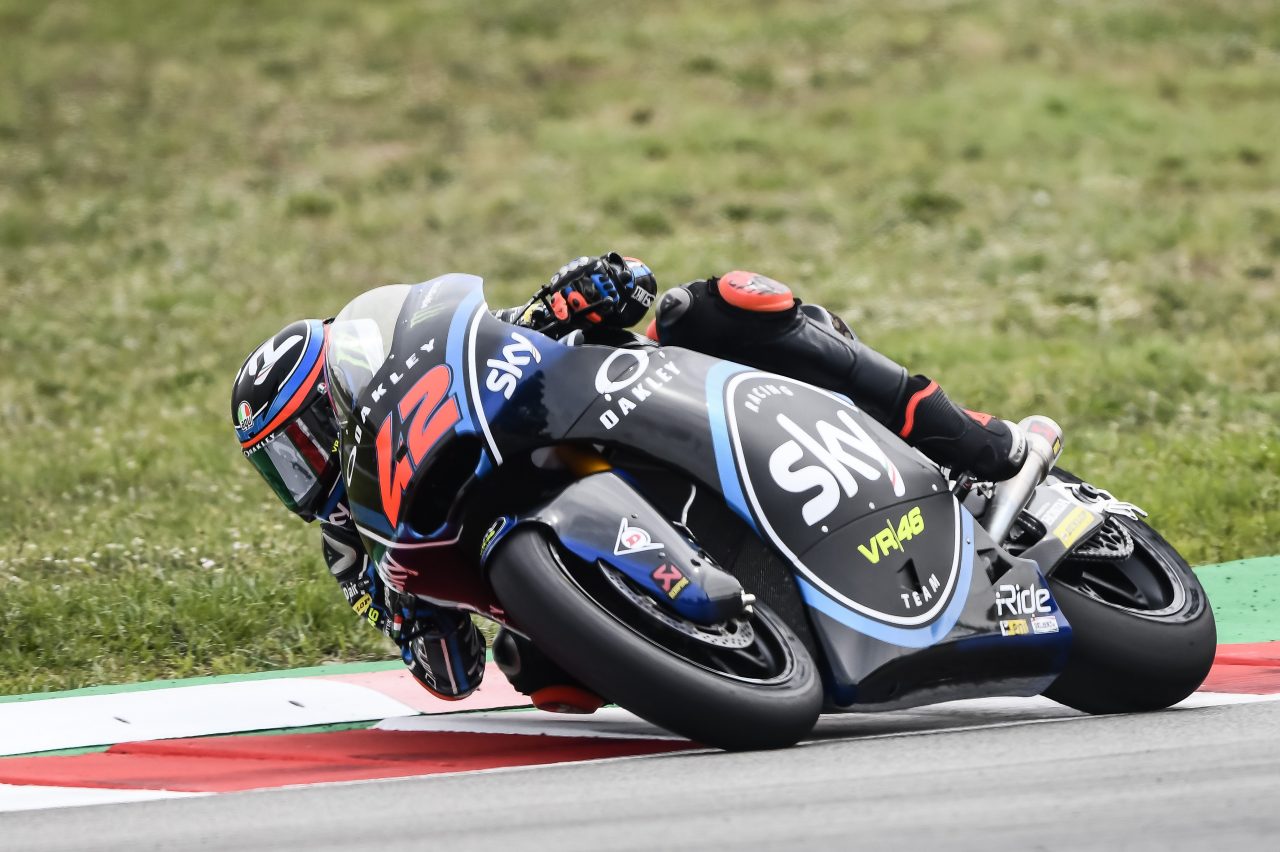 Championship leader, Francesco Bagnaia, will aim for his fourth victory of 2018 from fourth on the grid – an omen? As you might expect, Bagnaia has looked fairly risk-free and still blisteringly fast all weekend. He may have missed the front row today but this seems to be the type of race which suits Bagnaia perfectly, as he tends to have a little bit extra on his rivals, at least those on Kalex chassis', when it comes to tyre conservation. This advantage could prove vital tomorrow, and Pecco will be keen to return to the rostrum after missing it at home in Italy two weeks ago.
Brad Binder will line up fifth for tomorrow, and is another rider who has looked consistently quick this weekend. The South African is still without a podium in 2018, and tomorrow's race seems like it could offer a great opportunity for him to change that, now he has finally made a good qualifying. The final spot on the second row will be taken by Mattia Pasini, who has not been so consistent this weekend, but might just be able to sneak a decent result if he can make a good start and get his defence on.
Xavi Vierge has not had such a stunning weekend, but nonetheless made the head of row three in qualifying, ahead of Joan Mir, who is surely aiming for a third consecutive podium, and Sam Lowes who will just want a solid points haul after a torrid beginning to 2018.
Lorenzo Baldassarri has not had the pace you might have expected so far this weekend, and only managed tenth place in qualifying. He needs to make some changes in warm-up on Sunday morning if he is to take a result which can help his championship. Joining the number seven on row four are Simone Corsi and an impressive Tetsuta Nagashima.
Luca Marini is in better physical condition than in Mugello, where he managed an impressive seventh place, but could still only manage thirteenth place and the head of the fifth row in qualifying. Iker Lecuona and Romano Fenati join Marini on row five.
Andrea Locatelli and wildcard Edgar Pons will be either side of persistently poor qualifier Miguel Oliveira. Fortunately for Miguel, it never seems to matter if he qualifies in the depths of the top twenty, because he always makes a stunning start and first laps. From eleventh in Mugello he won, but tomorrow, from seventeenth will be tough for the Portuguese. He will need to make the most of the long run to turn one from the grid if he is to make a good result tomorrow. But, if he can get to the top ten early, he might just be able to use the KTMs impressive tyre management to his advantage and come through to the top five or even the podium. One thing is for sure, Oliveira is not particularly intent on making these races easy for himself.
Jorge Navarro disappointed with only nineteenth on the grid, but did beat Hector Barbera's replacement, Augusto Fernandez who has been incredibly quick this weekend but for whatever reason could not replicate his pace in qualifying. Barbera is out because he has been sacked from the Pons HP40 team due to a drink driving incident in the week, and the decision of the team is entirely understandable, and indeed correct.
A little bit about Fernandez: he was riding a Superstock 600 Yamaha R6 in the European Moto2 Championship (effectively the STK600 in European Moto2 is like a race within a race, think European Supersport Cup), and riding it well, until he got on a Moto2 Tech3 Mistral 610 at the Aragon round of the European Moto2 Championship back in 2016, at which point he immediately launched himself into victory contention. Last year, he was drafted into the Speed Up team to replace Axel Bassani, but he was dropped from Speed Up this year and has since been riding a private Suter back in the European Championship again, on which he challenged Jesko Raffin (on a Kalex) for the win last weekend in Barcelona. It's fair to say Augusto is trying to make the most of this opportunity with the Pons team, and hopefully he does enough for them to keep him. Isaac Vinales rounds out the seventh row.
Khairul Idham Pawi and the returning Remy Gardner are in front of Domi Aegerter on row eight; then Steven Odendaal, Bo Bendsneyder and Danny Kent (1.681 off Quartararo) will make up row nine; Joe Roberts, Niki Tuuli and Dimas Ekky row ten; Stefano Manzi, Eric Granado and Jules Danilo row eleven; and Federico Fuligni is the final rider on the grid and the only one on row twelve.
Interestingly, Manzi on the Forward Suter was only 0.020 seconds faster than Fernandez' time last week, and his teammate Granado was 0.025 seconds slower than the Spaniard.