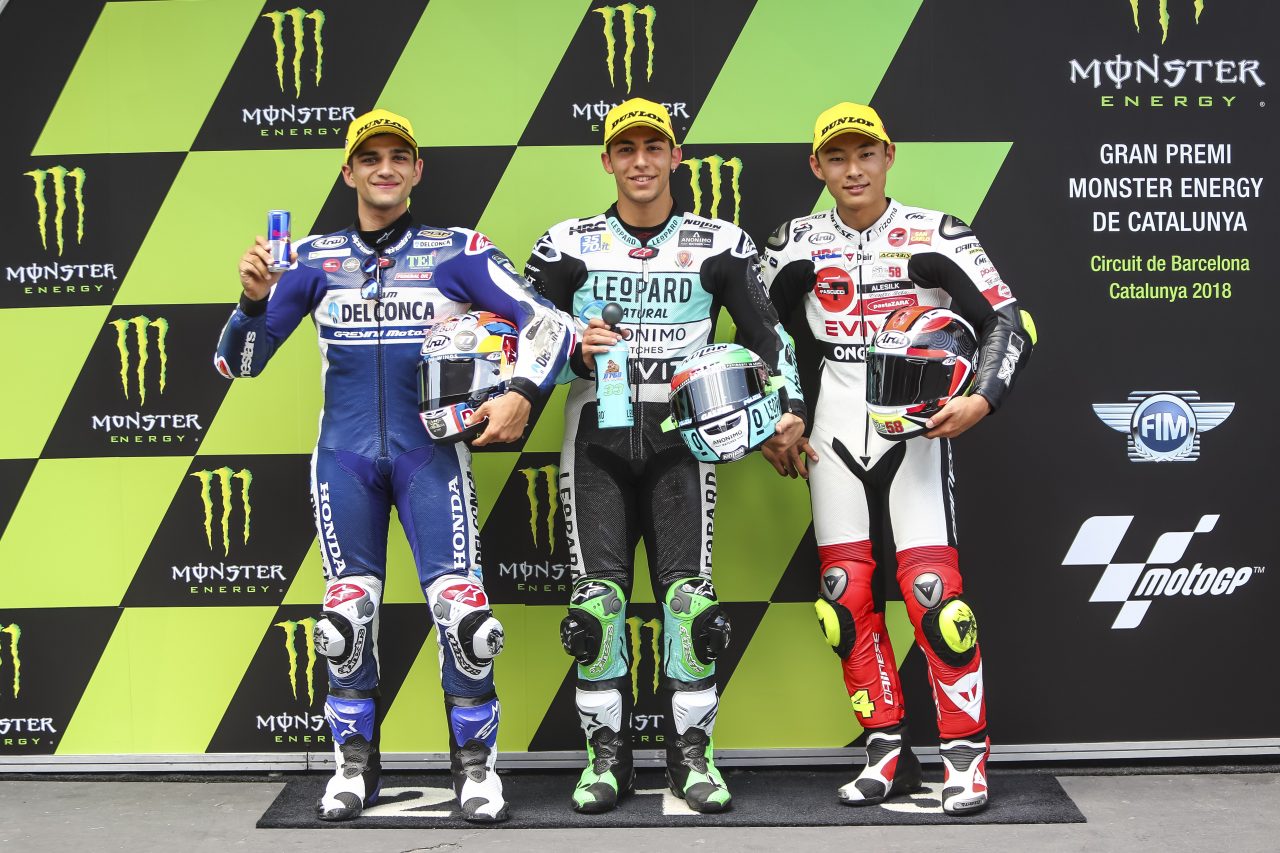 It's been a difficult start to the season for Enea Bastianini, he is over forty points off the championship lead and has only finished three races. But, in true "La Bestia" style, he turns it all around in Barcelona, the scene of his first World Championship podium back in 2014. This time, he's come back with a pole, his first since 2016 and first (obviously) with the Leopard Honda squad. The pace has been there all weekend, too, so perhaps this is the weekend for Enea to recharge his championship challenge.
Of course, Bastianini on pole means Jorge Martin does not receive the Pole Position Award (a genuine surprise) and this was mostly due to traffic. Put simply, Martin got unlucky, and Bastianini the opposite. In fairness, the traffic Martin encountered was, for the most part, doing nothing wrong. But anyway, Martin has the potential to perhaps do what he tried in Mugello: break the pack. In Italy, his teammate, Fabio Di Giannantonio, and Marco Bezzecchi went with him, but they haven't had such strong pace this weekend. Maybe Bastianini can go with Martin, but that might be about it.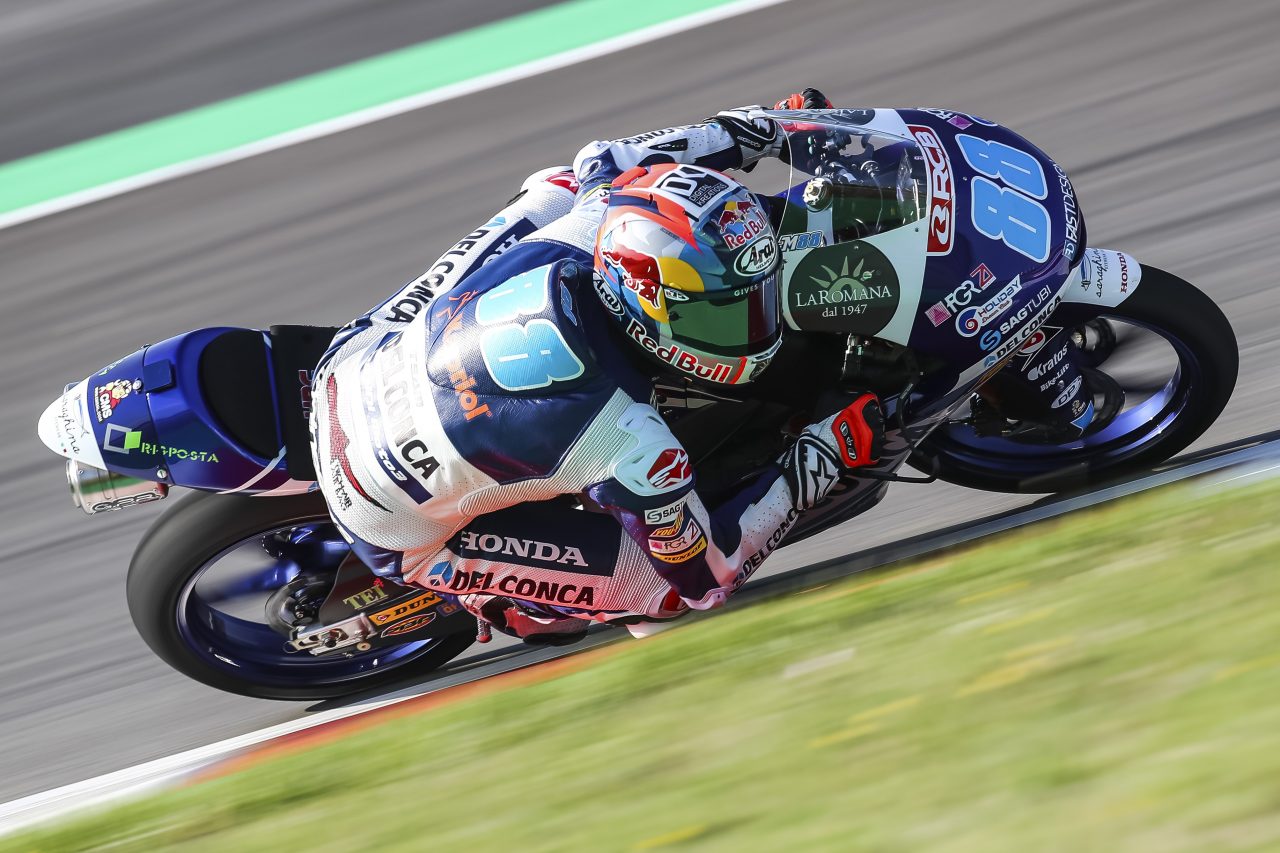 Tatsuki Suzuki will be hoping to make more of his front row in Barcelona than he made of his front row in Mugello, where he finished seventeenth. Ayumu Sasaki joined Suzuki on the front row in Italy, and finished one place ahead of the Sic58 Squadra Corse rider, so will have a similar aim. Aron Canet and Kaito Toba – impressive again – round out row two.
John McPhee finally had a decent qualifying, and he will start from seventh place tomorrow on the CIP KTM, and joined by Gabriel Rodrigo and Marco Bezzecchi on the third row. Not a great qualifying for Bezzecchi, championship leader, but he has looked decent this weekend, and will still have hopes of a podium finish for tomorrow and limiting the damage done in the championship done by Martin.
Lorenzo Dalla Porta heads up row four, from Kazuki Masaki and Nicolo Bulega, who is, apparently, back. Bulega has had a miserable year, and actually it even goes back to last year where he had a best position of fourth. But the Italian showed some good signs in Mugello, and this weekend he has been very quick, often in the top ten. Unfortunately, a mistake in the final sector cost him almost one second, and so he will have to do what he can from the back of the fourth row tomorrow; but a podium is not entirely out of the question tomorrow for Bulega, and that is something pretty much everyone expected they would not be saying (or writing) at any point this year.
If it was a bad qualifying for the championship leader, Marco Bezzecchi, it was even worse for Fabio Di Giannantonio. The Italian has been struggling all weekend, never in the top ten, and a crash in the early stages of qualifying got his session off to a bad start, from which he could only recover to thirteenth. He only had one run, in the end, as it took the Gresini team almost the whole session to repair Diggia's bike. He has a lot of work to do tomorrow.
Jakub Kornfeil and the impressive wildcard, Raul Fernandez, round out row five. Interesting to not that Fernandez, in the Angel Nieto Team, was ahead of both his teammates, Andrea Migno and Albert Arenas.
In fact, Migno finished qualifying in sixteenth place, ahead of Jaume Masia and Philipp Oettl on the sixth row. Albert Arenas heads up row seven ahead of Darryn Binder and Adam Norrodin, whilst Tony Arbolino is ahead of Makar Yurchenko and Alonso Lopez on row eight. Row nine sees Marcos Ramirez ahead of Dennis Foggia and Livio Loi; whilst Vicente Perez and Nakarin Atiratphuvapat complete the grid.
Niccolo Antonelli did not run in qualifying, because he dislocated his left shoulder in a crash at turn two in FP3 in the morning.