After taking his first Ducati win two weeks ago in Mugello, Jorge Lorenzo today took his first Ducati pole position with a stunning 1'38.680 at the death of Q2 to beat Marc Marquez. It was Jorge's 40th pole position in the premier class and 66th in all classes, and as a result we can fairly safely assume that Mr. Lorenzo is 'back'. A shame for Ducati; they wouldn't have minded too much if Mugello proved to be a one-off, but it seems that Lorenzo really has solved the Desmosedici puzzle, and about two weeks too late for him to remain in Ducati. But can the number 99 win tomorrow? Well, possibly. His race pace this weekend has been the best of anyone, and by a reasonable distance. However, tomorrow will show the reality of the situation regarding the effectiveness of the modified fuel tank Lorenzo had asked for so insistently. It worked in Mugello but only tomorrow will we see whether that is transferable to other tracks. If he is there until the end, it works generally, if he falls back again like in Le Mans, there is still more to be done. But, ultimately, Jorge Lorenzo should win tomorrow.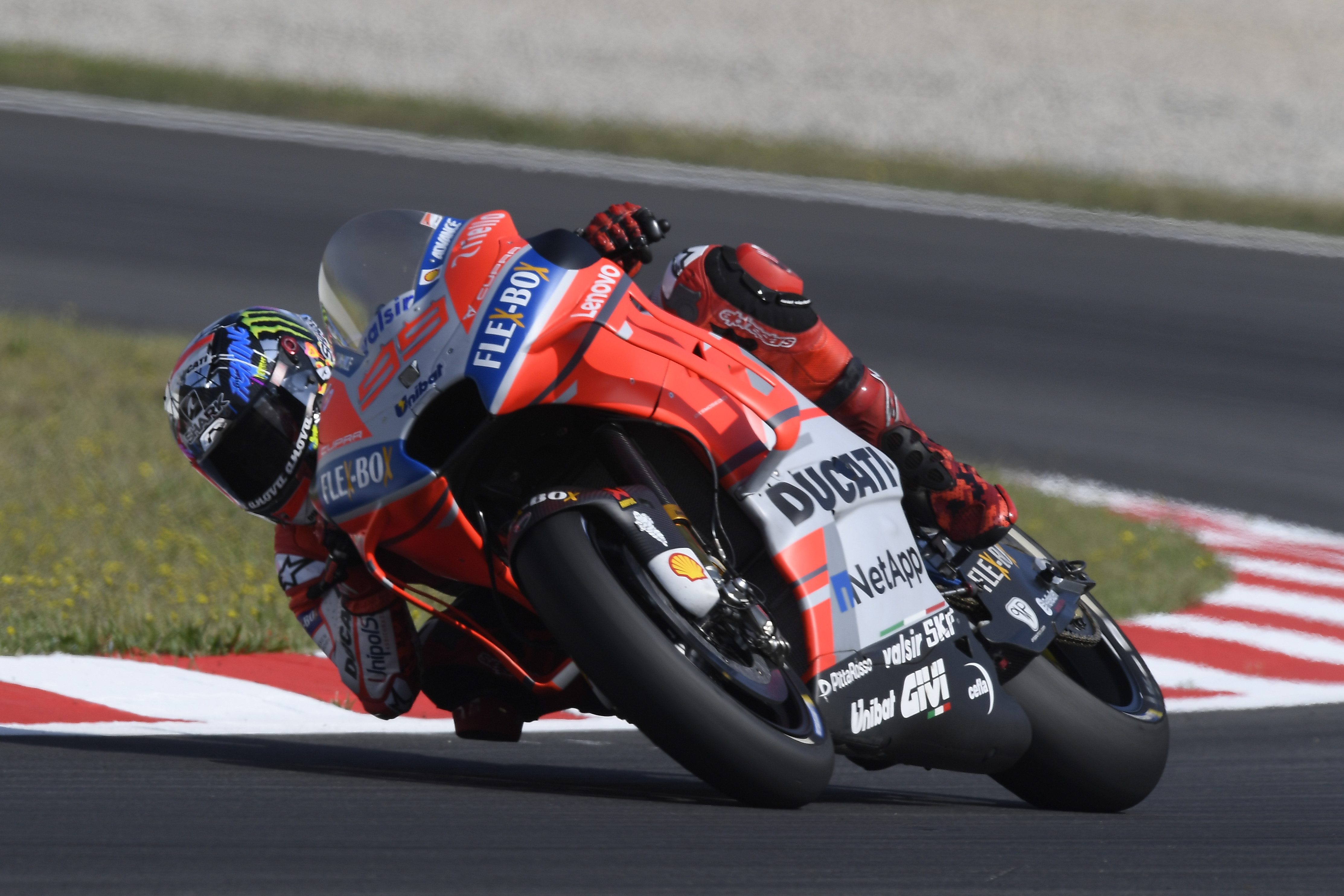 However, it won't be entirely simple, being MotoGP an' all. For a start, Marc Marquez is starting alongside Lorenzo on the front row of the grid in second place. Leaving aside the longest front end slide to be save in all of history, Marquez' day was pretty flawless. Sure, it looked more difficult for him to make lap time than it was for the likes of Lorenzo, but when does Marc Marquez, or any Honda rider for that matter, look as though he isn't on the brink of a crash at every corner? The answer would be never. From this, it is perhaps possible to say that the Honda is not necessarily a more rounded motorcycle this year, but it is perhaps better at doing what it was already good at. Either way, that save was a stunner, and so was his qualifying, coming from Q1 – after a crash in FP3 cost him a final time attack to make Q2 directly from the combined free practice times – to so nearly take the pole position; if he had done it he would have been the first rider to ever come from Q1 to make pole position in MotoGP (Tom Sykes took pole in Sepang 2016 for World Superbike after coming from Q1).
But the most important for Marquez is that he is in the front row. If he can get in front of Lorenzo and stay in front tomorrow, he can definitely take the fight to Jorge. Perhaps critically, it seems again like Marquez can run the hard rear tyre. He had a few off-throttle slides on it, but his pace was good, so it depends on two things: track temperature and whether Marc wants to take the risk. The second point is almost invalid. It's also worth pointing out that whilst he was strong on the soft tyre, Marquez also seemed quite comfortable on the soft compound rear that most of the rest of the field seem intent on running tomorrow afternoon. Marquez looks strong, but it will be important for him to break Lorenzo's rhythm.
Marquez proved to be the Honda meat in a Ducati front row sandwich, as Andrea Dovizioso recovered from a difficult first run in Q2 to make the front row in his second flying lap. He was a way off, three tenths separating Dovi from teammate and polesitter Lorenzo, but Dovizioso has never been a pole hound, and you know that he has been working on race pace all weekend. Again, like Marquez, it seems like he can run either the hard or the soft rear, although you get the feeling he would rather run the soft – as we know, the Ducati works best when there is good grip. With all the glory Lorenzo has enjoyed in the last races, it will be important for Dovi to re-establish his dominance in the factory Ducati garage tomorrow. He can win, but it would be a surprise.
Fourth place in qualifying went, arguably surprisingly, to Maverick Vinales. First of all, P4 for Vinales in a qualifying at Barcelona with 50 degree track temperatures shows Yamaha are making progress with the issues which the M1 has, and this is very promising for them for both tomorrow and the rest of the season. Through all the weekend, Maverick has looked good, and more importantly has been constantly favouring the soft compound rear tyre. Especially in comparison to his teammate, Valentino Rossi, who seems to be edging towards the medium rear for tomorrow. This is positive for Vinales, as the soft rear tyre could give him the grip at the start, especially if many people run the medium or hard rear tyres, as it could allow him to make a decent start, not lose too much in the first stages of the race and finally use his late race pace to charge for the podium, and a factory Yamaha podium in Barcelona would be, to say the least, unexpected.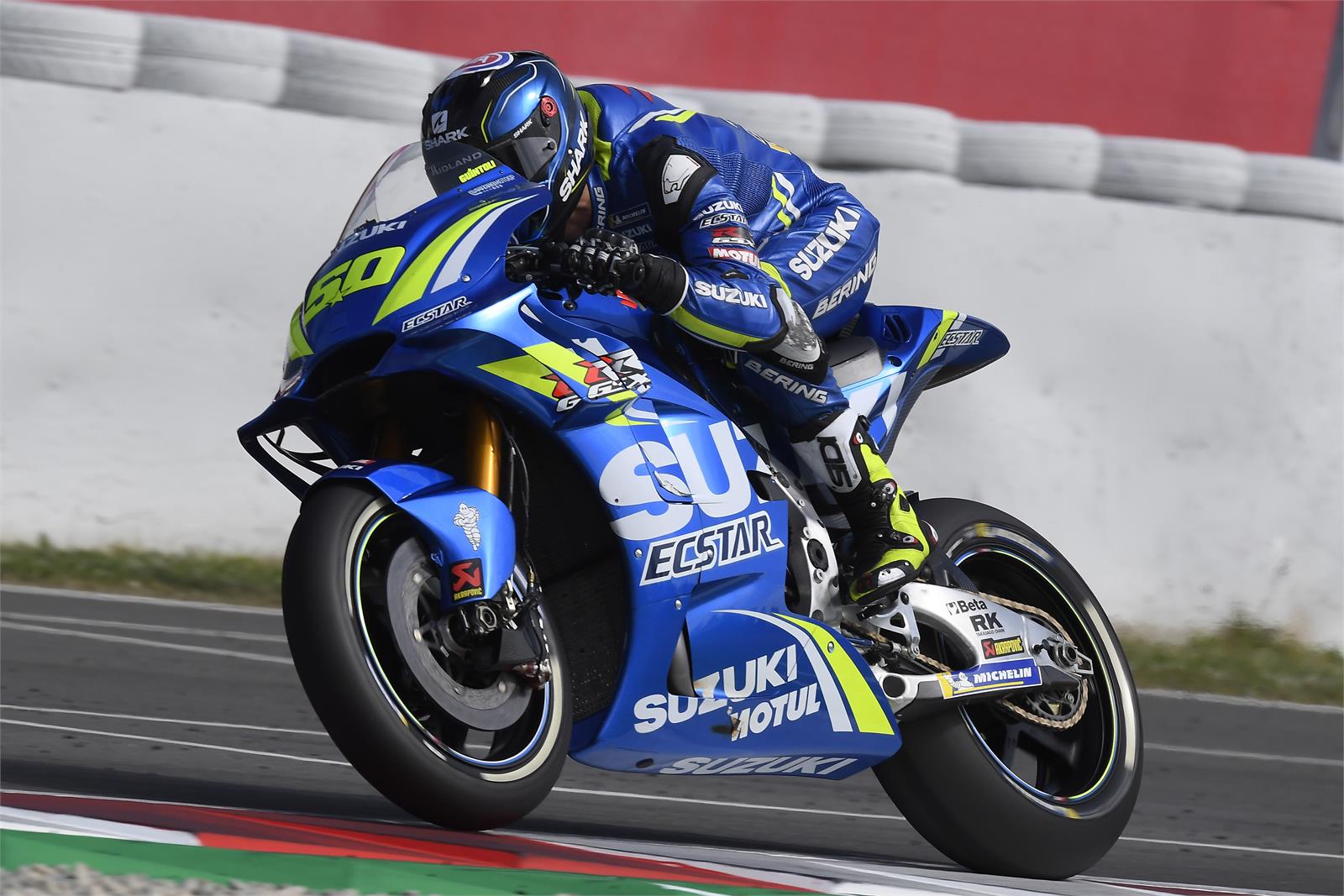 Andrea Iannone topped FP4, despite being very inconsistent and not really making a long run, but could only manage fifth in qualifying. A middle-of-the-second-row start for Iannone tomorrow gives him a good opportunity to make a good start and put himself in the mix with the Ducatis and Marquez. In the morning's FP3, Iannone was matching the pace of Lorenzo, high 39s. If he can repeat this tomorrow he can be in the mix for the podium or even the win, it's just about whether he can make the soft rear tyre last in the heat.
Danilo Petrucci rounded out the second row. It would be a surprise to see Petrucci remain in contention tomorrow, being a rider who tends to be quite hard on the tyre, but opposing that idea is the pace of the Italian, who was running in the mid-1'40s today, which pretty much matches everyone bar Lorenzo and Marquez. Temperature, as for everyone, will be the critical factor for Petrux tomorrow, because of all the rider who are probably looking to run the soft rear tyre, he is the one who will suffer with it the most.
The first spot on row three will be occupied by Valentino Rossi tomorrow as he qualified seventh. The Italian was disappointed because he felt his potential was enough for the second row, but a mistake on what could have been his best lap at turn ten cost him that, and left him with row three for tomorrow. Unfortunately for Rossi, it looks like he can't make the soft compound rear last the distance and will have to run the medium to get to the end without falling off a lap time cliff. Despite this, Rossi suggests the biggest issues will come from the front tyre, he feels that this is the limiting factor. Many riders have favoured the soft front this weekend, including Rossi, but in his fastest run in FP4, he ran with a medium front and rear. We know that Rossi always likes to focus on the race pace, so maybe he has something for tomorrow, but after Saturday his chances don't look quite as good as one day ago.
Rossi will be joined on the third row tomorrow by Johann Zarco who has had another quiet weekend, but his pace is mid-1'40s, so he can fight for a good result tomorrow, and Tito Rabat who has been yet again very impressive on the Avintia Ducati. Surprisingly, Tito's pace is even better than Zarco's, and arguably even better than Rossi's. If he can make the soft rear tyre last the distance tomorrow, which it looks like he can, Rabat could turn a fair few heads tomorrow.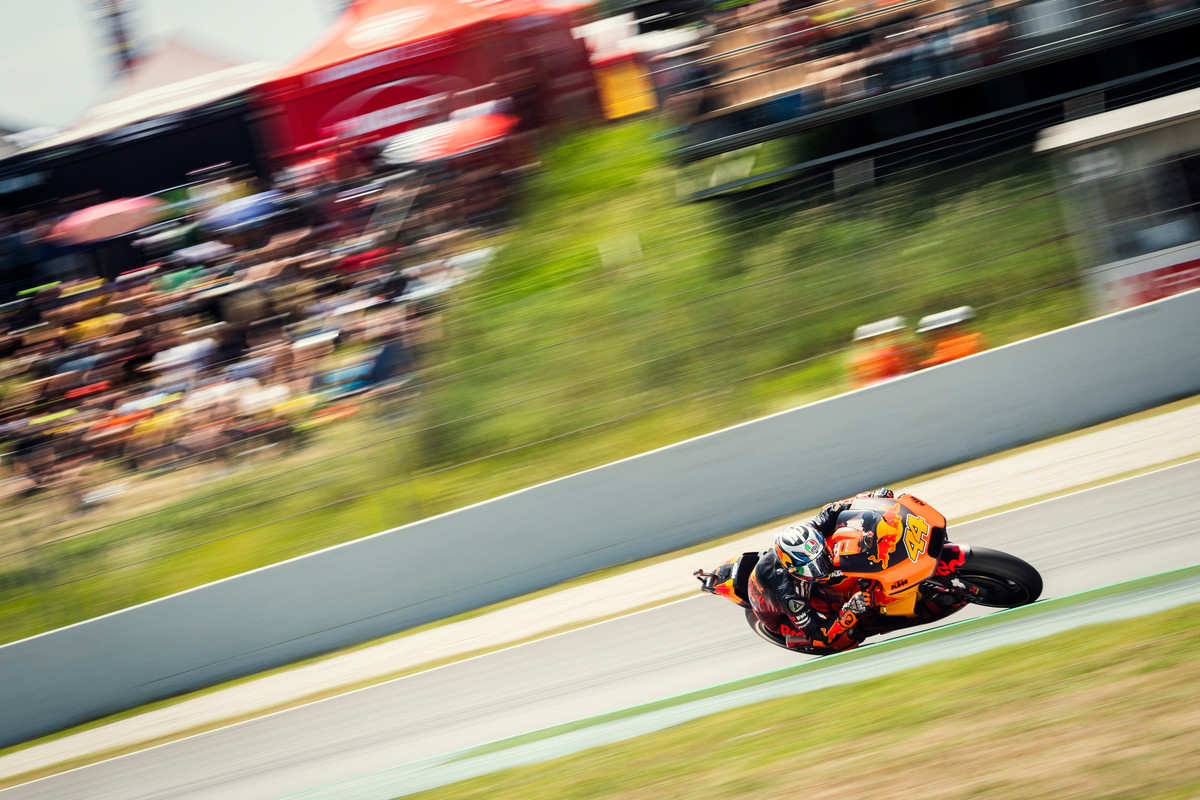 Row four is an all-Honda affair, with Cal Crutchlow leading Dani Pedrosa and Takaaki Nakagami. Jack Miller, Hafizh Syahrin and a disappointing Alex Rins complete row five, whilst row six consists of Aleix Espargaro, Bradley Smith and Franco Morbidelli. Pol Espargaro was nineteenth, ahead of Scott Redding and Karel Abraham, whilst the eighth row sees Alvaro Bautista in twenty-second ahead of Mika Kallio and Tom Luthi. Sylvain Guintoli and Xavier Simeon who crashed at turn four complete the grid.
Featured Image courtesy of Ducati Media